Are you a finance professional who is responsible for managing business travel spend at your organization? If so, does this situation sound familiar?
You're trying to get better control over your company's business travel approval process and budget, but it's turning out to be more difficult than you thought. Right now, you have expense reports and booking requests coming in from all over the place.
Team members usually book their business trips individually. Each person uses different booking sites in search of the best deals. Since these bookings are often made last minute, you don't really have much visibility over how much people are spending over the long term.
Business trips often end up going over budget, and you have a feeling the company could be saving a lot of money if you had a better way to manage business travel expenses. You just aren't quite sure where to begin.
Without a centralized method of managing business travel spending for domestic and international travel, getting a handle on your corporate travel budget can feel impossible. Luckily, there are solutions out there that can help.
Here's how you can start easily and effectively managing your company's travel spending, as business travel returns to pre-pandemic levels:
1. Assess your current booking workflow
The first place to start is by evaluating your company's current process for booking business travel (including air travel, rail travel, car rental, and accommodation).

If your organization is new to corporate travel, perhaps you don't have a formal business travel program in place yet. Or maybe you do have some travel booking policies, but you don't have a process to make sure employees are following them.

Some organizations use a business travel agency (also known as a traditional TMC, or travel management company) to help with corporate travel management. However, this approach isn't always as cost-effective or flexible as you might like.

Traditional corporate travel agencies often charge recurring monthly fees, regardless of whether services are used that month, and may ask their clients to sign a binding contract with a minimum term of one year. They may also add on extra fees for concierge services, phone bookings, or specific transactions. In general, travel agency costs can be high, and sometimes unpredictable. Travelers also won't have much autonomy, and may not have access to quality customer support outside office hours.

Fortunately, there's a better way to book business trips, without the rigidity of a traditional travel agency contract or the chaos of self-booking. Travel management software is a modern solution for the business travel industry. It's an easy, convenient way to book and manage business trips, even when your travel volumes are high. (There are also many free travel management software solutions available too)
2. Assess the adoption rate of your current booking tools
Maybe you're already using travel management software at your company. However, software is only helpful if it has all the features and functionality you need, and if employees are actually using it. If team members don't think the software is useful, they will avoid it and go back to self-booking… meaning you won't be able to track spending on airfare, hotels, and so on.

Take some time to review your software's adoption rate. If travelers aren't using the software, schedule meetings or send out employee surveys, asking respondents what they think. There's a chance your software may be missing some important booking features, leading to a poor user experience. Or perhaps the software simply doesn't have enough inventory, meaning your travelers can't find the accommodation and transport options they want. 

If your current software isn't up to scratch, consider switching to another solution. Preferably, you'll want to choose a platform with extensive inventory (our software, TravelPerk, has a massive inventory of business travel accommodation available of all providers on the market, including integrations with travel industry giants and travel suppliers like Booking.com, Expedia, Skyscanner, and Airbnb).

With features like automated travel policies and approval workflows, travelers can easily see if their booking falls within policy, and request additional approvals if needed. Along with helpful integrations and a user-friendly mobile app, booking is made easy—so travelers will actually want to use the system.  
3. Look for a solution that offers centralized travel booking and real-time automated reporting
Travel management software should be easy to use for business travelers themselves... but it should also have all the features the finance team needs. Two crucial features for finance teams are real-time reporting and integration with an expense management solution.
Remember those scattered emails and expense reports? Consider those as good as gone. Instead, with travel management software like TravelPerk, you'll have access to an easy-to-use dashboard, where you can break down data by person, transport type, booking type, cancellations, recoverable VAT, and more.
You can use these reports to create visuals, easily communicate your corporate travel spend, and find new ways to reduce travel costs while maintaining trip quality. You can also use them to track and offset carbon dioxide emissions, so you can measure, report, and reduce your company's carbon footprint—perfect for your sustainability initiatives.
By integrating TravelPerk with an expense management solution, you can take things even further. Use technology like Rydoo, Ramp, or Divvy (among many others) to simplify the reporting process. Travelers can easily manage their expenses and sync this data directly to TravelPerk, giving you full visibility over spending patterns.

Automating expense reports will save you time and save your company money, while also giving you a real-time overview of cash flow. Did you know that the average expense report takes 20 minutes to complete and $58 to process, while correcting a flawed report takes an additional 18 minutes and $52 to process, according to the Global Business Travel Association (GBTA)? All those reports can really add up, draining your team's time and the company's budget.
By automating the expense management process, you can eliminate paperwork which is tiresome, difficult to organize, and wasteful. Instead, you'll have a streamlined digital system which is simpler and less prone to error, giving you visibility over travel trends, traveler spending patterns, possible policy violations, and new opportunities for cost savings.
To discover more great ways to save on business travel spend, learn how to how to optimize your business travel budget.
5 reasons why business travel spending is so hard to control
If you're a travel manager responsible for business travel spend, you'll know how challenging it is to keep track of team travel budgets. When employees book on separate platforms, or use a third-party travel agency, it becomes increasingly difficult to control business travel spend.
Despite the significant decline of business travel throughout the COVID-19 pandemic, 9 in 10 companies expect to reach 75% of their 2019 travel spend by late 2022. This means more employees once again partaking in business travel, and more business travel expenses to manage.
Understanding why business travel spend is so hard to control, helps you get a better grip on your company's current travel spend. It also improves your ability as a travel manager to make data-driven budgeting decisions in the future.
Current industry trends for business travel
In spite of the pandemic forcing business travel to a standstill, the Global Business Travel Association (GBTA) forecasts a full recovery of business travel by 2024. The US spent $322.42 billion on business travel last year alone, closely followed by the Asia Pacific region. China spent $230.91 billion on business tourism in 2021.
Companies are also looking to reduce their carbon footprint and their bottom line, by working with travel suppliers who invest in sustainability.
So why is business travel spend so hard to control?
Your current booking policies and company practices may send your business travel spend into a spiral, if left unchecked. Here are a few reasons why you might find it difficult to control business travel spend and accompanying solutions.
1. Travel bookings and expense management take place on separate platforms
Traditional travel solutions can't keep up with the demands of modern travel, addressing one facet while neglecting others. As a result, teams book travel via one travel program or platform, while expense management takes place on another platform.
If your company is booking business travel on different consumer platforms, controlling and managing travel budgets becomes impossible to track. Logging in to separate platforms, and downloading individual invoices, creates hardship when tracking business travel spend.
An online corporate travel company like TravelPerk delivers many benefits. With TravelPerk, you'll be able to streamline your online booking process. Whether you're booking flights and hotels or managing invoices, business travel spend becomes that much easier to control via an all-in-one platform.
Team unexpectedly stuck in Latin America, when they should be on a flight to New York that left... 5 minutes ago? Rest assured you'll have access to 24/7 customer assistance. Our team's target 15-second response time means quick and easy support every step of the way.
2. VAT expenses lack real-time data
VAT has long been a thorn in the side of finance teams everywhere. Time constraints surrounding expense report submission, combined with the hassle of physical paperwork, make VAT-associated travel spend difficult to control.
As any experienced travel manager will know, it's often a multi-step process to claim back VAT on business trips. Your VAT reclaim can take several weeks to process, and may be subject to terms, conditions, and varied rates. As a result, travel managers lack a clear picture of VAT expenses in real-time.
TravelPerk's VAT Reclaim Service collects invoices from travel providers on your behalf and ensures your chosen vendors are VAT-compliant. Our solution creates a VAT-friendly inventory of services you'll be able to manage, and collate. Our estimated savings calculator and VAT reporting based on recoverable VAT, also helps you to forecast potential savings after VAT spend.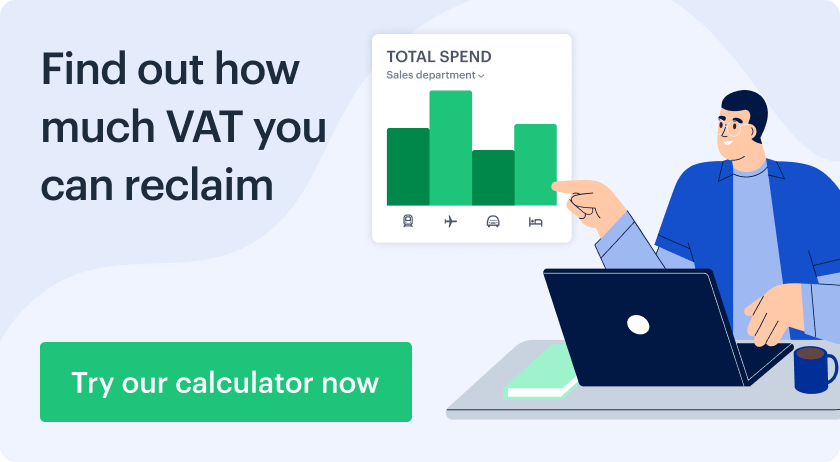 3. Outdated and inefficient expense systems
Is your company using outdated budgeting solutions and expense systems?
Inefficient processes make it difficult to control business travel spend, often resulting in duplicated work for your team, and inaccurate reporting. You also miss out on valuable insights into budget trends and employee spending patterns.
Choose a travel management company offering multiple vendor partnerships, to help you tackle inefficient processes and cater directly to your needs. TravelPerk partners with automated expense systems to help you track spending in real-time, including, but not limited to:
Spendesk
Haslle
Expensify
Fyle
Payhawk
Employees can also upload receipts and invoices in real-time, increasing your team's efficiency and functionality to reimburse employee travel expenses.
4. Employees lack awareness of company travel policies
If your business travel spend is out of control, employee policy awareness might be a problem. Employees unaware of company travel policies, can lead to trips frequently booked outside of policy without them realizing it.
TravelPerk's comprehensive travel management solution allows travel managers to build policies inside their booking tool. It restricts employee booking capabilities by establishing parameters that save time and control business travel spend. Our solution also helps you simplify and automate your approval process for employee travel itineraries.
Looking for a clean slate to begin building your company's travel policy? Use TravelPerk's free travel policy templates for easily customizable policies that are ready in minutes.


5. Unexpected Business Travel Costs
"Expect the unexpected" is not something you want to hear as a travel manager. Unfortunately, surprise costs and fees associated with business travel spend make it even more difficult to control.
Baggage fees for additional or overweight luggage, airport parking, and car rentals quickly add up when not factored into business travel spend. There's also the possibility of canceled or delayed flights, on the part of the employee or airline.
While short-term solutions include traveling with less luggage, carpooling, and using rideshare upon arrival, sometimes employees require more flexibility.
FlexiPerk's functionality offers business travelers trip cancellation for any reason, up to two hours before take-off, and a minimum of 80% of the trip cost refunded.
Modern business solutions help travel managers to meet the ever-changing demands of the business travel industry. Using an all-in-one travel management solution means seamless integration of travel plans, bookings, and expense reporting, as well as access to real-time data.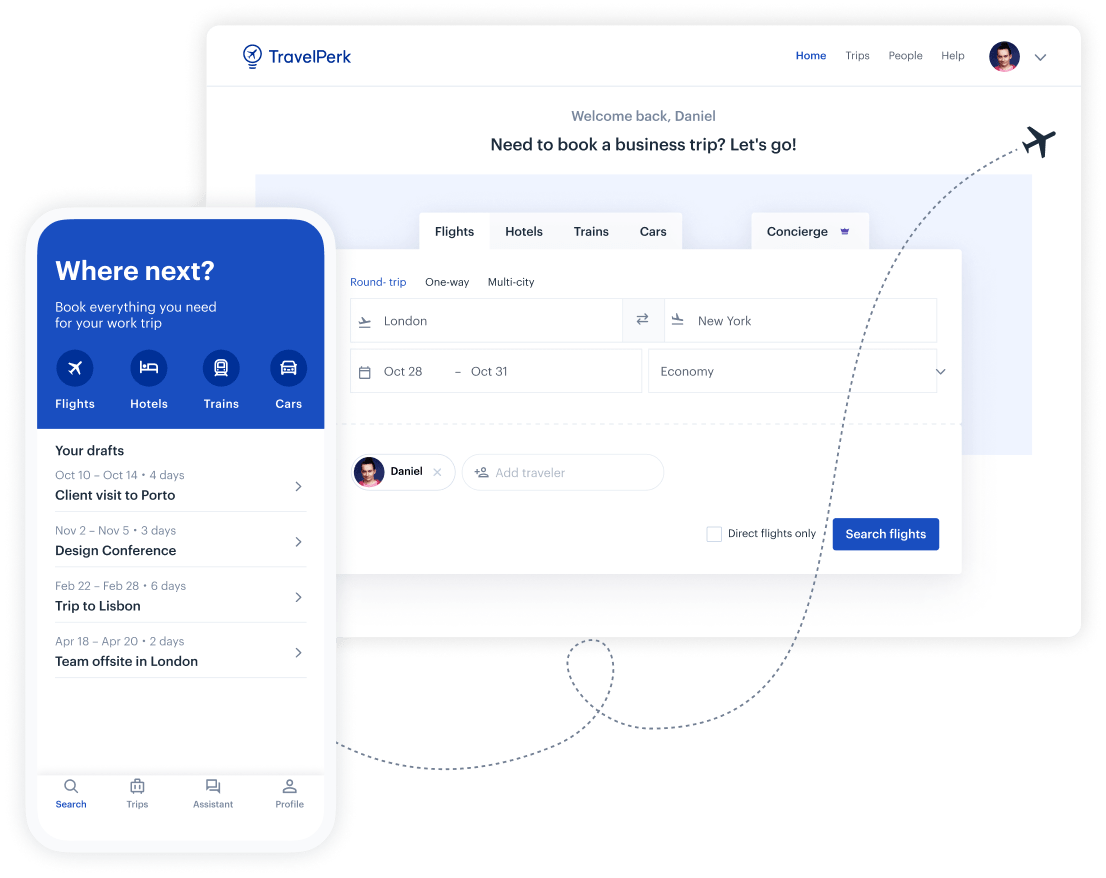 Make business travel simpler. Forever.
See our platform in action. Trusted by thousands of companies worldwide, TravelPerk makes business travel simpler to manage with more flexibility, full control of spending with easy reporting, and options to offset your carbon footprint.

Find hundreds of resources on all things business travel, from tips on traveling more sustainably, to advice on setting up a business travel policy, and managing your expenses. Our latest e-books and blog posts have you covered.

Never miss another update. Stay in touch with us on social for the latest product releases, upcoming events, and articles fresh off the press.