Business travel expenses often represent a considerable chunk of a business's total expenditure, meaning many organizations are looking for cost-effective tools to help them manage their travel programs and reduce costs.
Here, we cover the 10 best free travel management apps, travel companies, and software solutions, including a run down of features and pricing to help your business streamline business travel booking, manage travel expenses, and maintain travel policy compliance.
Does my company need to use travel management software?
Yes! Small businesses, startups, and large enterprises all need a business travel management system to manage their travel programs. One of the simplest ways to reduce costs from corporate travel is to explore one of the many small business travel services on the market.
When organizations rely on processes that aren't designed or optimized to suit how their employees travel, they're likely losing precious time, money, and resources throughout the booking life cycle.
Here are a few ways travel management software can save you time and money.
The booking process can be completed in a few minutes and a couple of clicks
You can make significant cost savings by accessing discounted corporate rates, larger travel inventories, and VAT refundable invoices
You can reduce travel and expense costs by integrating your travel policy into the software
Employees can self-book their travel, reducing the micro-management involved in traditional booking processes
You can relieve your admin of handling all travel arrangements, booking requests, itinerary changes, and cancellations
What to look for in travel management software
From legacy systems to mobile apps, there are many travel software options on the market to choose from. Here are the key features to look out for when browsing travel management software:
The ability to integrate travel policies and approval workflows
Access to real-time travel spend data and reporting functionality
A wide range of business integrations (e.g. Slack, Ramp, PayHawk) that fit with your company's tech stack
A simple and intuitive user experience that supports self-booking
Access to 24/7 customer support
Extensive inventories and flexible booking options
Consolidated invoice management
Top 10 free travel management software tools
Not all free travel management software is created equal. While some are end-to-end tools, others might help you manage travel expense processes only. Here, we've broken down the best free travel management software solutions for booking business travel, expense management software, and nice-to-have add-ons.
Best free travel management apps for managing business travel booking
TravelPerk is a travel management company that enables users to manage the entire business travel booking process via its centralized, end-to-end digital platform.
As well as access to the world's largest travel inventory for flights and accommodation, users can also benefit from TravelPerk's VAT recovery solution, a carbon offsetting program, and FlexiPerk, a cancelation policy that grants users the ability to cancel business trip arrangements up to two hours before departure with a guaranteed refund of 80%.
A good travel management solution should offer integrations with the most popular expense management tools. TravelPerk offers 18 different expense management integrations, as well as a huge catalog of other third-party integrations that help streamline processes.
Other key TravelPerk features include:
A user-friendly, intuitive online booking tool
A freemium model, simple pricing, and no minimum contract
No extra monthly fees or hidden charges
Comprehensive and up-to-date travel alerts for peace of mind
Extensive reporting capabilities and expense dashboards
A simplified travel expense process
As you'll notice, TravelPerk is the only company on this list that focuses solely on corporate travel management and the needs of businesses. If you want to learn more about how TravelPerk can streamline your organization's business travel program for free, reach out today for a free demo.
TravelPerk pricing
Businesses can access the TravelPerk platform's Starter plan for free. With it, you'll have access to the following highlights:
The world's largest travel inventory of flights, hotels, trains, and cars
24/7 customer support
Travel data reports
Consolidated invoicing
Travel agent service
Access to TravelPerk's exclusive rates
5 Free bookings per month
The Premium package costs $99/month and includes policies and approval processes, TravelCare risk management, FlexiPerk cancelation policy, and a concierge service.
The Pro package costs $299/month and includes an expenses API, budgets by cost center, a rates negotiation service, and access to negotiated rates.
G2 rating: 4.6 / 5, based on 1419 ratings
Capterra rating: 4.8 / 5, based on 376 ratings
Capterra's rating breakdown by features:

Approval workflow: 4.9 / 5
Booking management: 4.7 / 5
Dashboard: 4.7 / 5
Expense tracking: 4.6 / 5
Mobile access: 4.7 / 5
Online booking: 4.8 / 5
Policy management: 4.7 / 5
Real-time alerts: 4.7 / 5
Reminders: 3.9 / 5
Reporting/Analytics: 4.4 / 5
Restriction management: 4.5 / 5

Languages supported: German, English, French, Spanish
Start saving money on business travel for your company today!
2. Booking.com for Business
Booking.com is an online travel agency and marketplace. Users can search for options for accommodation, flights, car rentals, and package deals. The search platform is available in 43 languages, and the company runs a rewards program and a range of discounted booking options.
Booking.com's key features include:
Advanced search filters
Multilingual customer support
Low-cost guarantee feature
The company does offer a corporate travel booking option, Booking.com for Business. However, since the platform has been built with a focus on leisure travel, there are many features it doesn't offer to companies.
For example, besides accommodation options, Booking.com doesn't offer a large inventory across various transportation verticals. Plus, there is no VAT recovery function, carbon offsetting program, integrations with third-party solutions, or a traveler tracking feature.
While Booking.com's platform is easy to use, there are multiple cost-saving benefits of using a travel management platform that's designed for corporate use. For example, travel management companies can identify the best deals and negotiate significant corporate discounts, and can scale to meet your business needs. Plus, keeping track of multiple invoices is much harder when making a large number of bookings via a platform like Booking.com.
Booking.com pricing
Booking.com is free to use, but third-party aggregators often charge customers specific fees.
G2 rating: 4/5 (6 reviews)
Capterra rating: none
Languages supported: English, German, Spanish, French, Italian, Dutch, Polish
3. Kayak for Business
Kayak for Business is a free travel search and booking engine that functions in the same way as its consumer platform, Kayak. It's a travel aggregator platform that searches hundreds of travel sites to find and display flight, hotel, and rental car options.
Users can automatically generate travel itineraries that include flight information, boarding passes, hotel, and restaurant reservations. Plus, companies can integrate their travel policies into Kayak for Business, which means that when trips are booked, managers will be simply shown whether they land inside the policy.
Other key Kayak for Business features include:
Discounted corporate rates
Points reward program
Price alert function
Reporting and tracking functionality
Expense integration
Price predictions
However, since Kayak for Business is a search engine, the solution does not come with a customer service function. In fact, refunds, travel amendments, and cancellations are handled by the providers themselves.
Kayak for Business pricing
Kayak for Business is free to use, although users don't have access to any customer service function, all amendments, cancellations, and refunds must be processed via the original provider, and there is no option to add users' negotiated rates.
G2 rating: none
Capterra rating: none
Languages supported: 18, including English, Chinese, French, German, Italian, Dutch, Spanish, Japanese, Korean, Swedish, Norwegian, and more.
Best free travel management apps for managing travel expenses
Soldo is a payment and spend management automation platform suitable for businesses of any size that helps them make payments and control and track spending.
The platform enables businesses to make payments using physical and virtual cards, set custom budgets and rules, track spending in real-time, automate administrative tasks, and connect accounting platforms.
To help businesses automate their workflows, Soldo offers several useful integrations with accounting, expense, document management, and open banking solutions. Plus, the platform integrates with TravelPerk to allow users to export invoices into Soldo for all bookings made using a Soldo card.
Soldo pricing
Soldo's free version provides access for up to 5 users (up to 1 admin and 1 accountant) with 5 user cards and basic spend management features. Soldo is available in Italy and the UK, with passporting to over 30 countries in Europe.
Soldo also offers additional pricing tiers:
Pro 5: For £30/month users can access 5 users (up to 2 admins/accountants) with 5 user cards, 1 company card, 25 purchases with single-use virtual cards, and 5 recurring payment relationships.
Pro 10: For £60/month users can access 10 users (up to 3 admins/accountants) with 10 user cards, 2 company cards, 50 purchases with single-use virtual cards, and 10 recurring payment relationships.
Premium: For £90/month, users can access 10 users (up to 3 admins/managers) with 10 user cards, 5 company cards, 75 purchases with single-use virtual cards, and 15 recurring payment relationships.
Here's how Soldo did in the ratings:
One of Europe's leading spending solution, Pleo is an expense management app that helps businesses manage the entire expense reporting process from start to finish.
With Pleo, employees receive their own Pleo debit cards and get cashback on company spending. Teams can buy what they need, saving employees from out of pocket expenses and reducing time spent in the tedious reimbursement process. Pleo cards can also be added to Apple Pay, making work-related purchases even easier.
Once a purchase is made, users capture pictures of their receipts within the Pleo app, which are uploaded and submitted for approval. Custom rules can be created to flag expenses that need an extra layer of manager review, while the rest can be automatically approved.
The app also enables users to generate invoices, collect payments, track mileage and, plan trips. Employers can set individual spending limits for each Pleo card and adjust them as needed.
Pleo integrates with all major ERP, accounting, and finance software solutions and even with travel solutions, including TravelPerk. This integration enables the automatic reporting of trips booked in the TravelPerk system, and users can enjoy the benefits of one-click travel expense reporting.
Pleo pricing
Pleo offers a free Basic plan, available for up to three users—a great option for entrepreneurs and micro companies who are looking to automate company spending.
The next plan available is the Essential plan, which costs £12/user/month. Users can be reimbursed with or without cards, with free ATM withdrawals and spend limits available.
The Advanced plan costs £14/user/month, offering 1% cashback, unlimited entity management, a Customer Success Manager, free external bookkeeper access and open API access.
G2 rating: 4.8 / 5, based on 826 reviews
Capterra rating: 4.9 /5, based on 190 reviews
Capterra's rating breakdown by features:

Approval workflow: 2.8 / 5
Corporate card: 4.0 / 5
Expense tracking: 4.4 / 5
Mobile receipt upload: 3.5 / 5
Multi-currency: 5.0 / 5
Receipt management: 4.0 / 5
Reimbursement management: 4.0 / 5
Spend control: 4.5 / 5
Workflow management: 2.0 / 5
Languages supported: English, Danish, Swedish, Spanish, French, German, Dutch, Swedish, Italian, Portuguese, Norwegian
Read a full review of Pleo platform here.
Ramp is a "5-in-1" software that combines corporate cards, expense management, bill payments, accounting, and reporting into one platform.
Users can earn rewards, enjoy cost savings with customized spending insights, access built-in spend control, and access over $175,000 in partner rewards.
Ramp also offers over 1000 integrations with other software solutions -- including seamless integration with the TravelPerk platform that enables users to automate travel and expense reports and receive 1.5% cashback on all travel expenses with Ramp.
Ramp pricing
Ramp is completely free to use and does not charge any card replacement fees, late fees, or interest.
Let's take a look at Ramp's review platform ratings:
G2 rating: 4.7 / 5, based on 1000 ratings
Capterra rating: 4.9 / 5, based on 40 ratings
Capterra's rating breakdown by features:

Approval workflow: 5.0 / 5
Audit trail: 5.0 / 5
Budgeting/forecasting: 4.0 / 5
Expense tracking: 5.0 / 5
Mobile receipt upload: 5.0 / 5
Multi-currency: 4.3 / 5
Receipt management: 4.5 / 5
Reimbursement management: 4.7 / 5
Workflow management: 5.0 / 5

Languages supported: English
Divvy is an all-in-one expense management solution suitable for businesses of all sizes and industries. Its smart corporate cards make business travel expenses easy to track, categorize, and report.
The platform eliminates the need to create expense reports, gives users real-time visibility into spending, and enables users to create budgets and generate virtual cards, all from within one platform.
Divvy also integrates with TravelPerk, enabling users to reap the benefits of a centralized portal where they can easily book, manage, and report on travel expenses.
Divvy pricing
Divvy's entire feature catalog is free to use, with no contracts or hidden fees.
Here are Divvy's platform ratings:
G2 rating: 4.5 / 5, based on 461 ratings
Capterra rating: 4.7 / 5, based on 397 ratings
Capterra's rating breakdown by features:

Approval workflow: 4.5 / 5
Audit trail: 3.9 / 5
Budgeting/forecasting: 4.4 / 5
Corporate card: 4.6 / 5
Expense tracking: 4.8 / 5
Mobile access: 4.8 / 5 (receipt upload)
Receipt management: 4.8 / 5
Reimbursement management: 4.1 / 5
Spend control: 4.7 / 5
Time & expense tracking: 4.5 / 5
Workflow management: 4.5 / 5

Languages supported: English
Other interesting tools and add-ons
App in the Air is a personal travel assistant app that helps users plan, book, track, and manage their travel arrangements.
While the app is not specifically designed for business travel, the app includes several handy features such as itinerary tracking, the ability to check your journey's carbon footprint, and airport tips from fellow travelers. It also offers integrations with various other travel management apps like TravelPerk.
App in the Air pricing
App in the Air is free to download and provides handy information including past flight statistics, the number of hours flown, and countries visited.
For additional functionality, the Premium version costs $29.99 annually or $49.99 for a lifetime subscription, and offers features such as automatic check-in, seat selection, real-time flight updates, and gate changes.
G2 rating: none
Capterra rating: none
Languages supported: 15, including English, French, Spanish, Italian, German, Swedish, Danish, Chinese
Tripkicks is an add-on that provides insights and alerts for travel plans to help users optimize travel experiences.
Tripkicks features include:
Highlighting preferred suppliers to ensure travel program compliance
Health and safety alerts
Up-to-date COVID-19 information
Highlighting less-expensive alternatives
Monitoring of travel spend against budget to optimize cost savings
Tripkicks pricing
Tripkicks' basic package is free and offers access to client billing and custom checkout features. Users are limited to four projects.
The Premium package costs $29/user/month for unlimited projects, and access to its code export feature and domain aliases.
For $49/user/month, Tripkicks' Pro package offers access to customized restriction access, unlimited hosting domains, and analytics.
G2 rating: none
Capterra rating: none
Languages supported: English, French, Spanish
For frequent travelers, PackPoint is a handy packing list app that creates packing lists based on the length and type of your trip (business, leisure, or bleisure) and the weather at your travel destination.
Users can also add details of any travel activities during their trip, like swimming, hiking, beach days, snowsports, etc, as well as information on whether they'll have access to laundry facilities or not.
Once users have entered this information, PackPoint creates a custom packing list with several categories (essentials, toiletries, etc). Users can check off their packed items and hide items they won't need.
PackPoint pricing
PackPoint offers both a free and paid version of the app. The paid version is available for $2.99 annually and offers additional features such as the ability to create custom packing lists and activities.
Find the best travel and expense management software
With an effective travel and expense management provider, companies can ensure that each corporate trip is handled smoothly, with expenses organized and employees happy.
Cost-effective and hassle-free, these softwares will revolutionize the process of planning and executing team trips. Reach out to TravelPerk today to see how the team can optimize your corporate travel, and provide valuable tips and insights into how you organize your business trips for the future.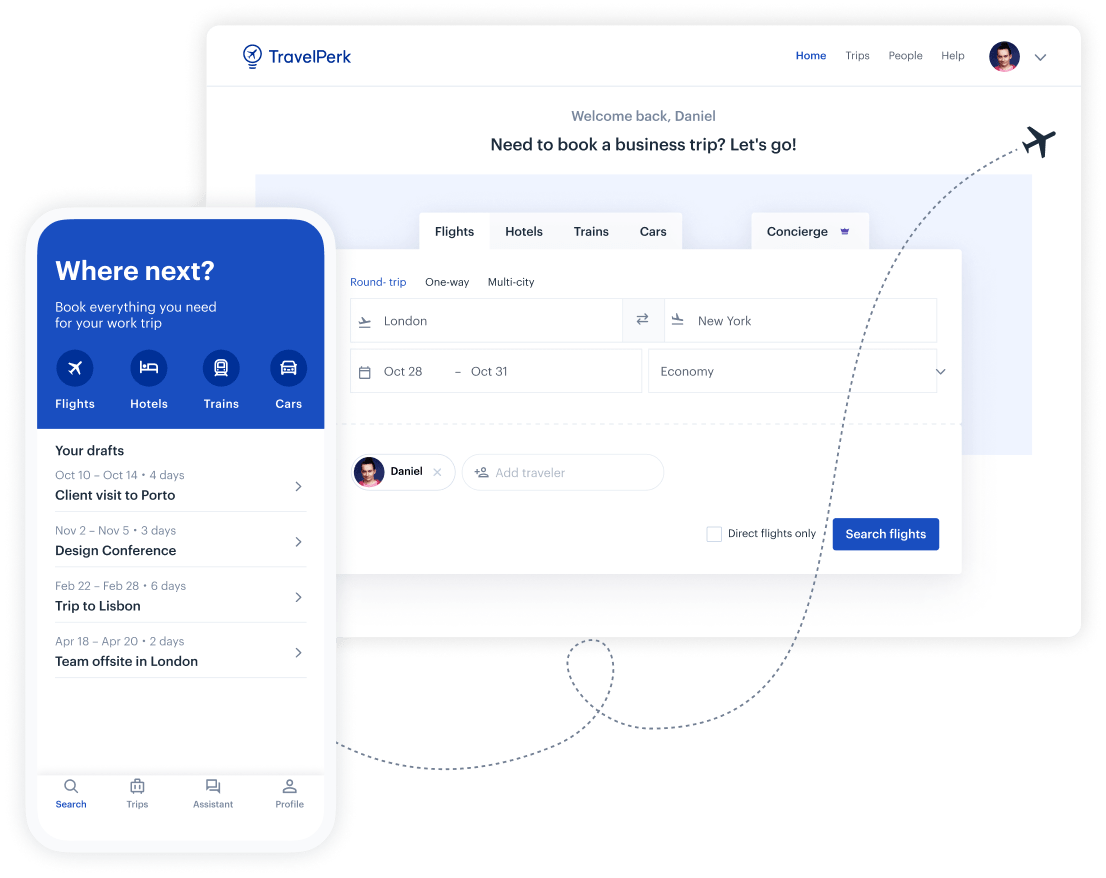 Make business travel simpler. Forever.
See our platform in action. Trusted by thousands of companies worldwide, TravelPerk makes business travel simpler to manage with more flexibility, full control of spending with easy reporting, and options to offset your carbon footprint.

Find hundreds of resources on all things business travel, from tips on traveling more sustainably, to advice on setting up a business travel policy, and managing your expenses. Our latest e-books and blog posts have you covered.

Never miss another update. Stay in touch with us on social for the latest product releases, upcoming events, and articles fresh off the press.