24/7 Corporate travel support on demand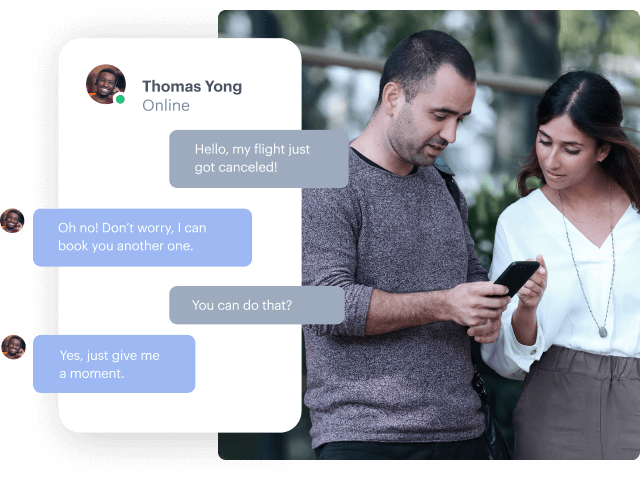 24/7 Corporate travel support on demand
Say goodbye to the bots. Get round-the-clock, human, corporate travel assistance for your employees—all within 15 seconds.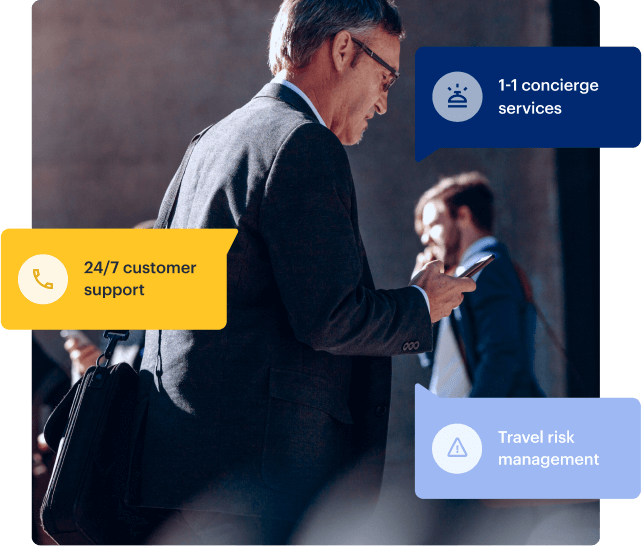 Best-in-class business travel assistance
Receive 24/7 in-app support from real humans. Our team operates at a 15-second response time or less—and we're on hand to help every step of the way.
Our TravelCare solution delivers real-time updates on location-specific travel risks like COVID, health situations, airstrikes, and more.
Cater for group bookings of nine or more business travelers, with one point of contact. Get your team on the same flight, manage changes, and take the stress out of group travel.
Get 1-1 concierge services to cover every detail of your trip. From miles to meeting rooms, we'll help with it all.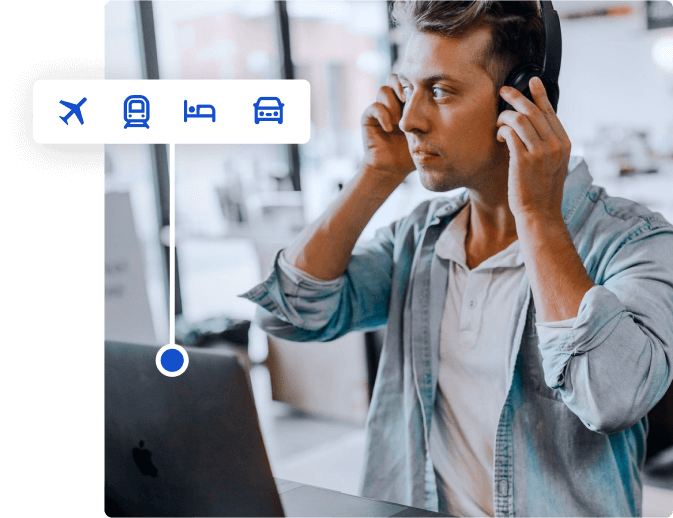 Travel assistance covering every aspect of your trip:
No matter how you're traveling, get support booking flights, car rentals, rail bookings, and your accommodation (inc. Airbnb) from our in-house pros.
Secure airport parking and transport to and from airports—day or night.
Have a business event you've got your eye on? Receive assistance getting event and conference tickets at the best rate possible.
Book at-destination meeting rooms with our team, so you can stay productive from day one of your trip.
Last-minute flight changes? No problem, our on-hand support team can help you cancel, rebook or tweak travel plans to fit your needs.
Why users love TravelPerk
Here's why thousands of companies have chosen TravelPerk to manage their business travel!
Instant platform setup
$0 setup fee & no hidden costs
15s response time for customer support
80% of the cost back 
for canceled trips
Claim 20% of your travel VAT
Free trial on any
 pricing plan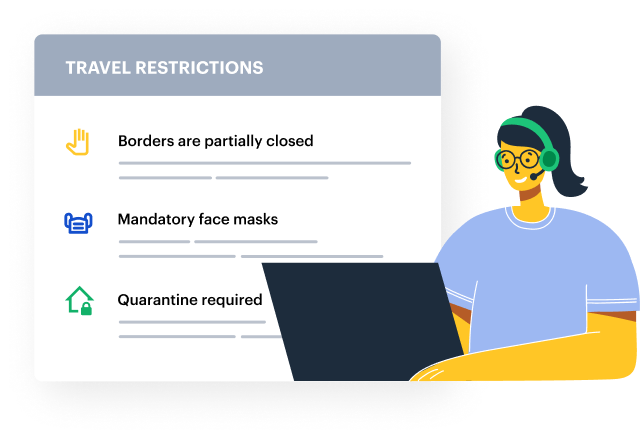 Full-service duty of care solution
As a business, you have a duty of care for your employees. This means keeping them safe and protected from any unnecessary risk at all times. When your team travels, this could include responding to local strikes, attacks, or health situations.
In partnership with International SOS, we provide a world-class duty of care solution to help you handle the end-to-end corporate travel security and medical needs of your travelers and company.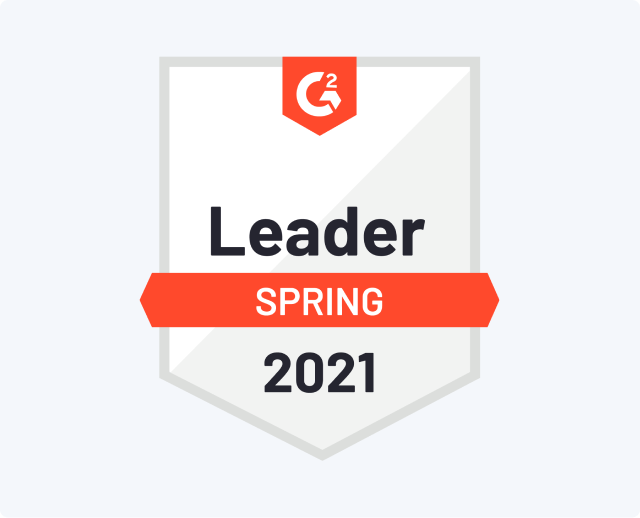 G2 Ranks TravelPerk as one of the top travel management SaaS on the market.
Be among those leading the way and taking business travel seriously. You have a world of benefits to capitalize on and a world of business to get to; let's get you there.
Start handling business trips with a real human, not a bot
Request a free demo today.
Frequently asked questions
Can I make last-minute changes to my booking?
Yes, you can make last-minute changes to your booking. Furthermore, If you book with FlexiPerk, you can cancel any aspect of your trip at any time—no questions asked. What's more, you can get 80% of your money back in the process. With FlexiPerk Trips, you can apply these flexible rates on a per-trip basis and enjoy the freedom and peace of mind this affords.
Can I track where all of my employees are traveling to?
Yes, you can. With TravelPerk, you can thave full visibility over any business trip happening at any timeand can gain actionable employee compliance insights. You can track and report these activities with a single-screen view of each and every traveler. Find out more about our Traveler Tracker functionality.
Is it possible to cancel my trip due to unforeseen circumstances?
Yes, you can cancel your trip due to unforeseen circumstances. At TravelPerk, we believe that flexibility will be an essential component of post-pandemic business travel. That's why we developed FlexiPerk, a tool that enables you to change or cancel any aspect of your trip, any time, for whatever reason. You'll even get 80% of your money back! Check your company's travel policy to understand which flexible plan applies to you.