Many companies have seen disruptions to their operations in 2023, including business travel. Travelers have had to think on their feet, change plans quickly, and deal with rising prices. But how much of an impact has this had on professionals around the world? Have various regions been affected differently, and how are travelers dealing with the chaos?

We conducted an online survey of 4000 business travelers from a range of ages and industries, across four countries: the UK, the US, Spain, and Germany.
Below, we've gathered a few key findings from our business travel survey to bring you new insights on the current state of employee travel.
Key takeaways from TravelPerk's Business Travel Chaos survey
79% of global business travelers have experienced a travel disruption in 2023
UK business travelers report that they've been the most impacted by transportation strikes (28%), while weather-related disruptions like natural disasters and floods have mostly affected American travelers (33%). US travelers are also the most affected by visa issues compared to Europeans, with 17% being affected by denied entry or delayed visa processing.
In all countries surveyed, 40% of all business travelers reported being impacted by delays, and 1 in 4 business travelers have faced cancellations in 2023
An average of 40% of travelers say they're checking for travel updates more frequently because of the delays, while 35% say they now prefer to book options with flexible cancellation policies
When things go wrong, 33% of global travelers would prefer to speak to a human customer service representative
According to travelers, the top benefits of business travel are exploring new places (44%) and developing new skills (43%)
Travelers are struggling to find options within their budget
When asked what they find the most challenging about booking a business trip, the highest percentage of travelers (34%) said they struggled to find travel options that weren't too expensive or were within their budget. An additional 30% said it was difficult to find travel options to suit their schedule.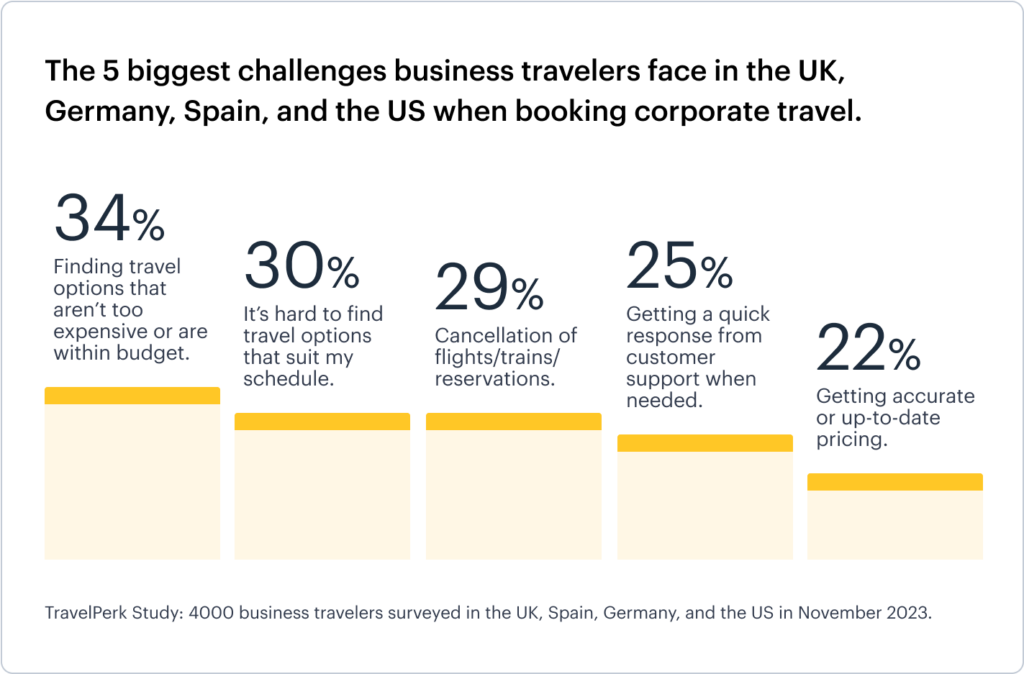 With inflation impacting business travel prices, it's no surprise that an increasing number of professionals are concerned about costs. Fortunately, airfares and hotel rates began to stabilize in the second quarter (Q2) of 2023, according to our data.
40% of travelers have been affected by delays of more than one hour in 2023, while almost a quarter have been affected by cancellations
Travel delays have been a serious problem in 2023. For example, airports in the US are experiencing record-high numbers of passengers and flights with no increase in capacity to accommodate them, according to the US PIRG (Public Interest Research Group). Flight delays were also an issue in Europe, with 106.7 million air travelers affected in the summer months alone, according to Aviation Direct.

These travel trends were borne out in our data, which showed that 40% of travelers across all countries experienced delays of more than an hour in 2023. Moreover, 24% of travelers dealt with cancellations as well. These were particularly an issue in the UK, where 30% of travelers were affected by cancellations.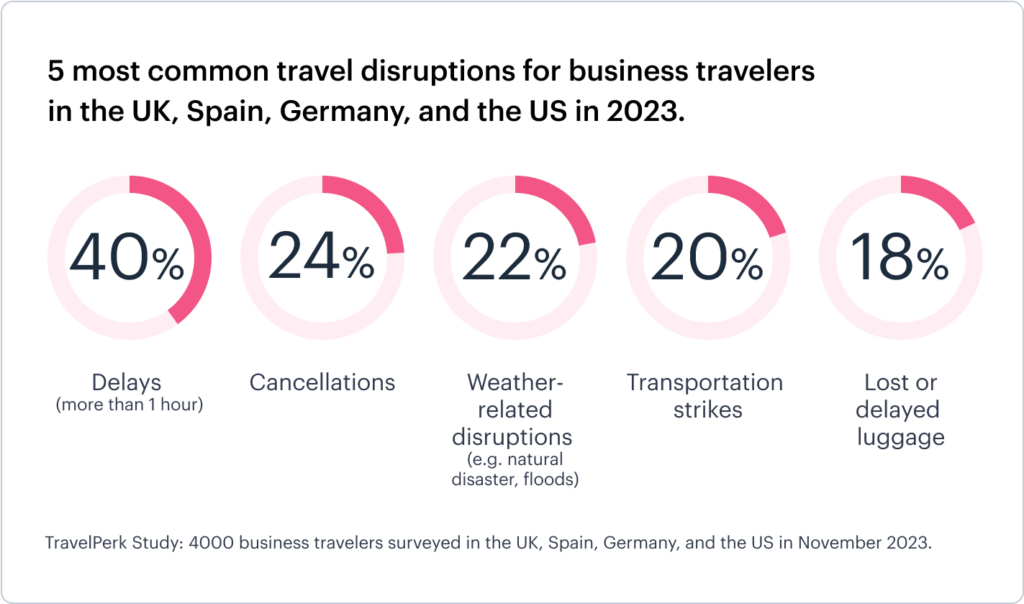 Travelers are checking for updates more frequently and booking options with flexible cancellation policies
Travel disruptions are changing the way people travel for work, as professionals do their best to avoid being derailed by changes to their trip. 39% of all travelers surveyed report that they are checking for travel updates more frequently, while 35% are now booking options with flexible cancellation policies, and 34% are allowing more travel time to get to their destination.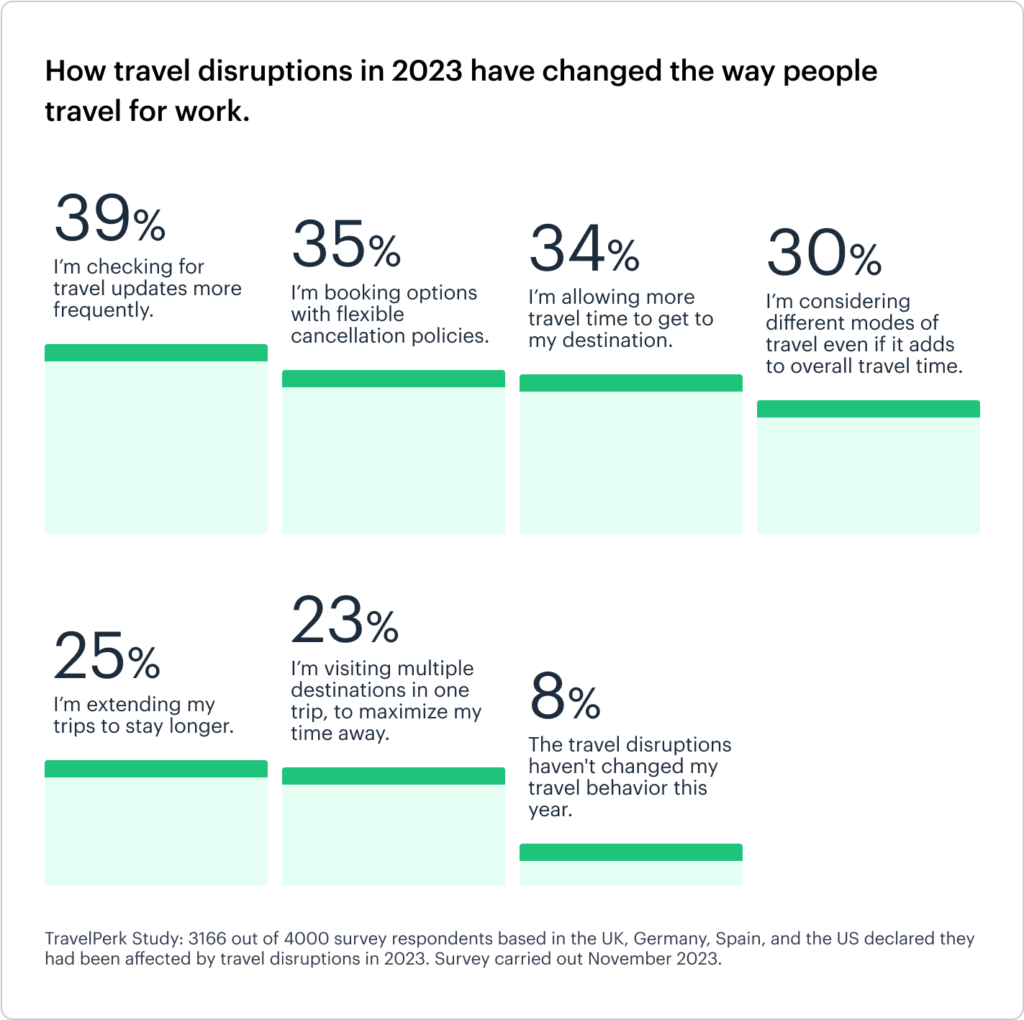 In the US, travelers were particularly likely to allow more travel time to get to their destination, with 43% reporting that they would do this. This makes sense, considering the high number of travel delays affecting the US – 84% of US travelers experienced some form of travel disruption in 2023.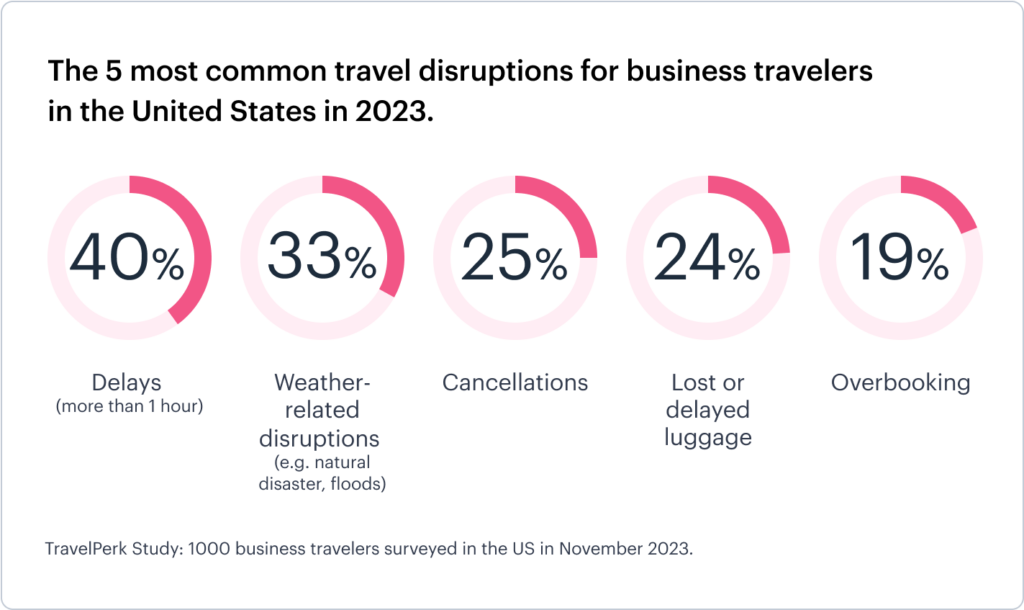 In Spain, the largest percentage of travelers said they were checking for travel updates more frequently (41%), while the largest percentage of travelers in Germany (37%) said they were booking options with flexible cancellation policies.
Most travelers prefer to talk to a human customer service representative
Across all four countries surveyed, travelers agree: The human touch is a key concern for them when booking business travel. When emergencies happen and travelers need to cancel or change their booking, they'd prefer to have a real-life person to talk to.

33% of respondents said talking to a human customer service representative by phone was their preferred option for making modifications. They said they'd rather do this than make changes online, via SMS, using a chatbot, or by speaking with someone at the airport.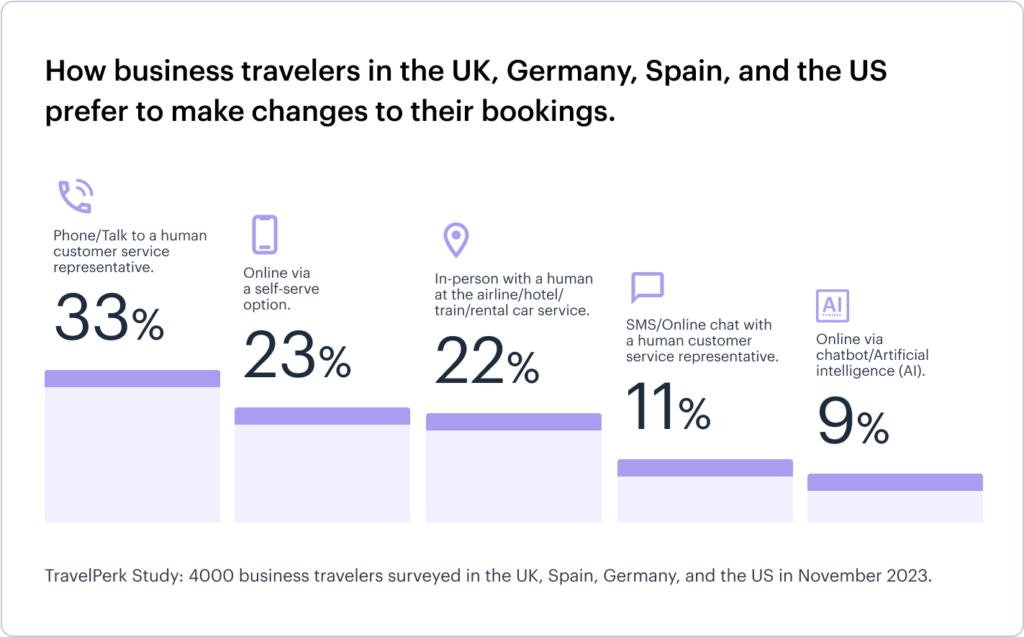 Travelers are concerned about their health and work arrangements
Across all countries surveyed, business travelers found it difficult to catch up with in-person meetings, virtual meetings, and emails after a business trip. Overall, 35% said they found this to be a problem, while an even higher percentage in the US (39%) thought this was a problem.

Travelers were also concerned about jet lag and physical fatigue, with 20% across all countries saying they were concerned with this. As health and well-being become an increasing focus in the workplace, this is no surprise—one in three US workers report being highly concerned with their workplace well-being in general, according to a survey by the Employee Benefit Research Institute.

Compiling, submitting, and getting expenses approved for a trip can also present a challenge. 19% of travelers had an issue with this across all countries.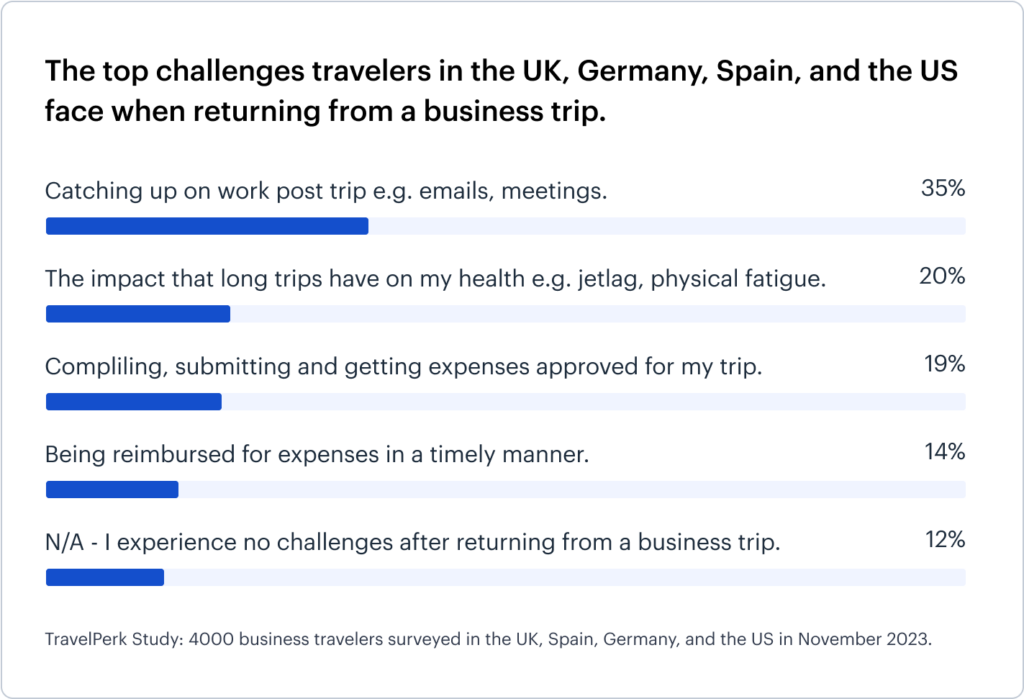 Business travelers find it challenging to keep up with work and be away from loved ones
36% of travelers reported that it was difficult to be away from loved ones while on a trip, while 27% said it was hard to keep up-to-date on ongoing projects or work. 29% also said that being able to make changes to their trip when needed was a significant challenge for them.

These numbers were fairly similar across the four countries surveyed. US travelers were mostly concerned with keeping up with projects and work (33%), while in Spain, Germany, and the UK, being away from loved ones was considered the greatest difficulty.
What business travelers can do to mitigate travel disruptions
With all this chaos going on, it's understandable that professionals might feel concerned about their upcoming business travel plans. Fortunately, there's a lot that can be done to manage travel disruptions and limit their damage.
Wondering how to manage travel disruptions?
Here are some tips travelers can follow to prepare for their upcoming trips:
Build in buffer time
Considering the recent travel delays, it's a good idea to build in extra buffer time for your business trips. This might mean:
Leaving more time to get to the airport or train station in case of a delay
Planning to stay an extra night in your destination to make the pace of travel more relaxed
Planning layovers that are long enough to transfer comfortably from one mode of transportation to the next
Pack smart
24% of US business travelers were impacted by lost or delayed luggage in 2023, so it's important to be prepared for unexpected circumstances. If your luggage is delayed or if you get stuck somewhere overnight, you'll need to have the right supplies with you. This will prevent you from feeling stressed out if you have important meetings to attend once you arrive at your destination.
Be sure to carry essential items in your hand luggage, including:
Medications
Identity and travel documents
A change of clothes
Toiletries (shampoo, soap, razors, etc.)
Phone chargers
Laptop and charger, in case you need to get work done on the go
Know your rights
Did you know that you might be entitled to compensation if your flight or train is delayed? Different countries have different laws about delays and cancellations. Familiarize yourself with these before you travel, so you'll know how to get your money back if something goes wrong with your travel plans.
For example, the EU's air passenger rules state that passengers are entitled to reimbursement, rerouting, or return, as well as assistance at the airport, if their flight gets canceled. If the passenger is informed of the cancellation less than 14 days prior to the scheduled departure time, they also have the right to compensation.
If a flight is delayed, EU passengers also have the right to reimbursement, assistance, and a return flight. In addition, passengers are entitled to compensation if the flight arrives at the final destination with a delay of more than three hours.
EU rail passengers have the right to a rerouting or refund under certain circumstances, in case of cancellation or delays.
US air passengers are entitled to a refund in the case of cancellations or delays, according to the US Department of Transportation. The US does not have laws on rail travel compensation.
How TravelPerk helps travelers overcome the challenges of travel disruptions
TravelPerk offers a best-in-class business travel software solution to help travelers easily book, manage, and save money on business trips. With TravelPerk, business travelers can find hotel, flight, and rail bookings at the best rates, submit expense reports, manage corporate travel policies, recover VAT, offset their carbon footprint to meet sustainability goals, and more.
Need help booking and organizing business travel?
Saving you money
One of the main travel challenges reported by business travelers is compiling, submitting, and getting expenses approved for a trip. This challenge affected 19% of travelers across all countries. TravelPerk can help with this—the platform manages expenses and invoices in one place, while also integrating with the world's leading expense platforms. Users can set up expense management automations and speed up the process for everyone on the team.
As global business travel prices and airfares rise, many travelers are concerned about budget. With 34% of travelers struggling to find options within budget, and another 30% finding it challenging to book options that suit their schedule, it's clear that saving money is a top priority. TravelPerk's extensive inventory of accommodation and travel services can help users find the best option to suit their needs. And TravelPerk offers corporate travel clients the best negotiated rates, allowing them to maximize savings when booking.
Keeping you informed
Since 39% of TravelPerk survey respondents check for information more frequently as a result of travel disruptions, these individuals may benefit from using TravelCare. TravelCare users (business travelers and admins) will get notifications of any disruptions or changes to their travel plans via the app. They will also have immediate access to the customer care team if they need assistance. This will help travel managers meet their duty of care and health and safety obligations.
In addition, when making bookings on the TravelPerk platform, travelers will have access to clear, verified, real-time risk and regulation information—so they can book with confidence.
Help when you need it
The highest percentage of travelers (33%) prefer speaking to a human customer service representative by phone. They'll love TravelPerk's seven-star rated customer care service, which is available 24/7.
Travel delays and changes create a greater need for flexible cancellation policies. With 35% of travelers actively looking for flexible offerings, TravelPerk's FlexiPerk solution is the perfect fit. Using FlexiPerk, travelers can cancel a booking up to two hours before departure and get 80% of the cost back as credit on the TravelPerk platform. This results in an average 40% saving compared to traditional flexible fares.
In 2023, TravelPerk has seen a 35% increase in the number of companies choosing flexible options to recover their costs when trips don't go to plan. On average, 10% of TravelPerk trips are canceled by business travelers, and half aren't covered by flexible cancellations. This loses companies an average of €450 (US $470) per trip, based on an average booking value of €570. To avoid losing money, companies can benefit by choosing flexible solutions like FlexiPerk.
How to cancel a trip and get a refund with FlexiPerk
FlexiPerk offers you the most flexible business travel ever. You a pay a small fee on top of your booking and if your plans change, you can cancel up to two hours before and get minimum 80% of your trip refunded. No questions asked.
Overall, 2023 has been a year of major changes, including some disruptions in travel. These have left travelers concerned and looking for different solutions to ensure their trips go as planned. The good news is, with advanced planning and the right tools, there's no need to worry—travelers can take precautions to ensure they have a great trip, with the right resources to manage the situation if things go wrong. Hopefully, travel industry providers will see a resolution of these issues for next year and beyond.
Methodology
OnePoll conducted an online survey on behalf of TravelPerk from 27 October to 07 November 2023, with 4000 employed adults from the UK, US, Germany and Spain who travel for work. Respondents came from organizations within sectors such as accountancy, banking & finance, retail, and healthcare.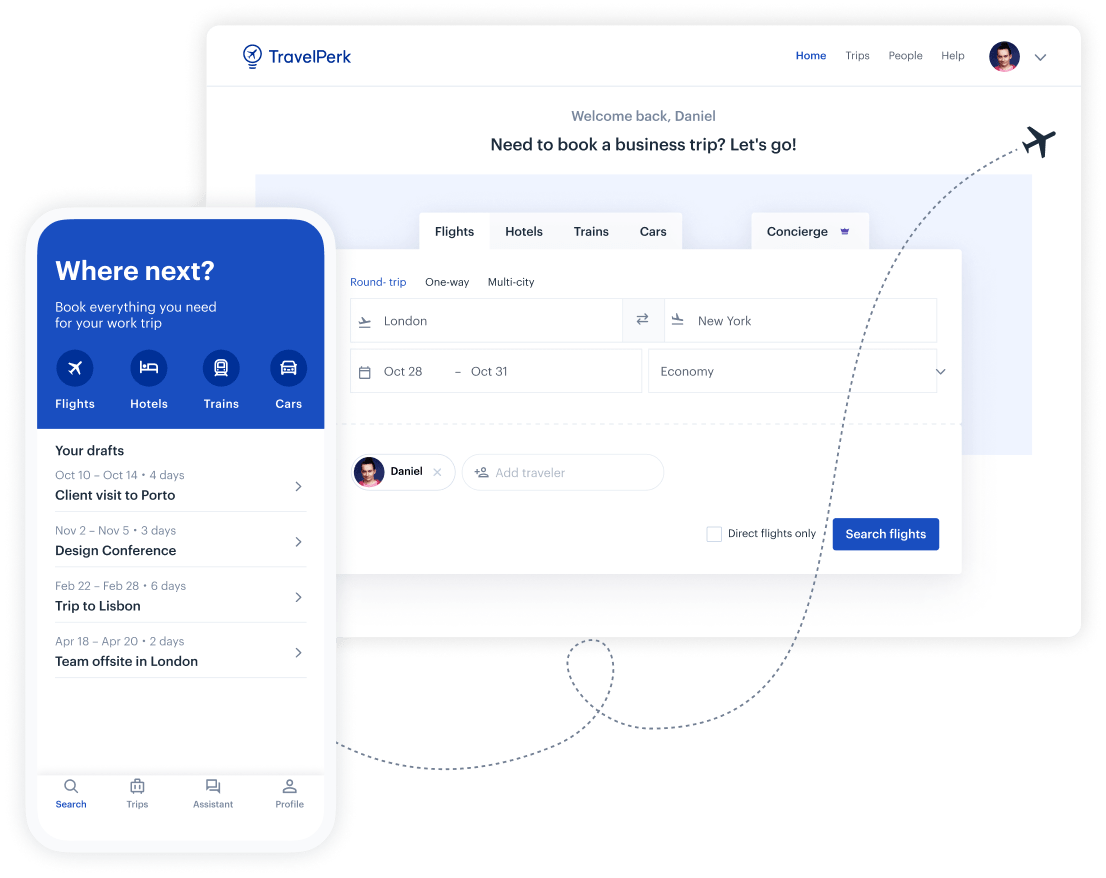 Make business travel simpler. Forever.
See our platform in action. Trusted by thousands of companies worldwide, TravelPerk makes business travel simpler to manage with more flexibility, full control of spending with easy reporting, and options to offset your carbon footprint.

Find hundreds of resources on all things business travel, from tips on traveling more sustainably, to advice on setting up a business travel policy, and managing your expenses. Our latest e-books and blog posts have you covered.

Never miss another update. Stay in touch with us on social for the latest product releases, upcoming events, and articles fresh off the press.