Imagine you're all packed and ready for your next big business trip. You grab a cab, head to the airport… but there's tons of traffic on the road, and when you arrive, you find your flight has been delayed by several hours. In Europe, this is a common scenario, as summer travel is often impacted due to strike action (especially since the COVID-19 pandemic).

Planned strikes happen frequently, and can lead to delays—especially if they involve air traffic controllers, public transport workers, security staff, and other travel workers.

But there's no need to worry. As long as you think ahead, you can effectively manage the impact of air strikes, rail strikes, and labor shortages on your travel plans.

In some countries, workers are required to give a certain amount of notice before calling a strike, so the good news is, you may know ahead of time when and where a strike is going to take place.

Tools like TravelPerk help business travellers get a handle on what's happening and where—so you can avoid flight cancellations and delays, and easily manage them if they do happen.

Read on to learn more about planning for strikes and unexpected circumstances, so you can continue to enjoy all the benefits of business travel and connecting with colleagues in person.
3 ways to prepare for strikes and keep your business trips on track
1. Proactive Planning
If you know when strikes are going to happen, you'll be able to plan your trips around them.

Find a trusted news source, and follow it regularly so you can keep up to speed on the most recent developments and strike dates (trade union negotiations on working conditions, pay offers, the retirement age, and other strike-related issues are sometimes rescheduled or canceled.)

Some news sources that are updated regularly in different countries include:
Once you know when strikes are scheduled, work that into your trip plans. Be sure to leave plenty of extra time to get to your destination if you think a strike may interfere with your road, train, or plane travel, especially if you're headed to a large hub such as Heathrow Airport or Paris Charles de Gaulle.
Take the stress out of planned strikes
2. Leveraging technology
Of course, keeping up with planned strike actions can take a lot of effort. It requires you to continuously check up on the news—and when you find out that a strike is planned, you or your travel manager may have to rebook your existing flights or make other changes to your itinerary. Unexpected delays can catch you unawares and may interfere with your business travel goals.

Fortunately, a good business travel management platform can make this process much easier. A travel management platform is a software solution designed to help with every aspect of business travel booking management, including making bookings, changing and managing travel plans, centralized invoicing, expense management, VAT recovery, and more.
TravelPerk is a business travel management platform used by companies across Europe and around the world. TravelPerk can help you deal with unexpected changes— including air traffic control strikes, industrial action, or walkouts in Europe—with the following features:

All travelers who book with TravelPerk have access to TravelCare services. This means you will receive instant notifications about disruptions, changes, or travel advisories while on the road. You'll also be provided with a direct link to contact the customer care team for immediate assistance.

If you choose to contact the customer care team, you'll benefit from best-in-class travel assistance available 24/7 via phone, chat, or email, with a target response time of 15 seconds. This way, you can be assured that help will be available when you need it.

With FlexiPerk, you won't have to worry about losing money if plans change at the last minute. You can book any flight, hotel, car, or train, and cancel up to two hours before your departure with just one click. You'll get a guaranteed 80% of your money back, no questions asked, and enjoy a 40% average savings over traditional flexible fares.

How to cancel a trip and get a refund with FlexiPerk
FlexiPerk offers you the most flexible business travel ever. You pay a small fee on top of your booking and if your plans change, you can cancel up to two hours before and get a 80% of your trip refunded. No questions asked.
3. Travel insurance: know your rights
A final step in planning for strikes in Europe is to look into travel insurance. Travel insurance may cover you for essential services, such as healthcare, but it can also sometimes cover you for travel disruptions—such as lost luggage, flight cancellations, or delays.

Did you know that in some regions, you may be entitled to compensation if your flight is canceled or delayed?
In Europe, European Union Regulation 261/2004 protects your rights as an airline passenger. If you fly from an EU country, or if you fly from a non-European country to an EU country with a European airline, you may be entitled to food, drink, hotel stays, or compensation if:
your flight was delayed by more than three hours
your flight was canceled right before departure
you missed your connecting flight
you were denied boarding for your flight

In the US, airlines are generally not required to compensate passengers if flights are delayed or canceled, according to the U.S. Department of Transportation. However, if passengers are removed from an oversold flight, compensation is required. Airlines are also required to give updates about flight delays no later than 30 minutes after the airline becomes aware of the change.

In some cases, you may be entitled to a refund for air travel if your flight is "significantly delayed", or if your flight is canceled and you choose to cancel your trip as a result (even for non-refundable tickets). These rules apply to domestic and international flights departing to, from, or in the United States.

In Canada, airlines have certain obligations towards passengers in the event of a delay or cancellation. According to the Canadian Transportation Agency, if a flight is delayed or canceled for a reason within the airline's control (such as a staffing issue, or a decision to consolidate flights due to low demand), the airline is required to provide assistance, offer alternate travel arrangements or a refund, and pay compensation. They also have to communicate key information in plain language, provide status updates every 30 minutes, offer food and drink, and arrange overnight accommodation.

Don't let strikes derail your next trip
If you discover that strikes will be going ahead at a time when you have business travel planned, there's no need to panic. With careful planning, you can avoid getting stranded at the airport or needing to cancel your trip.

Software tools can help you avoid unwanted outcomes and help you easily keep on top of unexpected changes, with minimal effort on your end. A business travel management tool will offer you the peace of mind of knowing you're in good hands, with the support you need to manage strikes and trip changes.

If you do need to cancel your trip, you'll be able to do so easily—and even recover most of the money spent—with a program like TravelPerk's FlexiPerk.

To try out TravelPerk and get to know our FlexiPerk feature, schedule a free demo today.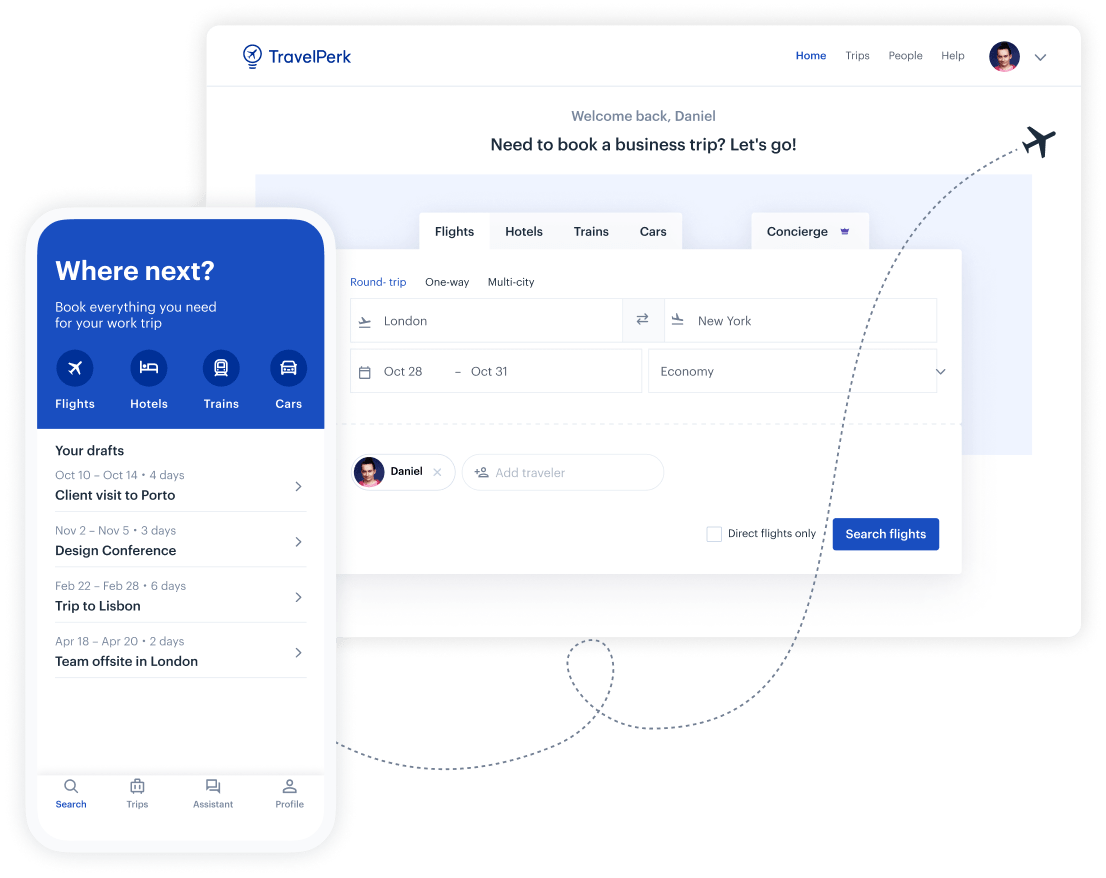 Make business travel simpler. Forever.
See our platform in action. Trusted by thousands of companies worldwide, TravelPerk makes business travel simpler to manage with more flexibility, full control of spending with easy reporting, and options to offset your carbon footprint.

Find hundreds of resources on all things business travel, from tips on traveling more sustainably, to advice on setting up a business travel policy, and managing your expenses. Our latest e-books and blog posts have you covered.

Never miss another update. Stay in touch with us on social for the latest product releases, upcoming events, and articles fresh off the press.