A healthy workplace culture is key to employee retention. A great way to create a thriving culture is to arrange regular company trips that help your team to bond. In a post-pandemic era, the rise of hybrid and remote working means that a company get-together is more important than ever for teams to connect outside of a workplace setting. Here are 10 top benefits of company trips:
#1 - Develop stronger relationships
Company trips help to bring teams together in a social setting and give individuals time to interact with their colleagues away from the hustle and bustle of work. Stronger relationships are given the chance to develop in a natural way. According to HR News, 82% of workers in the UK demand more team-building events.
If you are a big company, an away day or retreat creates an opportunity for colleagues from different departments to mix and mingle in a way they wouldn't at work. This helps to build a better understanding of business functionality among staff, highlights the important role every employee and department plays in your company's success, and develops better collaboration in the workplace.
#2 - Employee motivation
Motivating employees is key to the continued success of any workplace. A happy workforce is a productive workforce. Whether you decide to run monthly activities or arrange an annual company trip, they are perfect for encouraging teamwork and building positivity among your employees.
Plus, if you plan the company trip well, it can be a really cost-effective way to motivate employees..
#3 - An opportunity to refresh and recharge
Many of your employees will have busy family lives, and for some, a company trip may be their only 'break' of the year, which can yield great results in the workplace. Company trips can help to re-energize your workforce, prompt new and innovative ideas for your business, and inspire a new sense of purpose.
Employees are more focused on their well-being than ever and a company away day can help your business to demonstrate that the mental health of your employees is a top priority.
#4 - Improve retention
A company trip is a great way to acknowledge and celebrate the hard work of your staff. An away day or retreat is an ideal way to invest in your staff and their happiness. By doing so, they will reward you with loyalty. Good staff are hard to find, so coming up with creative ways to improve retention is a must for your business - having a company trip program is a good start.
#5 - Assess potential
Company trips provide the perfect setting to assess the potential of your employees. Team away days can be tailored to meet specific objectives. For example, adventure activities represent an excellent opportunity to identify those with leadership potential or other sought-after workplace skills such as:
Communication
Resilience
Teamwork
Independence
Self-management
#6 - Attract new staff
Offering company trips as an incentive or perk can be a powerful way to persuade new staff to join your team. Gen Z in particular are big on company perks. A recent Deloitte study shows that Gen Z will soon surpass Millennials as the most populous generation on earth.
With this in mind, corporate away days represent a really effective way to attract fresh talent from a new generation of workers. Having company trips as a perk will help to keep Gen Z workers engaged, and shows your desire as a business to invest in their requirements.
#7 - Encourages creativity and productivity
Activity-oriented company trips can stir creativity among your employees, which can have positive results in the workplace. The opportunity to solve problems and overcome challenges in a fun-filled setting can be transferred into the workplace and boost overall creativity.
Company trips can also help to spark a feel-good factor that can last for weeks, leading to a spike in productivity and healthy competition among colleagues. All this serves to help boost revenue for your business and create a positive workplace culture.
#8 - Promotes inclusion
Equality and inclusion in the workplace are the cornerstones of a positive workplace culture. From your human resources team to the finance department, company trips help to promote a sense of involvement, break down cliques and demonstrate that everybody within your business has value.
A company trip puts everyone on an equal level because nobody is known by their job title, they are seen and heard as individuals, out of which, unity develops.
#9 - Invite feedback
Company trips are casual and informal events, representing the perfect opportunity to get honest feedback from your staff. You always want to know what employees think about your business, what their opinions are, and what they think could be improved. Raising these questions in a relaxed setting is much more likely to make staff feel comfortable about sharing honestly.
Equally, if you have constructive feedback to give employees, they will receive it in a more positive way. Giving and receiving feedback helps to improve communication across your business.
#10 - Time to align
Dedicated time away from the office helps businesses and staff align on future goals, breaking down the 'us and them' mentality. Company trips help to concentrate your energy on improving team morale and aligning business objectives with the needs of your workforce. The result is a more cohesive team that's equipped to meet company targets.
Planning company trips
To plan a successful company trip, and to ensure that staff get the most out of them, consider the following:
Location and travel providers - Make sure your company trip is offsite, and use a corporate travel agency to help you arrange your staff getaway event and group travel. TravelPerk is an all-in-one business travel platform that equips you to book, manage and report on business travel - making it ideal for planning company trips. Plus, our events management feature makes it easier and faster for you to organize every aspect of your event-based business trips.

Be clear about the purpose - Is the trip about strategy, socializing or celebrating? Ensure everyone knows the objective and have an itinerary.
Assign action points - Use company trips as an opportunity to discuss some serious points and have someone take notes. Before everyone leaves, assign action points to help aid staff development.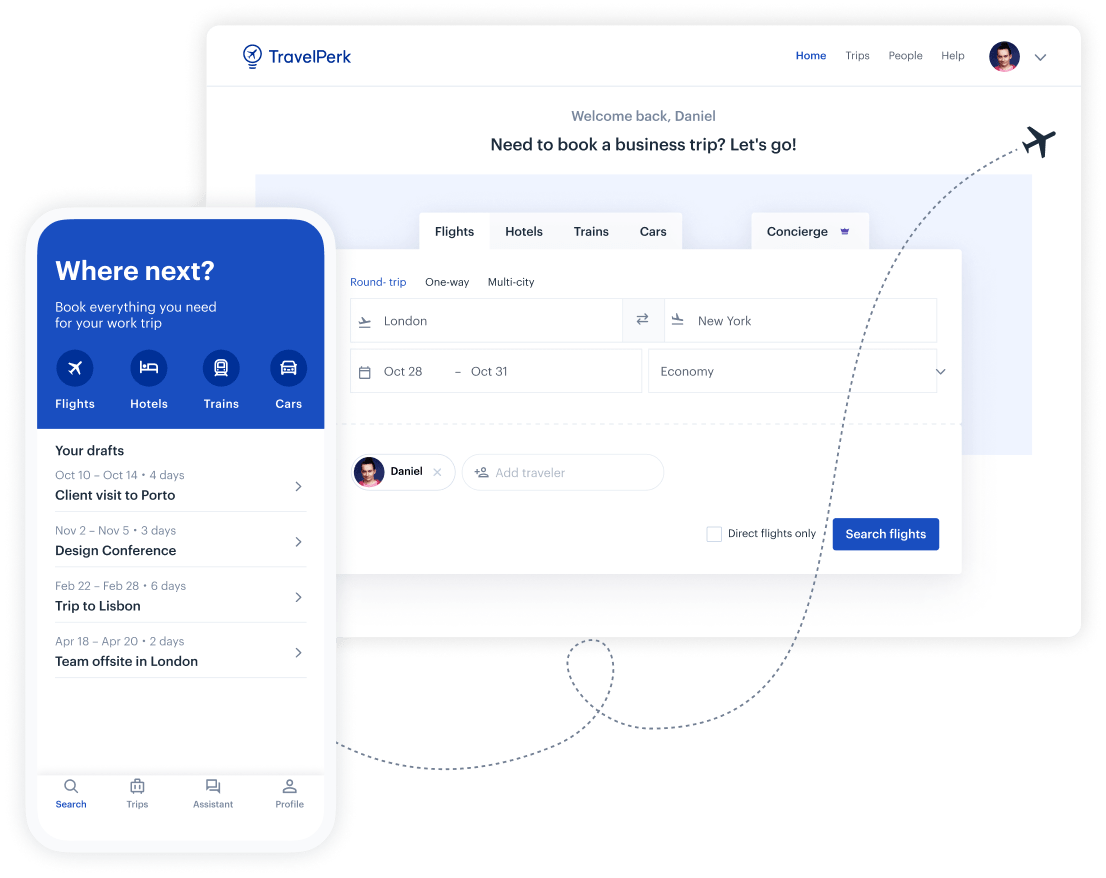 Make business travel simpler. Forever.
See our platform in action. Trusted by thousands of companies worldwide, TravelPerk makes business travel simpler to manage with more flexibility, full control of spending with easy reporting, and options to offset your carbon footprint.

Find hundreds of resources on all things business travel, from tips on traveling more sustainably, to advice on setting up a business travel policy, and managing your expenses. Our latest e-books and blog posts have you covered.

Never miss another update. Stay in touch with us on social for the latest product releases, upcoming events, and articles fresh off the press.