You've heard about expense management software, right? Of course you have. But have you heard of travel management software? Maybe not…
Corporate travel management is one of the largest global markets that has yet to be fully disrupted in this digital world.
There's a familiar story with many markets over the last couple of decades: new technology enters the space, new user expectations arise, and businesses either adapt or die.
This is exactly what's happening in the business travel market. Only this time, the stakes are incredibly high. The expense management market size is estimated at somewhere around 2.5 billion USD.
Compare that with the corporate business travel market, which hit 1.3 trillion in 2016 and is forecasted to hit 1.6 trillion in 2020. It makes sense when you think about it. With expense management, you're buying a tool to help you track money, but with travel management you're actually choosing where your money will go. Who will get a piece of this massive pie?
Why the Travel Management Software Category is Booming
This massive market is ready for disruption. New technology developed in the last few years is making it possible to revolutionize business travel by offering companies a consumer-grade online booking experience.
Why call your corporate travel agent when you can book for yourself in a tool designed for businesses?
Soon, everyone will be asking this question. In the next two to three years, the question won't be "should I use business travel management software" – it will be "which one should I use".
Here are the problems that travel management software can solve:
Difficulty enforcing travel policy
Lack of visibility into travel spend
Time consuming travel booking process
Lack of hotel and flight options
Just five years ago, it was too complicated for any startup or legacy tool to develop an OTA (online travel agency) system for businesses. Things have changed. The technology exists, and new startups are entering the field. The corporate travel management sector is one of the biggest emerging markets in tech.
Take a look at the G2 Crowd Grid for Travel Management as of April 2018.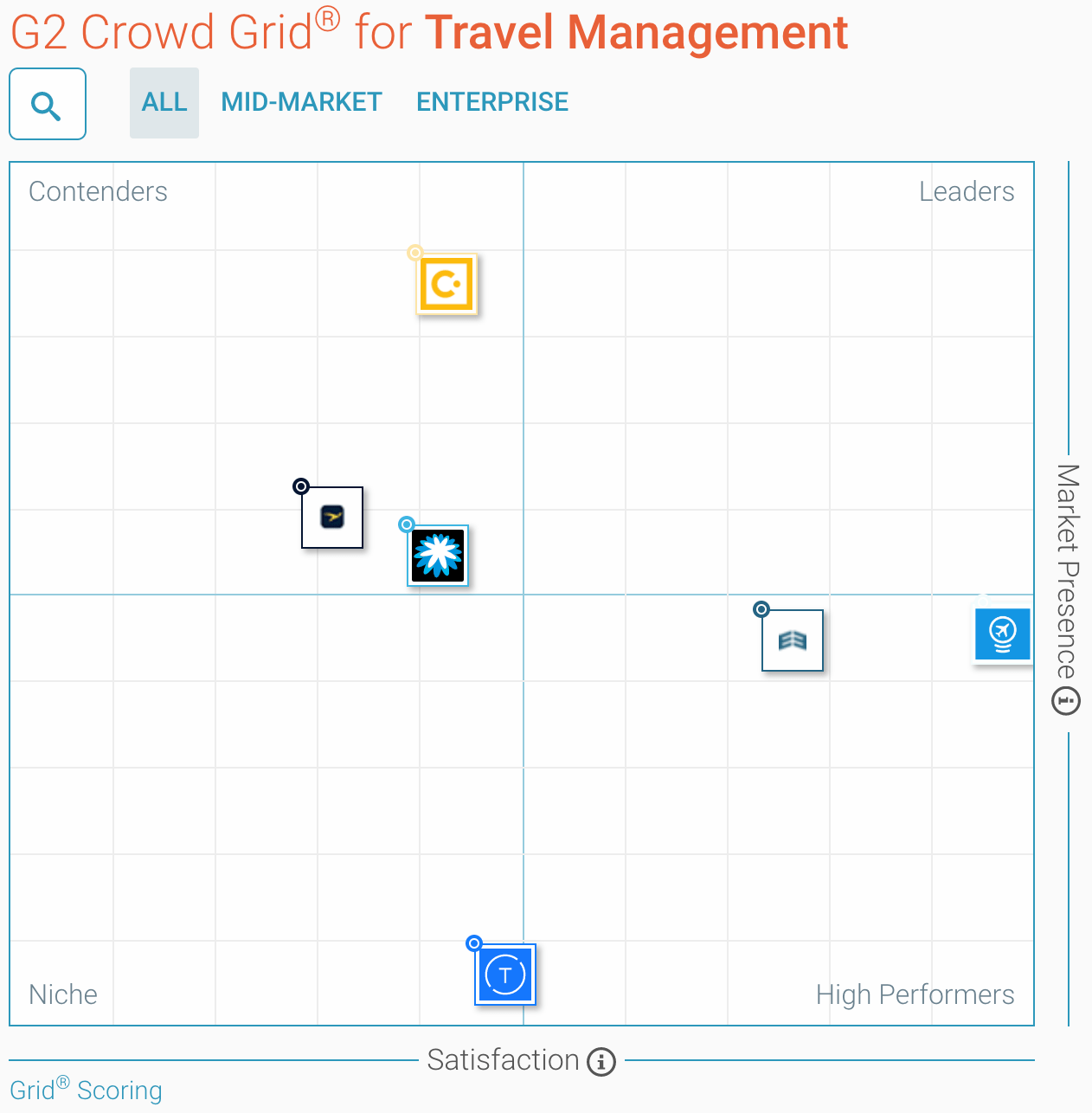 By April 2020, it's very possible that this market (and its G2 Crowd Grid) will be as saturated as the expense management category, which just a few years ago looked as empty as the grid above, and now looks like this: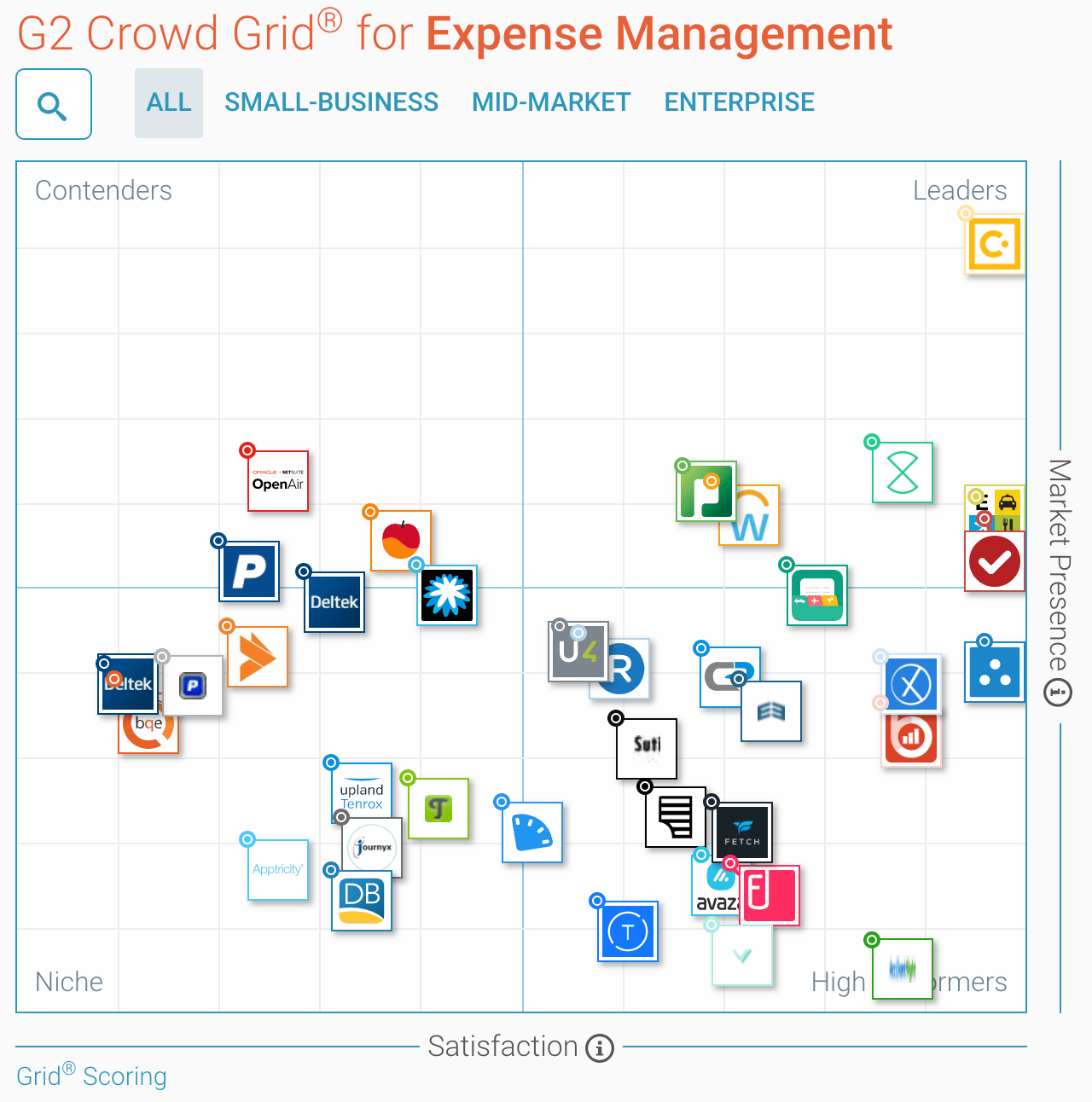 Getting to Know the Disruptors
There are many players in the emerging travel management software market. Here are the key players, some brand new and others just trying to keep up.
Travel agencies
As this market continues to get disrupted in the coming years, the only way travel agencies and old school travel management companies can survive is if they become technology vendors (not just service providers).
Today's travelers demand features like self-booking and mobile access to flight inventory, while employees in administrative and finance roles are looking for smart features that help them do their jobs better. Around the world, corporate travel agencies will go out of business (just as leisure travel agencies did in the 80s and 90s) and the ones who stick around will have found a way to adapt.
Legacy corporate tools
There are large legacy tools in this niche. These are the major enterprise software providers who have been offering business travel software for a decade or more. They will continue to improve their offerings by making them lightweight and easy to use.
These tools don't tend to offer all the inventory that a leisure OTA like Booking.com or Expedia offer, and that will continue to be a problem for businesses looking to save money by accessing consumer-grade inventory.
Niche startups
There are so many niche startup players entering business travel management, and the number will only grow (probably double or triple) in the coming years.
These companies will find a certain problem in the market or a niche customer base and will build technology to address that. Some of the existing niche players offer AI concierge chatbot to travelers and gamification and incentivization for business travel budgets.
Travel management platform
New travel management platforms are different than the two players above in that they bring the startup mentality (consumerization of business travel) but they also are tackling the problems of the industry as the whole, not just offering a single useful hack.
These software platforms typically offer speedy booking capabilities, ease of travel policy compliance, and full financial visibility and control.
Of all four players, travel management platforms are best poised to solve the problems that businesses face and to totally disrupt this market.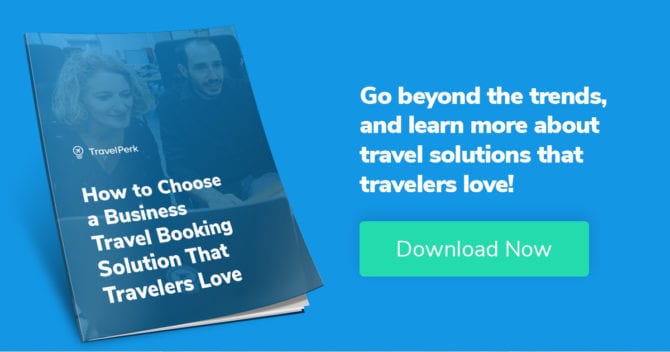 Where the Money is
You might assume that the $1.3 trillion all of these players are going after is mainly spent by large corporations. While winning big accounts is certainly a great motivator for disruptors in this market, that's not necessarily where the big money is.
Currently, there are hundreds of thousands of small to medium sized businesses who are currently doing nothing when it comes to managing business travel.
They're not using travel software. They're not using an agency. They're doing everything the manual way, and booking on tools built for consumers, thus sacrificing the ability to control and track business travel (which happens to be an enormous expenditure).
Much of the current opportunity comes in winning over the businesses who currently have no travel management solution.
What to Look for in Travel Management Software
End-to-end travel management platforms that cover all functionality from traveler data management to booking to policy creation to automatic expensing and more are definitely the best solution on the market.
But they vary greatly in their functionality and in the cost savings they can provide to businesses, the main driver being access to low-cost inventory.
Here's a checklist of the critical things to look out for when vetting solutions in this emerging software category:
Ease of booking for administrators
Self booking for travelers
Access to all flight and hotel inventory in the world (everything you can find in Google)
Automatic travel policy compliance
Future-ready tool that will scale and adapt
It's definitely an exciting time to watch the business travel industry. A few years ago, it was an old, clunky, boring market, and now it is popping off with new solutions and new technology every day.
TravelPerk is the leader in modernizing business travel. Our free-forever plan is suitable for the vast majority of small and medium-sized businesses. Sign up to get started.