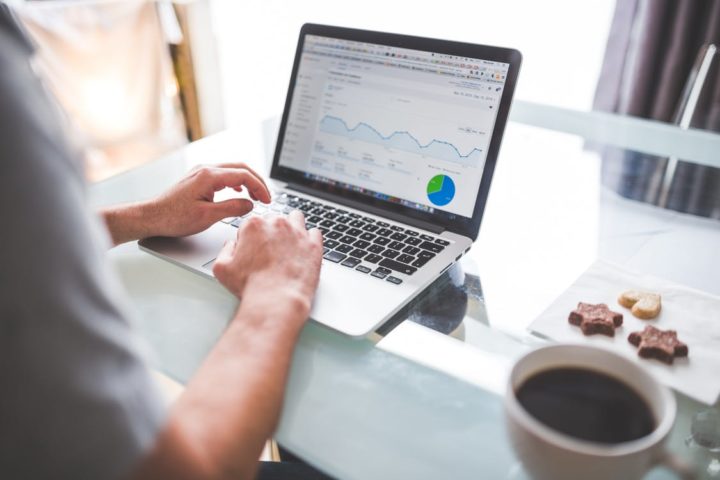 Travel management software isn't just for large enterprises anymore.

Small to medium-sized businesses experience massive benefits when they book and manage travel with software designed for businesses, instead of booking on consumer sites and then scrambling to track down the invoices.

Whether you're a long time user of travel-management software, or you're researching this software category for the first time, we're covering everything you need to know about the top features, vendor options, and the market as a whole.
What is travel management software?
Travel management software is used to book trips, manage upcoming trips, and track and report on previous trips. Other important features and uses include the automation of corporate travel policies and the ability to consolidate travel invoices and vendors.

The old way for small businesses: Employees read the company travel policy on a PDF handout or internal wiki, use any website to book their trip, then have to get reimbursed.

The old way for large businesses: Use travel agencies or travel software with big markups, commissions, and support call fees.

The NEW way (for businesses of any size): Employees book for themselves using travel management software that includes the company travel policy inside (to block or require approval for trips out of policy). The software also includes company payment details so no reimbursements are necessary!
Top travel management software
Most travel software will help you track and report on spending to help you make budget decisions, but doesn't include everything you need for taxes and accounting purposes.

While travel management software should integrate with your expense system, these are separate tools. That's why we've broken down our software recommendations into those that help you manage travel versus those that help you report on expenses.

Tools for booking and managing travel
TravelPerk offers the world's largest travel inventory alongside powerful travel management features. It helps travelers and managers easily book trips for themselves and others within policy.

TravelPerk also provides travel budget owners and finance teams with all of the features they need: travel spend tracking, expense reporting and integrations, and compliance insights. The tools is top-rated by travelers and administrators. Plus, there is a free version of TravelPerk's travel management software.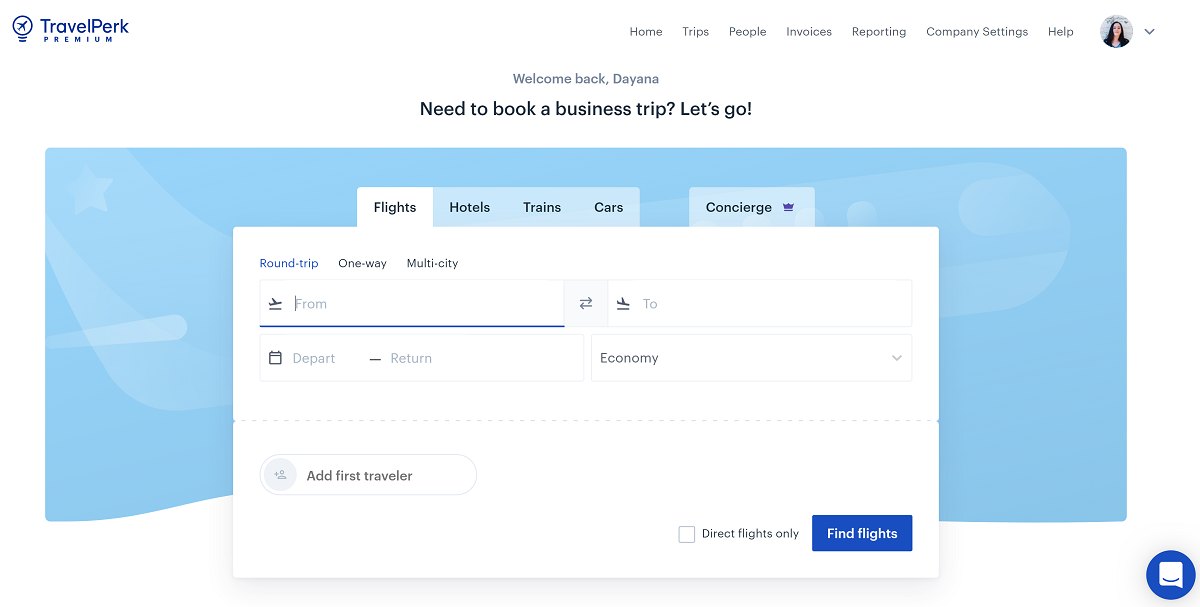 Salestrip can be a good business travel software option for sales teams and consultants who use Salesforce. It allows you to track and manage travel at the CRM level, so you can assign trips to different customer accounts.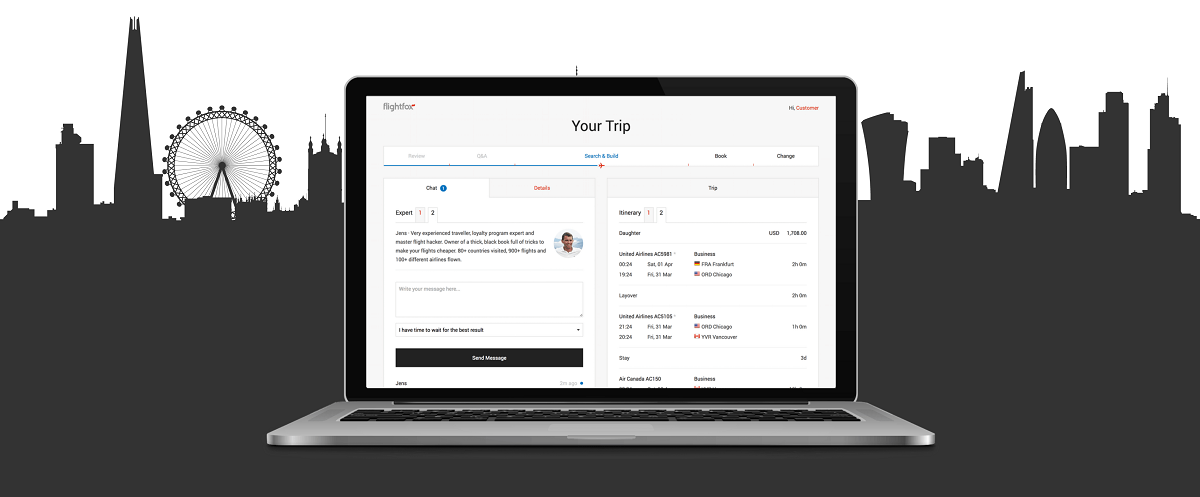 If you like the experience of having a travel agency, but you also want modern software to go along with it, then you might enjoy Flightfox, which is a travel agency management software that provides an online tool where you can review upcoming trips, download reports, etc.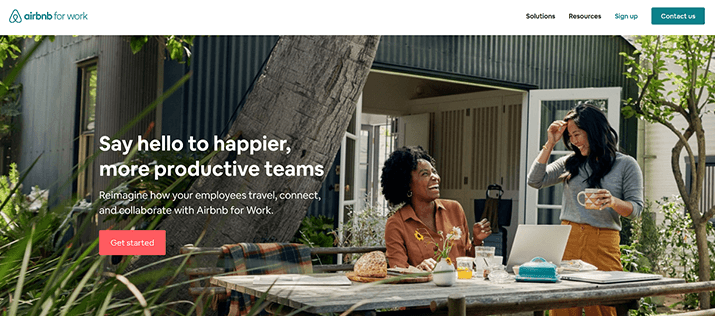 While it won't work as a complete stand-alone travel management solution, Airbnb for Work offers the features that businesses need to safely and easily let their travelers stay with Airbnb for business trips, include streamlined payment and duty of care integrations. Keep in mind that some travel management software (like TravelPerk) allow you to book with Airbnb for Work.
Tools for managing travel expenses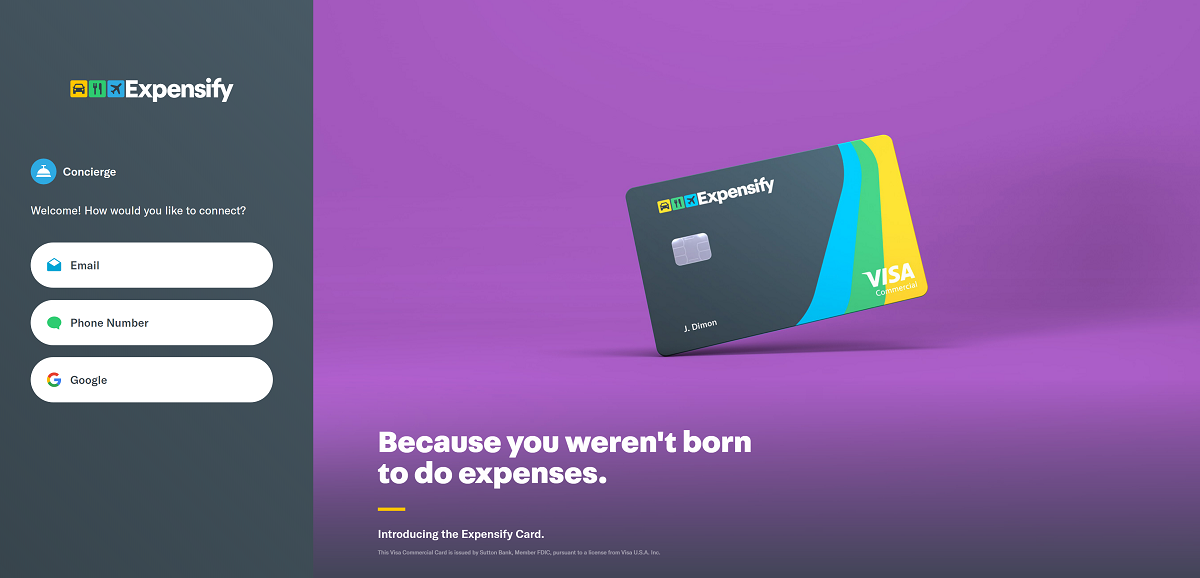 Expensify is the leading solution in the expense management category. It offers a mobile app for easy expensing (just take a picture of your receipt and it will enter the data for you). Plus, it now has a new credit card offer, so that employees don't even have to bother with receipt uploads for many transactions.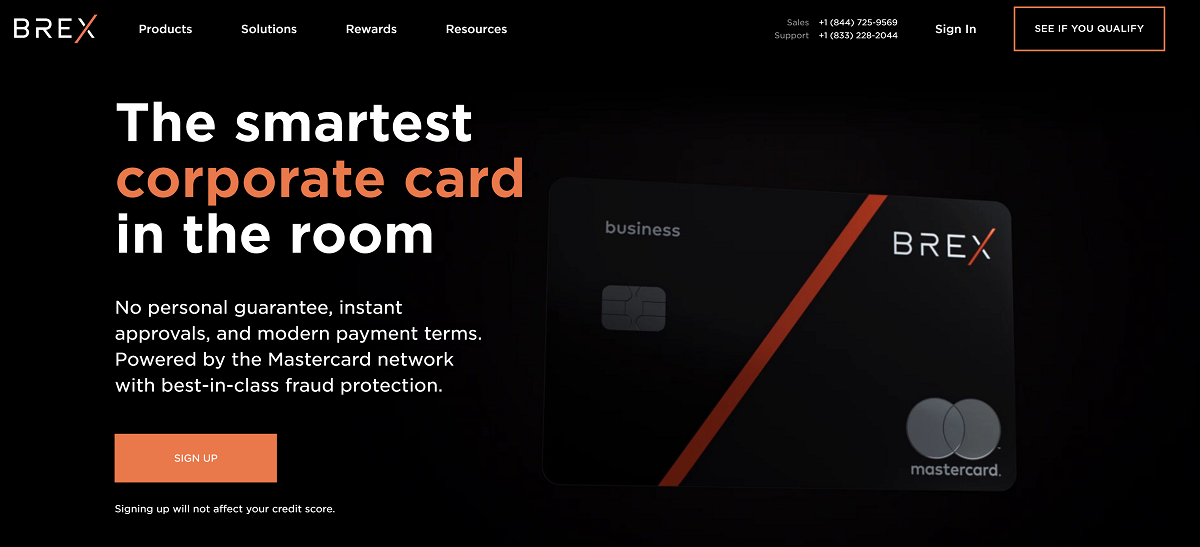 Brex is a corporate credit card that is great for startups and established businesses alike. It offers higher limits than most cards, better rewards, and it makes it easy to track and manage spend across all categories, including travel.
With spend management software and a credit card offering, Spendesk helps companies track and control spend. Companies can get real-time insight into all spend, which can be easily sorted and categorized to help with budgetary decision-making.
Zoho Expense is a popular expense management platform primarily used by small businesses. You can upload receipts and record expenses so that accounting teams have all of the information they need.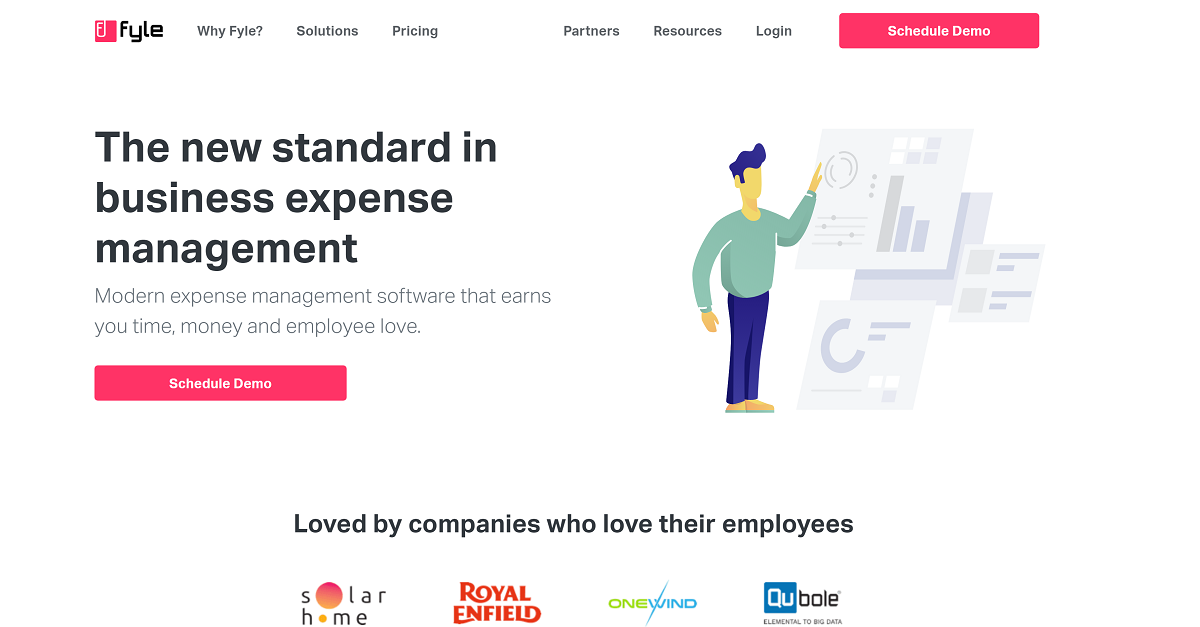 In addition to corporate cards and mobile expensing, Fyle has robust expense management features, including approval workflows, spend analytics, and travel spend advances.
Remember: for whatever travel management software and expense management software you choose, make sure they can integrate.

Features to look for in travel management software
End-to-end travel management platforms that cover all functionality from traveler data management to booking to policy creation to automatic expensing and more are definitely the best solution on the market. But they vary greatly in their functionality and in the cost savings they can provide to businesses, the main driver being access to low-cost inventory.
Here's a checklist of the critical things to look out for when vetting travel management solutions:
Ease of booking for administrators
Self booking for travelers
Free 24/7 support
Massive travel inventory
Automatic travel policy compliance with customizable policies and approval workflows
Future-ready tool that will scale and adapt
Around-the-clock travel support including direct line, chat, and email
No additional charge for travel support
Consolidated invoicing
Travel spend reporting
It's definitely an exciting time to watch the business travel industry. A few years ago, it was an old, clunky, boring market, and now it is popping off with new solutions and new technology everyday.
Geeky insights into the travel management software market
Corporate travel management is one of the largest global markets that has yet to be fully disrupted in this digital world.

Just a couple years ago, only medium-sized businesses and enterprises would have used travel management software. But with new disruptors in the market, small businesses are ditching consumer booking sites in favor of travel management software built for business use. Meanwhile, corporations that traditionally booked travel with agencies are moving towards in-house travel management, supported by robust but easy-to-use software. 

There's a familiar story with many markets over the last couple of decades: new technology enters the space, new user expectations arise, and businesses either adapt or die.

This is exactly what's happening in the business travel market. Only this time, the stakes are incredibly high. The expense management market size is estimated at somewhere around 2.5 billion USD.

Compare that with the corporate business travel market, which hit 1.3 trillion in 2016 and is forecasted to hit 1.6 trillion in 2020. It makes sense when you think about it. With expense management, you're buying a tool to help you track money, but with travel management you're actually choosing where your money will go. Who will get a piece of this massive pie?
Why the travel management software category is still growing
This massive market is ready for disruption. New technology developed in the last few years is making it possible to revolutionize business travel by offering companies a consumer-grade online booking experience. Why call your corporate travel agent when you can book for yourself in a tool designed for businesses? Soon, everyone will be asking this question. In the next two to three years, the question won't be "Should I use business travel management software?" it will be "Which one should I use?"

Here are the problems that travel management software can solve:
Difficulty enforcing travel policy
Lack of visibility into travel spend
Time-consuming travel booking process
Lack of hotel and flight options
SMBs: new adopters of travel management software
You might assume that the $1.3 trillion all of these players are going after is mainly spent by large corporations. While winning big accounts is certainly a great motivator for disruptors in this market, that's not necessarily where the big money is.

Currently, there are hundreds of thousands of small to medium sized businesses who are doing nothing when it comes to managing business travel. They're not using software. They're not using an agency. They're doing everything the manual way and booking on tools built for consumers, thus sacrificing the ability to control and track business travel (which happens to be an enormous expenditure)

Part of the current opportunity comes in winning over the businesses that currently have no travel management solution. Opportunity also lies in businesses who have been dissatisfied with their corporate travel experience for years. Many enterprises have been saddled with high agency fees, commissions, and charges for poor-quality customer support calls

The travel management software category has changed rapidly in the past two years, and yet we're still at the beginning of this huge wave of disruption.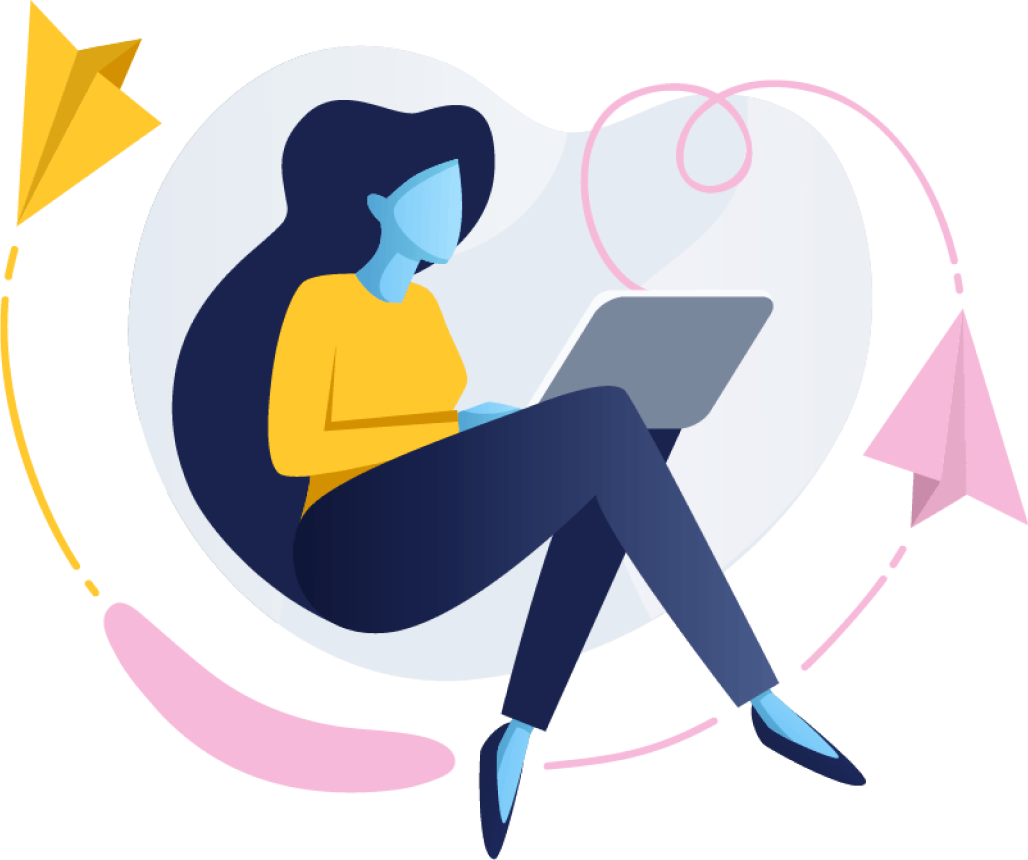 Subscribe now to get all the latest updates, news and more, straight to your inbox!