When hunting for a replacement corporate travel agency (or getting started with one for the first time), there are a lot of questions you might be asking:
Do I really need a corporate travel company?
How do I find the company that will meet all of our needs while reigning in travel costs?
How will I know when I've found the right corporate travel services?
As for the first question, yes, you do need a corporate travel agency or a company that includes travel management features. You need a solution that combines technology with the human service of booking help and trip support. As for the second two questions, we'll be answering those in this article.

46% of business travelers have booked outside of policy for hotel bookings. If travelers are resorting to sites outside of a company's booking policy, businesses need to consider switching their travel booking processes to a more user-friendly booking solution. Rogue business travel bookings are a huge problem. With no oversight out-of-policies bookings, and therefore spending, only increase.

Read on to understand how a travel management tool or company can help you achieve greater compliance and traveler satisfaction.
What is a corporate travel agency or company?
A travel management company (TMC) is a service provider that books and manages travel for a business. Typically a business will get one or a few main contacts at the agency to help them keep all trips within company policy and to offer the travelers on-the-go support.
Efficient and organized business travel management can help reduce travel expenses, streamline expense reports, optimize booking processes, and make managing the corporate travel experience way easier for all stakeholders involved.

There are so many different types of corporate travel agencies that it's a struggle to summarize their service offerings. Large companies might offer support in dozens of languages but charge for every call. Smaller companies might be hard to reach during off-hours and not cover as many languages, but might charge a premium monthly fee that covers all needs.

Here are the factors that corporate travel agencies or business travel agencies have in common:
Book trips for employees
Provide travel solutions and support for cancellations, reschedulings etc.
Negotiate group rates and corporate rates
See how to save money on business travel
The benefits of a corporate travel agency
There are many reasons and motivations why'd want to hire a corporate travel agency. Let's take a look at the top benefits for getting help with your corporate travel program:
Supplement a lack of in-house resources or expertise: Maybe you don't have the need for a full-time travel manager, and your office team is swamped with other critical work. In that case, a corporate travel agency can provide travel experts and the services you need to make all your necessary travel arrangements without having to hire additional staff.
Negotiate group rates and corporate rates: For group travel and continued, sustained travel, agents can negotiate better rates for their clients.
Offer travel support: When office managers have to support travelers on the road, things get stressful. Travelers might not be able to always get help on nights and weekends, while office managers feel the strain of having to work overtime. An agency can alleviate this burden.
Report on travel spend: In order to optimize their budgets, businesses need to know which departments are spending what on travel. Agencies can report on spend for all stakeholders by team, department, or project, and help you accurately track all your travel expenses.
Employers have a duty of care to their employees, and business travel exposes employees to inherent risks. Employing a business travel agent ensures a proactive travel risk management (TRM) policy to keep you and your employees safe, planning ahead and keeping crisis management strategies in place.
Maintain compliance: Every company has some sort of rules that make up their travel policy. An agency can enforce these guidelines when booking.
What corporate travel agencies lack
However, there are plenty of potential issues with using traditional corporate travel management solutions. Here's what to look out for.
Poor technology for travelers and admins: Travel agencies rely on a lot of phone calls and emails to interact with their clients. But today's travelers don't want to hop on a phone call. They want to book for themselves easily within company policy. Similarly, many administrators would rather log into a platform to get their own questions answered, then have to email an agent to ask for a report. Having good technology can also help you generate useful travel data so you can track your company's business travel spend accurately.
Bad rates and high fees: Travel agencies can negotiate special rates for individual clients, but they don't usually have the best rates on special travel. Plus, they have fees and markups for every aspect of their service.
Lack of travel inventory and options: Travel agencies might partner with a few vendors. They don't usually offer low-cost budget vendors like Southwest Airlines and EasyJet. This is something you should definitely include in your corporate travel program, especially for small businesses, to improve cost savings on business travel.
Fortunately, a corporate travel agency isn't your only option.
Traditional corporate travel services versus business travel platforms
Do you use a travel agency when booking a vacation to Malta? Probably not. And why is that? Because there are consumer booking sites like Expedia and Booking.com that satisfy all of your needs as a traveler.

The business travel industry is evolving in a similar way. What's different about how business travel is evolving (compared to consumer travel):
Need for smoother, easier travel policy compliance
No paying out of pocket with personal credit cards
Travel spend reporting for budget analysis
Automated expense reporting
What's similar to consumer travelers' needs:
Need for autonomy and self-booking
Access to all of the flight, hotel, train, and car rental options available around the world
Great user experience
Great experience on mobile
Real-time travel support (Consumers would like this, but rarely get it. It's a must for business travelers, though.)
So you can see that while businesses do have different needs (travel policy compliance and expense reports chief among them), there are a lot of similarities in what businesses and consumers demand.

Just like vacationers, business travelers want to book for themselves, search from all available options, and enjoy a great experience whether that's on a call with customer support or checking their itinerary on a mobile device.

Here's the problem: the vast majority of corporate travel services have not evolved to these new standards. They're still forcing employees to call a hotline to book a trip and charging for each and every one of those calls.

This is why when you vet your corporate travel agency, you need to look for a combination of technology and human service. Often, these solutions are called travel management platforms. There are a few well-known, enterprise travel management platforms. These can be good options, depending on the size and needs of the company.

These days in 2023 and beyond, a company that can only offer the human element won't be able to help your business automate travel policy compliance, whereas a company that focuses only on technology won't be able to support your travelers when they're stuck in a foreign city and can't get home.

That's why you need both technology and support.
What to look for in a corporate travel agency and why
Here's our list of what to look for, to ensure a smooth and successful trip.
Simple integration services
Finding a travel agency that fits directly into your company tech stack is crucial, meaning that tedious processes such as expense management and travel compensation become fast, simple tasks. TravelPerk offers a wide variety of integrations with popular platforms such as B, Divvy and Payhawk, transforming the process and eliminating the headache.
Easy booking experience
Travelers should be able to book travel for themselves if that is their preference. At the same time, it should be very easy and enjoyable for administrators to book for others. Administrators can also rely on great tracking technology to follow which employee is on what business trip and where.
Consumer-grade travel inventory
Give travelers access to all the flight carriers and hotel brands they want. Lower your travel spend on airfare by using low-cost carriers like Norwegian and EasyJet. All of the world's inventory should be available to you as a business without having to use a consumer tool.
You want a tool that will actually help you save money on business travel. Make sure you understand the fee structure before signing on with any travel management company. Look for red flags like charges for support calls or for simple, routine bookings.
Excellent trip support
This is where the human element really comes in. At this point, there's no amount of travel technology that can comfort you when your flight has been cancelled and you really need to get to an event.
A real live human can quickly find you an alternate route. Look for travel support that addresses all your travel needs and is offered 24/7, in multiple languages, and has great reviews from travelers.
Built in travel policies and approvals
What's the only way to get travel policy compliance? By baking your travel policy inside the platform where travel is booked and getting all of your travelers and administrators to use that online booking tool.
Not only do you need to find a tool with built-in travel policies and approval workflows, but you also need to make sure that the tool hits the above needs for a great travel experience so that everyone is really on board. Your effective business travel management starts today!
Learn how businesses across the global are achieving maximum travel policy compliance with TravelPerk. 
Travel spend reporting
Getting visibility into travel spend is huge! With travel booked on so many different platforms, it's very hard to get all the data. Remember that 46% of business travelers have booked on consumer sites.
That data is spread all over the place and can't get accessed until it's expensed. Look for a company or platform that offers real-time reports for your finance team and that can help with reimbursement processes and that will seamlessly integrate with your travel expense software.
Innovative and easily scalable
Global business travel is still evolving. In fact, it's really just getting started. When vetting travel management companies and/or platforms, it's brilliant to check that the company is innovative, future-ready and that the solution can scale as your company grows.
Most popular corporate travel booking companies
SAP Concur
Egencia
BCD Travel
Amex GBT
CWT
FCM Travel
Navan
Travel CTM
Corporate Traveler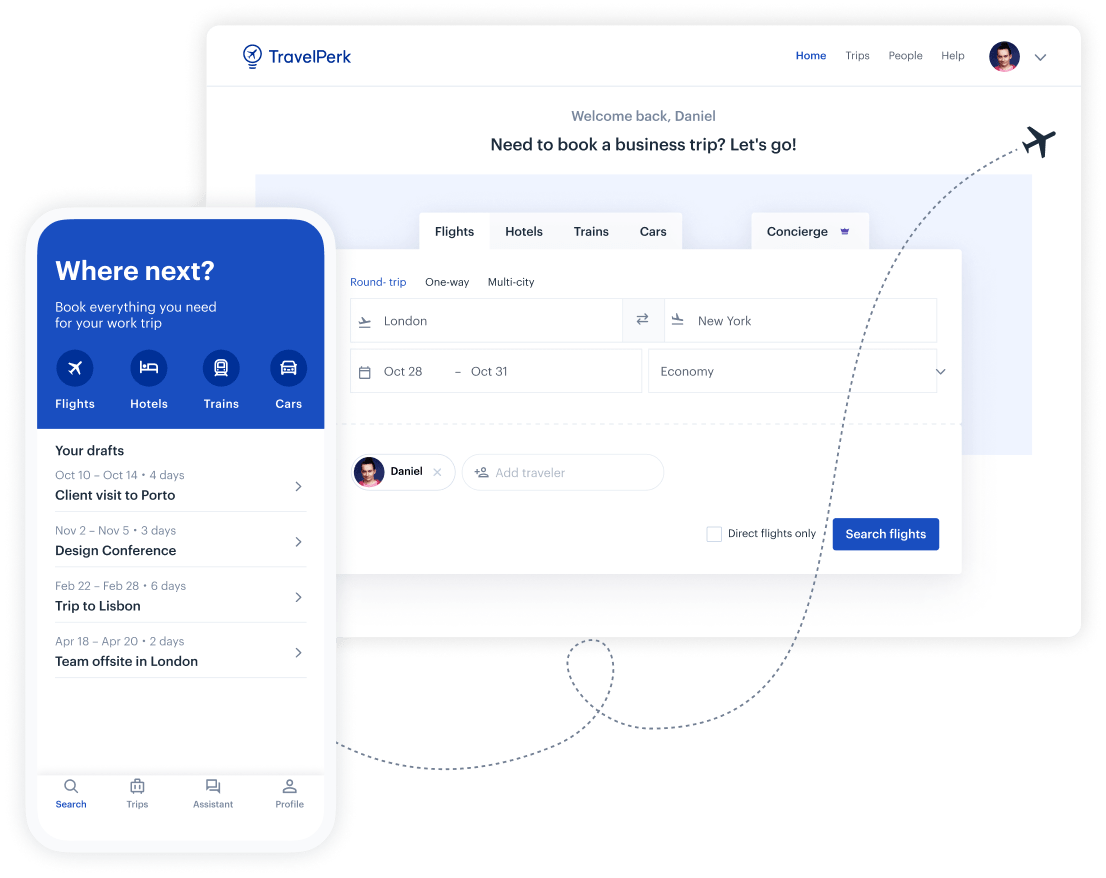 Make business travel simpler. Forever.
See our platform in action. Trusted by thousands of companies worldwide, TravelPerk makes business travel simpler to manage with more flexibility, full control of spending with easy reporting, and options to offset your carbon footprint.

Find hundreds of resources on all things business travel, from tips on traveling more sustainably, to advice on setting up a business travel policy, and managing your expenses. Our latest e-books and blog posts have you covered.

Never miss another update. Stay in touch with us on social for the latest product releases, upcoming events, and articles fresh off the press.