If you are a frequent business traveler or a travel manager for an organization, you will likely use an online booking tool or OBT when you book travel for work. However, not all OBTs are the same, and some booking solutions could suit your business better than others.
So what different kinds of online reservation tools are there, and what benefits can using the latest travel technology bring? When choosing the right OBT for your company, what features are helpful, and what pitfalls should you look out for?
What are the different types of online booking tools?
1. Booking direct
The most obvious online booking tool is the reservation systems that many travel products such as hotels, airlines, train operators, and rental car companies have online for clients to book their services directly.
2. Corporate travel booking tools
Business travel booking sites are the most useful for frequent business travelers. Designed specifically with businesses in mind, corporate OBTs like TravelPerk, aim to streamline users' workflow from the booking process to expense management and generating reports.


3. Travel merchants
A travel merchant books a range of travel elements, including flights, hotel stays, and car rentals, and then resells them to travelers looking for the same arrangements. The most well-known example of an online booking platform operating on a travel merchant business model is Expedia.
4. Travel agencies
Booking.com is perhaps the best-known online travel agency. Like travel management companies or TMCs, online travel agencies take a client's inquiry and provide them with various options from their inventory of travel products.
5. Aggregator websites
Aggregators are different in that they don't have their own contracts for travel services. They are essentially search engines that pull through information from various sites based on the parameters a user enters. For example, a booking engine like Kayak.com will scour hundreds of other travel suppliers to find you a hotel booking for your business trip to London.
What are the benefits of using an online booking tool for corporate travel planning?
They help boost compliance.
Incorporating your business travel policy into an online booking tool naturally improves compliance. Travel managers can easily define the boundaries of their policy and establish automated trip approval systems for any exceptions.
Rather than being buried in their inbox, policies inform the options corporate travelers are offered in the booking process. This doesn't just save time. It also means employees can choose their travel reservations freely, safe in the knowledge that they are compliant.
They give travelers more flexibility.
In business, there are many moving parts, especially when it comes to corporate travel. Meetings get canceled, or there's an office emergency, and you need to cut your trip short. We know there's a host of reasons why corporate travel arrangements need to be flexible.
That's why our FlexiPerk users can choose from a range of hotels and transport options with the assurance that they can cancel if their plans change.
They increase business traveler's satisfaction.
Managing an entire company's corporate travel program is extraordinarily challenging, and keeping on top of individual traveler profiles is nigh on impossible. Using an OBT gives corporate travelers a level of autonomy over their arrangements.
Enabling them to select accommodation that suits their individual preferences can make a significant difference to their travel experience. Knowing they can access a good gym or guarantee an aisle seat can get business travelers into the right mindset for a successful trip.
They help make reducing carbon emissions simpler.
Sustainability is going to be a vital issue for corporate travel going forward. Younger employees are galvanized by organizations that care about the future of the planet. Companies that demonstrate a serious commitment to tackling business travel emissions will reap the rewards in various ways. The best OBTs can assist businesses with reducing their environmental imprint.
With our GreenPerk solution, you can track the emissions of your corporate travelers, making it easier to stay on top of targets and incentivize your teams. Plus, our system provides carbon-saving suggestions during the booking process, making it simpler for travelers to choose the greener option.
They assist with keeping your corporate travelers safe.
As a business, nothing is more important than your duty of care towards your team. COVID-19 showed us how quickly our circumstances can change and how important it is to keep on top of the latest safety regulations when we travel.
Using the services of an OBT can help busy travel managers keep on top of the multiple itineraries they are juggling at any one time. For example, TravelPerk's mobile app incorporates our TravelCare solution, which provides travelers and managers with real-time safety notifications throughout the booking, pre-trip, and travel process.
They save you both money and time.
Imagine the time you could save by streamlining the travel booking process for your corporate travelers, simplifying your invoicing, and removing the need to generate reports manually. A good OBT can help you achieve all this.
Plus, companies that use an OBT save on average an impressive 20% on their annual travel spend thanks to greater policy compliance. With TravelPerk, you can save a further 20% thanks to our VAT recovery system, which generates taxman-ready expense reports to make sure you get the most out of any allowances.
What features do a great corporate self-booking tool have?
User friendly
An OBT is there to make booking travel arrangements more manageable and less stressful, not deliver a frustrating or headache-inducing booking experience! For your business to reap the benefits, your OBT's functionality needs to be straightforward for all the different team members who will use them.
Customization
To get the most out of your OBT of choice, you need to make it customizable to your organization's travel needs. Integrating your corporate travel policy into your online booking tool is key to increasing compliance and providing a seamless experience for your business travelers.
Great customer service
The best OBT systems are backed by fantastic customer service to answer any questions or help with more complex arrangements. At TravelPerk, our team of human customer support agents will always reply within just 15 seconds, 24/7, 365 days a year.
Are you struggling to find an impressive space to hold that important meeting? Premium and Pro users can also request the assistance of our concierge team for those extra business trip details.


Ability to create reports
Manually drafting reports can be a thing of the past with the right online booking tool. With TravelPerk, travel and finance managers can access consolidated reports and analyze travel data by team, employee, or project. Each business trip has a different estimated travel cost, so we designed our platform to support real-time reporting to enable more dynamic and accurate budgeting for your teams.
Seamless integration
As we alluded to earlier, corporate travel platforms were built with businesses in mind, but there are varying levels of automation and integration depending on the one you choose. Some, like TravelPerk, are designed to streamline every aspect of the business travel process, from booking to travel management to invoicing, report generation, and VAT recovery.
But this isn't always the case. Other OBTs have fewer features or require additional systems, adding costs and complications your business doesn't need.
What to avoid when choosing an OBT for your corporate travel management.
An OBT with a dated or complex interface.
Nothing will put off your team more than a clunky user interface! If your OBT's user experience is tricky or time-consuming, corporate travelers could end up booking elsewhere. Not only does this make your online booking tool obsolete, but it creates extra work and stress for travel managers and finance teams trying to locate missing invoices or itineraries.
An OBT with an unimpressive inventory.
An OBT is only as good as its connections. Similar to using a travel agent or a concierge service. An online booking tool is there to get you a great deal on your business travel and save you hours of scrolling through different providers. If your OBT hasn't negotiated some impressive preferred rates, then it will unlikely be worth its price tag.
At TravelPerk, we are proud to have the world's most extensive travel inventory, so you can always be confident you are getting the best price for your business trip.
An OBT that lacks human support.
Business travel can be intense. Corporate travelers have busy schedules, and plans can shift. If you need assistance while traveling for business, you want to get help from an actual human, fast.
Making sure your OBT's customer support isn't operated by robots or limited to certain hours forms an integral part of your organization's duty of care. Knowing they have access to speedy and skilled support will allow your teams to focus on the task at hand.
An OBT that requires further applications.
As we mentioned above, while the best OBT's enable you to manage tasks like handling expenses and generating reports within one platform, others require travel managers to connect to additional software solutions for these functions. Set yourself up for success and avoid the extra stress and expense by opting for a comprehensive OBT from the start.
An OBT with a one size fits all approach.
No two companies are the same, and each organization will have a distinctly different approach to their business travel. If your OBT doesn't allow you to integrate your corporate travel policy, you won't get the best out of this technology.
As we have seen, ensuring you choose a travel booking system that supports customization can do wonders for your compliance rates and, ultimately, your travel expenses. With TravelPerk, you can integrate or design your corporate travel policy from scratch within minutes, thanks to our easy-to-use interface.
What are the top 5 online booking tools for corporate travel?
Boasting the globe's largest selection of flights, accommodation, and transport, TravelPerk offers corporate travelers the best rates in the business. As well as unbeatable prices for your travel arrangement, this travel management solution comes with a range of integrations to streamline booking business trips, managing traveler safety with 24/7 support from human agents, and reporting travel spending.
TravelPerk's main features
The FlexiPerk feature allows business travelers to cancel their plans two hours before departure with a minimum guaranteed 80% refund, no explanation required.
Managing travel spending is made simple with collated invoicing, easy report generation, and VAT recovery that could save up to an additional 25% on expenses.
Automated travel policy integration ensures compliance while enabling corporate travelers to make selections according to their personal preferences.
Start saving money on business travel for your company today!
2. FCM
Switching from its conventional travel management background FCM has incorporated a new online solution into its offerings. Their debut platform allows organizations to book corporate travel and keep track of their teams from a range of devices.
What FCM promotes as their primary features:
AirPlus integration simplifies payments.
Users can personalize FCM's dashboard so individual departments to track travel budgets with straightforward reporting.
Travel managers can set up automatic approvals to boost compliance with existing company travel policies.
What differences TravelPerk customers highlight when comparing our travel management services to FCM:
The UX of FCM's platform is frequently commented upon with users claiming TravelPerk's systems are easier to use.
FCM provides subscribers with round-the-clock support, but response times are slower than those offered by TravelPerk's customer care teams.
FCM has a smaller inventory offering customers fewer options for transport and accommodation.
Click below for a more detailed comparison between both platforms:
3. TravelBank
Corporate travelers can avail themselves of industry rates with TravelBank's online tools. With its unique subscription system, organizations can select per-user packages that focus on features for expensing or booking travel arrangements.
What TravelBank promotes as their primary features:
In lieu of real-time safety notifications, TravelBanks provides support agents to assist with any incidents affecting ongoing travel itineraries.
Boasts integrations with a selection of well-known credit cards and HR and budgeting systems.
Customers can get support through dedicated Slack channels.
What differences TravelPerk customers highlight when comparing our travel management services to TravelBank:
TravelBank's support lines are more difficult to navigate, with users reporting it took longer to get an answer to their queries.
TravelPerk provides more features to keep travelers safe on the road with real-time notifications and more support pre and post-departure.
TravelBank's subscription model means organizations need to pay a monthly fee for each user regardless of whether they travel.
Click below for a more detailed comparison between both platforms:
4. CTM
With a reputation of expertise in the marine and energy sectors, CTM has expanded its travel management offerings with tech solutions. Travel managers can select a subscription for CTM's business travel management services based on their company's size.
What CTM promotes as their primary features:
Online booking tool not only assists with travel arrangements but includes a fare forecaster to warn business travelers of possible price hikes.
Scope to organize group travel and plan events through their concierge teams.
Users can generate reports to monitor employees' travel spending.
What differences TravelPerk customers highlight when comparing our travel management services to CTM:
CTM subscribers are currently unable to boost compliance and speed up approvals by incorporating travel policies into the system.
Fewer integrations across fewer categories mean CTM offers less support to travel managers.
With FlexiPerk, TravelPerk users can take advantage of more flexible rates than CTM currently provides.
5. Corporate Traveller
Traditional business travel assistants Corporate Traveller have pivoted into online solutions. Their premiere platform Melon enables teams to book business trips online while syncing up with a handful of commonly used software to free up time for travel managers.
What Corporate Traveller promotes as their primary features:
Business travelers can take advantage of industry rates.
Users can combine Melon with a small range of existing personnel and financial software.
Safety and itinerary updates are available to help track and notify traveling employees.
What differences TravelPerk customers highlight when comparing our travel management services to Corporate Traveller:
With fewer features than competitors, Corporate Traveller cannot offer users advanced solutions like guest accounts and VAT reclaim business can find with a tool like TravelPerk.
Corporate Traveller's system features a more condensed inventory.
Overall, the platform boasts fewer integrations than TravelPerk users have access to.
Click below to compare both platforms' features and benefits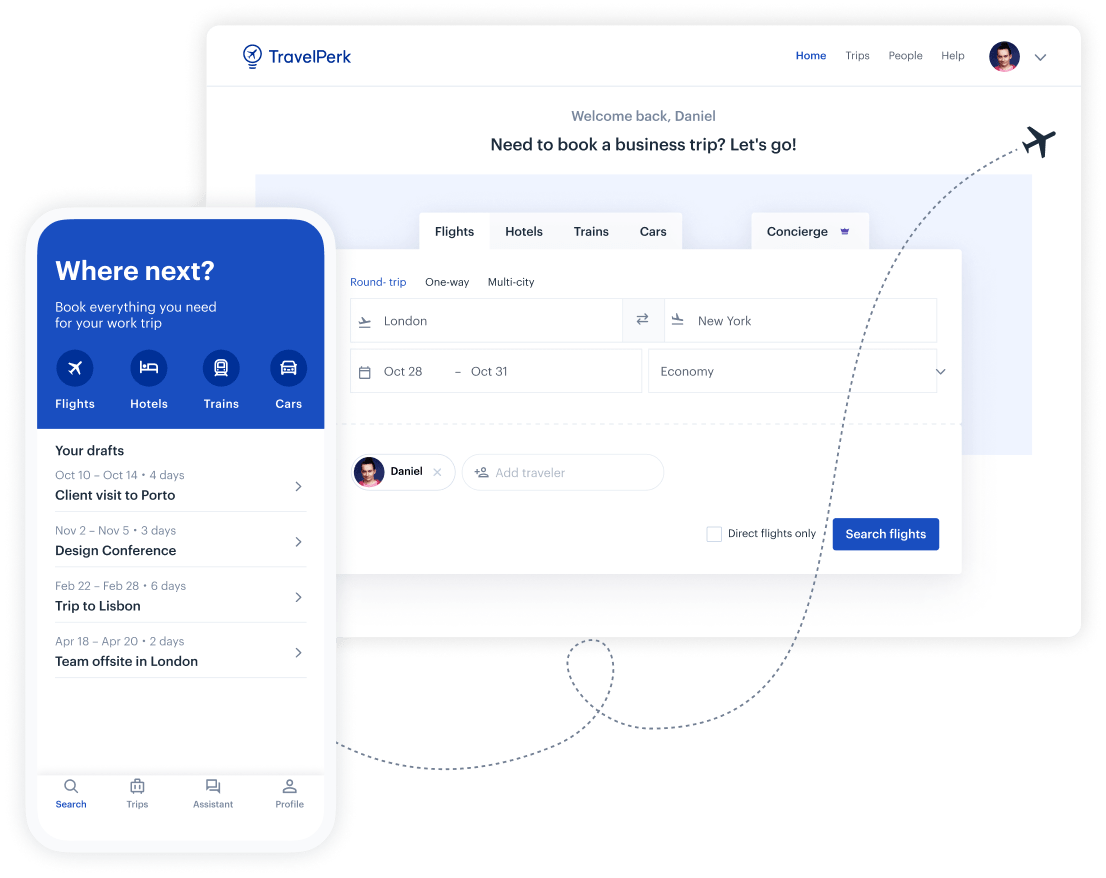 Make business travel simpler. Forever.
See our platform in action. Trusted by thousands of companies worldwide, TravelPerk makes business travel simpler to manage with more flexibility, full control of spending with easy reporting, and options to offset your carbon footprint.

Find hundreds of resources on all things business travel, from tips on traveling more sustainably, to advice on setting up a business travel policy, and managing your expenses. Our latest e-books and blog posts have you covered.

Never miss another update. Stay in touch with us on social for the latest product releases, upcoming events, and articles fresh off the press.