Travel's back–and it's better than ever. A turbulent couple of years for international travel has allowed the industry to bounce back with new and improved processes for helping you get from A to B.
Global travel spend in 2020 was $2.37 trillion. That's right, trillion. Plus, that's down 49% from the year before.
There's plenty of money to be made in the travel industry—meaning travelers have a wide variety of travel tools and solutions to make their trips simpler and easier.
We've compiled the top ten best online travel agencies to help you make the most of your next trip. Whether you're traveling for leisure or for business, we've got you covered.
First thing's first, let's take a look at what online travel agencies do.
What are online travel agencies?
An Online Travel Agency (OTA) is a website that sells services related to travel. It enables customers to make hotel and travel reservations from one single platform. They're the digital equivalent of a travel agent.
Examples of online travel agencies include Expedia, Booking.com, and Agoda. Some OTAs—such as Kiwi.com—specialize in one single service. Others—like Skyscanner—do it all.
How do online travel agencies work?
Online travel agencies can be used by the general public for leisure travel, and by organizations for business travel. The platforms differ in what they offer, but the premise remains the same: to facilitate travel and its associated admin and costs.
Hotels, airlines, and car hire companies pay online travel agencies to appear on their website. On the other hand, the advantage for the service provider is the added visibility that OTAs can provide.
OTAs work by providing a streamlined approach to all things travel. It involves the customer accessing a website or platform on which they're offered a wide variety of travel options from a number of different travel and accommodation providers.
If the airlines and hotels are the sheep, OTAs are the shepherd—they gather and present all the necessary details for consumers to make a travel decision.
What are the advantages of booking through an online travel agency?
Here are some of the benefits of booking travel services through an OTA:
Access to comparison tools
Peer reviews to help you with your decisions
Flexible cancellation policies
All your travel in one place
Local flights and deals
Rewards programs
Thes benefits are why OTAs are so popular with travelers worldwide, and why you want to consider finding the one that works best for you. Here're the details you need to have in mind before considering the corporate travel services of an online travel agency:
Comparison tools
The main advantage of using an OTA is that you can quickly and easily compare the prices of accommodation, flights, and more. Most have search filters and comparison tools so you can target your search and find exactly what you're looking for.
Peer reviews
Another benefit to booking through an online travel agency is the review system, whereby users leave ratings and written reviews for future customers. The option to leave a review is usually only available after a user has booked a service, so they're a reliable source of feedback.
Flexible cancellation
To be featured on an online travel agency, hotels, airlines, and other service providers often must adhere to the OTA's cancellation policy. All of the information is clearly laid out for the customer in an email or on the website upon booking, which makes it very user-friendly and customer-centric.
Take note: not all OTA's have their own cancellation and changes policy—some, like Skyscanner, take you to the vendors website to confirm your ticket. This then means your subject to the vendor's cancellation and changes policy, which may not be all that flexible.

One account for all of your travel needs
You can also use one account for all your different travel planning, saving the hassle of entering details over and over again. Remember: a good OTA is an intuitive OTA—you want to be able to easily navigate your options without the need for constant support.
Again, some platforms—mainly aggregator sites—will send you to a third-party website for booking. This means you'll need to liaise directly with the third-party for any changes.
A local approach to global travel
OTAs personalize things like measurements and currencies to improve the individual user's experience. Consequently, independently run establishments that may not have the resources to adapt their website internationally are unable to compete.
You're offered the best deals for your area in a currency you know—making sure everything's crystal clear when it comes to booking.
Rewards programs
Lots of online travel agencies offer reward systems, such as Booking.com and Expedia. These offer frequent users access to special deals and discounts—much like the rewards programs you get with an airline or hotel.
The top 10 online travel agencies
First, let's separate our top ten online travel agencies into leisure travel and business travel solutions. They offer different solutions to different customers so there's little point in grouping them together. Here's who we'll cover:
OTAs for leisure travel:
Booking.com
Agoda
Lastminute.com
Expedia
Hotwire
Bookmundi
Skyscanner
Kiwi.com
OTAs for business travel:
TravelPerk
SAP Concur
MyCWT
Let's get this show on the road.
Best online travel agencies for leisure travel
First, let's take a look at online travel agencies for leisure travel. These are websites used by the everyday user to book their next big holiday or family vacation—whether that's to New York or the Caribbean.
Note: We've included our top picks for OTAs that specialize in flights at the bottom of this section—if you'd prefer to jump ahead.
1. Booking.com
Booking.com is the world's largest accommodation booking website, and it also offers customers the chance to book their travel and car rental, too. It enables travelers to explore different accommodation types, destinations, and deals. It's a comprehensive OTA for the everyday traveler.
Main offerings and features:
Intuitive booking tool and website
Flight + Hotel booking for easily planning trips with no cross-referencing travel websites
Simple car rental options and taxi hire
Available in over 40 different languages and offers over half a million properties across 207 countries
You can book experiences in your destination city to entertain you on your travels
Genius rewards program
Overall, booking.com is a comprehensive online travel agency with hotels and flights anywhere in the world. That being said, you'll need to concentrate—it often gets criticized for its overwhelming UI.
2. Agoda
Agoda is a fast-growing OTA that's especially popular in Asia—and for good reason. The platform—which specializes in providing accommodation—employs Market Managers dedicated to ensuring the best deals for the markets Agoda serves.
Agoda doesn't offer much in terms of flight booking, but it's a great platform for finding accommodations—especially private homes and apartments.
Main offerings and features:
Simple interface and booking tool
Deals when making more than one booking
38 different languages and offers a 24-hour, multilingual customer support service
Free cancellation within 24 hours of booking
Millions of reviews to help make your decision
The flight booking tool isn't as comprehensive as some others, however, so you may want to look for a tool with wider coverage.
3. Lastminute.com
Lastminute.com is one of the top three travel companies in Europe, where geographic proximity makes city-hopping a popular choice. This OTA is a mix of what we've seen before—hotel bookings are made through an OTA, and flights are booked through an aggregator site.
Lastminute.com specializes in finding flight-and-hotel packages and all-inclusive vacation packages at great prices for last-minute travelers. If you're brave enough to play chicken, lastminute.com is where you'll find the golden egg of travel experiences.
Main offerings and features:
Filter hotels according to budgets, star ratings, guest ratings, board types, and more
ATOL protection on flight + hotel bundles
Flash sales for last-minute deals
Payment plans to spread out the cost of travel
Extra entertainment booking for your trips, like theatrical productions and day trips
Gift cards for gifting travel
This is a great OTA for travelers who prefer to leave things to the last minute in pursuit of the best deal. You're sure to find it here, plus a wide selection of other flight and hotel deals.
4. Expedia
Expedia has been providing travelers with access to flights, hotels, and cars since the nineties–and they're still a strong contender today. In fact, they're the biggest travel agency in the world. Hotels.com, trivago, Travelocity—they're all owned by Expedia, so you know you're unlikely to find a better deal elsewhere.
Main offerings and features:
Expedia rewards for hotels, cars, and more
Experienced support
Compare cruise lines
Big savings when booking flights, hotels, and car
Operates in nearly 70 countries and in over 35 different languages
Luxury travel options
Expedia is a particularly good option for those wanting to pay for flights, accommodation, and car rental in one go.
5. Hotwire
Hotwire is another long-standing online travel agency—it's been around since 2000. It's known for its 'secret deals', in which travelers get a great deal on a trip they know very little about. It requires some flexibility, but it's a great way for adventurous types to travel on a small budget.
Main offerings and features:
Book hotels, flights, cars, and bundles
24/7 support
Lower prices on the app
Great last-minute deals for spontaneous travel
If you're booking last minute, consider doing it with Hotwire.
6. Bookmundi
Bookmundi is a fast-growing travel booking platform with tours to an excess of 130 countries around the world. They provide travel solutions to customers based on their accommodation preference, budget, preferred duration, and an option to customize preferred tours.
This means the customers can request the operators for changes and work on an itinerary that best matches the needs of the travelers. Furthermore, their customer care team acts as a bridge between prospective travelers and tour operators.
Bookmundi's booking platform is self-owned and managed by a dedicated team of tech wiz who ensures the system is up and running round the clock.
Best online travel agencies for flights
1. Skyscanner
Skyscanner is an aggregator site—it uses a metasearch engine to compare prices from all OTAs, airlines, hotels, and car rental companies. Skyscanner often finds the best prices and helps travelers make big savings on flights and accommodation.
Once you make your decision, you'll be taken from the Skyscanner website to the third party's booking form to complete the booking process and secure the airfare.
Main offerings and features:
Super flexible booking filters
Cheaper flights and hotels than other OTAs
Price alerts for travel routes of interest
Easy-to-use booking tool and UI
Hundreds of location and currency options
One-way, return, and multi-city travel options
Skyscanner is trusted by millions of people to find the best deals with the most flexibility. It essentially gathers all the offers from every OTA to present customers with the best deals available.
2. Kiwi.com
Kiwi.com is the new OTA on the block—and it's doing things differently. Kiwi.com is an aggregator site that finds the best multi-city deals available and covers you in the case you're unable to make a connecting flight.
It offers consistently low prices and travel insurance for multi-city travel.
Main offerings and features:
Simple flight booking tool
Partnerships with Booking.com and Rentalcars.com
Discover deals anywhere with the option to open up your search
Easy-to-use app
Kiwi.com is an innovative OTA—perfect for city-hoppers and the travel-hungry. Be wary, though—some reviews claim that cancellation is tricky and customer service can be unreliable.
Best online travel agencies for business travel
Now, let's take a look at the top online travel agencies for corporate travel. There's plenty on offer, but we've compiled our top three.
TravelPerk is a modern solution for modern corporate travel. Its easy-to-use OTA is a refreshing change from the clunky UI often associated with business travel. TravelPerk enables you to make flexible bookings for employees, and even offers the option to offset your carbon footprint.
This platform is more than just an OTA, it's a comprehensive corporate travel management tool that helps your team book, manage, and report on business travel. TravelPerk ensures employees are traveling stress-free on the cheapest flights available, at no sacrifice to experience.
Main offerings and features:
Largest inventory of travel services
Flexible booking with FlexiPerk
Safety alerts with TravelCare
Integrated travel policy & approval flows
Centralized invoicing
Easy & real-time expense reports
Carbon offsetting with GreenPerk
24/7 fast customer support in 15s, on average
VAT reclaim
Integration with 3rd party tools, such as expense management or HR software like Expensify and BambooHR
TravelPerk gives employees access to the information and the security they need to travel with peace of mind. It gives organizations and travel managers access to the best corporate travel rates that you won't find on the market.
Save time and money on your business travel with TravelPerk
TravelPerk makes managing business travel a lot simpler for everyone in your organization. Offering an all-in-one platform to book travel, simple reporting tools so you can stay in control of spending, integrated travel policies for better compliance, plus 24/7 customer support whenever you need it from a real human.
2. SAP Concur
SAP Concur has been around for years—since 1993—and is trusted by many businesses to provide comprehensive business travel solutions. Its technology is self-owned and managed, meaning there's no back and forth with third parties for changes or updates.
Main offerings and features:
Works with some of the biggest brands
Easy tracking and reporting of expenses for expense reports
Many connected apps, such as Uber and Airbnb for cars and hotels
One solution for a variety of business travel spending
SAP Concur is a great tool for organizations looking for a traditional approach to business travel. However, it requires patience–the platform takes 6-8 weeks to implement and user onboarding in order to make the most of it. Plus, some users report that the UI is outdated, making it a less enjoyable experience for business travelers.
3. MyCWT
MyCWT is CWT's corporate travel management solution. Its dedicated industry and country specialists ensure your employees are well looked after wherever they are.
CWT's been in the travel industry for over 150 years, but MyCWT is an experienced travel management solution for business travelers everywhere.
Main offerings and features:
Ample integrations
Award-winning mobile app
Employee-centric travel management
MyCWT is a great solution for companies with a bigger budget and big corporate travel needs. They do, however, use third-party software to deliver deals to business travelers and organizations—meaning updates and changes to the software can take time. There's lots of back and forth that slows down progress and platform development.
Wrapping Up
That's a wrap on the ten best travel agencies to help you secure the best online bookings. Please make your way to the nearest exit and make sure to enjoy the rest of your trip.
Whether you're traveling for business or leisure; from Hawaii or Peru or wherever business or your fancy takes you—we hope these tools help you find the best deal available. The convenience of OTAs is unmatched, it's up to you to make the most of your travel options.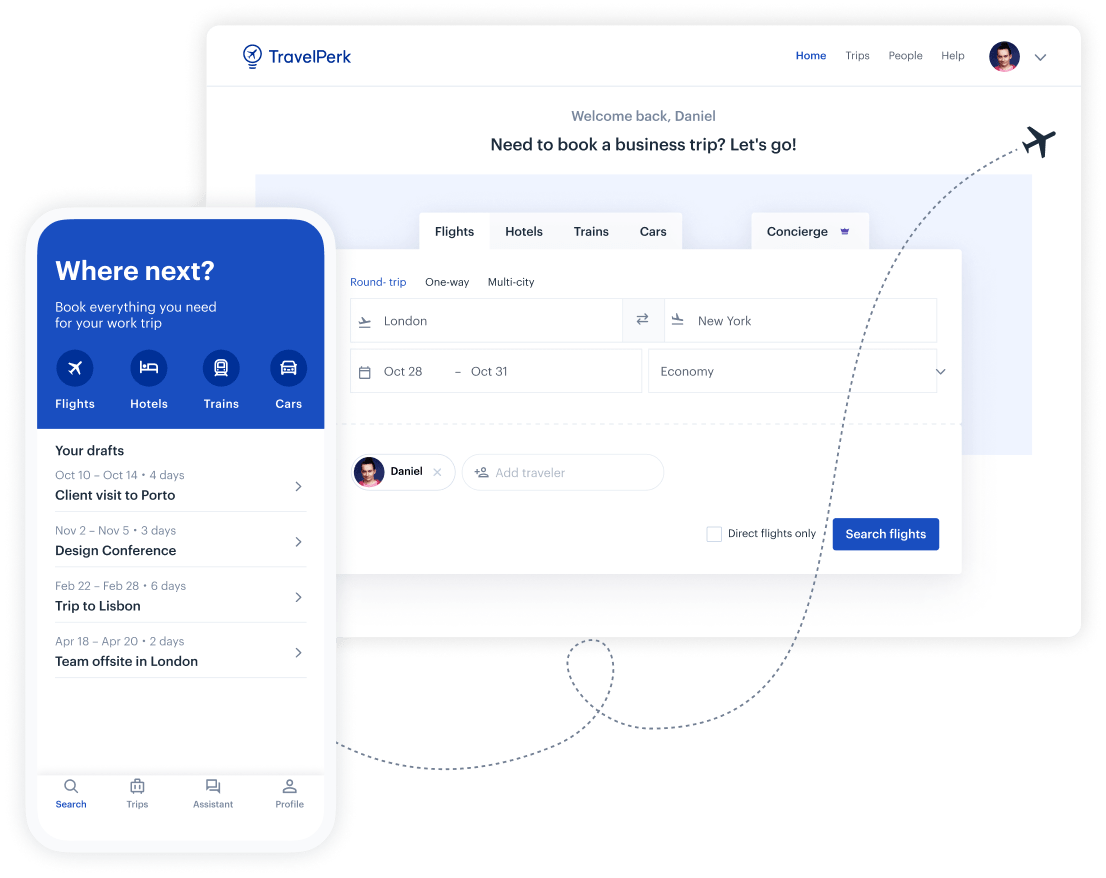 Make business travel simpler. Forever.
See our platform in action. Trusted by thousands of companies worldwide, TravelPerk makes business travel simpler to manage with more flexibility, full control of spending with easy reporting, and options to offset your carbon footprint.

Find hundreds of resources on all things business travel, from tips on traveling more sustainably, to advice on setting up a business travel policy, and managing your expenses. Our latest e-books and blog posts have you covered.

Never miss another update. Stay in touch with us on social for the latest product releases, upcoming events, and articles fresh off the press.