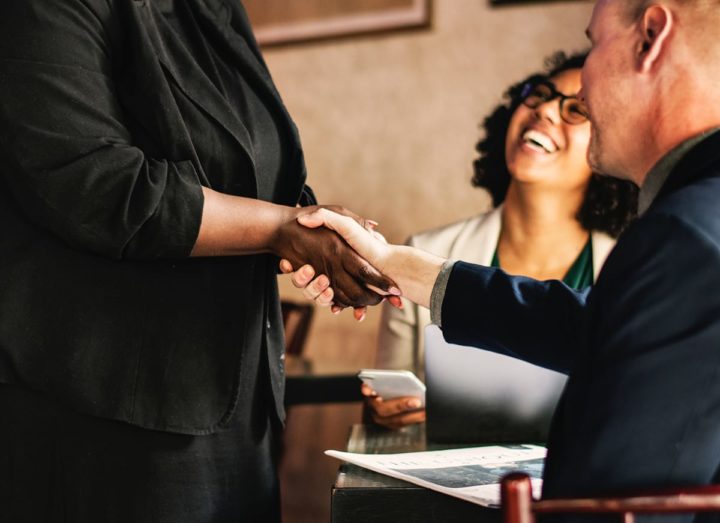 If you're on the hunt for a corporate travel management agency, you're in the right place. In this quick guide, we're running you through everything you need to look out for when considering a travel agency and the tech they've got on offer.
Why do we mention tech?
46% of business travellers have booked outside of policy for hotel bookings; something is clearly wrong with the traditional business travel industry's way of doing things.
Post-pandemic business needs have changed as much as our travel plans over the years. Travel tech now comes hand-in-hand with agencies to provide scalable travel solutions that bring peace of mind to your travellers and booking managers—ultimately, better looking after your bottom line financials.
Let's get going.
What is a corporate travel agency or company?
A travel management company (TMC) is a service provider that books and manages travel for a business. Typically, a business will get one or a few main contacts at the agency to help keep all trips within company policy and offer travellers on-the-go speedy support when they need it most.
Efficient and organized business travel management can help reduce travel expenses, streamline expense reports, optimize booking processes, and make managing the corporate travel experience easier for all stakeholders involved.
There are so many different types of corporate travel agencies that it's a struggle to summarize their service offerings. Large companies might offer support in dozens of languages but charge for every call. Smaller companies might be hard to reach during off-hours and not cover as many languages, but they might charge a premium monthly fee that covers all needs. Pricing varies, services vary, and what's on the table will always be different—you'll need to pick the best fit for your company size, travel needs, and budget.
Here are the factors that corporate travel agencies or business travel agencies have in common:
Book trips for employees
Provide travel solutions and support for cancellations, reschedulings etc.
Negotiate group rates and corporate rates
See how to save money on business travel
The benefits of a corporate travel agency
A travel agent comes with a heap of benefits that will encourage you to drop your manual process quicker than a hot potato. Let's explore a few of these benefits you can expect from most travel agents and their companies.
Group bookings: all agents should be able to have a travel group, no matter the size. Group travel can get overwhelming; it's a lot to organize and cater for. However, travel agents are often experienced in group bookings and can handle your logistics whether they're on the road or in the air.
Price negotiations: all agents should bring you the best deal on the market—better than you'll find on any booking engine. They have the experience and connections in the travel industry to secure you rates you won't find anywhere else and won't be able to negotiate on your own.
Customer support: things go wrong and the road, and most of the time, it's beyond your traveller's control. A travel agent will get your employees through any sticky situations and save them the typical hour-long wait times of travel provider support lines.
Booking perks: travel agents are in a unique position to be earning rewards for their clients going on the amount of travel they book via their connections. This often means your employees will benefit from small perks, too: things like hotel upgrades, seat upgrades, and VIP treatments.
Optimize your travel budgets: the experience that comes with a travel agent means they'll be able to assess your current spend and identify gaps where you can optimize your spend, minimize costs, or maximize returns.
Where corporate travel agencies fall behind
As with any trip, there are highs and lows to using a traditional travel agency. Unfortunately, it's not all positive, and you need to be aware of shortcomings before deciding to invest. Let's explore them.
Dated technology: travel agents are notorious for being stuck in their ways. They're using out-of-date technology that works for them after years of practice, but the tech is rarely user-friendly and a pain for first-time users: your employees!
High booking fees: travel agents often rely on a lot of manual lifting to get your bookings done. These human resources need to be paid for, and it often results in high booking fees to cover their inability to automate processes and pay the amount of talent they need to deliver services.
Limited access hours: travel agents tend to work traditional business hours, nine to five, six days a week. However, your travellers rarely travel within these traditional hours, so they're left in the dark when they need support the most.
A limited travel inventory: travel agents often rely on corporate relationships to bring you the best deals. However, for as good as these deals are, they're often limited in choice. Agents will go to one provider that may offer you a cheap option but not necessarily the option that's the best fit for you.
At this point, it may seem the negatives do not outweigh the positives. Don't worry; there are newer solutions that fill the gap in the corporate travel market.
Traditional corporate travel services versus business travel platforms
Do you use a travel agency when booking a vacation to Malta? Probably not. Why is that? Because there are consumer booking sites like Expedia and Booking.com that satisfy your needs as a traveller.
The business travel industry is evolving in a similar way. What's different about how business travel is evolving (compared to consumer travel):
Need for smoother, easier travel policy compliance
Not paying out of pocket with personal credit cards
Travel spend reporting for budget analysis
Automated expense reporting
What's similar to consumer travellers' needs:
Need for autonomy and self-booking
Access to all of the flight, hotel, train, and car rental options available around the world
Great user experience
Great experience on mobile
Real-time travel support (Consumers would like this, but rarely get it. It's a must for business travellers, though.)
So you can see that while businesses do have different needs (travel policy compliance and spend reports chief among them), there are a lot of similarities in what businesses and consumers demand.
Just like vacationers, business travellers want to book for themselves, search from all available options, and enjoy a great experience, whether on a call with customer support or checking their itinerary on a mobile device.
Here's the problem: most corporate travel services have not evolved to these new standards. They're still forcing employees to call a hotline to book a trip and charging for each and every one of those calls.
This is why when you vet your corporate travel agency, you need to look for a combination of technology and human service. Often, these solutions are called travel management platforms. There are a few well-known enterprise travel management platforms. These can be good options, depending on the size and needs of the company.
In 2023 and beyond, a company that can only offer the human element won't be able to help your business automate travel policy compliance, whereas a company that focuses only on technology won't be able to support your travellers when they're stuck in a foreign city and can't get home.That's why you need both technology and support.
What to look for in a corporate travel agency and why
To give your travellers trip support and your CFO financial control, you need a mix of human service and technology as well as these critical factors. Here's our list of what to look for.
Easy booking experience
Travellers should be able to book travel for themselves if that is their preference. At the same time, it should be very easy and enjoyable for administrators to book for others. Administrators can also rely on great tracking technology to follow which employee is on what business trip and where.
Consumer-grade travel inventory
Give travellers access to all the flight carriers and hotel brands they want. Lower your travel spend on airfares. All of the world's inventory should be available to you as a business without having to use a consumer tool.
However, it doesn't stop there. You'll want an inventory that covers all type of travel: air, road, rail. Plus, all types of accommodation: hotels, private apartments, serviced apartments, coworking spaces—the works.
No hidden costs
Understand the fee structure before signing on with any travel management company. Look for red flags like charges for support calls or for simple, routine bookings.
Excellent trip support
This is where the human element really comes in. At this point, no travel technology can comfort you when your flight has been cancelled, and you really need to get to an event.
A human can quickly find you an alternate route. Look for travel support that addresses all your travel needs, is offered 24/7, in multiple languages, and has great reviews from travellers.
Built-in travel policies and approvals
What's the only way to get travel policy compliance? By baking your travel policy inside the platform, travel is booked and getting all travellers and administrators to use that online booking tool.
Not only do you need to find a tool with built-in travel policies and approval workflows, but you also need to make sure that the tool hits the above needs for a great travel experience so that everyone is on board. Effective business travel management starts today!
Travel spend reporting
Getting visibility into travel spend is huge! With travel booked on so many different platforms, getting all the data is very hard. Remember that 46% of business travellers have booked on consumer sites.
That data is spread all over the place and can't get accessed until it's expensed. Look for a company or platform that offers real-time reports for your finance team and that can help with reimbursement processes.
Innovative and easily scalable
Global business travel is still evolving. In fact, it's really just getting started. When vetting travel management companies and platforms, check that the company is innovative, future-ready, and that the solution can scale as your company grows.
Most popular corporate travel booking companies
SAP Concur
Egencia
BCD Travel
Amex GBT
CWT
FCM Travel
Navan
Travel CTM
Corporate Traveler
We've put together an exhaustive list of criteria to help you vet your options for travel management companies and select the right solution.


This is what you'll find:
Guide to identifying and solving issues with your business travel program
Checklist in PDF and Excel format that you can fill in to take your corporate travel policy to the next level
Breakdown of all the important criteria in finding a great travel management solution
Get started and download the free template today!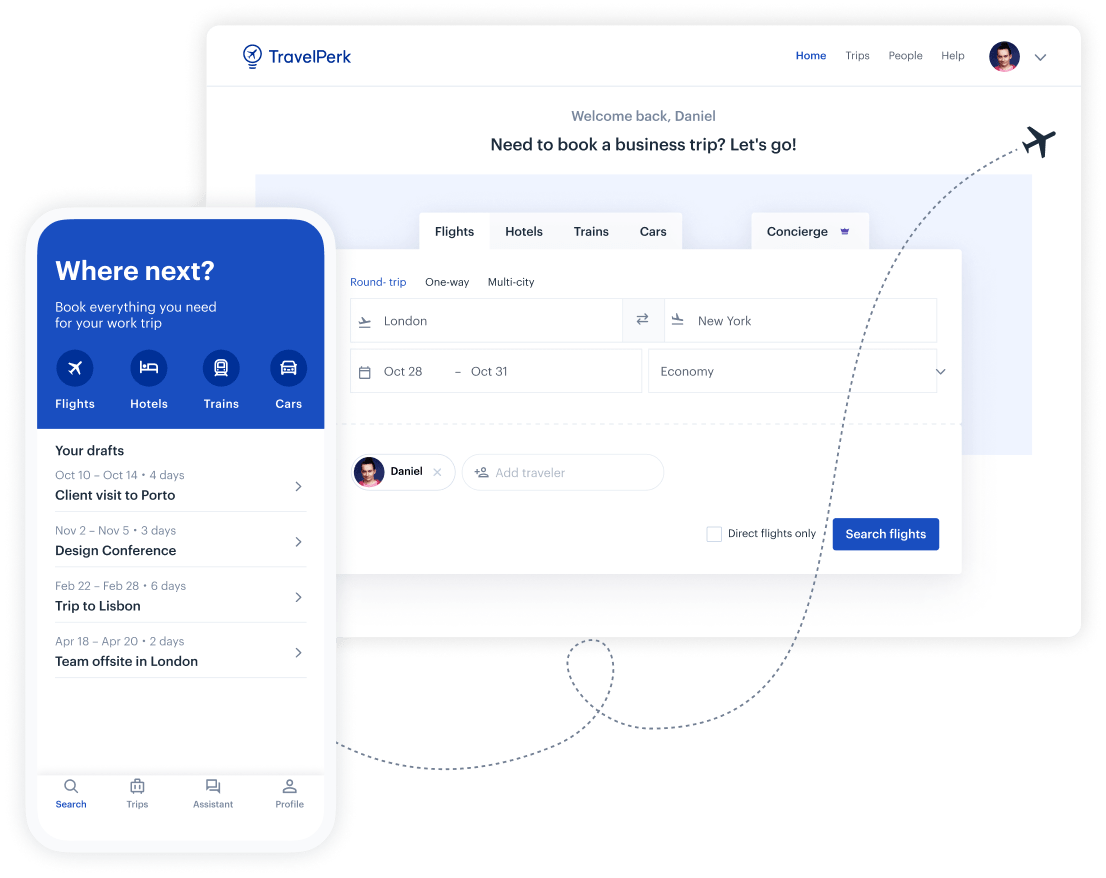 Make business travel simpler. Forever.
See our platform in action. Trusted by thousands of companies worldwide, TravelPerk makes business travel simpler to manage with more flexibility, full control of spending with easy reporting, and options to offset your carbon footprint.

Find hundreds of resources on all things business travel, from tips on traveling more sustainably, to advice on setting up a business travel policy, and managing your expenses. Our latest e-books and blog posts have you covered.

Never miss another update. Stay in touch with us on social for the latest product releases, upcoming events, and articles fresh off the press.