Global business travel spend was expected to reach 1.1 trillion euros by 2020. Pre-pandemic, business travel was in the top 5 highest expenses faced by organizations of varying sizes. In a post-COVID world, this trend is likely to continue as the pandemic has only highlighted the importance of business travel. Hacking at the monster expense of business travel can help increase profitability.

But it's not easy. Saving money on business travel requires effort from all employees, not just a new top-level approach. From the finance manager looking to reel in yearly costs, to the travel manager bogged down with details and wanting to please coworkers, to the weary traveler who may feel the need to spend more in a pinch—this is a team effort.

We've put together a list of clear, useful ways to get your whole team on board. But first, let's take a quick look at the most common mistakes companies make when booking business travel.

4 ways your company might be losing money on business travel
1. Always trying to book in the city center versus in cheaper locations
It is very easy to forget that staying at the airport rather than city hotels can result in vast cost savings. A study conducted here at TravelPerk saw that airport hotels were more than 50% cheaper when comparing hotels of the same caliber in the city center versus by the airport. In New York, for instance, on a weekday in late September, one could expect to pay 380 euros for a 4-star accommodation in mid-town compared to just 186 euros by the airport. In London, the gap was an incredible 296 euros compared to just 131 around Heathrow.
2. Not encouraging employees to use public transport enough
When traveling to a new or unfamiliar city, it can be daunting to try and understand public transportation systems: what are the routes, how do I buy tickets, how to get from my stop to my destination? Yet in many cases, the train, tram, or bus can be just as fast if not faster than a taxi, not to mention a fraction of the cost. They're also more environmentally friendly!

Companies should share useful business travel apps and consolidate necessary information for their employees who regularly travel to the same destinations.
3. Booking Business Class where Economy or Economy+ will do
Let's be honest, business class is freakin' expensive, especially where you've got more than one frequent flyer. On long-haul flights, it is not unusual for a business class ticket to be 5-10x the cost of economy. You should set clear policies on what types of ticket fares you can book on air travel for different types of trips. Sure, maybe a long-haul flight from Sydney to New York should be more comfortable and spacious. But do you really need that on a London to Paris trip?
4. Your business travel budgets and policies are not properly enforced
Since a majority of business travelers readily admit to spending their company's money more liberally than their own when traveling (91% of small business travelers in the U.S., according to a 2015 Expedia survey), companies need to create business travel policies. A great way to get employees to spend more responsibly is to arm them with business travel reports and ask them to evaluate their own spending. You should set clear guidelines on how to book flights or car rentals, for example, and within the parameters of your business travel budget and policy.


10 ways to save your company money on business travel
Now that we've gone through all the ways your company might be losing money on business travel, let's take a look at how you can be a real superhero and start saving. Not only will you impress the higher ups, but you'll also be able to take your business travel budget a lot further, making the experience better for everyone.
1. Encourage flight flexibility
When employees are headed to another city, chances are it's a necessity. Sometimes, videoconferencing just won't cut it.
"When business people are able to interact directly, that action eliminates common miscommunications, brings body language and emotional cues into the conversation and speeds up the transfer of ideas."

Tony Tie
Whether the employee is visiting a client or staffing a new office, there may be some flexibility in the dates of the event. When a travel manager, office manager, or executive assistant is booking a new trip for an employee they need to know if there is any wiggle room. And there almost always is.

Discovering that wiggle room can mean saving as much as 50% on flights and hotels. So, encourage employees to be proactive about trip flexibility:
On a standard request form for new bookings, ask for 3 arrivals and departures in order of preference so employees can give options up front
If employees request via email, the travel manager can ask for more information about trip flexibility and request that next time, the employee include this info in the email
Make it clear that being flexible should be the norm but of course allow for rigidity when valid
Allowing employees to book their own travel via a corporate booking tool will help travelers get more visibility and control, allowing them to optimize their schedule to save money without all the email back-and-forth
2. Get access to lower and better flight inventory
One of the absolute best ways to immediately start slashing travel costs is to get better flight inventory.
Businesses that use corporate travel agents or that partner with carriers are missing out big time.
Booking far in advance, booking last minute, using budget-friendly carriers like EasyJet and Norwegian…consumers have tons of tricks up their sleeves for saving money on travel, and when businesses are stuck in old corporate travel solutions, then they lack opportunities for cost savings.
Now, businesses have a trick up their sleeve too: TravelPerk. TravelPerk offers the world's largest bookable inventory in one place by integrating to hundreds of the best travel networks.
3. Make travel policy adherence more practical
Planning ahead is a surefire way to save on business travel. While you need to ensure employees know they can't procrastinate on their travel plans, some business trips will need booking last minute. When organizing corporate travel at short notice do your employees sometimes have to book for themselves? Instead of calling the corporate travel agent, do they choose to book for themselves out of convenience?

Many people think managed travel is not innovating at the pace of change in the travel industry, 47% to be exact, which leads to bookings made outside of policy.

Plus, travel policies often go unread. They can be lengthy, hard-to-read, and hard-to-find. Over 50% of businesses don't have a policy for mobile bookings—meaning that as mobile bookings naturally rise, so will out-of-policy trips.

Instead, policies should be:
Simple
Readable
Built for real use
It is possible to allow for DIY bookings within set constraints. Use a tool that completely automates your travel policy, including any needed approval workflows for those bookings that fall outside of what is automatically allowed.

With TravelPerk, admins can set specific yet simple guidelines for groups of users, allowing employees to book their own flights on budget. Automated emails are sent out when a trip needs approval. In addition, travel managers can select the perimeters for trips that require approval. For example, you can add a filter for any business trips departing in less than two weeks and set up automated emails to speed up the approval process. Not only does this make travel management more straightforward, but it's also more cost-effective. It allows you to analyze travel budgets at the time of booking rather than at the point of reimbursement.

This way, your policy is integrated into a real booking system, not housed on a forgotten webpage.


4. Be more specific with reimbursement requirements
When employees submit expense reports, you get to see what was spent after the fact, but at what level of detail?

Not enough detail visibility can lead to out-of-control spending.

Let's say that a traveler submits only a PDF of the final credit card receipt from a hotel stay. This won't have any information about added costs like meals charged to the room.

Having clear requirements for expense report documentation (such as itemized receipts and invoices) can help dissuade hidden purchases and keep travel on budget and within policy.
5. Find travel spending trends
Knowledge is power. Just as a consumer looking to save money on their household budget will need knowledge of what spending categories are swallowing their income, a business needs to understand which aspects of business travel are moving the needle more than others.

Here are some questions you might want to ask:
Which travelers are amassing the most amount of spend?
What improvements can be made in airport transportation costs, wifi fees, etc.?
What changes need to take place in Q4 to keep to the yearly travel budget for X team?
Acquiring the data that will answer these questions shouldn't be hard.

Use a travel booking tool that will integrate with your expensing solution and will auto-generate reports to minimize the strain on employee time. Then use this data to identify trends and optimize your budget over time. You can identify what cities and trips need lower budgets, and which warrant higher spending, to increase fairness and get a handle on overall travel spend.
6. Advocate using public or shared transportation where possible
One travel spend that is very common and easy to nip in the bud is driving in large cities. Encouraging employees to take public transport rather than driving and paying extortionate parking fees or taking a taxi is better for your bottom line and the environment. When employees are heading to an event from the same location, there is no need for separate transportation. If public transport isn't an option, having Uber arrange multiple cars is easy enough. Taking these measures isn't always possible, but wherever you can you should be persuading your teams not to waste company money on unnecessary business travel expenses. Plus with GreenPerk you can track your carbon emissions and incentivize teams with perks to help your organization reduce its footprint.

This leads us nicely onto number 7…
7. Be transparent and offer incentives for staying on budget
When cutting travel costs, it's important to lower the pain for employees. For them to feel invested in the effort, they need to know the "WHY."

For example, a remote company like Buffer that holds yearly in-person retreats might need to communicate to employees why trips for conferences have to be as cheap as possible—so the yearly retreat is a more enjoyable experience for all.

There will be a different "WHY" at every company. If increasing transparency isn't all that relevant, then maybe incentives will help. When empowered to give bonuses like team lunches or mileage points to those who stay on budget, travel managers can help trim the budget in a creative way.

Ultimately, travel costs are incredibly complex.

They are a mixture of overarching policies and last-minute decisions. By thinking holistically and uncovering how every employee can help, it's possible to save money while still taking all those business-critical trips.
8. Be clear about exceptions to your corporate travel policy
A staggering 72% of travel managers admit they haven't been able to hit the goals they set for compliance. By integrating corporate travel policies into the booking process and automating approval systems, TravelPerk has been able to help organizations reach a 95% compliance rate with their online booking platform.
However, there will still be some business trips that fall beyond the scope of any typical company travel policy. For example, sometimes trips at short notice just can't be avoided. A key client calls a crisis meeting, or the sales team gets an opportunity to meet a potential lead. Having a clear and concise list of exceptions makes approving out-of-policy travel arrangements much easier and less stressful for everyone involved.
9. Be open to alternative accommodation options
If your organization's policy is based primarily around a few favorite hotel chains, you could be missing out on huge savings on your travel expenses. Branching out and considering different options such as Airbnb can be more cost-effective and provide a better travel experience for your employees. Especially for longer stays, many business travelers might prefer to have access to a kitchen so they can eat more healthily, or wish to have more space to work than is traditionally found in a hotel room.

With TravelPerk, our concierge team can assist with Airbnb bookings. Making it easier to stay on budget, remain compliant, and give your team more flexibility with their travel arrangements. Compare a week's stay in your favorite hotel chain with renting an apartment, and you might be pleasantly surprised by the savings.
10. Simplify your VAT savings
If your organization is registered to pay VAT, there are many savings to be made on your travel spend. Depending on your tax jurisdiction, airfares, hotel rooms, and other ground transportation can all be offset as business travel expenses. But, the VAT recovery process is often a complicated and time-consuming aspect of travel management. Trying to unpick your employees' per diem spend and collect VAT receipts can be a nightmare. Many businesses end up losing out on claiming legitimate expenses and the savings they bring.

As a business owner, there is nothing more frustrating than losing revenue unnecessarily. At TravelPerk, we streamline the VAT recovery process for you, helping you save up to 20% on your annual business travel costs thanks to our itemized reports and handy VAT calculator. Request a demo today and see how much your organization can save.


Did you find this article useful?
If you did, please follow us on our social media accounts on LinkedIn or Instagram. Please share the article with your friends or colleagues!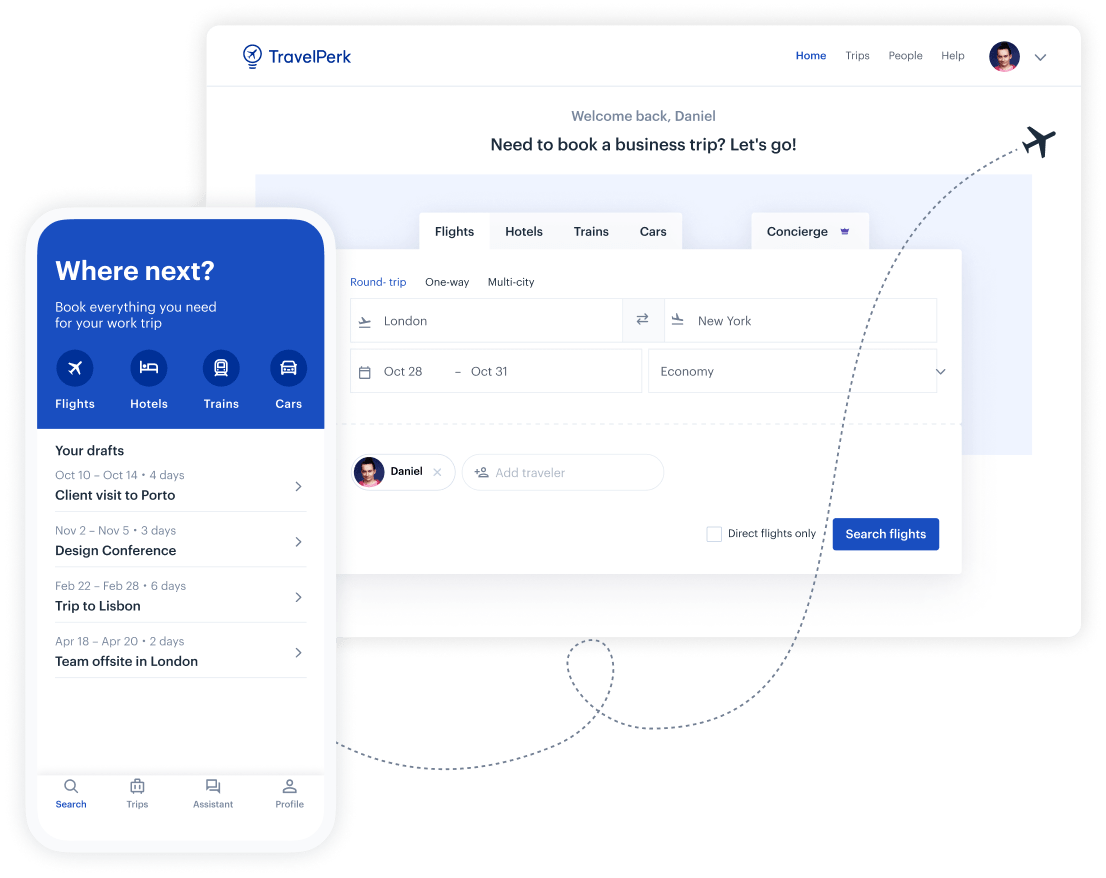 Make business travel simpler. Forever.
See our platform in action. Trusted by thousands of companies worldwide, TravelPerk makes business travel simpler to manage with more flexibility, full control of spending with easy reporting, and options to offset your carbon footprint.

Find hundreds of resources on all things business travel, from tips on traveling more sustainably, to advice on setting up a business travel policy, and managing your expenses. Our latest e-books and blog posts have you covered.

Never miss another update. Stay in touch with us on social for the latest product releases, upcoming events, and articles fresh off the press.