Just under 20% of all travel is for work. That's about 1.3 million business travelers a day in the US alone, pre-pandemic, and these numbers are on the rise once more. Looking at these stats, it's no surprise that corporate travel can often be a headache for travel managers. That's where travel management companies (TMCs) come in to streamline the process.

Travel management companies manage business travel services to save clients both time and money. They specialize in finding the best deal for your traveling employees so you don't have to—giving both you and your travelling employees more time to focus on whatever it is you're traveling for.

We've put together this article to provide a review of the options available to you when considering a travel management solution. We'll cover:
Differentiating an online booking tool from a travel management company
The perks of working with a TMC and what to consider when choosing one
Top picks for TMCs and a TravelPerk comparison (the all-in-one travel booking platform) to help you make the right decision for your business
What is an online booking tool?
An online booking tool (OBT) is a tool used by organizations to track and manage their business travel online. Online booking tools are not synonymous with travel management companies. Whilst most TMCs offer an OBT, not all OBTs are managed by TMCs. Whilst OBTs provide travel solutions, they typically don't provide the support enjoyed when using a TMC.

One of the main perks of a TMC is that they handle your travel via their OBT, whether that be airfares, hotel rooms, car rental, insurance, or anything else you could need during your business trip.

Modern TMCs are better referred to as travel management platforms, as it's their travel management software that often becomes available to the client when working together.

In the past, travel management companies have handled the booking side of everything. However, advancements in the travel industry, technology, and consumer demands have made way for travel management platforms to provide a mix of tradition and tech.
Why work with a travel management company?
Travel management companies provide an array of advantages over standard online booking tools. As well as removing the hassle from business travel, TMCs are also beneficial for other reasons.
They're experienced
TMCs are experts in the field of business travel. You're not just paying someone to click through an OBT, you're working with an experienced account manager who knows a good deal from a bad one.

They're also able to handle emergencies in the case you encounter them—no need to panic if you miss your flight.
They're organized
From boarding passes to hotel reservations; the paperwork involved in business travel can be overwhelming—especially when it comes to big groups and itineraries. International corporate travel agencies handle the paperwork and deliver it to you in the most manageable way possible, so you can focus on the bigger picture.
They're informed
When employees travel for business, they're doing so in accordance with a corporate travel program or policy. These policies change from company to company and include the rules employees must follow when traveling for business.

Travel management companies make your travel decisions as per your company's travel policy. They also advise your traveling employees on how they can meet business travel requirements whilst staying within the company travel policy—so no unwanted surprises on return.


They're connected
TMCs spend years building up relationships with travel and hospitality companies all over the world. Whilst a hotel might be telling you they're fully booked, they'll be telling the TMC otherwise. They also get exclusive rates on many occasions, so you'll be getting a better deal than booking direct.
What to consider when choosing a travel management company?
There are many TMCs out there to choose from, so knowing what you're looking for is an essential first step. Here are some things to consider when making that decision.
What does the TMC stand for?
You want to work with a TMC that shares your outlook on business. It's important that the TMC you choose understands and fits with your company culture. You'll be working closely to organize your corporate travel, so make sure you're both pointed in the same direction.
How big is the TMC?
Bigger TMCs are likely to have more connections with useful travel companies—connections you can benefit from. They'll often offer exclusive rates with certain travel suppliers due to years of working side by side, enabling you to reduce travel expenses. It's important to consider who their connections are, as this is who you'll be travelling and staying with whilst away on business travel.
Does the TMC offer a solution for you?
There's a travel management solution for everyone, no matter the size of your business. Traditional TMCs often focus on solutions for bigger clients, however recent years have seen many branch out to offer solutions for SMEs. Finding a TMC that suits your budget and your needs is essential for good travel management.
What other travel management services does the TMC offer?
TMCs usually rely on advanced tech, such as automation and AI, to provide your company with the best service possible. Whether that be 24/7 support or an easy-to-use OBT, shop around to find the best option for you. Alternatively, read on and we'll do the comparisons for you on the leading travel management companies.
Top corporate travel management companies
You're not short of choice when it comes to great travel management companies. The digital age has transformed the TMC industry, making great options accessible to businesses of all sizes. Here are our top picks, and where TravelPerk is going above and beyond.
TravelPerk is a travel management company that you'll want to consider. We genuinely believe that we're the best solution on the market for business travel programs, so we're kicking things off by giving you a complete overview of TravelPerk!

At TravelPerk, we want to deliver the best travel solutions without any of the above hassles or tech troubles. Corporate travel shouldn't be rigid, and our flexible solutions prove they don't have to be. We've looked at the industry and noted what's needed, which is why we offer more services and support than any other TMC when it comes to your business travel.
Save time and money on your business travel with TravelPerk
TravelPerk makes managing business travel a lot simpler for everyone in your organization. Offering an all-in-one platform to book travel, simple reporting tools so you can stay in control of spending, integrated travel policies for better compliance, plus 24/7 customer support whenever you need it from a real human.
Increased booking options
TravelPerk has the industry-leading inventory of travel service providers, from airlines to hotels. We also include a wide variation of budget suppliers to ensure our clients reduce travel spend by finding the best deals available.
Our systems make booking and managing corporate travel easy, and also provide in-depth reporting on your travel to take the stress out of post-travel paperwork. We also offer a full VAT recovery solution, facilitated by our teams and tech.
Great traveler experience
From start to finish, the TravelPerk customer experience is overwhelmingly positive. We have a target 15-second response time, and businesses and business travelers alike enjoy the booking and traveling experience greatly.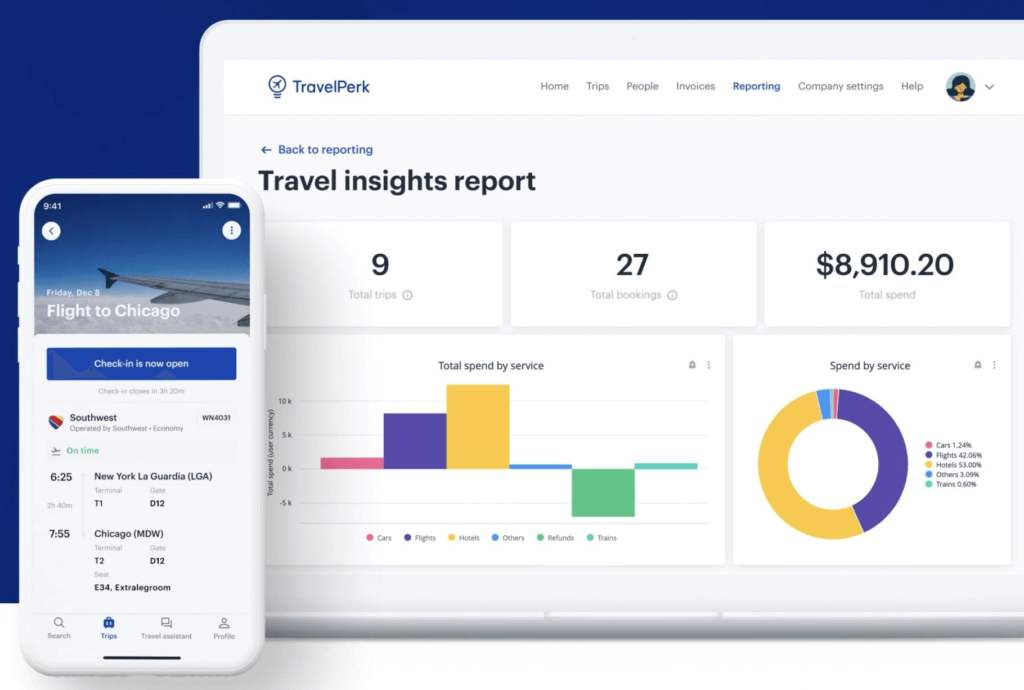 Start making your job easier with the best travel management tool!
Travel policy compliance
Via automation, we enable your employees to adhere to your corporate travel policy at all times, so there's no mistakes or surprises when it comes to compliance and bookers can only book what's within your company policy.

We make sure to keep your travel data and policy data at your fingertips in real-time. If someone wants to book out of policy, they'll have to seek approval first.
Future thinking
We're constantly striving to be better, and we invest in the resources necessary to do this. The TravelPerk travel management reporting capabilities and integration opportunities with HR and expense management tools are a great example of this.
It's these features that place TravelPerk a head above the rest when it comes to corporate travel management. Plus, it's not just the TravelPerk team who thinks that—take a look at these stats from the top software review sites:
TravelPerk scores highly across the board, making it the ideal solution for meeting your business travel needs.


2. SAP Concur
When it comes to the best travel management companies, SAP Concur is a name trusted by many. Founded in 1993, the TMC giant was acquired by SAP in 2014. Its self-proclaimed strengths are as follows:
Works with some of the biggest brands
Easy tracking and reporting of expenses for expense reports
Many connected apps, such as Uber and Airbnb
The TMC is also a part of SAP, meaning it works well with the SAP operating system. However, there are areas in which SAP Concur are somewhat outdated. Here's what TravelPerk customers mention when comparing us to SAP Concur:
Incredible UX to provide a high-quality experience
More and better access to international travel options
VAT recovery: enables you to save 20% on all business travel costs
Business travellers can also compare platforms by looking on software review sites—let's take a look at how SAP Concur scores:
G2 rating: 4 / 5 stars, based on 5,685 reviews
Capterra rating: 4.3 / 5 stars, based on 1,746 reviews
Languages supported: Czech, Danish, German, English, French, Indonesian, Italian, Japanese, Korean, Dutch, Norwegian, Polish, Spanish, Swedish, Chinese (Simplified)
Alongside these details, it's important to keep in mind that SAP Concur takes six to eight weeks to implement and requires training before using the platform. At TravelPerk, free accounts can be set up in a matter of minutes. Or, if you go for a premium or pro plan, onboarding can be completed as quickly as two weeks.

At TravelPerk, we make user management easier for our customers thanks to our open API and integrations. Our SCIM User Provisioning API allows users to programmatically manage (create, update, and delete) the members of their organization via one of our supported IdPs. Or, by directly plugging in into the API.
3. Egencia

Egencia used to be the Expedia Group's answer to travel management, however, it was recently acquired by American Express Global Business Travel (AMEX).

Egencia positions itself as able to help you manage travel risk, support traveler wellbeing and maximize ROI in your business travel program. Here are some main advantages, according to them:
VAT recovery and reimbursement
Duty of care and risk management
Inventory based on Expedia's well-known brands
They also claim to be able to complete set-up within one week, however, reviews supporting this claim aren't easily found.

TravelPerk, on the other hand, offers easy set-up and a superior mobile app for making business travel bookings on the go. We also include budget providers, bringing costs down for clients.

Here are some other ways customers say TravelPerk go above and beyond Egencia when it comes to business travel management:
Freemium model, simple pricing, and no minimum contract
No extra monthly fees or hidden charges
FlexiPerk: Book any type of travel—flight, hotel, car, or train—and cancel at any time. No questions asked. Get up to 80% back on your spend.
GreenPerk: Get real-time, actionable data on your company's carbon emissions. Offset 100% of your business travel with a small donation per trip.
You can compare Egencia to TravelPerk—plus many other travel management solutions—by considering their online review scores. Here are some details taken from the top review platforms to help you choose the best TMC for your needs:
TravelPerk offers the same benefits as Egencia, whilst also improving on Egencia's weaker points. Egencia's complicated pricing model often leaves clients with unexpected costs, whereas Travelperk strives to facilitate your expense management by keeping costs low, transparent, and predictable.
4. AMEX GBT
American Express Global Business Travel is a multinational travel and meetings program management company headquartered in New Jersey, US. They serve markets all over the world and have been providing corporate travel solutions since 2013.

AMEX GBT typically provides travel solutions to larger corporations and acquired Egencia to better serve SMEs. Keep this in mind when considering the best solution for your business travel needs. Their offerings include:
Risk alerts and direct communication during disruption
Pre-negotiated rates and 2 million options in accommodation
Cooperation to maximize the value and efficiency of your travel program
Working with big names like AMEX can be enticing for prospective travel management clients, however, a comparison highlights that TravelPerk offers this and more. TravelPerk strives to simplify your corporate travel by offering:
A huge travel inventory, including air, hotels, rail, and more
Customer care operating at a target 15-second response time
FlexiPerk: enabling cancellations at any time with up to 80% of your money back
TravelSafe: delivering you verified, up to date, safety information for your locations
Similarly to when compared with other travel management solutions, TravelPerk also triumphs against AMEX GBT when it comes to online ratings:
G2 rating: 4.7 / 5 stars, based on 6 reviews
Capterra rating: No ratings available from Capterra.
Languages supported: Support is offered in English, Czech, Danish, Dutch, Finnish, French, French Canadian, German, Hungarian, Italian, Japanese, Norwegian, Polish, Portuguese, Spanish and Swedish.
TravelPerk only handles corporate travel management, so everything revolves around finding the best travel solutions for clients. The largest travel management companies, such as AMEX GBT, have millions of clients worldwide—making for a less personal experience.
Click below for a more detailed comparison between both platforms:
5. BCD Travel
BCD Travel, headquartered in the Netherlands, is another giant in the corporate travel management world. It has offices in 109 countries, and offers travel management solutions to companies all over the globe.

It's a traditional travel management company that offers travel solutions via an agent and online booking tools, depending on the size of the client. BCD Travel considers itself a leading travel management company for the following reasons:
A software suite of three separate platforms for businesses to manage travel
Access to APIs to integrate with platform to meet unique business needs
Solutions for SMEs
TravelPerk's tireless efforts to innovate within the travel management industry come from our commitment to being the best travel management company. Here's where customers say we're offering more than BCD Travel:
Seven-star customer service: including a target 15-second response time, available 24/7 and 365 days of the year, and not a bot in sight.
Flexible corporate travel bookings with FlexiPerk
Slick UI and easy-to-use booking tool
Looking to online review sites does little to help in our comparison, as neither G2 nor Capterra have any reviews or ratings for the BCD Travel:
G2 rating: no data available
Capterra rating: no data available
We're unable to compare BCD Travel to TravelPerk via ratings, but a holistic look at both solutions highlights a clear winner.
TravelPerk offers the basics of travel management, and so much more. From the online booking tool to the high-quality customer service, our clients always enjoy the best possible service when it comes to corporate travel management.
Click below for a more detailed comparison between both platforms:
6. TravelBank
TravelBank is a global corporate expense and business travel management company offering an end-to-end solution to make travel easier. They developed a mobile solution first, knowing that the majority of their users would be business people on the move. According to them, their primary USPs include:
All-in-one platform that includes travel and expenses
User-friendly platform
Supports thousands of corporate and personal cards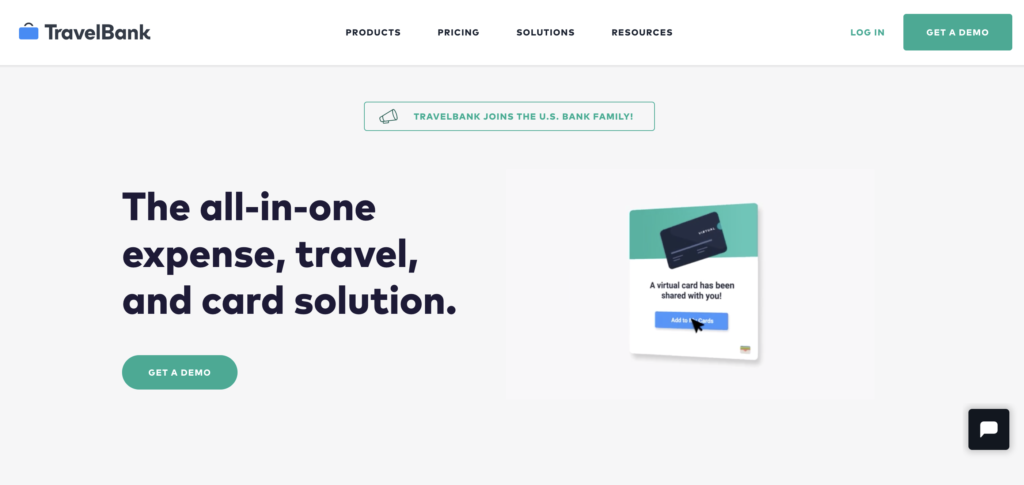 TravelPerk offers this and more whilst also reducing the total cost of ownership. Here are some advantages that TravelPerk customers typically mention when comparing our tool to others:
Top-notch, in-house support giving TravelPerk complete overview
A larger inventory, meaning better rates, and booking options when you need them
A faster pace of development, constantly using feedback to improve functionality
TravelSafe: delivering reliable and verified travel safety information
We can also look to the top travel review sites to compare Travelbank's corporate travel solution to TravelPerk. Here are Travelbank's ratings taken from G2 and Capterra:
Travelbank has fewer reviews and a lower rating than TravelPerk, meaning more users rate TravelPerk more highly. It's a no-brainer.
TravelPerk also offers transparent, simple pricing so as to avoid any surprises when finishing up. Our seven-star support and user-friendly online booking tool make both national and international travel a breeze for teams big and small.
Click below for a more detailed comparison between both platforms:
Traditional corporate travel management companies
Travel management companies have been around for a while, and the industry giants have spent years building networks and connections across the globe. These TMCs include big names such as:
CWT
FCM Travel
Travel CTM
Corporate Traveler
Whilst the travel management industry has come a long way, lots of companies still use traditional TMCs for a number of reasons. These reasons include:
Loyalty: many companies have been with their TMC for years
Personalization: they've built up relationships with clients
Admin perks: they get special treatment after years of working together
Worry-free: the booking process is handled for them
Just as traditional TMCs have had time to build relationships with travel and hospitality providers, they've had the time to build relationships with clients too. Clients have spent years receiving high-quality service from a trusted travel management company and they're not about to switch without good reason.

However, there is good reason. Traditional travel management companies often have outdated tech infrastructure and means of communication, such as constant back and forth over email, or phone calls that simply aren't necessary. Here are some other ways traditional travel management companies are failing to meet the needs of modern business travelers:
Time-consuming: going back and forth wastes precious time
Limited deals: clients can often find better deals by booking online
Bad service: clients don't always have access to 24/7 service, and they sometimes find themselves talking to robots
Outdated: old technology and poor UX needing an update
Expensive: clients shouldn't be charged for needing support, however, this is often the case
It entirely depends on what your business needs and the budget you have.


Wrapping up
Travel management doesn't have to be stressful—a little effort into finding the right fit for you will set you up for success moving forward. Whilst there are many options on the market, we at TravelPerk know we're offering the best travel management solution out there.

Knowledgeable teams, user-centric tech, and stellar customer service are what separates us from the pack. We've got the knowledge and inventory of a traditional TMC, with the design, flexibility, and service of a fresh-faced travel management platform.

We hope to have answered your questions regarding the best travel management solutions—don't hesitate to get in touch to find out more about what TravelPerk can do for you.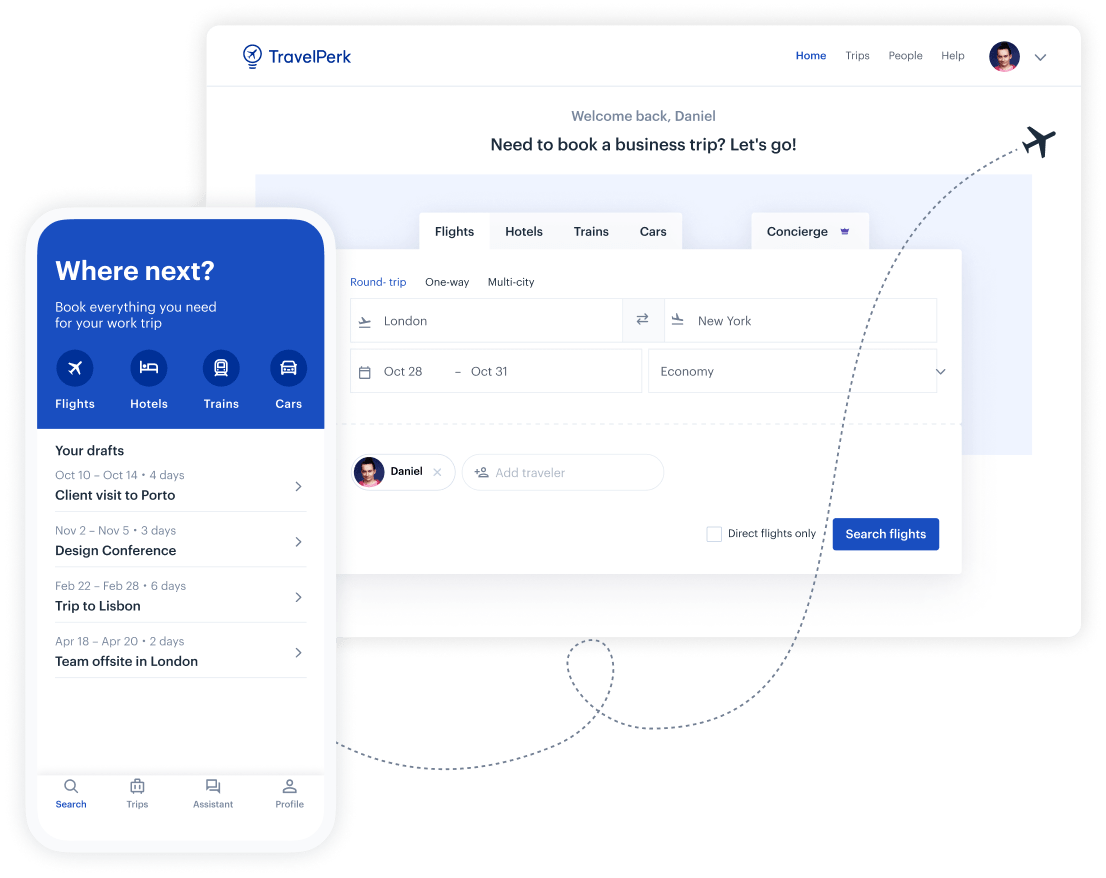 Make business travel simpler. Forever.
See our platform in action. Trusted by thousands of companies worldwide, TravelPerk makes business travel simpler to manage with more flexibility, full control of spending with easy reporting, and options to offset your carbon footprint.

Find hundreds of resources on all things business travel, from tips on traveling more sustainably, to advice on setting up a business travel policy, and managing your expenses. Our latest e-books and blog posts have you covered.

Never miss another update. Stay in touch with us on social for the latest product releases, upcoming events, and articles fresh off the press.