From Michigan to Minneapolis, Maryland to Missouri and back again, millions travel to, from and around the US every year. The travel and tourism industry in the US is an economic powerhouse, generating increasing revenue and employment industries. As of July 2023, the market size of the US tourism sector stands at $798.81 billion.
US travel took a huge hit by the coronavirus pandemic, with a revenue loss of $147.22 billion during the first ten months of 2020. However, it bounced back fast from the travel lull, and travel spending is steadily increasing back up to pre-pandemic levels.
The outbound tourism market is also rapidly improving and increasing in value. Most Americans travel for leisure. 51% are looking to rest and relax while they travel, and 49% are looking to escape the routine.
In this guide we're diving deep into the top tourism statistics for both international travel and domestic travel.
Ready? Let's go.
The big picture: US travel spending in figures
Sources: US Travel Association, United States Department of Transportation, Business Travel News Corporate Travel Index Calculator
Incoming! Inbound travelers on the rise
2018 saw the highest number of international inbound travelers to the US of the decade: nearly 80 million people came to the US from overseas.
In 2021, international arrivals to the United States totaled 22.1 million. This was a 15% increase from 2020 (19.2 million).
In 2019, the average overseas traveler spent $3700 during their visit to the US
Each overseas traveler stayed an average of 17 nights
However, international arrivals in the US declined to 29 million in 2021, representing a 36% decrease from 2019
Williamsburg is the cheapest US city to travel to, with an average daily cost of $89. Rapid City in South Dakota follows, with Dallas coming in third with a daily cost of $102.
The 2022 National Travel and Tourism strategy aims to welcome 90 million international visitors annually by 2027.
New York City is the preferred destination for international arrivals, welcoming 5.42 million in 2020. Even in such a fraught year, NYC continued to appeal to inbound tourism. That year, Miami came second, with 3.43 million international arrivals, and Los Angeles welcomed 3.38 million.
The United Kingdom is the leading overseas inbound tourism generator. In 2019, around 4.8 million UK citizens traveled to the US.
Cultural activities tend to be a priority for both inbound and outbound travelers. 65% of respondents wish to visit history museums and art galleries, while 59% prefer aquariums and 56% prefer science museums.
Backpacking is a popular activity, but not all US cities are very affordable. New Orleans is one of the most backpacking-friendly, with an average daily price of $94.7. It is followed by Miami Beach at $97.9 and Washington Beach at $106.6.
Sources: US Travel Association, Trade Gov, Only Wanderlust, Commerce Gov, OSC, Office of National Statistics, Tourism Academy
Domestic tourism: travel within the US
Nearly five in 10 Americans (48%) opt for domestic tourism because of high inflation and rising prices
80% of trips in the US are leisure trips.
Normally, a domestic vacation trip lasts 3-4 days. Only 5% of domestic travelers travel for over two weeks at a time.
The top destinations for domestic tourists are Miami, Las Vegas, and New York City.
Trips are generally booked 1-3 months in advance, with Gen Z getting much of their travel inspiration from social media.
Sources: Passport Photo Online, US Travel Association, The Broke Backpacker, Hopper Media, IbisWorld
Heading off! And that's on outbound travel
The number of outbound tourists is increasing. In 2019, 99.74 million US residents traveled outside the country. During 2020, this number fell sharply to 33.5 million.
However, by the end of 2021, outbound tourism showed some recovery, with 49.1 million people traveling outside the borders once more.
Before the pandemic hit, the number of outbound tourists had stayed below 55 million since 2002.
The USA is the largest inbound travel market for Canada, with 15 million total tourist arrivals in 2019. US residents took over 1.2 million trips to Canada in December 2022, more than double the number of trips taken in December 2021. (Stat Can)
By the end of 2022, almost 14 million people traveled to Europe. This was by far the top destination for outbound US tourism travel outside the Americas. This was a significant increase from 2021, when just over 4 million people traveled to Europe due to the coronavirus restrictions.
Mexico is also a highly popular destination for US tourists. In 2019, around 8 million traveled to Mexico via air travel, while over 23 million traveled through different means of transport.
In 2022, over 3 million US residents traveled to the Central America region, to countries including Costa Rica, Nicaragua, Honduras, and Belize.
Africa has consistently been the least chosen option for travel outside the US, with just over 500,000 US tourists traveling to Africa in 2022.
July is the month that consistently sees the most outbound travel. In July 2022, around 9 million US residents traveled outside the country.
The rocketing popularity of hiking tourism  
In the US, hiking is the 4th most popular outdoor activity. Running is number one followed by fishing and biking.
The National Scenic and Historic Trails are maintained and managed by over 1 million volunteers.
Close to 59 million people in the US participated in hiking activities at least once in 2021. This was the highest figure recorded in North America since 2010 and represents a growth of 80.4%.
The US National Trails System consists of around 193,000 hiking miles on federal land.
The most dangerous hike in the US is Mount Rainier. This is due to quickly changing weather, falling rocks, avalanches, and an unpredictable volcano.
An estimated 881,000 US residents began hiking in 2022 alone.
There are plenty of hiking trails to choose from in the US, with Yosemite National Park in California and the Tongass National Forest in Alaska two of the most popular destinations.
Sources: Statista, All Trails, The Guardian, Whimsical Hiker, Outdoor Industry Association,
Medical tourism: rising on a global scale 
About 0.5% of all air travelers entering the United States annually—between 100,000 and 200,000 people—list health treatment as a reason for visiting.
China was the largest source market for medical tourism in the US in 2020, representing 15.1% of total expenditure.
Sources: Statista, USITC Gov, CDC Gov
Sports tourism: from basketball to baseball 
In 2018, sports travel made up 8% of the total domestic travel market, resulting in 190 million domestic trips to attend or participate in a sporting event.
In 2019, there were 179 million sports travelers across the US. After a dip during the pandemic, the sector bounced back with 175 million travelers by the end of 2021.
On average, sports travelers spend 3.9 nights in a destination.
The average party size for sports travelers was 3.2 people – slightly larger than for leisure travelers overall.
Nearly half (47%) of sports travelers bring children on their trips.
25% of sports travelers included a flight on their travels – slightly higher than leisure travelers overall.
Travelers attending or participating in a sporting event spent over $41 billion in 2018.
Sports travel spending reached almost $40 billion in 2021 as the sports travel industry recovered. Of this figure, $9.7 billion went into transport (including airfare, car rentals, public transport, parking, etc). Accommodation made up $8.4 billion, food and beverages $7.5 billion, $5 billion in retail.
With direct, indirect, and induced jobs in mind, sports tourism across the United States supported 635,061 jobs in 2021. Of those, 357,017 were direct jobs.
In 2018, 24% of international travelers showed interest in participating in sports tourism while in the US. In 2019, that figure rose to 37%. Over 50% of South Korean international travelers to the US wished to attend a professional sports event. Sports events in the NBA, NFL, or MLB were the most cited.
Sources: US Travel Association, Tourism Economics, US Travel
Business tourism: in-person meetings are still around 
Air travel accounts for 16% of all business trips in the US.
An estimated 1.3 million business trips are taken in the US every day.
US businesses spend $31.6 billion on international travel every year.
In 2020, the number of domestic business trips in the United States dropped by more than 60% over the previous year as a result of the coronavirus pandemic.
In the US, nearly $328 billion was spent on international and domestic business trips in 2018.
In the US, around 81% of all business trips are taken by car, while 16% are taken by plane.
While business travelers account for only 12% of flight tickets, they generate roughly twice as much money per person for airlines as non-business customers.
Business tourism spending in the US currently stands at an impressive $121.9 billion annually.
The US is full of booming business hubs, but major cities New York and Chicago come in at the top of the list.
New York City is the most expensive city for business travel, with daily costs adding up to ($799), followed by Geneva, ($716 per day), Zurich ($661 per day), Washington DC ($621 per day), and Paris ($617 per day).
26% of all business trips are one day long, according to international travel statistics.
Nearly 40% of millennials travel for business.
Travelers aged 18 to 29 take 16% of all business trips.
For every trip, US businesses spend nearly $950 per traveler who travels inside the US, while the average cost for an international business trip is $2,600 per person.
Sources: Statista, Bureau of Transportation Statistics, Global Business Travel Association, Certify, US Travel Association, US Department of Transportation, Investopedia, Inc, ECA International, Associations Now, American Express
Music tourism: as vibrant as ever 
In 2022, the music tourism market value stood at $5.5 billion.
A third of US millennials say music is the main factor when choosing a destination, which is higher than the global average.
40% want to attend music festivals abroad, and one in four Americans would travel to a different country to watch their favorite artist perform.
Number of tourists visiting the US for music-related events, concerts, or festivals.
Austin, Texas, is the most popular destination for music lovers. Home to some of the most famous music festivals in the US, Austin is known as the 'Live Music Capital of the World'.
New Orleans is the chosen destination for jazz lovers, while New York offers everything from hip-hop to musical theater to soul.
Sources: Future Market Insights, eDreams, American Holidays, NYC Gov
Ready to organize your next trip around the US?
Request a demo from TravelPerk today to see how your trip can run as smoothly as possible.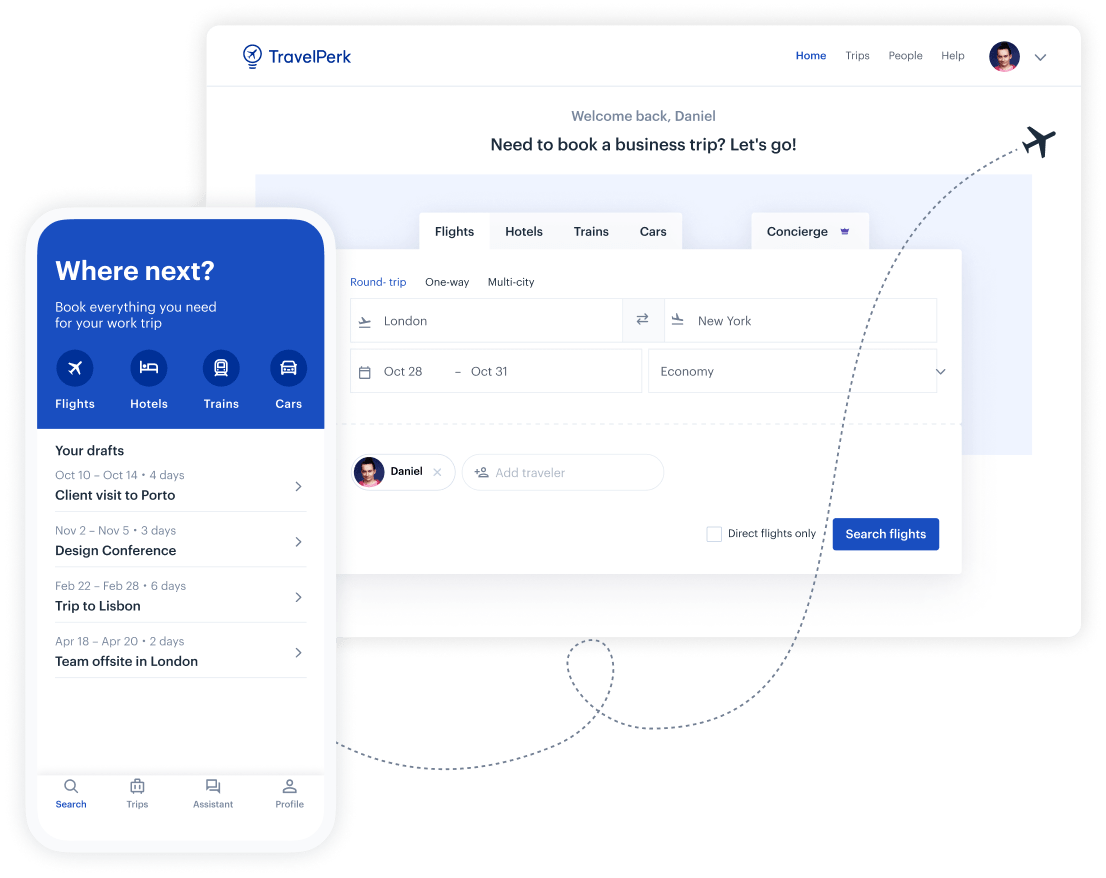 Make business travel simpler. Forever.
See our platform in action. Trusted by thousands of companies worldwide, TravelPerk makes business travel simpler to manage with more flexibility, full control of spending with easy reporting, and options to offset your carbon footprint.

Find hundreds of resources on all things business travel, from tips on traveling more sustainably, to advice on setting up a business travel policy, and managing your expenses. Our latest e-books and blog posts have you covered.

Never miss another update. Stay in touch with us on social for the latest product releases, upcoming events, and articles fresh off the press.