The term bleisure has been a travel trend that has been gaining in popularity over the last few years. Part corporate travel, part vacation, employees are increasingly requesting to add in some downtime before or after a business trip.
But what percentage of corporate trips include an element of leisure time? What are the benefits of blending business and leisure trips to businesses, and what are the top reasons employees are so keen to use their vacation days after traveling for work? Read on for our list of bleisure travel statistics for 2023.   
Bleisure in the business travel market 
Which business need is the origin of most bleisure trips?
67% of bleisure trips begin as an itinerary to take in a conference. 46% start as a trip to external meetings and 42% as sales opportunities. Meanwhile, 30% of bleisure travelers are traveling for an internal appointment, and 5% list their purpose as "other" (Stratos).
How many days does an average bleisure trip last?
17% of bleisure trips last 4 nights or more, 31% are 3 nights in length, 39% are for two nights, and just 12% of bleisure travelers are away for only one night (Stratos).
32% of bleisure stays are taken by frequent travelers who take one or two business trips each month (Expedia).
What are the top destinations for bleisure trips?
Perhaps unsurprisingly, New York City generates the most bleisure trips each year, with Paris, France, coming in second and London, UK, third (Statista).
Do bleisure travelers travel solo?
Which employee demographic engages most with the bleisure travel trend?
Engagement with bleisure travel varies from generation to generation with Millennial employees (86%) more likely to add on leisure time than Gen Xers (76%) or baby boomers (73%) (National Car).
32% of bleisure trips are taken by frequent travelers who take one or two business trips each month (Expedia).
Senior leadership teams and executives are twice as likely to extend their business trips for leisure compared to non-management employees (National Car).
Employees consider corporate travel an important perk
Looking for a simpler way to book, manage, and report on your business travel?
Learn how travel management software can help your whole organization.
What are the most common motivations for bleisure travel?
What are the benefits of bleisure trips?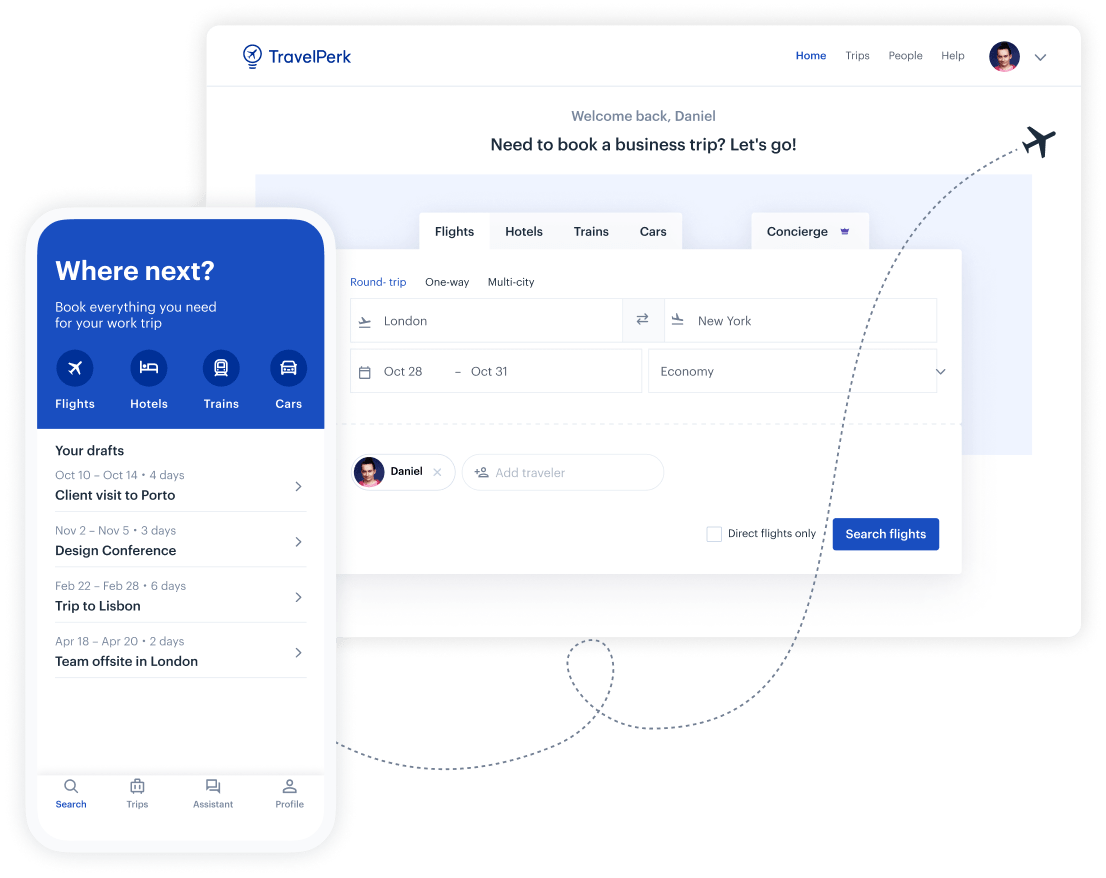 Make business travel simpler. Forever.
See our platform in action. Trusted by thousands of companies worldwide, TravelPerk makes business travel simpler to manage with more flexibility, full control of spending with easy reporting, and options to offset your carbon footprint.

Find hundreds of resources on all things business travel, from tips on traveling more sustainably, to advice on setting up a business travel policy, and managing your expenses. Our latest e-books and blog posts have you covered.

Never miss another update. Stay in touch with us on social for the latest product releases, upcoming events, and articles fresh off the press.