Partnering with a corporate travel company in Canada to manage and monitor travel arrangements for your company and your business travelers is a worthwhile investment. As a travel manager for your Canada-based organization, you need a solution that's easy to use, offers complete transparency, and improves the travel management experience for you and your business travelers alike.
There are many corporate travel companies in Canada to choose from. You can compare six of the best business travel agencies in Canada, right here:
The best corporate travel company in Canada overall
1. TravelPerk
TravelPerk is a corporate travel solution that works for your entire business. Giving you complete control and visibility over all employee business trips, you can book and manage travel in real time all in one place. Track expenses and create reports with user-friendly dashboards. Get actionable insights based on accurate, granular travel data and share return on investment insights with business stakeholders.
The TravelPerk platform is the complete package for travel managers and business travelers alike. You can manage and monitor all aspects of corporate travel while giving travelers the freedom to arrange their own business trips without feeling micromanaged. Offering a fully flexible solution that puts the needs of travel managers and travelers at the center of its solution, TravelPerk comes with some great features:
World-class inventory - Travelers can book travel from an extensive inventory of flights, trains, hotels, car rental and even Airbnb with our user-friendly mobile app.
FlexiPerk - Experience the most flexible business travel ever with FlexiPerk. Cancel any part of your travel itinerary with just one click, no questions asked. Get 80% of your money back as credit on the platform.
Integrated travel policy & approval flows - Create and customize your ideal travel policy and approval workflow in under two minutes. Have full control with no micromanagement.

GreenPerk - Track, report and offset carbon emissions for more sustainable business travel and benefit from carbon compensation solutions.
Integration with third-party software - Easily connect with third-party apps to take your business travel management to the next level and improve your workflows.

Events management - Organize business events and travel with ease. Manage attendees, bookings, scheduling, and choosing locations with just one click.
In addition to its strong corporate travel inventory, in 2021 TravelPerk acquired US-based business travel company, Nextravel to better serve the region of North America - including Canada - with corporate travel solutions.
See how TravelPerk makes business travel stress free
2. WorldGo
One of the more established corporate travel companies in Canada with 50 years of experience in the travel industry, WorldGo describes itself as 'Canada's smarter choice for corporate travel requirements'. The company uses a combination of technology and industry relationships to deliver 'unique business travel experiences'.
The key features of WorldGo's services include:
Personalized corporate travel management
Custom online booking platform
Meetings and event management
Payment and expense management
Travel risk management
Online trip approval
Best seat search for air travel
Travel reporting
24-7 support
Duty of care
Visa assistance
Mobile travel app
Despite offering 24-7 support this is overseen by just 2 - 3 travel managers, which WorldGo claims are available to customers 24 hours a day seven days a week. In reality, this does not seem possible, which raises questions about the level of support provided.
3. MeritBiz
Based in Toronto, Canada, MeritBiz has 25 years of experience in the travel industry. The company claims to have worked with some of the same companies for over 20 years. They offer a range of corporate travel services to suit travel managers and travelers alike, including:
Travel booking and planning
Traveler monitoring and safety
Vendor and contract negotiation
Travel program and policy analysis
Corporate group and events management
Enhanced reporting
Mobile app
Traveler tracking
Expense management
24-7 support
Despite a range of features that you would expect from a corporate travel management company, WorldGo's inventory is limited with fewer travel options available than some other providers.
4. Corporate Traveller
Corporate Traveller is a business travel management solution powered by a software platform called Melon. The Melon software enables you to book travel, oversee risk management, create data-driven reports, implement a travel policy and manage expenses. The software's innovative tech and accessible support are key aspects of its corporate travel solution.
The key services and features of Corporate Traveller, include:
Online booking tool, which enables employees to self-book corporate travel
Insightful reporting to monitor all traveler activity
Traveler tracking solutions
Negotiated corporate rates
Concierge services
Online chat feature to contact travel experts
Despite its intuitive tech, Corporate Traveller has a lot of gaps in its offering. There's no carbon offsetting program to reach sustainability goals, and though it offers some integration options, there is limited choice.
5. Kemp Travel
Kemp Travel has been serving in the corporate travel market for 39 years and is proud to be 100% Canadian-owned and operated. The company's personal service and use of the latest technology are the main drivers behind their corporate travel solutions.
The key features and services of Kemp Travel include:
Flight discovery to find the best airfares and travel routes
Travel policy compliance
Corporate rates - hotels and cars only
Travel pattern reviewing to see if flights are eligible for discounts
Management reporting for in-depth insights into your company's travel spend
Crisis management support
While Kemp Travel offers a lot of what is expected of corporate travel companies in Canada, there is a distinct lack of a sustainable travel program. There are also no integration options to enhance the travel management experience.
6. Egencia
Formerly the Expedia Group's answer to travel management, Egencia was acquired by American Express Global Business Travel (AMEX). Transformed into a business travel management solution, Egencia focuses on helping companies manage traveler risk, support traveler well-being, and maximize ROI from business travel.
The key features of Egencia's corporate travel solutions include:
Access to an inventory featuring well-known Expedia brands
Managing travel risk to deliver on duty of care requirements
Granular travel data gathering to identify potential savings and manage travel spend
Expense management
Despite a notable focus on traveler wellbeing and risk management, Egencia has a number of hidden costs, charges additional fees for customer support, and has a limited hotel and flight inventory.
Choosing the right business travel management company in Canada
Now that you have an idea of what some of the best corporate travel management companies in Canada have to offer, you are equipped to make a more informed decision about which provider is right for your business travel needs.
When selecting a TMC in Canada, it's worth checking for the following attributes:
Flexibility - Does your chosen TMC tie you into a binding contract to use its services? Do they charge a flat fee or are there additional charges to access different services? Is there free implementation of their solution or do you have to pay for setup? These are some of the things to consider when picking the right provider for you. You want a solution that's flexible.

Full coverage - From booking flights and accommodation to managing travel expenses, you want to limit the number of touchpoints to ensure a streamlined travel management process. That's why a corporate travel management company that covers everything is the ideal option. A TMC should be your one-stop shop for all things related to business travel plans.
Technology - Does your preferred TMC use the latest technology to enhance the travel management experience? The best corporate management companies in Canada utilize the latest tech to help you optimize your travel program, including the automation of repetitive processes and identifying where time and cost savings can be made.
Support - The travel industry operates 24 hours, which is why you need round-the-clock support for you and your business travelers when urgent issues arise. Ideally, you want to work with a corporate travel company in Canada that offers human support, so that you or your employees can talk to a person for added peace of mind that issues can be resolved.
Why partner with one of the best corporate travel companies in Canada?
Modern corporate travel requires innovative solutions that traditional TMCs are unable to provide. The corporate travel landscape is changing. A partnership with one of the best business travel companies in Canada enables you to adapt to the changing landscape, centralizing your travel management requirements to give your company the control it needs, and your employees the freedom to book travel.
Business travel is entering a new era and a fresh approach is needed to help you better manage your requirements and to get the greatest value out of planned business trips. Partnering with one of the best, modern business travel agencies in Canada will equip you to book faster, manage smarter, and optimize your travel program with all-in-one travel management solutions.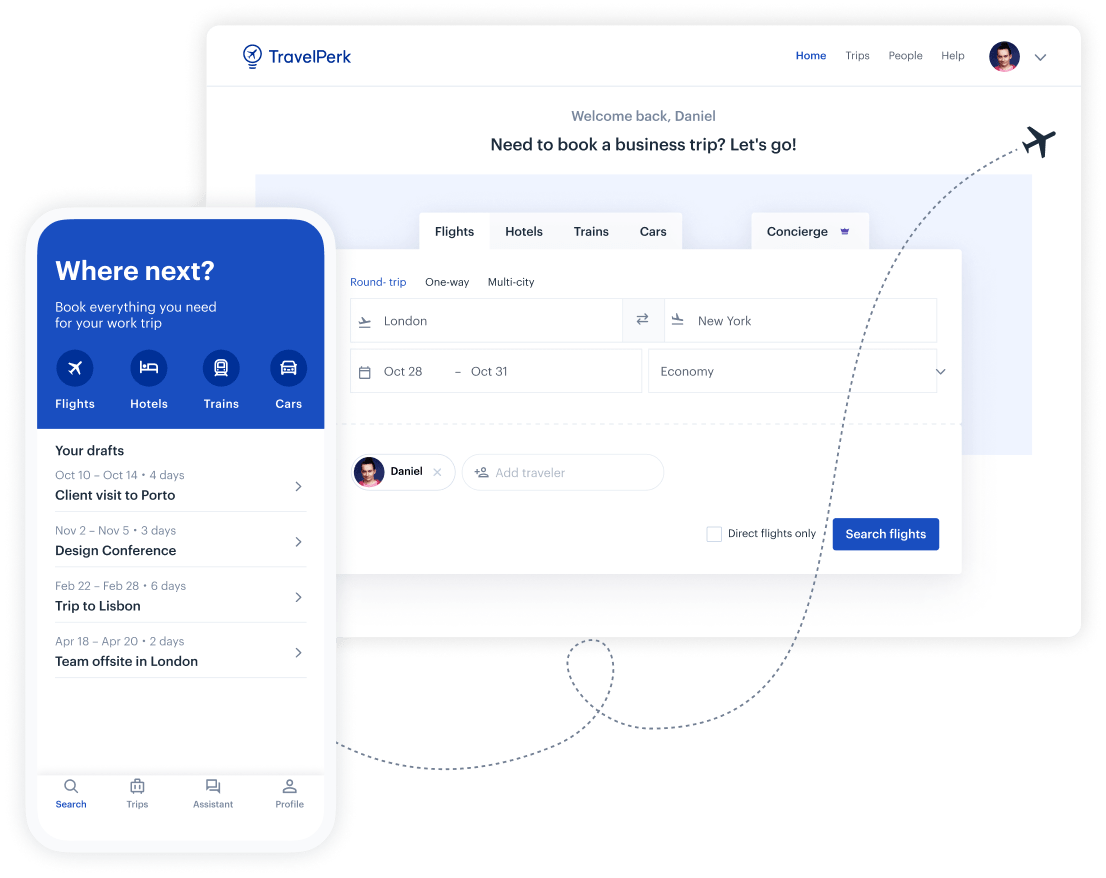 Make business travel simpler. Forever.
See our platform in action. Trusted by thousands of companies worldwide, TravelPerk makes business travel simpler to manage with more flexibility, full control of spending with easy reporting, and options to offset your carbon footprint.

Find hundreds of resources on all things business travel, from tips on traveling more sustainably, to advice on setting up a business travel policy, and managing your expenses. Our latest e-books and blog posts have you covered.

Never miss another update. Stay in touch with us on social for the latest product releases, upcoming events, and articles fresh off the press.