Think of a travel management system as your hub (or motherboard) for all things travel.

Since it's such an important system, you'll want to ensure that you're picking the right platform to use for your company travel.
What is a travel management system?
A travel management system helps travel managers book, track, and analyze business travel. Typically, a travel management system refers to a platform that offers travel inventory, travel policies, and reporting, but this can also refer to the overall process of managing corporate travel.
See how to save money by automating your booking process
Key features in a travel management system
When you're comparing travel management systems, it's important to understand which features are the most impactful. Here are the features that can help you manage travel safely, efficiently, and cost-effectively.
1. Customizable travel policies
One of the most important features in a travel management system is the travel policy. Even if office managers or travel managers book on behalf of travelers, you still need in-app travel policies to keep administrators on the same page.

You should be able to customize your in-app policy by several different criteria:
Special policies for specific travelers (such as c-level or a department that often has to book last-minute flights)
Global policies for nightly hotel rates
Nightly hotel rate by city
Global policies for maximum domestic and international flight cost
Maximum flight cost for specific routes
Minimum number of days required for advanced booking
Global maximum train cost
Maximum train cost for certain routes
Your travel management system should allow you to preset your travel policy so that it's live and working whenever anyone books a trip.

Rather than a travel policy that is just a boring document, you have it right there in your booking app, where it matters most.
2. Customizable approval workflows
What happens if a trip needs to be booked outside of your policy? Good question.

Your travel management system should include approval workflows inside of the platform, so that if anything falls outside of policy, the person booking a trip can request approval and save their trip details (instead of sending an email and losing all their hard work of selecting the right itinerary). You should be able to set up these approval workflows however you want, such as picking different approvers for different teams and customizing the level of strictness.

Is approval required for all trips or just trips that fall out of policy or just trips booked by certain travelers? Your travel management system should include robust customization.
3. Extensive inventory
Your policy and approval workflows are really critical in helping you maintain travel compliance around the clock, but so is your access to inventory. If you're using a travel management system that lacks low priced accommodation and flight carriers, then you're missing out on big cost-savings opportunities. When you consider that millennials actually tend to book budget options, you'd be wise to make these available to them.
4. Support included at no additional cost
Paying a fee for every support call is really old school and really expensive. Your travel management system should include support at no additional cost to you. This way, you know exactly what you're paying for and there are no surprises at the end of the month. Also, travelers can get the support they need when they need it without worrying about upsetting anyone in finance for a bunch of support calls.
5. No redirects
When you're booking a vacation and you get redirected, it's annoying. It can also be a little nerve-wracking because you're not sure if you should trust this new vendor you're being redirected to.

With business travel, redirects are not only obnoxious, they make tracking your business travel all but impossible. At the end of the month, you'll be scouring the web trying to collect all your invoices. Avoid this at all costs.
6. Travel spend reporting
One of the most important features of any travel management system is the ability to report on business travel. Here are some things you'll want to be able to track:
Travel spend by time period
Travel spend by department or team
Amount of travel spend booked out of policy
Travel spend by project or client or event
Amount of travel spent for hiring
Of course, this means that in addition to generating reports, your travel management system should include the ability to add labels and tags to trips.
7. Consolidated invoicing
The easiest way to track your business travel is to book it in one place. However, some travel management systems don't act as a single vendor, meaning you'll still have a lot of different invoices. To save time and hassle on business travel, choose a system that consolidates all of your monthly travel into a single vendor invoice. The finance team will love you.
8. Review the status of all trips in one place
The whole point of a travel management system is being able to consolidate travel. Let's see how this plays out in a real-life scenario. Let's say that 20 travelers are supposed to each book their own trip to upcoming events.

As the travel manager, you should be able to login to your travel management platform and see…
Who has successfully booked their trip within policy
Who is requesting an out-of-policy booking and why
Who has an in-progress trip (they've saved an itinerary but not completed the booking yet)
Who hasn't booked a trip
When you're in charge of booking travel or helping travelers book their own travel, you need to know what is going on. You need to get an instant overview so you can discover which travelers need extra help.

Additionally, once trips are booked, you'll want one central location for confirmations, itinerary details, cancellation notices, etc.
9. Easy booking, including self-booking for travelers
Even if you don't plan on letting travelers book for themselves, you still want a smooth booking experience and great UX for the employees who are in charge of booking travel.

If you do plan on allowing self-booking, then you choose a travel management system that travelers love, one that is enjoyable to use, meets their needs, and provides them support when they need it. 
10. Methods of transportation that matter to you
You expect your travel management system to have flights and hotels, and most likely cars. But what about trains? If trains are a common way that your employees travel, then you should choose a travel management system that includes them.

Why should you vet for methods of transportation (and even lodging sources like Airbnb) that your company uses regularly?

So you can further consolidate your business travel into a single platform that's easy to manage and track.
11. Mobile app for travelers on the go
I know. I know. It's practically 2020. Do we really need to check for the existence of a mobile app? Yes, we do. Some travel management systems don't have their own mobile apps, or they offer apps that are clunky and challenging to use. Before onboarding your entire team to a new travel management system, you should download their app yourself and test the experience.
12. Saving in-progress bookings and collaborating
Collaborative booking is related to some of the features we've mentioned previously (like approval workflows and the ability to review incomplete bookings).

However, it's such an important feature that it's worth exploring separately. The ability to book collaboratively can come in handy in a number of cases:
Your CEO selects a flight and hotel and wants you to finalize it
Travelers are allowed to select the trips they want but not complete bookings (so you complete it after they pick their options)
A trip for multiple travelers needs to be reviewed, so you save it and double-check with everyone before finalizing it
A potential hire, client, or managed talent chooses their trip details and the main office books it
The possibilities are endless. Just like you can save a draft of a report, collaborate on it with others, and come back to it later, you should be able to do this with a trip booking.
13. Easy to see what's in and out of policy when searching
Wouldn't it be lame if your travelers couldn't tell that a hotel was out of policy until they were already excited to book it? Yeah, that would be terrible. Whether it's a hotel or a plane or a train, your travelers should be able to see if something is outside of policy before they even click on it. 

14. Expense tool integration
Your travel management system should integrate with your expense system. Enough said.

If there's no existing integration available, then check that the travel management system does at least one of these:
Offers an external API so your development team can integrate it with your expense tool
Offers custom integration services
15. Save traveler information
Booking business travel doesn't have to take 2 hours. When you save every traveler's information in your travel management system (including legal name, travel document country and number, birthday, etc.), it can take a whole lot less time—minutes even.
16. Save loyalty points
Every company has a different policy on loyalty points. Some companies don't allow travelers to get points on their own loyalty accounts, and instead require that company travel get credited to the company's account so that the business can get the rewards.

Either way, you should use a travel management system that saves these program numbers. This way travelers don't have to enter them every time they book. And if your company only allows points to get credited to the company account, then an office assistant or admin can enter those program numbers in every traveler's profile.

As for our 2 cents...we believe that since there are so many better ways to save money on travel, you should give the points to the road warriors!
17. No long term contracts
If you don't like your travel management system, you shouldn't be forced to use it.

Popping champagne bottles at the end of long sales cycles is the old way. Trying a system out, seeing if you like it and leaving it if you don't is the new way. When vetting the travel management platform, check that you don't get locked in.

The system that you use to book and manage travel can have a huge impact on your experience as a travel manager and on every employee who travels for work.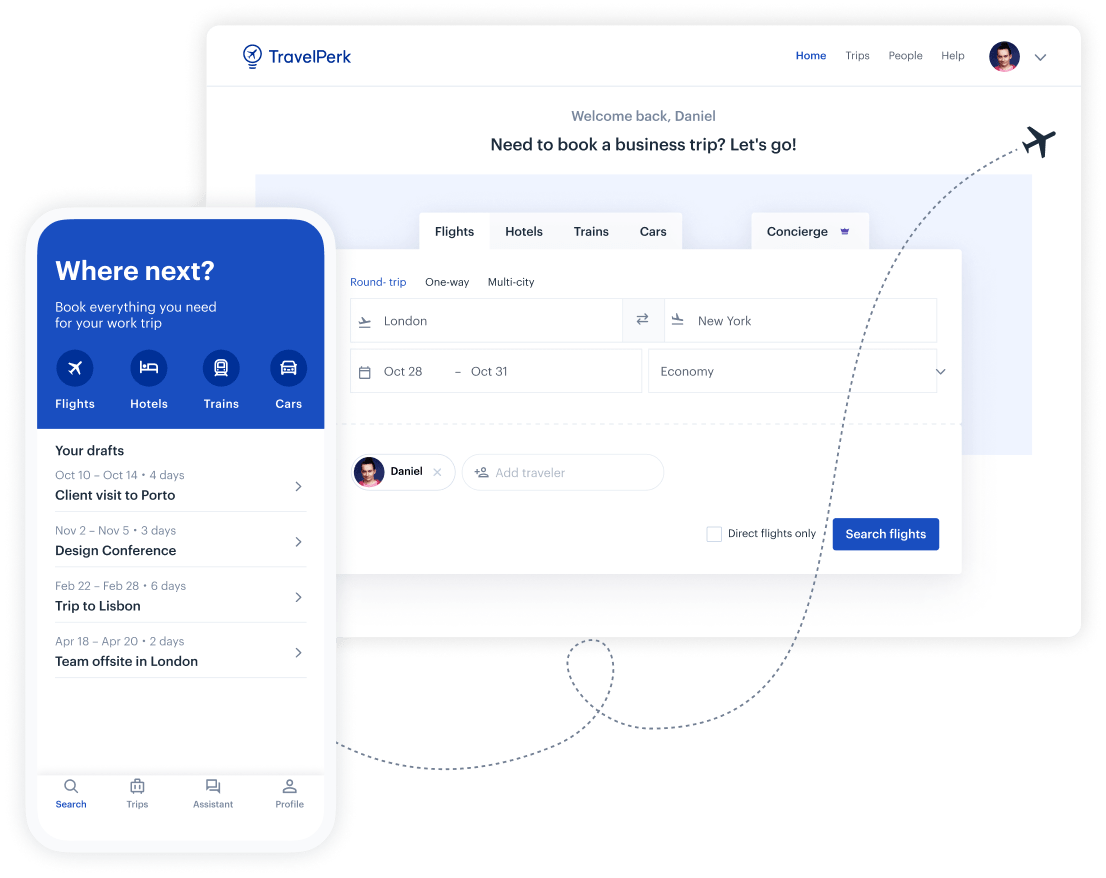 Make business travel simpler. Forever.
See our platform in action. Trusted by thousands of companies worldwide, TravelPerk makes business travel simpler to manage with more flexibility, full control of spending with easy reporting, and options to offset your carbon footprint.

Find hundreds of resources on all things business travel, from tips on traveling more sustainably, to advice on setting up a business travel policy, and managing your expenses. Our latest e-books and blog posts have you covered.

Never miss another update. Stay in touch with us on social for the latest product releases, upcoming events, and articles fresh off the press.