Business travel exposes employees to inherent risks. Modern companies are adopting a proactive travel risk management (TRM) policy to manage crises, communicate effectively, and plan ahead wherever possible.
Organizations usually rely on travel risk management companies to support employee welfare with risk intelligence strategies, tools, and technologies.
Whether you're a regular travel risk management software user, or you're looking for the best software to introduce to your team, this article will help you to evaluate top vendors, must-have features, and functionalities to look for in your next corporate risk management solution.
What are travel risk management companies?
A travel risk management company enables organizations to fulfill responsibilities around staff duty of care by providing risk identification, mitigation, and communication solutions.
Travel risk management companies ensure safer, easier, and more enjoyable business travel with comprehensive support options. Travel risk management service providers usually provide solutions to a number of different corporate travel needs.
Here's how travel risk management companies help businesses:
Travel planning and risk assessment
Pre-travel planning is crucial for developing a corporate travel policy that meets the needs of your traveling employees. This includes considerations for:
Threat identification: you want a platform that'll help you identify issues
Contingency planning: for if something comes up unexpectedly
Itinerary management: so your employees don't have to worry about the details of their travels
Risk assessment: to understand potential risks and how to deal with them
Protection for employees and corporations
Robust security and risk management services help you protect employees and company assets abroad. Common travel risk protection services include:
Responsive security intelligence: for proactively monitoring global incidents
Employee tracking: for locating and monitoring traveling employees
Operational support: for quick evacuation and meeting obligations to care for your employees in real-time
Reaction and recovery in case of crisis
Incident resolution and quick recovery are two key areas of travel risk management. Travel risk management tools ease multiple processes such as:
Response management: to plan crisis management for emergency situations
Incident logging: to identify common travel risks and map areas of failure
Crisis support: to support employees during natural disasters or any other crisis
Business continuity: to mitigate impacts and ensure operations continuity
Medical assistance: to coordinate and manage medical treatment for employees
Damage limitation: to cover employee injury or property damage
Governance to ensure you're following all the rules
A safety culture is the foundation of a travel risk management policy. Top travel risk management services enable you to create, identify, and manage:
Risk tolerance: to identify acceptable risk levels
Duty of care obligations: for fulfilling legal obligations to keep employees safe
Document stakeholder engagement: to facilitate the right discussions
Our top six travel risk management companies specialize in creating solutions for these common corporate travel issues so that you don't have to worry about them. It makes life easier for both you and your traveling employees.
Does my company need a travel risk management company?
Did you know business travel is expected to experience a year-on-year surge of 38% in 2022? Business travel is bouncing back fast, and unfortunately, many companies are taking unnecessary business travel risks.
Companies sending employees on business trips need to pay close attention to their duty of care responsibilities before, during, and after the trip.
If you can't decide whether you need a travel risk management solution or not, evaluate whether your organization is ready to handle these business travel risks in-house.
Common risks: Some of the most common risks that employees face during foreign travel include terrorism, local law compliance requirements, country entry requirements, natural disasters, money, political instability, and health.

In order to avoid encountering any of these issues, you'll need to keep up to date with travel advisory updates for the destination country.
Health risks: Medical emergencies can strike at any time, and medical standards vary depending on which part of the world your staff are in. Businesses must provide employees with sufficient travel medical insurance and other preventive measures before the trip begins.

Also, make sure your insurance covers any pre-existing conditions of your traveling employees.
Immigration and customs risks: Global mobility planning is another area that needs attention. As an organization, it's your duty of care obligation to help employees obtain the correct visa, provide proof of accommodation, trip purpose, and departure details. Be familiar with custom authority requirements as policy violation runs the risk of item confiscation, arrest, or deportation.
Local legislation risks: Traveling employees need to be aware of the local laws of the country they are traveling to. Ignoring these laws may end in penalties and even criminal offenses.
Features to look for in a travel risk management company
Uncertain times call for dynamic travel risk management policies. Increasing regulatory complexity and employee experience concerns create administrative challenges.
Here are a few key things to consider when choosing travel management companies.
Data-driven insights: Does the company allow you to enhance employee experience with forecasts from existing data sources? Does it collect information on your corporate travel to help improve your experience? Having these insights enables you to predict potential issues, offer solutions, and reduce travel plan changes.
End-to-end assistance: A travel risk management solution provider should be able to handle end-to-end processes, from pre-travel approvals to post-travel analysis. This will help you to get a complete picture of the risk management workflow.
Accessible and flexible: You should also evaluate if your traveling employees can access the risk management portal in real-time. Your ideal platform should be able to help you minimize travel costs while ensuring employee safety. Also, look out for flexible solutions—it's important to opt for an agile solution.
Prioritizing these three aspects will set you on the right path to finding your ideal travel risk management solution. Consider how your business engages with business travel, and aim to choose a solution that can provide more than one solution.
The best travel risk management companies
Top travel risk management companies help you improve business travel options for your employees. You're looking for a solution that'll help you meet your duty of care obligations by providing comprehensive risk management capabilities.
A good travel risk management company should enable you to develop a travel risk management maturity model to establish policies, train employees, and manage data—plus effectively communicate it with your team.
The key to choosing the best vendor lies in assessing your organizational needs and choosing an intelligence-driven, integrated travel risk management solution that suits your business.
1. TravelPerk
TravelPerk is an all-in-one solution for business travel management that simplifies corporate travel with a range of business travel management tools. Its corporate travel risk management solutions help you make informed travel decisions, ensure traveler safety, and accommodate any change of plans. The travel management solution aims to make business travel simple, free up administrative time, and save companies money when it comes to travel expenses.
Main TravelPerk USPs:
FlexiPerk: FlexiPerk allows business travelers to book flights, hotels, and cars that can be cancelled quickly and easily–with 80% of the fare refunded. It enables organizations to book freely in the knowledge they're protected if plans change.
Pre-travel planning: TravelPerk's TravelCare offers real-time alerts, updates, COVID-19 travel restrictions, vaccination requirements, and local guidelines so that you know what precautions to take before traveling. These alerts enable travelers to modify travel plans quickly and easily.
Duty of care solutions: Thanks to TravelPerk's integration with International SOS, you can now ensure your traveling employees are fully covered. Get in-depth trip reporting and travel alerts, plus manage evacuation and auxiliary services—all from a single portal.
Traveler tracking: TravelPerk's built-in corporate travel tracker offers a 360-degree view of business trips and employee compliance. This helps businesses and travel managers with numerous teams on the go.
24/7 support: The on-demand travel support team works round the clock to answer your queries within 15 seconds. Get 1-1 concierge services, make group bookings, and manage business travel quick as a jet.
TravelPerk's travel risk management solution is perfect for pre-travel assessment, tracking traveling employees, round-the-clock support, and duty of care solutions.
How to cancel a trip and get a refund with FlexiPerk
FlexiPerk offers you the most flexible business travel ever. You a pay a small fee on top of your booking and if your plans change, you can cancel up to two hours before and get 80% of your trip refunded. No questions asked.
2. Collinson
After starting its journey in 1985, Collinson has grown to become a popular name in the travel medical and security assistance domain. This bespoke risk management consultancy is partnered with Crisis24 to offer fully scalable travel risk services.
Mains USPs according to Collinson:
Core program: The core program is designed to fit your business needs by offering services such as pre-travel risk assessment, traveler tracking, advice, and support along with medical and security assistance.
Traveler assistance: Collinson helps you fulfill responsibilities and reduce risks with seamless traveler and wellbeing assistance solutions such as airport assistance, executive protection, identity assistance, digital healthcare, wellness, and global travel management.
Remote site assistance: Collinson also supports businesses with 24/7 security monitoring, remote medical assistance, traveler tracking, and occupational health services.
Risk consulting: Corporate travel challenges vary depending on multiple factors. That's why Collinson's risk consulting offers custom pandemic planning, medical emergency response, risk screening, and evacuation planning solutions.
Collinson's travel risk solution is perfect for assessing medical risks faced by your traveling employees.
3. Anvil
Anvil helps businesses manage corporate travel risks with global travel risk, operational resilience, and occupational health management solutions. Their event management platform ensures safety and communication links for traveling employees.
Mains USPs according to Anvil:
Travel risk success framework: Anvil doesn't believe in a one-size-fit-for-all risk management approach. That's why they use a travel risk success framework to create travel programs suitable for businesses with varying needs.
Travel risk management technology: Anvil's Riskmatics® platform helps businesses prepare for unforeseen events with 360-degree threat awareness and dynamic intelligence. The complete product suite offers real-time global data insights and offers needs-specific custom solutions.
Travel risk management services: Anvil also offers a variety of services, including pre-travel assessment, journey management, travel policy consultancy, wellbeing programs, and safety advisory.
Anvil is great for predicting travel risks, creating a travel risk success framework, and pre-travel assessment.
4. FocusPoint International
FocusPoint International is a travel risk management and specialist risk consulting business. They offer on-demand advice, coordinated in-country assistance, and evacuation services to traveling employees. FocusPoint International is present across Latin America, Europe, the Middle East, Africa, Asia, and the Domestic United States and Canada (DUSC).
Mains USPs according to FocusPoint International:
CAP™ travel assistance plans: These plans make your employees' travel experience smoother with destination-specific information, on-time advice, and assistance. You can access the information on the web and mobile applications. Focus Point International also offers evacuation services that avoid the hassle of the claims process, reimbursements, or subrogation.
Areas of focus: The expertise of the FocusPoint International team lies in travel risk intelligence, security evacuation, travel tracking, and medical evacuation. They closely work with insurance, travel, and corporate players to ensure a seamless employee experience abroad.
FocusPoint International is great for location-specific employee assistance and evacuation services.
5. CWT
CWT is a travel management platform that helps your employees avoid harmful situations when traveling for business. The company helps employers meet ethical obligations, predict security concerns, and stay policy compliant.
Mains USPs according to CWT:
Safety and security resources: CWT has created dedicated resources to help travelers to be aware of COVID-19 related and other unexpected emergencies. Their cutting-edge technology lets you locate and support employees during an emergency.
Data security: The global cybersecurity team at CWT helps your employees navigate data threats and security issues. Their security awareness and compliance program ensure information confidentiality, integrity, and availability.
International SOS: CWT has partnered with International SOS to offer extra support to corporate travelers from the LGBTQ+ community. They seek to ensure maximum risk mitigation with robust contingency plans to ensure your employees feel safe when traveling.
CWT is great for assessing security threats and keeping your employees safe during business trips.
6. Corporate Travel Management (CTM)
CTM offers budget-friendly and efficient travel solutions. They combine traditional travel management solutions with a personalized service to ensure employees enjoy a safe and secure business trip. CTM's risk management solutions enable companies to identify risks, track employees, and communicate any important updates.
Mains USPs according to CTM:
Traveler tracking: CTM enables organizations to track employees in real-time via travel itineraries.
Pre-trip risk assessment: CTM's easy-to-manage pre-trip approval solutions allow you to create customizable pre-trip approval workflows. Such robust assessments help you reduce risks and travel costs.
Travel risk alerts: CTM keeps travelers informed about potential travel risks via SMS, notification, or email.
Mobile booking and trip management: Whether you want to enable employees to self-book trips or check travelers' safety, you can do it all with a single click from the CTM mobile app.
The best travel risk management apps
Technology has unlocked new travel risk management solutions to help you to manage your business travel and limit any potential risks.
One example is travel risk management apps that put you in control and take the worry out of unforeseen travel disruptions.
With business travel apps, companies can stay on top of their travel arrangements and keep up to date with events and issues that could lead to travel being suspended or canceled. For travel managers having a dedicated travel risk management app on their smartphone is the quickest, easiest way to meet your duty of care obligations - a top of mind concern for many since the pandemic.
There are a number of travel risk management apps available on the market in 2023. When it comes to knowing which risk management service works best for your business travel needs, there are several providers to choose from with different services to offer.
1. TravelPerk Trip Assistant app
The TravelPerk Trip Assistant app offers an all-in-one travel risk management program designed with traveler safety in mind. With the TravelPerk Trip Assistant app, travelers receive notifications about any changes, disruptions or advisories, while they're on the move. The app gives travelers a direct line to contact the TravelPerk Customer Care team for immediate assistance.
What's more, the TravelPerk Trip Assistant app gives you added peace of mind before a trip's about to start. We email travelers with a recap of the airline safety measures in place, along with anything else they should know about where they're going.
Other features:
2. Egencia
Egencia is a digital-first corporate travel app for business travelers. It offers travel support services to over 2 million travelers in 60 different countries. Egenica's app offers a number of services for travelers that help them minimize their risk when traveling.
Some key benefits include:
Overview of all corporate traveler and their details
Custom travel alert messaging gives individual updates and delivers travel risk alerts via sms for weather, travel restrictions and quarantine requirements
Travel approvals for travel managers allowing them to instantly approve travel no matter where they are
Travel policy changes in the app allows travel managers to change their policies without needing to contact support teams
3. Athena Risk Management App
Athena Risk's management application provides their clients with a global warning and crisis management service. Their focus is on delivering fast and accurate information to ensure safety and security is a priority for corporate travel managers and employees.
With global distribution and clients using the app all over the world, Athena Risk specializes in providing risk assessment information that reduces an organization's potential for loss.
Features include
In-country reports in near real-time to give travelers the latest security information
Country assistance including travel check-in and safety requirements
SOS assistance and a tracker that pinpoints travelers' locations to within 20 meters and the ability to request emergency assistance 24/7 in case of a threat or natural disaster
Multi-language selection for accessibility for app users all over the world
Wrapping up on the best travel risk management companies
That's a wrap on the six best travel risk management companies on offer to you. Consider identifying business travelers' challenges, corporate obligations, and different risk factors before choosing a travel risk management solution for your business.
You're looking for a travel risk management provider that enables you to make informed decisions, improve your employees' experience, and handle travel risk management programs with ease.
TravelPerk helps your employees prepare for take-off by providing comprehensive, data-driven, and flexible risk management solutions. You can also benefit from a wide variety of other travel management solutions, get in touch to find out more.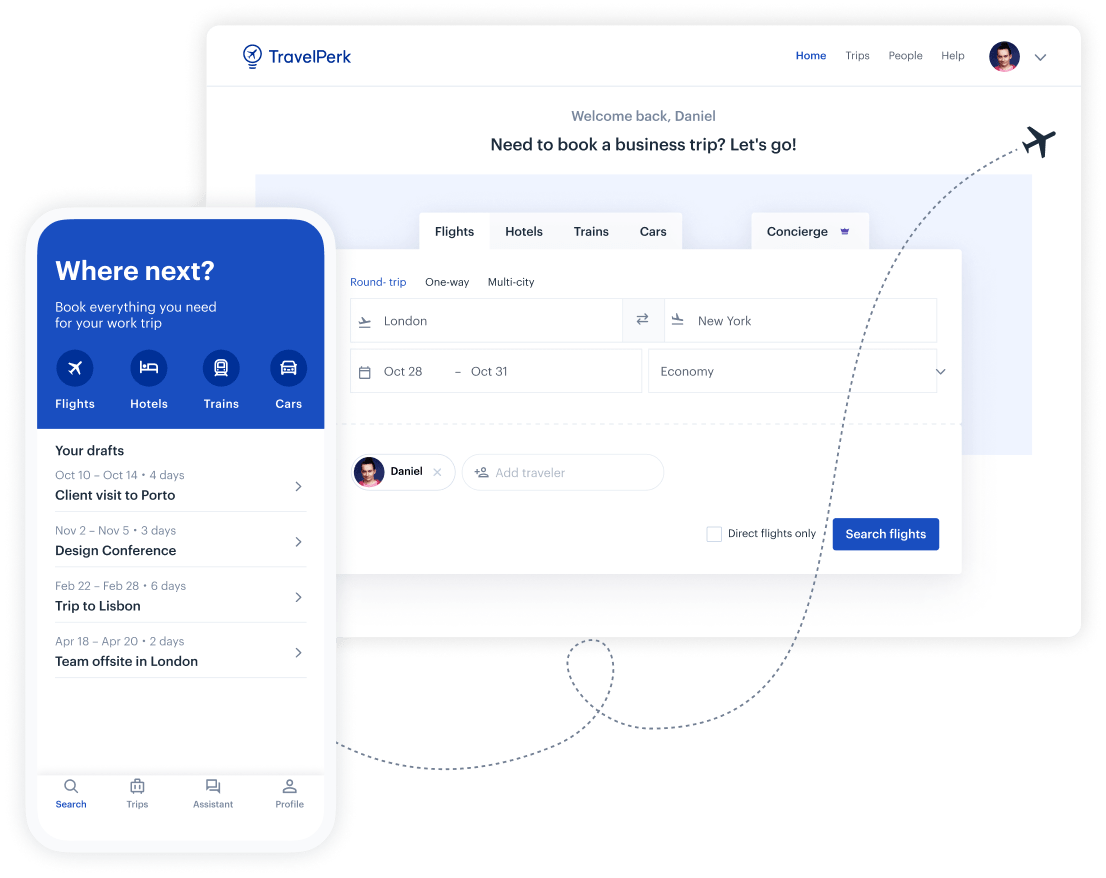 Make business travel simpler. Forever.
See our platform in action. Trusted by thousands of companies worldwide, TravelPerk makes business travel simpler to manage with more flexibility, full control of spending with easy reporting, and options to offset your carbon footprint.

Find hundreds of resources on all things business travel, from tips on traveling more sustainably, to advice on setting up a business travel policy, and managing your expenses. Our latest e-books and blog posts have you covered.

Never miss another update. Stay in touch with us on social for the latest product releases, upcoming events, and articles fresh off the press.