Travel Requirements information by country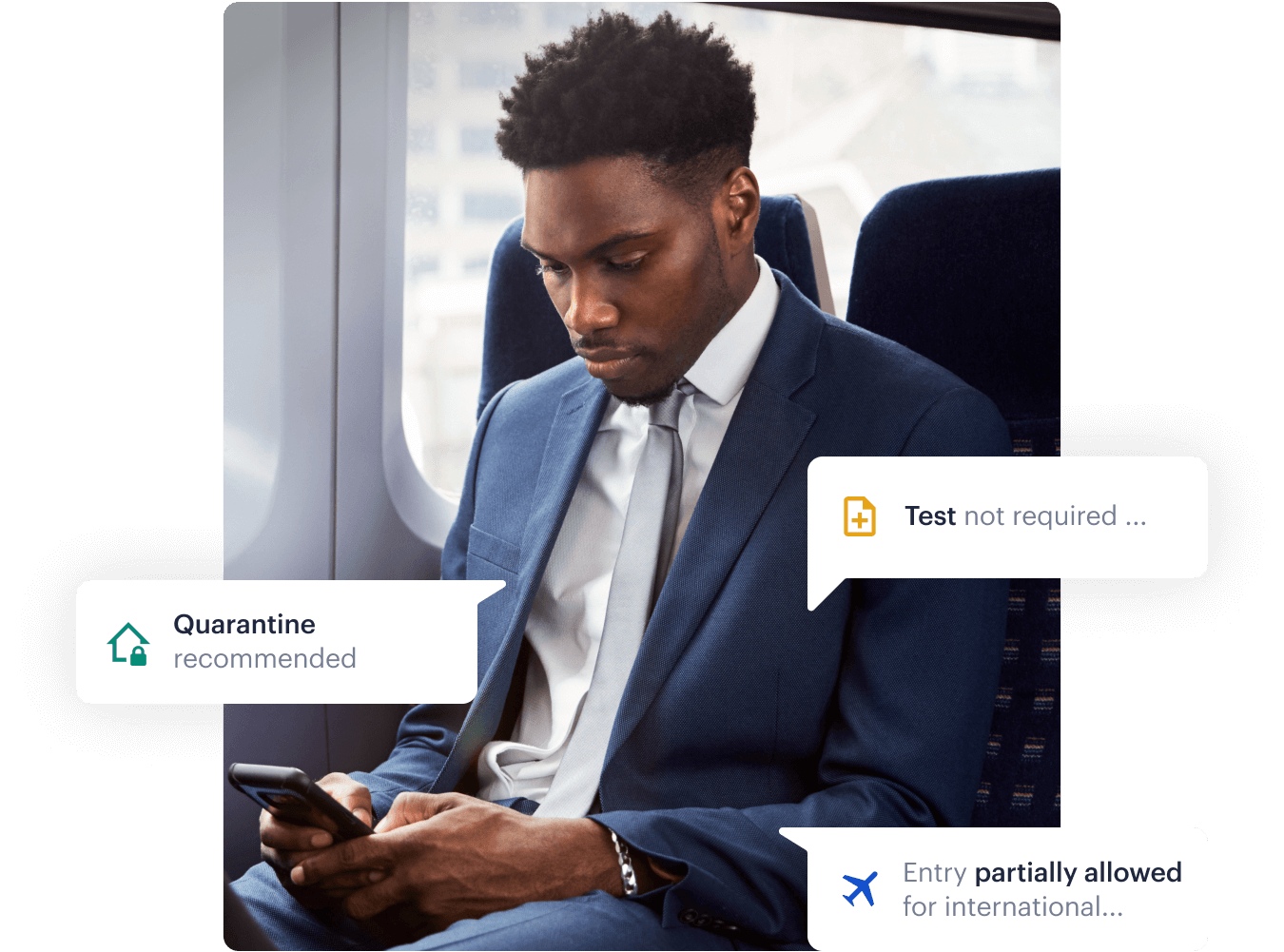 Travel Requirements information by country
Find out about the latest travel restrictions information for your destination to make safer, smarter booking decisions. Brought to you by TravelPerk, the world's leading business travel platform.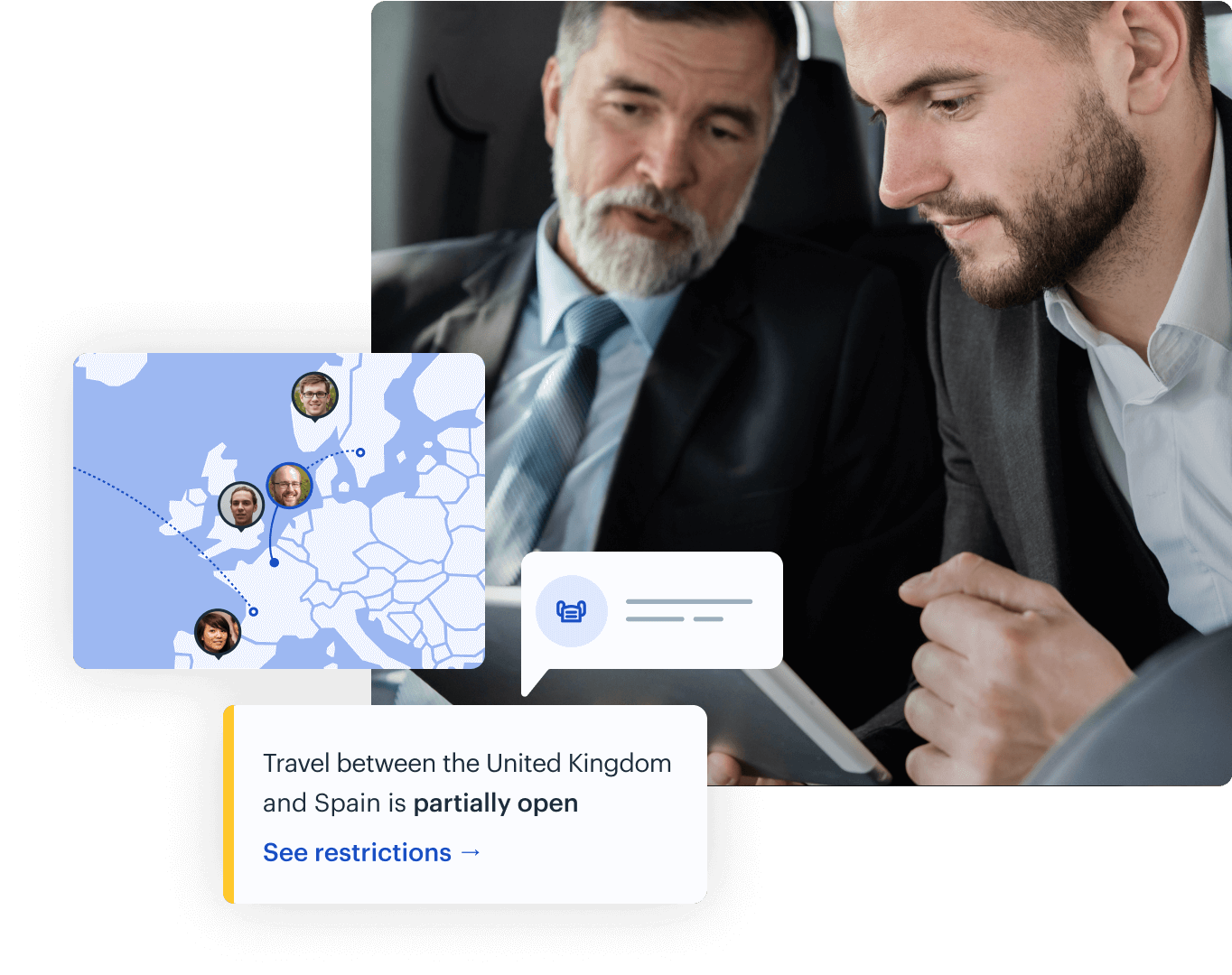 Traveling for business?
Make better booking decisions with TravelPerk
Feel confident about booking your next business trip by putting the latest information on travel restrictions at your fingertips.
Make more informed booking decisions: With up-to-date quarantine and travel restriction information when you search for your trip.
Keep your travelers safe on their trip: Send travelers all the details that affect their trip straight to their mobile.
Act immediately if the situation changes: Travelers & admins get notifications about any changes or disruptions and a direct line to our Customer Care team for immediate assistance.
Travel Requirements by country
Frequently asked questions
How often is the information on this page updated
The travel restrictions information is verified and updated daily.
How many countries are open for travel
This depends on your origin country and may frequently change.
For example on 17th November 2021 171 countries were open to travel from the US, Spain and France (with or without restrictions), 172 from Germany, 166 for travel from the UK.
Is it mandatory to be vaccinated in order to travel
This depends on the destination and origin country. In most cases travel is allowed without a full course of vaccine, subject to certain procedures and restrictions. Use the travel restrictions tool above to see rules and regulations specific to your trip.
How long is my Covid-19 certificate valid for
Your certificate, whether stored digitally or otherwise, shows the date that you received a full vaccination course. There is currently no maximum validity for vaccination certificates, though this may change in time based on emerging scientific evidence.
The EU has implemented a digital certification system and has committed to keep this system in place until at least 30th June 2022.
What other documents do I need to travel
Use the travel restrictions tool above to see whether any other documents or declarations are needed. Don't forget to also check the entry requirements for your destination country to see whether you need a visa to enter.
What if I get Covid-19 before my trip
What should I do if I get COVID-19 while in another country?
If you start presenting symptoms of COVID-19 whilst on your trip, you should also contact local health departments to find out how you can take another test safely. Get more advice on our guide.
Can I get a refund on my airline ticket if the country I'm travelling to closes?
If your flight gets canceled, the airline is usually obliged to refund your ticket or offer you an alternative flight.
Does TravelPerk provide any kind of travel support?
TravelPerk offers market leading customer support, anytime 24/7.
Can I partner with TravelPerk to use this travel restrictions information for my customers
Companies in the travel, media and other industries can use the TravelSafe API to offer this same information to their customers. Find out more here.
TravelPerk is the world's leading business travel platform
We're making it easier, faster and cheaper to book business trips, and keep travelers safe and happy. The result is a smoother booking and travel experience for everyone, that also gives businesses all the control they need.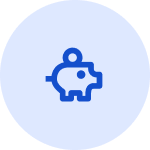 Save up to 30% on your business travel
With the world's largest range of travel options, & easy to use app, budgeting, travel policies, reporting and VAT reclaim features.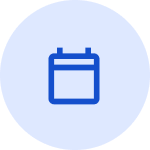 Book and manage your whole trip from one place
Say goodbye to juggling multiple sites or tabs to book trains, planes, cars and accommodation. Receive real-time trip alerts and manage trip invoices with ease.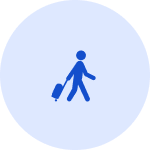 Keep your travelers safe and happy
Our user-friendly design, #1 rated 7 star Customer Care team and live trip updates mean that travellers are taken care of at every step of their journey.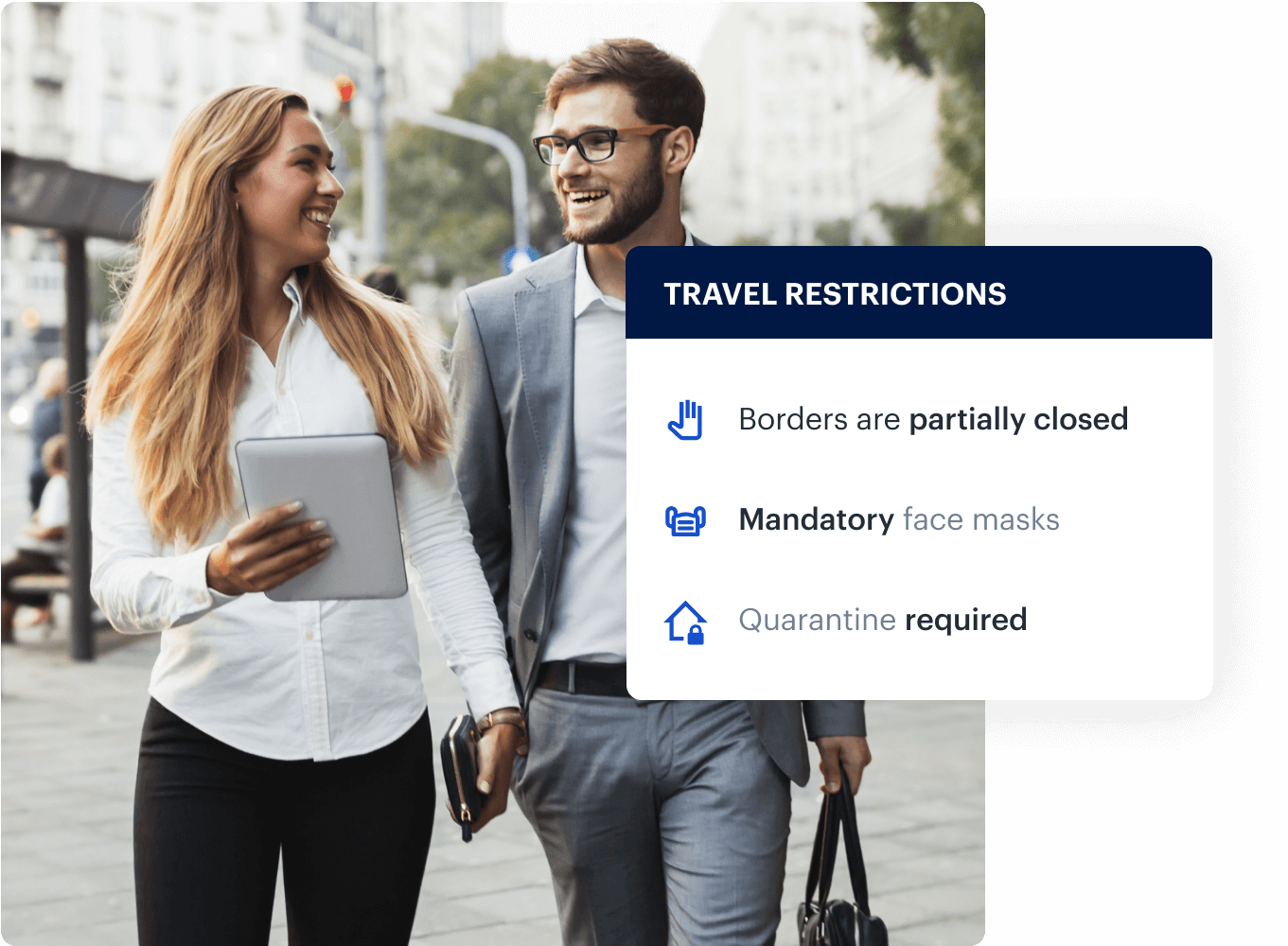 Need to offer travel restrictions information to your customers?
Use our TravelSafe API, the best travel restrictions API
Help your customers make safer travel booking decisions with the #1 COVID-19 and travel restrictions information on the market.