Travel management software isn't just for large enterprises anymore. Small to medium-sized businesses experience massive benefits when they book and manage travel with software designed for businesses, instead of booking on consumer sites and then scrambling to track down the invoices.

Whether you're a long-time user of travel management software, or you're researching this software category for the first time, we're covering everything you need to know about the key features, vendor options, and the market as a whole.

Keep reading to find out what the market's top travel management companies are when it comes to booking corporate travel as well as tracking and reporting travel expenses. We also included a section with useful add-ons and extra travel management tools that can improve the business travel booking process and travel experience, as well as help with data analysis.
What is travel management software?
Travel management software is used to book trips, manage upcoming trips, and track and report on previous trips. Other important features and uses include the automation of corporate travel policies and the ability to consolidate travel invoices and vendors.

The old way for small businesses: Employees read the company travel policy on a PDF handout or internal wiki, use any website to book their trip, then have to get reimbursed.

The old way for large businesses: Use business travel companies or travel software with big markups, commissions, and support call fees.

The NEW way (for businesses of any size): Employees book for themselves using corporate travel booking tools that include the company travel policy inside (to block or require approval for trips out of policy). The software also includes company payment details so no reimbursements are necessary!
Top travel management software
Most travel software will help you track and report on spending to help you make budget decisions, but doesn't include everything you need for taxes and accounting purposes.

While travel booking management software should integrate with your expense system, these are separate tools. That's why we've broken down our software recommendations into those that help you manage travel versus those that help you report on expenses, as well as extra corporate travel tools and add-ons to help improve your travel experience.
Business travel management booking tools
TravelPerk offers the world's largest travel inventory alongside powerful travel management features. It helps travelers and managers easily book travel for themselves and others within policy.
Here are some top features and ratings for TravelPerk:
Industry-leading travel inventory: find the best travel options for your business, including air travel, rail tickets, car rentals, and more.
Flexible trips: receive up to 80% of the cost back for canceled travel when booking with FlexiPerk.
Carbon offsetting: offset your carbon emissions with TravelPerk's GreenPerk—managed by a dedicated Sustainability Team.
24/7 support: get support in 15 seconds or less when traveling for business to ensure your employees are never left stranded.
G2 rating: 4.6 / 5, based on 1418 reviews
Capterra rating: 4.8 / 5, based on 376 reviews
Pricing: TravelPerk offer four plans with varying features:

Starter: first five bookings each month are free
Premium: $99/month + 3% per booking
Pro: $299/month + 3% per booking
Enterprise: custom pricing

Languages supported: German, English, French, Spanish
TravelPerk also provides travel budget owners and finance teams with all of the features they need: travel spend tracking, expense reporting and integrations, and compliance insights. The tool is top-rated by travelers and administrators.
Plus, TravelPerk offers a free business travel software option which is ideal for those businesses looking to access a top-quality tool without the extra costs.
See how to save money on business travel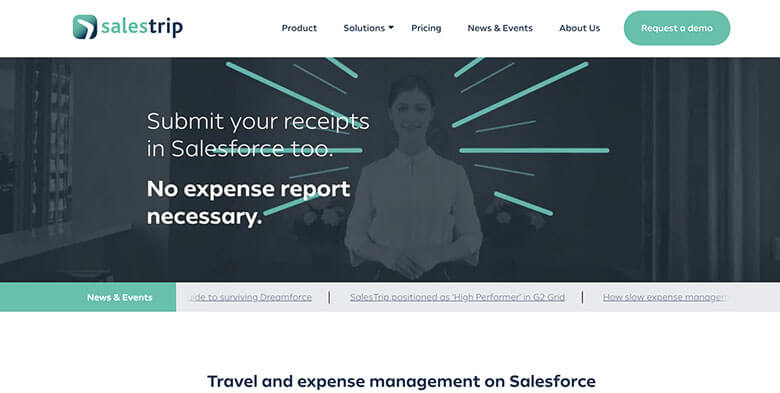 Salestrip can be a good business travel software option for sales teams and consultants who use Salesforce. It allows you to track and manage travel at the CRM level, so you can assign trips to different customer accounts.
OCR receipt scanning: capture receipts and submit expense claims on the go.
Configurable policy and approval process rules: use your existing Salesforce approval hierarchy and approve on the go or in the office.
Non-employee expenses: enables temporary workers and other non-employees to submit expenses quickly and easily.
G2 rating: 4.5 / 5, based on 16 reviews
Capterra rating: 4.8 / 5, based on 13 reviews
Pricing: You can choose from two plans:

Starter: $9/user/month
Plus: $15/user/month

Languages supported: English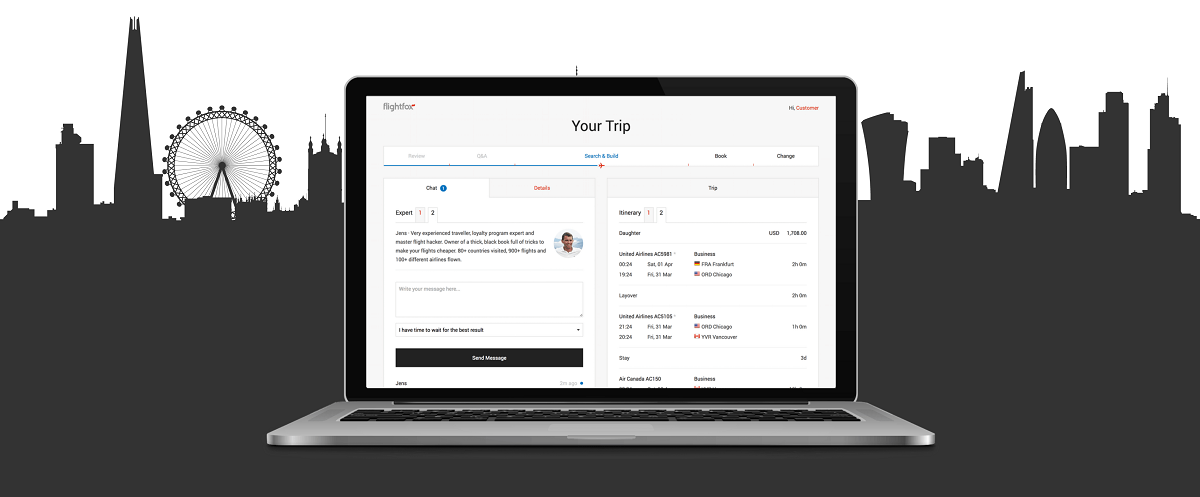 If you like the experience of using the corporate travel services of a travel agency, but you also want modern software to go along with it, then you might enjoy Flightfox. Flightfox is a travel agency management software that provides an online tool where you can review upcoming trips, download expense reports, etc.
Miles and upgrades: maximize your loyalty benefits with each trip and transaction.
One-click amendments: no more back and forth with hotels or airlines—Flightfox handles all changes and cancellations
Maximum savings: the platform's deep technical analysis to beat retail prices.
G2 rating: 4 / 5, based on 3 reviews
Capterra rating: no ratings available
Pricing: You can choose from three plans:

Startup: free
Corporate: $100/month
Enterprise: $250/month

Languages supported: English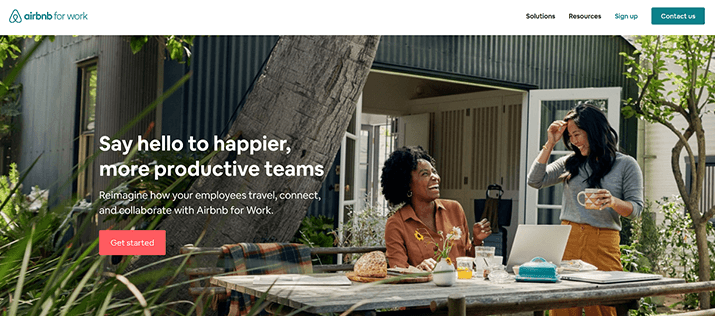 While it won't work as a complete stand-alone trip management solution, Airbnb for Work offers the features that businesses need to safely and easily let their travelers stay with Airbnb for business trips, including streamlined payment and duty of care integrations. Keep in mind that some travel management platforms (like TravelPerk) allow you to book with Airbnb for Work.
Airbnb experiences: help your team connect with interesting experiences when traveling for business.
Travel dashboard: contact employees while they travel and eliminate expense reports with the Airbnb for Work dashboard.
Ample accommodation options: choose from homes, boutique hotels, unique stays, and more for your traveling employees.
G2 rating: no ratings available
Capterra rating: no ratings available
Pricing: no information available
Languages supported: Over 50 languages, including English, Arabic, Dutch, French, German, Italian, Japanese, Korean, Russian, and Spanish
Tools for managing travel expenses
Payhawk is the leading solution in the expense management category, and it's also a go-to for corporate cards and spending management. It enables businesses to automate manual processes, maximize efficiency, and accelerate business expansion through a variety of solutions—including invoice management, bill payments, and recurring revenue management.
Accounting data: set up cost centers, categories, and VAT in Payhawk.
Digitized bookkeeping: leverage a powerful OCR with machine learning that learns from your input to automate manual data entry.
Up to $250,000: qualify for credit limits up to $250,000 based on assessment.
G2 rating: 4.4 / 5, based on 107 reviews
Capterra rating: 4.8 / 5, based on 4 reviews
Pricing: You can choose from three plans—Premium Cards, All-In-One Spend, and Enterprise Suite—with varying features, get in touch for a quote.
Languages supported: Bulgarian, German, English, French, Italian, Dutch, Spanish
Payhawk integrates with TravelPerk to enable business travelers to easily keep track of travel spending and invoices. This enables more efficient travel expense management for you and your team.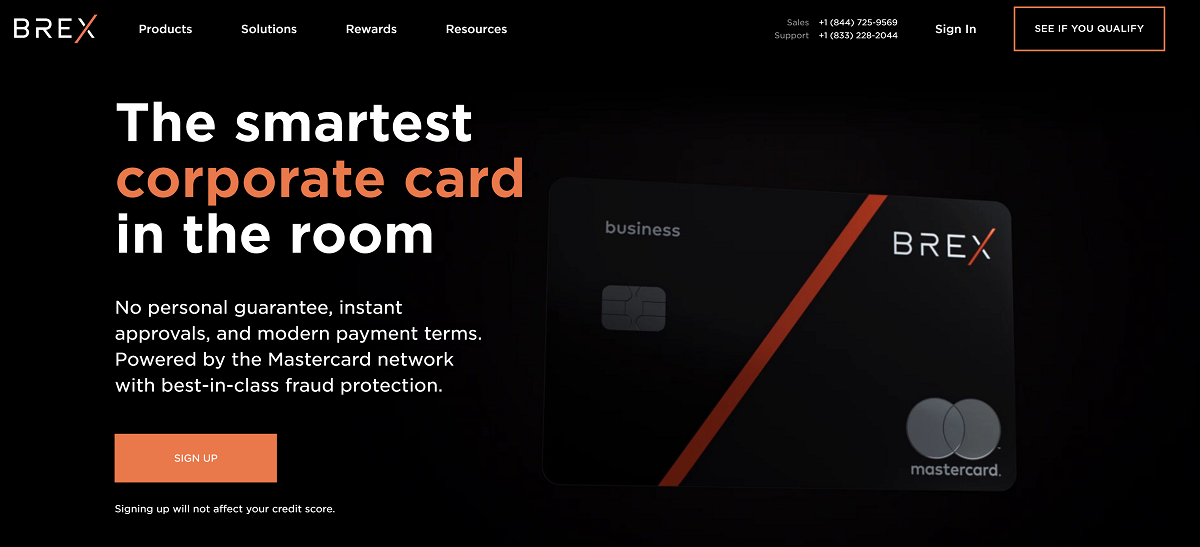 Brex is a corporate credit card that is great for startups and established businesses alike. It offers higher limits than most cards, better rewards, and it makes it easy to track and manage spend across all categories, including travel.
Financial modeling: Pry, Brex's financial planning platform, makes it easy for founders to manage budgets, hiring plans, financial models, and runway.
Global spending: spend in 100+ countries with your Brex card.
Whatsapp receipt submission: get Brex messages and submit receipts via Whatsapp free of charge.
G2 rating: 4.7 / 5, based on 912 reviews
Capterra rating: 4.5 / 5, based on 123 reviews
Pricing: Contact sales for pricing
Languages supported: English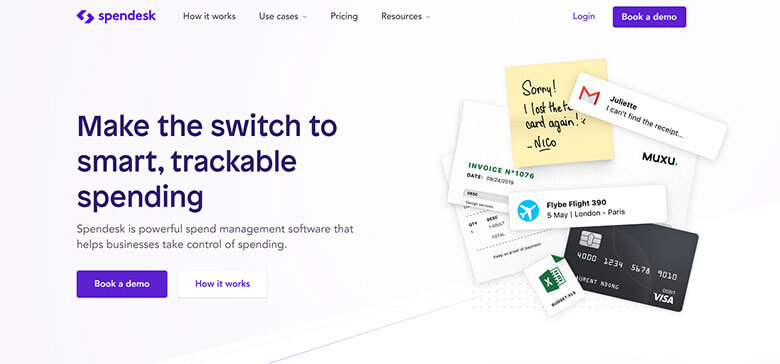 With spend management software and a credit card offering, Spendesk helps companies track and control spend. Companies can get real-time insight into all spend, which can be easily sorted and categorized to help with budgetary decision-making.
7-in-1 spend management solution: company cards, expenses, invoices, accounting, approvals, budgets and spending reports as one simplified stack.
Spending reports: accurate and timely spending reports in a single interface.
Accounting automation: automate VAT extraction, expense account allocation and receipt reconciliation.
G2 rating: 4.7 / 5, based on 345 reviews
Capterra rating: 4.8 / 5, based on 203 reviews
Pricing: Contact sales to talk about the three plans available—Starter, Essentials, and Scale.
Languages supported: German, English, French, Italian, Spanish
Spendesk also integrates with TravelPerk to unite your travel management solution with your expense management solution for comprehensive travel management and spend data automation.
Ramp is a popular expense management and accounting automation software used by small and big businesses alike. It offers physical and virtual cards for spending and a comprehensive platform to control, analyze, and optimize spending.
Plus, its 1000+ integrations make it a great tool to add to your tech stack. For example, Ramp integrates with TravelPerk to enable your employees to easily book corporate travel and manage travel spending. 
Branded cards: personalize your company cards with your branding. Top up cards with precise spending allowances for 100% policy compliance.
Receipt collection: instant receipt collection via deep integrations with Gmail, Lyft, or Amazon Business, and easy employee coding via SMS or email.
Automated data entry for bill payment: bills are mapped to general ledger categories and any missing payment details are automatically collected from vendors.
G2 rating: 4.7 / 5, based on 975 reviews
Capterra rating: 4.9 / 5, based on 40 reviews
Pricing: Contact sales for pricing
Languages supported: English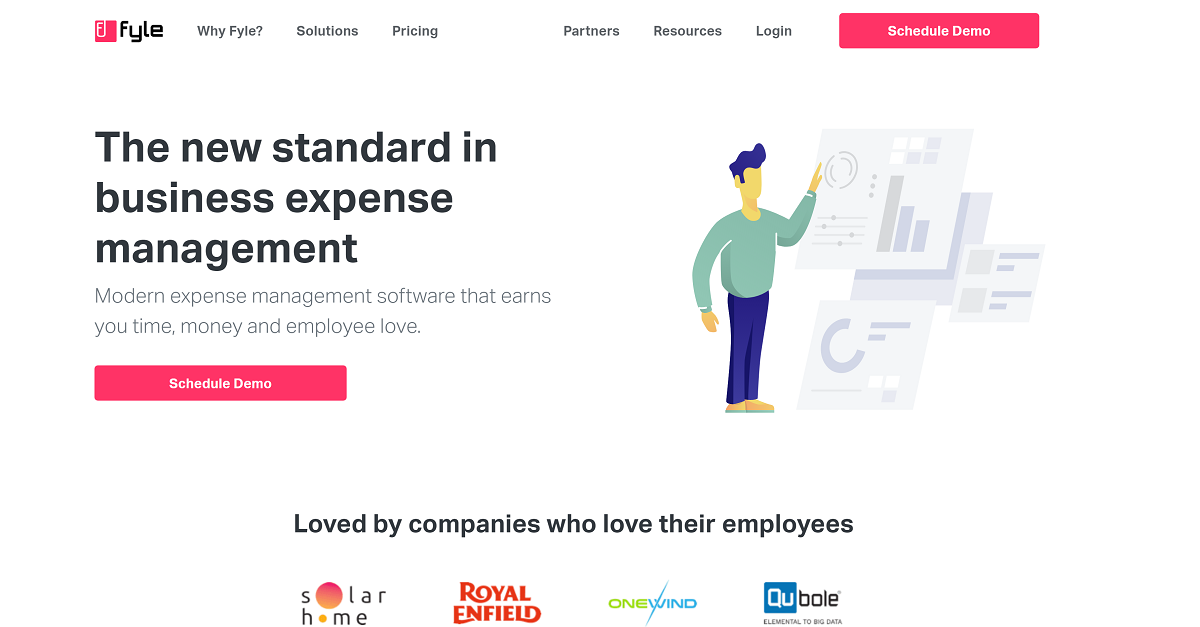 In addition to corporate cards and mobile expensing, Fyle has robust expense management features, including approval workflows, spend analytics, and travel spend advances.
Paperless expenses: eliminate countless hours spent on data verifications, receipt chasing, and cross-checking murky expense records.
Built for the whole team: comprehensive tools for finance managers, and an effortless experience for employees.
Fraud detection: check for fraud (fictitious, overstated expenses), dubious merchants, duplicates, weekend or holiday expenses or unusual spends.
G2 rating: 4.6 / 5, based on 947 reviews
Capterra rating: 4.5 / 5, based on 144 reviews
Pricing: Choose from three plans:

Standard: $8.99/user/month
Business: $14.99/user/month
Enterprise: Custom pricing

Languages supported: English
Fyle integrates with TravelPerk to enable you to manage your travel and expenses in a truly connected manner. Whenever you spend in TravelPerk, a corresponding, reimbursable expense is automatically created in Fyle—making travel spend management a breeze.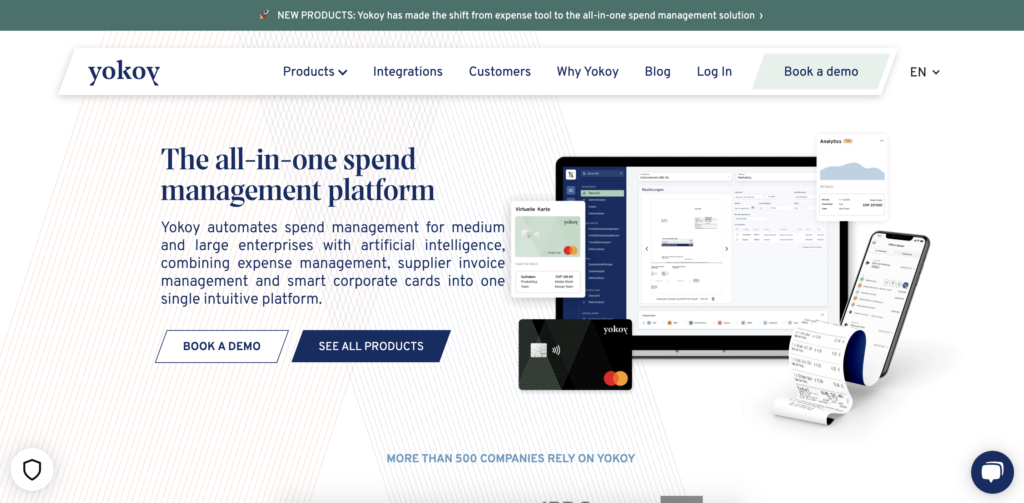 Yokoy's expense tracking software makes it easy for medium and large enterprises to track, submit, and reimburse expenses. The platform uses artificial intelligence to automatically extract information and fill out expense forms, including VAT validation and reclaim as well as finding outliers and identifying possible fraud.
Actionable insights: full transparency and comprehensive spend insights in real time.
Individual process flows: set up your own approval flows and enforce internal policies, as well as local tax laws and regulations.
Account payable solution: a seamless and fully automatic accounts payable process.
G2 rating: 4.5 / 5, based on 3 reviews
Capterra rating: 4.6 / 5, based on 16 reviews
Pricing: no pricing information available
Languages supported: German, English, French, Italian, Chinese (Simplified)
Yokoy also integrates with TravelPerk to automatically export all your travel booking spending data to the expense management solution. It's quick and easy to set-up, and ensures you've got all the tools you need for comprehensive travel expense reporting and management.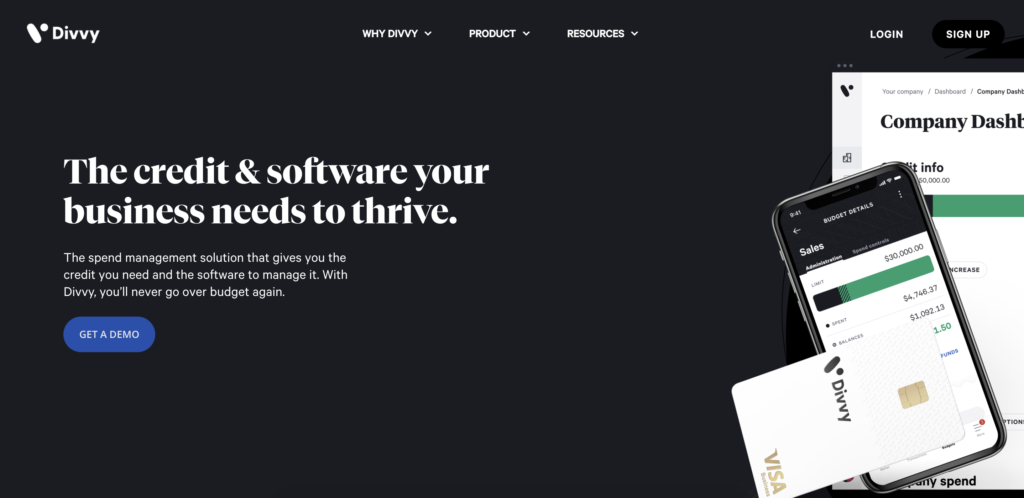 This spend management solution is designed for businesses of all sizes, and includes smart corporate cards that make business purchases easy to track, categorize, and report. Divvy's free tool allows businesses to create budgets, track expenses, and generate virtual credit cards to manage subscriptions.
Expense approval notifications: get a push notification to give initial approval or reject the employee reimbursement request with a note.
Automatically categorize transactions: set card, merchant, budget, and user rules to categorize transactions.
Multi-platform visibility: track, manage, and control all the ways your business spends in one place.
G2 rating: 4.5 / 5, based on 459 reviews
Capterra rating: 4.7 / 5, based on 397 reviews
Pricing: Free, always.
Languages supported: English
Divvy Travel, powered by TravelPerk, enables SMBs in the US to enjoy a centralized portal where they can easily book, manage, and report on travel. The smooth API integration makes for easy operation and simple setup.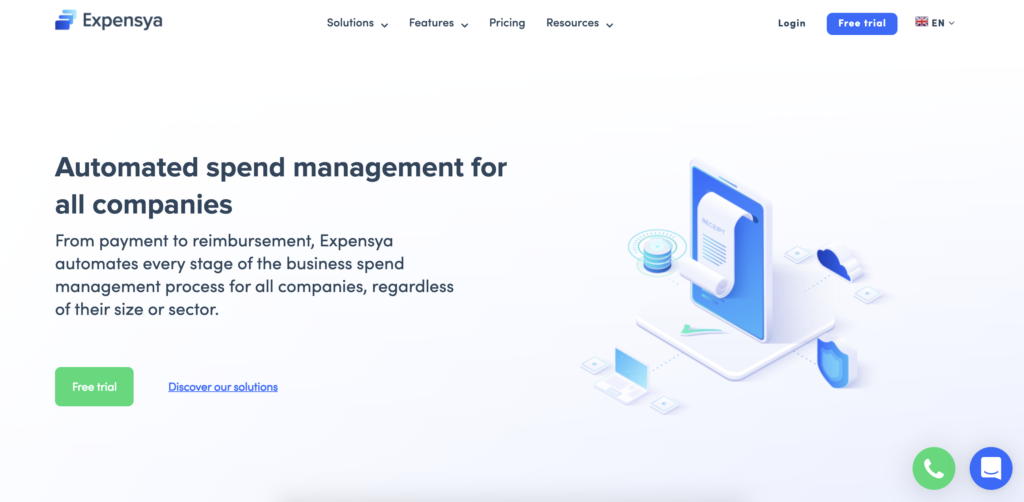 Expensya's software makes it easy for businesses to manage their daily expenses, from office costs to business travel. The solution helps streamline expense reporting processes thanks to accounting automation, self-managed expenses, dedicated options for daily allowances, intelligent validation and control, smart recognition technology, and integration with a wide range of software solutions.
Secure data: an entirely paperless process that responds perfectly to security and compliance issues.
Self-learning tech: the OCR receipt capture tool learns as you upload more and more receipts to ensure accurate data management.
Expert support: 24/7 support and fast access to important information.
G2 rating: 4.6 / 5, based on 108 reviews
Capterra rating: 4.4 / 5, based on 378 reviews
Pricing: Expensya offer three plans:

Starte: €6.99/month/session
Gold: €9.99/month/session
Enterprise: custom pricing

Languages supported: German, English, French, Italian, Dutch, Polish, Portuguese, Spanish
From payment to reimbursement, Expensya automates every stage of the business spend management process for all companies, regardless of their size or sector. Plus, Expensya integrates with TravelPerk to allow all travel expenses to be centralized and consolidated on a single platform.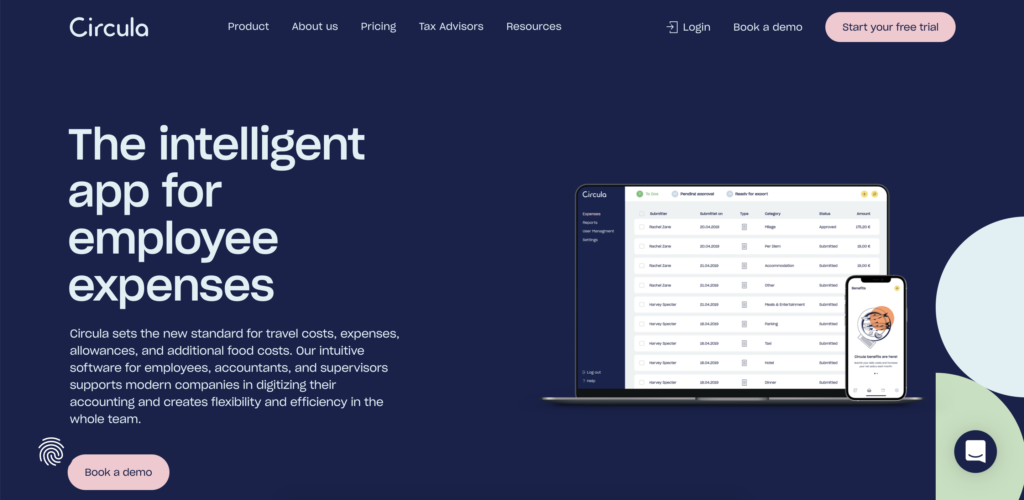 This intelligent app for employee expenses offers an easy way to track travel expenses, allowances, and any other additional expenses. By reducing manual input and checking, Circula helps businesses save time and comply with policies and regulations. A mobile app is also available to allow employees to easily report their expenses and submit invoices, so that everything can be processed digitally.
Employee benefits: strengthen your employer branding with modern and tax-optimized employee benefits—such as a lunch benefit, internet benefit, and relax benefit.
Customized approval flows: create advanced approval logics based on your org structure, cost centers, and projects.
G2 rating: 4.6 / 5, based on 154 reviews
Capterra rating: 4.6 / 5, based on 62 reviews
Pricing: Choose from three plans:

Basic: €10/license/month
Professional: €15/license/month
Enterprise: custom pricing

Languages supported: Czech, German, English, Dutch, Slovak, Spanish
You can also integrate Circula with TravelPerk to create travel expense reports in a flash and reimburse employees for expenses incurred during business travel. This way, your company can ensure that the payroll data is calculated on real travel data.
Remember: for whatever travel management software and expense management software you choose, make sure they can integrate with your existing software stack.
Other interesting tools and add-ons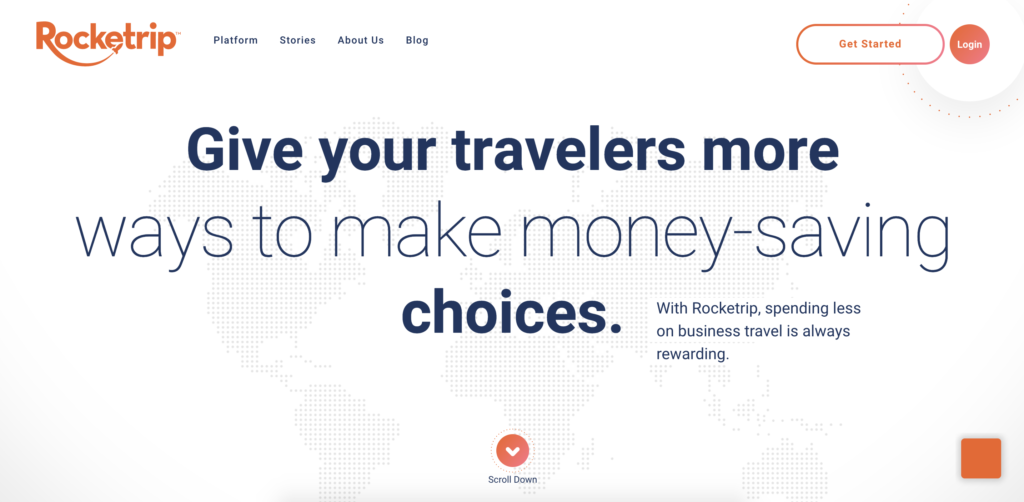 Rocketrip's platform allows companies to control their travel costs by encouraging employees to make smarter choices. The tool can forecast the cost of each trip, recommend money-saving travel options, and reward employees who spend less. Rocketrip is not a replacement for any corporate travel booking platform, but it's meant to be used alongside to increase savings.
Reporting dashboard: report on real-time savings, booking, and behavioral data alongside customizable spend alerts and traveler safety information.
Dedicated support: get high-quality support from Rocketrip's skilled support team.
Forecast the cost: the technology forecasts a Price to Beat for every itinerary, based on your organization's unique travel policy, pre-Rocketrip spend, and real-time market pricing.
G2 rating: 4.3 / 5, based on 10 reviews
Capterra rating: no reviews available
Pricing: no pricing information available
Languages supported: English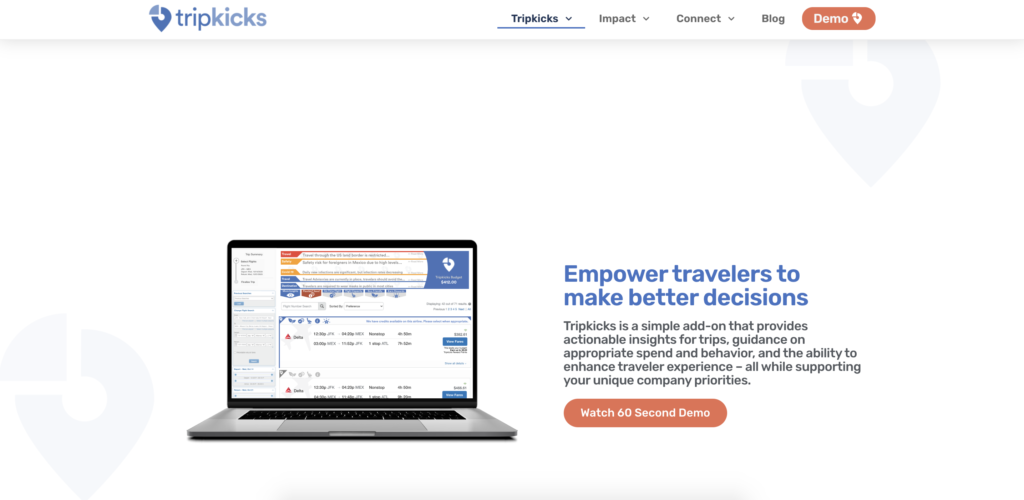 This add-on provides insights and alerts for trips, which help enhance savings and improve the overall travel experience. From health and safety alerts to COVID-19 information, as well as an option that presents less-expensive alternatives, Tripkicks can definitely improve your business traveler experience.
Motivators: motivate travelers to make specific decisions or change existing behaviors with spend targets and incentives.
Travel insights: provide travelers with all the important information they need to be better prepared, before they book their trip.
G2 rating: no reviews available
Capterra rating: no reviews available
Pricing: Tripkicks offers a free plan, as well as two paid plans:

Premium: $29/user/month
Pro: $49/user/month

Languages supported: English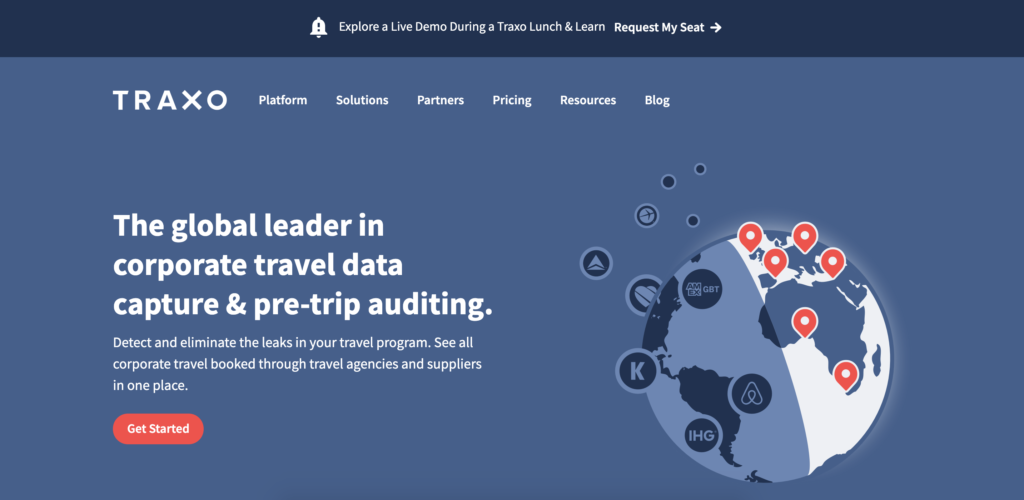 Traxo offers data aggregation and intelligence solutions, which facilitate auditing, avoiding data leaks, identifying saving opportunities, and optimizing a company's corporate travel program. The tool allows travel managers to really stay on top of all of their company's corporate travel activities.
Generate savings: with data-backed price assurance, reshopping, and continuous provider sourcing.
Sync your services: improve productivity by automating workflows and automatically sharing your travel data.
Duty of care solution: complete duty of care coverage with zero blind spots no matter where employees book.
G2 rating: 4.3 / 5, based on 2 reviews
Capterra rating: no ratings available
Pricing: Traxo offers three plans, but you'll have to get in touch for pricing information.
Languages supported: English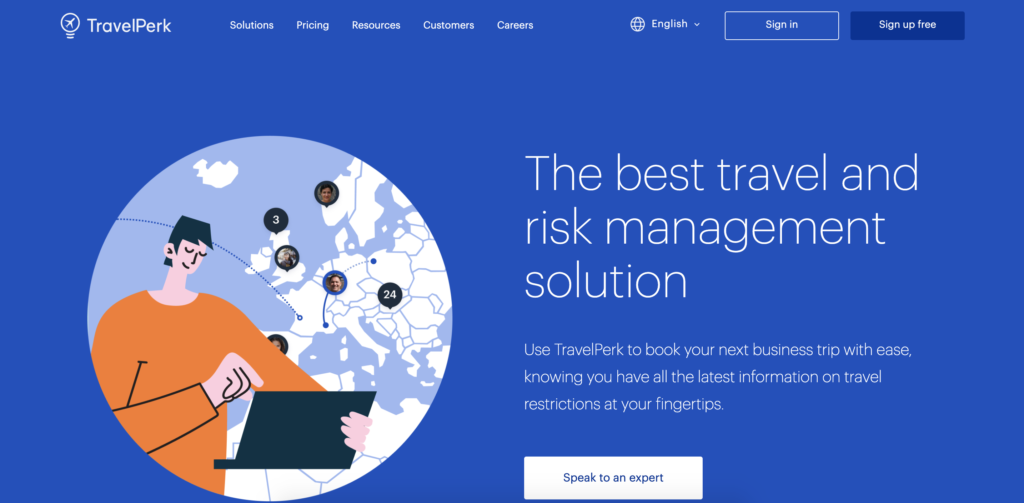 Traveling employees can stay safe and informed thanks to TravelCare's risk management solution, which is included in TravelPerk's platform. It's a safe way to get back to business travel, featuring up-to-date travel alerts and information on restrictions before, during, and after the trip.
Safe business travel: important details about what's going on at your destination, even before you book.
Trip Assistant App: travelers receive notifications about any changes, advisories, and disruptions while on the road.
Traveler map: ensure your travelers' safety with full visibility into all traveler locations and associated risks for comprehensive employee travel management.
Pricing: TravelCare is included in all TravelPerk plans at no additional cost.
Languages supported: English, French, German, and Spanish.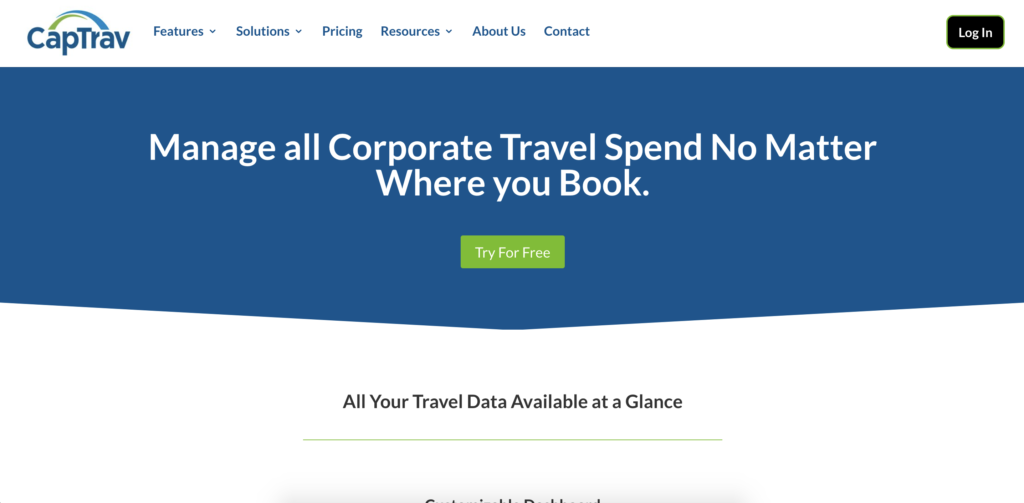 This solution allows companies to manage all their travel spend, regardless of where their employees booked. Thanks to CapTrav's cloud-based solution, companies can track and report 100% of their travel spend from different channels.
Aggregate travel data: from bookings made through multiple sources, such as TMCs, online travel agents (OTAs), online booking tools, supplier websites, or more.
Spend dashboard: quickly assess your travel leakage data in comparison to your overall spend
G2 rating: no ratings available
Capterra rating: no ratings available
Pricing: Get in touch for pricing information.
Languages supported: English.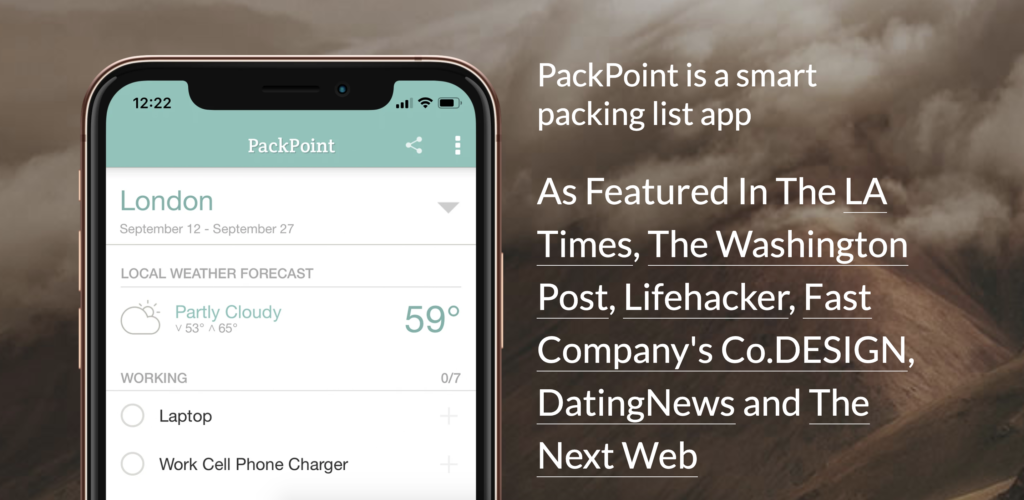 This app will make packing for your next business trip a lot easier. Based on the weather forecast for your destination, as well as the activities planned and the length of the trip, PackPoint will generate a customized packing list for you. Stop stressing about packing — let technology do it for you!
Add trip details: for personalized packing suggestions and lists.
Easy-to-use app: make sure you've got everything you need with the intuitive app.
G2 rating: no ratings available
Capterra rating: no ratings available
Pricing: Free
Languages supported: Over 20 languages, including English, Czech, Dutch, French, German, Chinese (Simplified), Russian, Spanish, Italian, and Japanese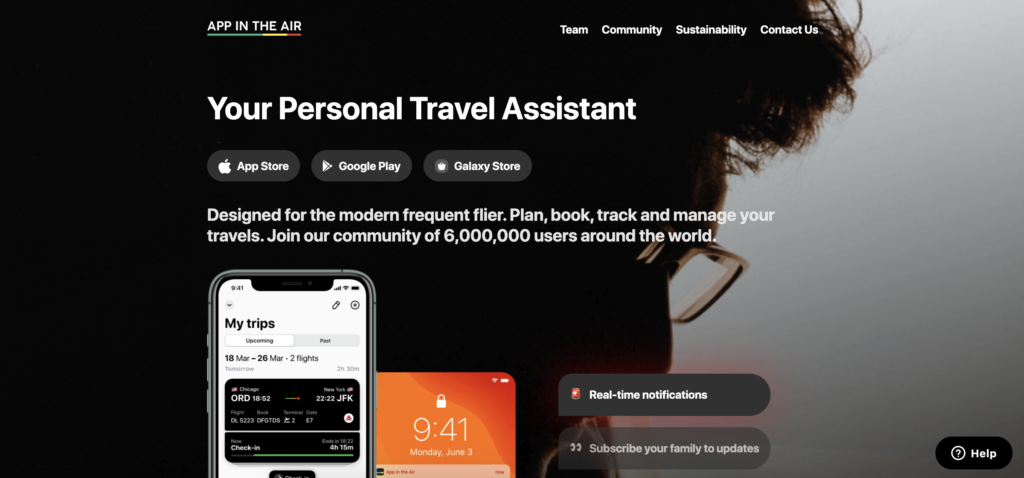 Say hello to your new personal travel assistant, an app that will plan, book, track and manage your travels. Their service helps you organize and keep track of your travel schedule, check-in, and receive notifications and updates on terminals, gates, and baggage belts. Other interesting features include travel statistics and a carbon-neutral traveler program. Travel greener, travel smarter!
Manage trips: get a real-time view into business travelers' booking details.
Set up travel policy: to ensure business travelers can access key information on the go.
Apple watch compatibility: get important travel updates instantly.
G2 rating: no ratings available
Capterra rating: no ratings available
Pricing: Free, contact the team for business pricing.
Languages supported: Over 15 languages, including English, Arabic, Dutch, French, German, Hindi, Italian, Japanese, Korean, and Portuguese
Plus, App in the Air offers TravelPerk users a free 12 month Premium subscription to the platform. It's a must-have for frequent travelers looking to save time and money when traveling for business.

Features to look for in travel management software
End-to-end travel management platforms that cover all functionality from traveler data management to booking to policy creation to automatic expensing and more are definitely the best solution on the market. But they vary greatly in their functionality and in the cost savings they can provide to businesses, the main driver being access to low-cost inventory.

Here's a checklist of the critical things to look out for when vetting corporate travel management solutions:
Ease of booking for administrators
Self booking for travelers
Free 24/7 support
Massive travel inventory
Automatic travel policy compliance with customizable policies and approval workflows
Future-ready tool that will scale and adapt
Around-the-clock travel support including direct line, chat, and email
No additional charge for travel support
Consolidated invoicing
Travel spend reporting
It's definitely an exciting time to watch the business travel industry. A few years ago, it was an old, clunky, boring market, and now it is popping off with new solutions and new technology everyday.
Geeky insights into the travel management software market
Corporate travel management is one of the largest global markets that has yet to be fully disrupted in this digital world.
Just a couple of years ago, only medium-sized businesses and enterprises would have used travel management booking software. But with new disruptors in the market, small businesses are ditching consumer booking sites in favor of more advanced solutions built for business use. Meanwhile, corporations that traditionally booked travel with agencies are moving towards in-house travel management, supported by robust but user-friendly software. 
There's a familiar story with many markets over the last couple of decades: new technology enters the space, new user expectations arise, and businesses either adapt or die.
This is exactly what's happening in the business travel market. Only this time, the stakes are incredibly high. The expense management market size is estimated at somewhere around 2.5 billion USD.
Compare that with the corporate business travel market, which hit 1.3 trillion in 2016 and, while it was one of the most negatively affected sectors during the pandemic, it is expected to recover and reach US$829.5 billion by the year 2027. It makes sense when you think about it. With expense management, you're buying a tool to help you track money, but with travel management, you're actually choosing where your money will go. Who will get a piece of this massive pie?
SMBs: new adopters of travel management software
You might assume that the US$829.5 billion all of these players are going after is mainly spent by large corporations. While winning big accounts is certainly a great motivator for disruptors in this market, that's not necessarily where the big money is.

Currently, there are hundreds of thousands of small to medium-sized businesses that are doing nothing when it comes to managing business travel. They're not using software. They're not using an agency. They're running a completely manual business travel program and booking on tools built for consumers, thus sacrificing the ability to control and track business travel (which happens to be an enormous expenditure)

Part of the current opportunity comes in winning over the businesses that currently have no travel management system or solution. Opportunity also lies in businesses that have been dissatisfied with their corporate travel experience for years. Many enterprises have been saddled with high agency fees, commissions, and charges for poor-quality customer support calls

The travel management software category has changed rapidly in the past two years, and yet we're still at the beginning of this huge wave of disruption.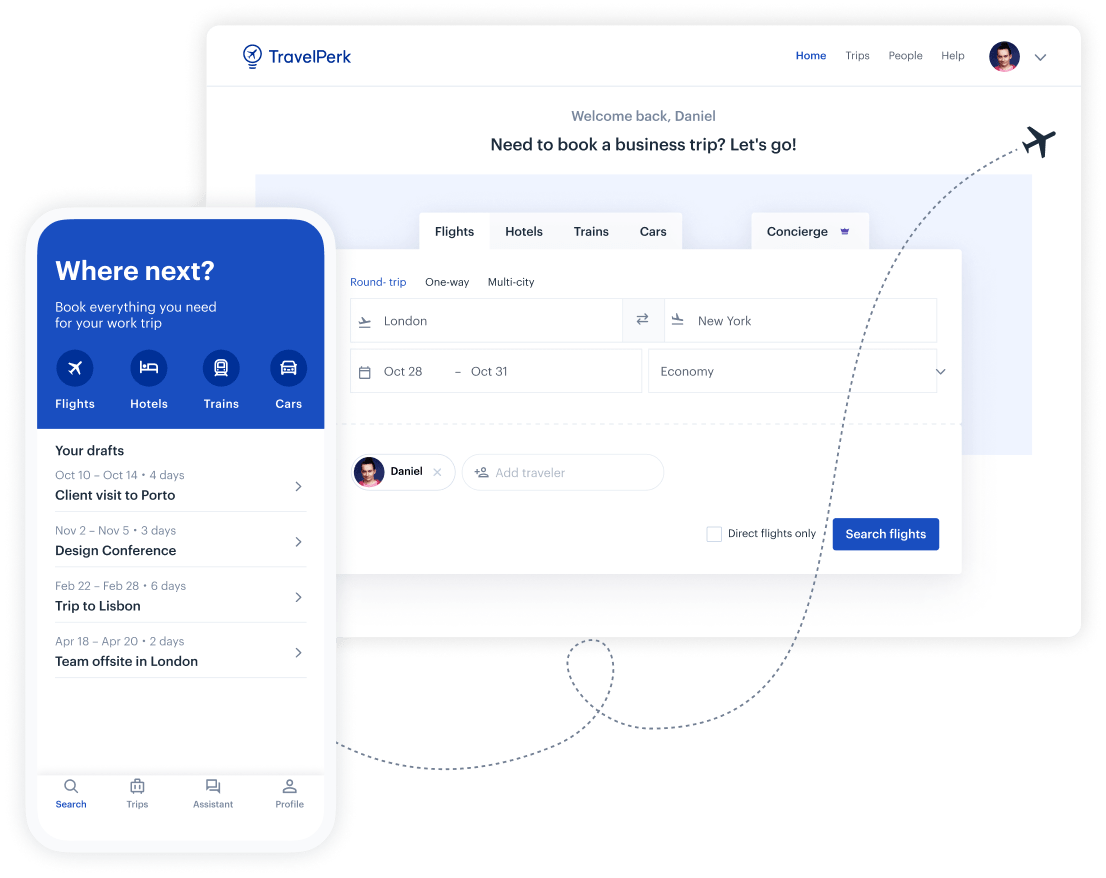 Make business travel simpler. Forever.
See our platform in action. Trusted by thousands of companies worldwide, TravelPerk makes business travel simpler to manage with more flexibility, full control of spending with easy reporting, and options to offset your carbon footprint.

Find hundreds of resources on all things business travel, from tips on traveling more sustainably, to advice on setting up a business travel policy, and managing your expenses. Our latest e-books and blog posts have you covered.

Never miss another update. Stay in touch with us on social for the latest product releases, upcoming events, and articles fresh off the press.