Overview
Book your business trips in TravelPerk and have all relevant data automatically sent to Yokoy in real-time.
Yokoy automates spend management through artificial intelligence and offers smart corporate cards, expense management, and invoice processing all in one platform. Companies get a better overview of their spending and can build a bridge between data and decisions.
Want to see the integration in action? We've got this convenient walkthrough for you: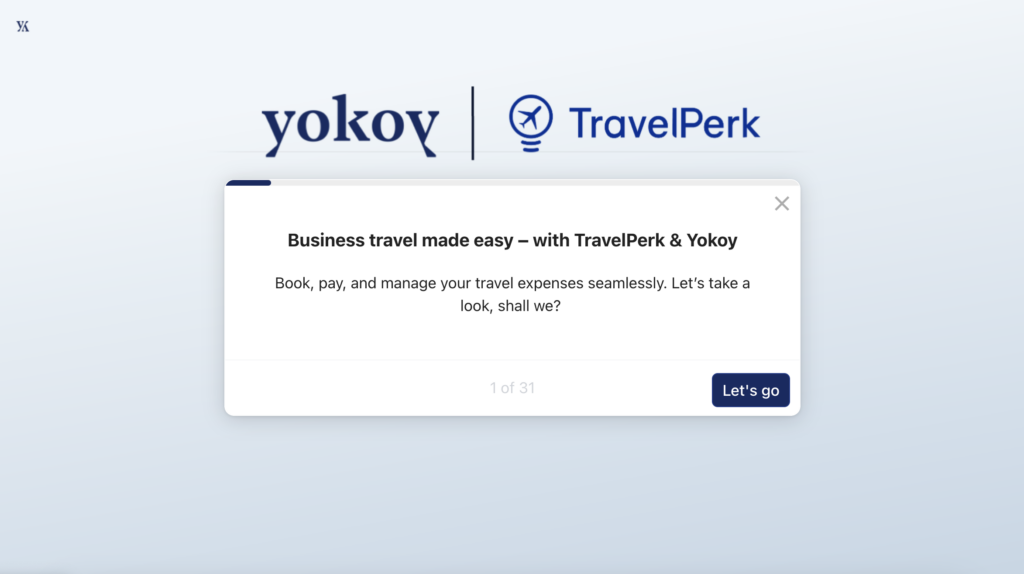 In Yokoy, all compliance checks, accounting bookings, and even the VAT validation and reclaim are fully automated. Additionally, you get full transparency of your travel and expense spending combined. So you and your team get time back by only checking cases manually that are not compliant, the rest is fully automated.
Benefits of the integration:
Automation: With the integration, all the expenses are automatically imported to Yokoy on a daily basis.
Reporting and centralization: Access a consolidated travel expenses report in Yokoy, at any time.
Compliance: Set up the budgets and policies once, and forget about the admin work.
Why Yokoy?
Yokoy's AI technology enables end-to-end automation that includes automated creation of an expense report (based e.g. on a photo, file, etc.), automated expense policy checks and fraud prevention, automated lump sum calculation based on trip details as well as auto-approval functions.
Yokoy ensures that the accounting (incl. VAT accounting) can be automated. The platform is audit-proof and allows real-time data insights.
In addition, Yokoy offers a free and no-fee corporate credit card. Transactions made with this credit card are automatically matched and posted against the recorded receipts.
Read a full review of Yokoy.
Why this integration?
Yokoy automates the whole expense and credit card experience for end customers;
Yokoy transmits your travel invoices to almost any ERP or HRM system;
Yokoy's solutions do not require an IT project - within 4 weeks, you can be live, and will only need about 16-20 hours for the implementation;
Yokoy helps save 1000 EUR per employee per year;
Renowned and global brands such as Stadler, Swissquote, Hero, Ameropa or SkyCell are aready among Yokoy's customers.
How the integration works - in detail
One-way integration via API
The integration between Yokoy and TravelPerk offers the possibility for all your hotel, flight and other travel bookings to be transferred into Yokoy's spend and expense management platform where it can be converted into or added to a trip. In Yokoy, employees can then add additional expenses to the trip. The approver/finance team can then approve and finalize the total expense before it is automatically and correctly being booked into your ERP system.
The integration between TravelPerk and Yokoy can be enabled with 1 click by any administrator through the settings in your TravelPerk platform.
Please reach out to your TravelPerk Representative for more details.