The effects of the COVID-19 pandemic have transformed the future of work for many employees. With offices going hybrid or companies switching to remote first working models, much is still in flux.
However, one lesson remains clear. After months of lockdowns and restrictions, travel remains a vital function for any organization. After an endless array of Zoom meetings, Slack chats, and emails, it's clear that nothing beats doing business in person.
But corporate travel takes many forms, from liaising with potential clients to attending industry events. The notion of the traditional office space is being rewritten, and the door has been opened for businesses to bring their teams together in innovative ways.
So what are the benefits business travel brings, and how can companies ensure they are getting a return on their investment?
Key stats on the return on investment for business travel
On average, for every $1 spent on business travel arrangements, $12.50 is estimated to be recuperated in revenue
50% of prospective customers converted to new business after a face-to-face meeting compared with 31% without in-person interaction
38% of prospective clients would leave a company for a competitor if they abandoned in-person meetings resulting in a 37% loss in annual sales
Trade shows are responsible for up to 20% of new customers
What benefits does corporate travel bring to a business?
1. It helps secure new clients
Nothing quite compares with a face-to-face meeting when it comes to landing clients. Reports from Oxford Economics USA and the World Travel & Tourism Council have shared that corporate executives and business travelers estimate a higher conversion level after an in-person meeting.
While the metrics vary slightly, the World Travel & Tourism Council reports that global business travelers assert that roughly 50% of their prospective customers converted to new business after a face-to-face meeting compared with 31% without in-person interaction.
This assertion will likely come as little surprise to many. Even after a few Zoom sessions, it's clear that it's infinitely easier to build trust and negotiate terms when we can read each other's body language and other non-verbal cues.
For this reason alone, investment in business travel will continue to be vital, especially when looking to close big deals.

2. It is vital for maintaining professional relationships
However, as we all know, business isn't just about attracting new clients. In-person communication is also crucial to maintaining customer relationships. From courtesy check-ins to ironing out any issues, most of the time, a phone call just doesn't cut it.
Taking the time and absorbing the cost of travel to visit clients face-to-face demonstrates an appreciation and level of respect for the partnership.
Surveys have shown that the bottom line is that businesses lose by cost-cutting on corporate travel. Executives estimated that as many as 38% of their clients would leave them for a competitor if they abandoned in-person meetings resulting in a 37% loss in annual sales.
To add to these assertions, in a widely shared report on u.s. business travel, Oxford Economics USA claimed that for every $1 spent on business travel arrangements, $12.50 was recuperated in revenue.
But maintaining professional relationships also include those within an organization. With remote working on the rise, scheduling team-building and in-person contact is a new consideration in the duty of care towards employees' well-being.
With teams spread out across states or even different continents, occasionally coming together in a shared workspace can help circulate knowledge, reconnect remote or hybrid working employees to a company's common goals, and keep ambitious team members on side.
This type of travel is on the rise with our stats showing that trips where colleagues travel to meet in the same location are up 8% in January 2022 from figures taken in July 2021. We also found that the number of organizations engaging in these types of itineraries has doubled from 10% in May 2021 to 20% in January of this year.
What's more these bookings currently represent 28% of the total trips taken by our US-based users in a dynamic that can be observed across a wide range of industries including tech and software, banking and finance to healthcare.
3. It provides opportunities to network
On top of the benefits of team building within your organization, business travel also enables collaboration and relationship building within a wider industry context. Attending conferences and trade shows allows professionals to keep updated with recent developments while enjoying multiple opportunities to network with potential clients or form new partnerships.
An Oxford Economics USA report shared that over 50% of survey respondents revealed that trade shows were responsible for up to 20% of their new customers, with 48% stating that meeting new vendors was another key motivation for traveling to these events.
By skipping key industry events, organizations can miss out on a range of important business activities. From research to networking, the knowledge corporate travelers lose by not attending could ultimately see their company eclipsed by the competition.


4. It serves as a motivational tool
As we have already seen, business travel can serve various functions. As more companies switch to remote or hybrid working models, how employees get together is changing.
Gone are the days when regular offsite incentives were the reserve of trendy startups. More and more businesses are increasingly reinventing their internal meetings to make the most of our new normal.
Bringing together teams spread across geographical regions in an inspiring destination can tick off a range of business needs. Mixing key updates, in-person brainstorming sessions with a few fun team-building activities in new surroundings can reinvigorate remote working teams and bring innovative ideas to the fore.
5. It has global implications
A 2020 study from Harvard University discovered that on top of benefits to individual organizations, the impact of travel has far-reaching implications for entire nations. Research conducted with the Mastercard Center for Inclusive Growth found a positive correlation between the number of incoming business travelers and a country's GDP.
"The revival of international business travel is crucial to kickstarting the global economic recovery, as last year (2019), inbound international business travel across Europe accounted for US$111.3 billion (€99.8 billion), whilst globally it accounted for more than US$272 billion."
Gloria Guevara, WTTC President & CEO
As well as travelers' in-country spending, this economic growth was attributed to the spread of 'knowhow' facilitated by corporate travelers that helped industrial ventures improve and grow profits. The survey was even able to estimate the impact should business travel cease between certain countries.
Researchers estimated that if, for example, German corporate travelers stopped making business trips, South Africa, Switzerland, Nigeria, Austria, and Czechia would be affected the most, and the global GDP would also drop 4.8%.
So for all these benefits, from the micro to the macro, it's likely business travel is here to stay. Despite the availability of technology like Zoom and Skype, the Global Business Travel Association (GBTA) has forecasted that corporate travel spending will be back to its pre-pandemic levels by 2024, a year earlier than expected.
How can businesses make the most of their corporate travel spending?
From booking arrangements to managing annual budgets, with the right technology CFOs and travel managers can simplify the entire corporate travel process, saving both time and money for their organizations.
1. Streamline the travel booking process
The easiest way businesses can make their travel more efficient is to speed up the booking process. Rather than scrolling through several websites trying to find the lowest price, corporate travelers can gather every element of their itinerary in one simple to use dashboard with a travel management tool.
With an industry-leading inventory, TravelPerk negotiates the best rates in the travel industry, including options with low-cost carriers. As TravelPerk users assess their options, they can choose confidently, knowing they receive the lowest price available. 


2. Integrate and automate
Travel managers can streamline booking arrangements further by integrating corporate travel policies and automating approvals. In just two minutes, booking tools can be established that improve employees' experience and free up management for more important tasks.
By inputting parameters from your corporate travel policy, a travel management solution can instantly approve itineraries that fall within company budgets while flagging those requiring extra attention.
This approach allows business travelers to select options that fit their individual needs, whether it's a hotel with onsite gym facilities or a flight in time to pick the kids up from school. Giving team members flexibility over their arrangements improves their business trip experience and strengthens employee retention.
Using these tools not only saves time for both the corporate traveler and management. It also reduces the risk of fares no longer being available once itineraries are approved. A tool like TravelPerk can be integrated with Slack and other commonly used messenger services to stop approvals from being lost in email inboxes.
Our customers revealed that using these channels for their notifications sped up the approval process a further 80%, reducing the risk of losing the best deals for their business trips even further.
3. Increase visibility around expenses
Without an efficient system, generating reports can also drain travel managers' time and resources. By using a specific business travel management solution, budgets can be analyzed by destination, department, and even individual employees. In seconds managers can glean real-time insights and ascertain the ROI of business travel by comparing travel spend with revenue generated.
Advanced systems will collate travel expenses from all providers into singular invoices and offer VAT reclaim services. These allow businesses to save up to an additional 25% on their annual travel budgets by supplying receipts ready for the taxman and highlighting eligible expenses you may be overlooking.
Is your business travel inefficient?
Assessing whether you are getting the most from your corporate travel can seem like a daunting prospect. But with the right systems in place, it is possible to streamline both the booking process and reporting the costs of your travel program.
Using your current business travel practices as your baseline, run through the following for an efficiency review.
I can input corporate travel policies to rule out transport or accommodation that isn't compliant automatically.
I can establish dynamic budgets that highlight itineraries that are above the average costs for a specific destination or routing and set a % cap to help navigate price fluctuations.
I have access to corporate rates and a comprehensive inventory including flights with low cost carriers, rail tickets and car hire and a range of accommodation options including AirBnb rentals.
I can improve employees' travel experiences by allowing autonomy over their arrangements. My system allows corporate travelers to choose options that best meet their requirements while remaining compliant and in line with annual expense management.
I can encourage more sustainable business travel by highlighting more eco-friendly options at the booking stage.
I save time with a system that flags itineraries requiring additional authorization and automatically approves those in line with company travel policies.
I have flexibility around my arrangements and can cancel my trip up to two hours before departure with no questions asked.
When cancelling my itinerary I have the peace of mind that I will receive a refund of 80% of the costs.
My TMC handles collecting refunds on my behalf and I benefit from the same terms and conditions regardless of the provider.
The refunds I receive are not tied to specific travelers or providers. I am free to use this refund as credit against any future trip without worrying about an expiry date.
I reduce the workload for my finance teams by collating invoices by itinerary, weekly, bi-weekly or monthly.
I can generate reports easily and break out travel costs by department, destination, individual employee, transport type, booking type, cancellations and recoverable VAT.
I can analyze the ROI on business travel by comparing travel spending with generated revenue.
I can determine the value of each new client by reviewing the business travel spend to meet and maintain the relationship and predict similar costs for potential customers in the future.
I can observe travel spending in real-time and quickly assess total spend over the last 30 days, specific months or the year to date.
I can monitor travel budgets by individual cost centers so managers can analyze current spend before approving itineraries.
I can make further travel cost savings by receiving VAT-ready expense reports and receipts ready to hand straight to the taxman.
I receive information ahead of booking regarding security issues, travel restrictions and COVID-19 transmission levels for intended destinations.
I can stay on top of business travelers' safety with ease. I can see all itineraries currently in progress at the click of a button.
My travelers receive pre-departure updates to ensure they are aware of any concerns and regulations for their destination.
Both travel managers and employees receive real-time alerts to any security issues and any updates to travel restrictions.
I can access support from human customer care agents 24 hours a day, 365 days a year.

If you would like to see if TravelPerk's comprehensive corporate travel solution could help you increase the efficiency of your business trips, please reach out to our team today for a demonstration.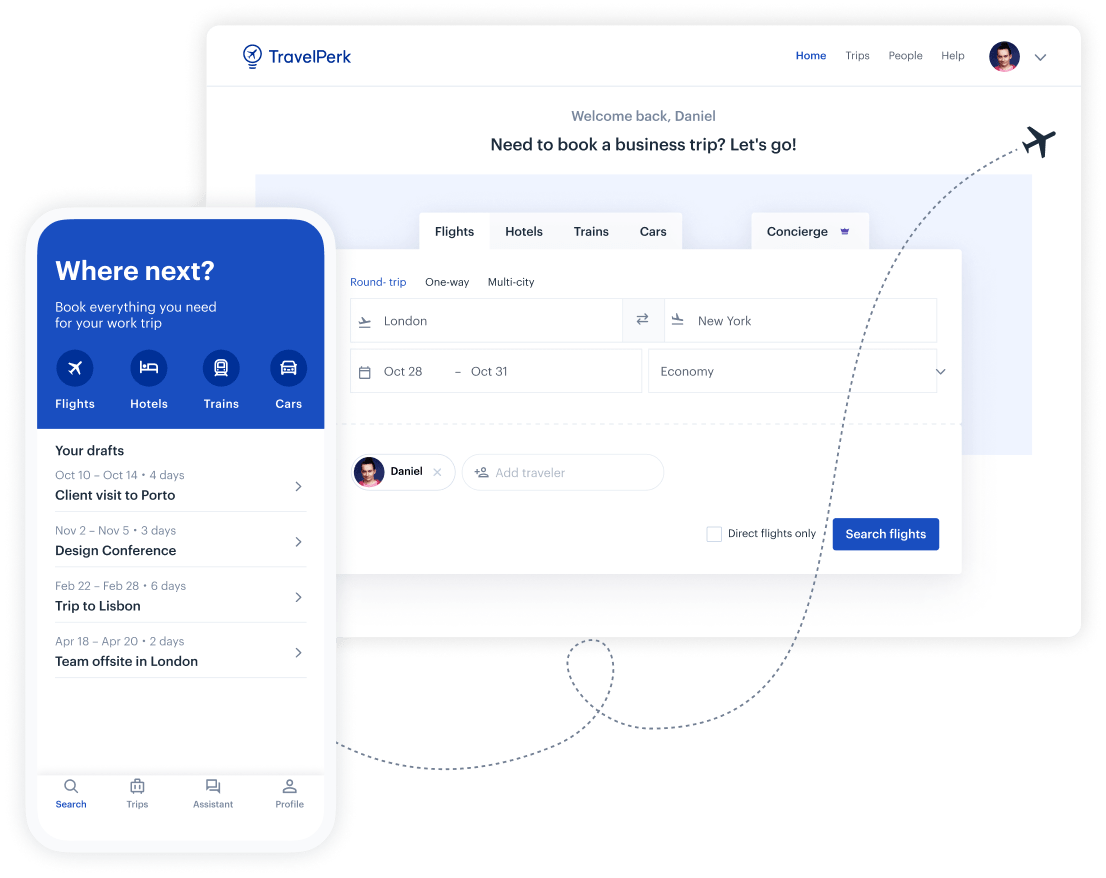 Make business travel simpler. Forever.
See our platform in action. Trusted by thousands of companies worldwide, TravelPerk makes business travel simpler to manage with more flexibility, full control of spending with easy reporting, and options to offset your carbon footprint.

Find hundreds of resources on all things business travel, from tips on traveling more sustainably, to advice on setting up a business travel policy, and managing your expenses. Our latest e-books and blog posts have you covered.

Never miss another update. Stay in touch with us on social for the latest product releases, upcoming events, and articles fresh off the press.