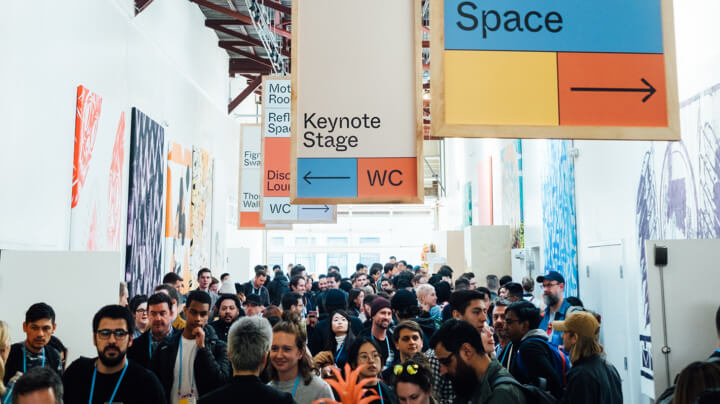 Technology is moving so fast, you close your eyes for a split second and by the time you open them, it's a whole new world out there. What counts as an emerging technology in one moment is suddenly widely commercialized in the next. How are you supposed to keep up?

Attending tech conferences is one of the best ways to stay up-to-date on the latest tech trends and get to know the companies driving innovation. They're also meeting points that gather the world's brightest tech minds and most ambitious business geniuses, a.k.a. the best people to learn from. Plus, it couldn't hurt to start building your own network of international contacts.

Here's our list of the 27 best tech conferences happening across Europe in 2020 so you can stay ahead of the curve.

Emerging tech
Internet World Expo | Munich | 10 – 11 March 2020

Internet World Expo is a meeting point for the commerce world, aiming to help businesses prepare for the future through digitalization. The speaker sessions will reveal how market leaders and innovators see the future, and visitors will also discover the latest trends and technologies shaping the industry. The commerce trade fair – the largest of its kind in Europe – will feature more than 450 exhibitors showcasing their products and services
Dublin Tech Summit | Dublin | 22 – 23 April 2020

Ireland's largest tech event and one of the fastest-growing tech conferences in Europe, DTS brings together the brightest tech minds and most renowned innovators. The conference attracts startup founders, developers, executives, and leading brands for two days of discussions about emerging technologies, growth and development. With speakers from Zoom, Space X, NASA and more, it's bound to be an exciting event. Will you be one of the 10,000 attendees?
VivaTech | Paris | 11 -13 June 2020

VivaTech is an annual three-day gathering of entrepreneurs, executives, investors, students, and academics, connecting the entire European tech scene. With 124,000 attendees, it's hands down the biggest tech conference in Europe. Whether you're looking to learn, find collaborators, pitch to investors or do a bit of networking, VivaTech will not disappoint. Some of the topics discussed at the conference this year will include Tech for Good, Women in Tech and Open Innovation.
The Next Web | Amsterdam | 18 – 19 June 2020

Not your average tech conference, The Next Web is known for its quirky setting and festival-like atmosphere. It attracts a unique mix of artists, entrepreneurs and investors who come together in a creative environment that feels surprisingly intimate for a tech event with over 20,000 attendees. The themes that speakers will discuss this year include Corporate Innovation, Ecosystems, Sustainable Societies and Future of Work.
TOA | Berlin | 23 – 26 June 2020

Tech Open Air focuses on the transformative power of technology in the framework of an event that draws in over 20,000 attendees. The event's motto is future-proofing businesses and lives, which it aims to do by hosting the world's most forward-thinking minds in technology, art, music and other disciplines. Art installations, live music, workshops and lots of networking opportunities make TOA a conference-festival where you won't have a single chance to be bored.
Web Summit | Lisbon | 2 – 5 November 2020

This year, over 70,000 people will flock to Web Summit to take part in an event that has established itself as an essential meeting point for the global tech industry. It gathers tech executives, startup founders, policymakers and government representatives to discuss what's next for the tech industry. According to Forbes, it's "the best technology conference on the planet". If you want a chance to learn from those who are tackling the industry's biggest challenges, meet influential investors, founders, and journalists or just hang out where the future is being built, this event is for you.
SaaS
SaaStr Europa | Paris | 17 – 18 June 2020

SaaStr Europa, held for the third time in 2020, is an event that gathers over 3,000 B2B SaaS executives, founders and VCs from around the world. Their mission is "to help you scale faster to $100m ARR" by sharing best practices and enabling collaboration within their community. If you're ready to score some funding and find out how to speed up the growth of your SaaS startup, you're looking at the right event.
SaaSGrowth | London | 8 July 2020

SaaS Growth has been named "Europe's number one B2B sales and revenue leadership conference". It's a great chance to learn from SaaS founders and sales leaders from around the world, covering topics such as leadership, marketing, sales alignment, and new sales technologies. You will have lots of insight to take away and implement into your revenue strategy the next day.
B2B Rocks | Paris | 8 September 2020

A leading European conference for B2B and SaaS startups, B2B Rocks is a "human-sized" event limited to 800 founders with the aim of encouraging valuable discussions and smooth networking. Round tables and keynotes will be fast and to the point, leaving no room for content that isn't directly actionable. It's a great place to pick up insider tips from SaaS founders and learn about the latest techniques used in the B2B world.
SaaStock | Dublin | 12 – 14 October 2020

It's been called the "Disneyland for SaaS companies", so you know you can't go wrong when attending SaaStock, a conference for more than 4,000 SaaS founders, executives, and investors. SaaStock's flagship conference held in Dublin is a great chance to connect with the community, learn how to grow your SaaS business and generate leads. The speaker lineup features the crème de la crème of the SaaS world – don't miss out!
SaaS Monster (Web Summit) | Lisbon | 2 – 5 November 2020

SaaS Monster is Web Summit's way of saying: SaaS is the new black. Whether you're in cloud computing, big data, security or enterprise technology, you'll find sessions that will blow your mind. Speakers from all over the world will discuss the technologies that fuel businesses at talks, round table sessions, and workshops that you can access with your Web Summit ticket.
Data & IT
Strata Data & AI Conference | London | 20 – 23 April 2020

"You can't have AI without data", so you get both at this cutting-edge conference by O'Reilly in London. The event will cover two of today's most prevalent technological trends, looking at how they're shaping our lives and businesses. It's a unique chance to attend two conferences in one, with access to both programs and amazing speakers from both industries. It's a great spot for picking up knowledge whether your focus is AI, data or the intersection of the two, with training courses, tutorials, case studies, and technical sessions.
Gartner IT Infrastructure, Operations and Cloud Strategies Conference | Frankfurt | 16 – 17 June 2020

IT infrastructure and operations is facing never-seen-before challenges. This conference by Gartner aims to explore what the future holds, as well as accelerate innovation and agility in adopting rapidly developing technologies such as cloud computing, edge computing, Internet of Things, DevOps and AIOps. From business strategy to cybersecurity and leadership in a new age, the event will provide research-backed advice on how to prepare for your organization's digital future.
World Data Summit | Barcelona | 1 – 2 October 2020

In this day and age, data is a powerful resource that can bring lots of value to your business. But how do you build a successful data analytics model to get the most out of it? At World Data Summit, you will receive answers to your questions around managing and protecting data, getting accurate results, setting up your data architecture and predicting market demand with the use of data analytics.
UX & Design
The UX Conference | London | 2 – 3 March 2020

The UX Conference aims to bring together designers from different backgrounds at a cozy event with 300 guests. There will be talks packed with actionable insights on the first day and hands-on workshops on the second day. No matter your experience or the industry you work in, you will undoubtedly enjoy the company of other UX and UI professionals at the historic Tobacco Dock in London.
UX Copenhagen | Copenhagen | 30 – 31 March 2020

UX Copenhagen is a two-day design conference with top-notch content by more than 20 speakers. This year's theme will be Influence and Designing for Good. Speakers will ask themselves the question: "What is influence in design?" and give their insightful answers. A few of the topics that will come up are DesignOps, privilege, tech for social good and ethical OS.
UX Scotland | Edinburgh | 10 – 12 June 2020

If you're looking for an event where you can meet industry peers and immerse yourself in hands-on UX learning, look no further. UX Scotland hopes to inspire, connect and facilitate the transfer of skills between user experience and design professionals from around the UK and beyond. Three days of fun, amazing keynotes and action-packed workshops!
SmashingConf | Freiburg | 7 – 8 September 2020

1 track, 2 days, 13 speakers and 260 attendees. SmashingConf, in its hometown of Freiburg, Germany, is a UX event of just the right size to share knowledge in a friendly environment and make genuine connections. Focusing on real-world problems and solutions, the sessions will cover all sorts of topics related mainly to front-end UX, but UI design and machine learning will come up, too. "Expect everything from refactoring and debugging to sketching and redesign, live."
Startups
4YFN | Barcelona | 24 – 26 February 2020

Held in parallel to the world's largest mobile industry exhibition, MWC Barcelona, 4YFN is a world-class startup event that asks the question: What will the world look like four years from now? From startups to international investors, large corporations, students and government representatives, everyone who's involved in the global startup community will be there. 4YFN is a must for startups who want to do their part in building the future.
Seedstars Summit | Lausanne | 3 April 2020

The goal of Seedstars Summit is to connect startups from emerging markets with global investment opportunities. The highlight of the event will be the pitching competition between the 12 finalists who made it to the Final Summit Day from regional competitions. Join over 1,500 attendees to learn about the best practices in growth, sales, operations, and connect with investors, corporations, startups, and media.
Startup Grind Tech Conference | Barcelona | 12 – 13 May 2020

The fourth edition of the Startup Grind Tech Conference held in Barcelona will zone in on the everyday challenges of tech companies, such as hiring developers, offshoring development, implementing blockchain, scaling businesses, and more. Entrepreneurs, developers, and journalists from all over the world will meet to exchange ideas and build lasting connections. Pencil it in now!
EU Startups Summit | Barcelona | 28 – 29 May 2020

Europe's hottest startups will make an appearance at this year's EU-Startups Summit in sunny Barcelona. With more than 1,500 attendees, this two-day event will serve as a meeting point for startup founders, aspiring entrepreneurs, angel investors, and VCs. An exciting pitch competition with 15 selected startups will be the cherry on top of the cake.
NOAH Conference | Berlin | 4 – 5 June 2020

"Connecting European champions and challengers," says the motto of NOAH, a startup conference widely recognized for its unique mix of speakers from large companies and up-and-coming startups. This year, the 5,000-strong event will focus on sustainable and responsible businesses across 10 industry verticals. Expect workshops, exhibitors, networking opportunities and satellite events throughout Berlin.

If you loved NOAH Berlin, you can relive the experience at the Zurich (22-23 September) and London (4-5 November) editions later this year.
Pirate Summit | Cologne | 24 – 26 June 2020

Pirate Summit is a "conference specifically designed for entrepreneurs on their journey". It's about acknowledging that entrepreneur life is not as glamorous as it's often made out to be, and discovering how we can learn from failures as well as successes. A selected crowd of 1,200 participants gets to join the fun at an event that's much more than just a conference. It's a wild experience that unfolds in an offbeat location, a scrapyard turned into an outdoor art gallery. In 2020, Pirate Summit will present an entire week's worth of events to celebrate its 10th anniversary.
Startup Grind Europe | London | 9 September 2020

Startup Grind is the world's largest community of entrepreneurs, and its European conference is a can't-miss for all startup enthusiasts. Join more than 3,000 attendees and over 200 startups for an entire day of networking and content that will help propel you towards success on your startup journey.
South Summit | Madrid | 6 – 8 October 2020

For three days during South Summit, Madrid turns into the hotspot for startups and innovation in Europe. With a riveting startup competition, a marketplace for startups, corporations and accelerators, and endless networking opportunities, it's the place to be for innovators of all fields and nationalities.
Slush | Helsinki | 19 -20 November 2020

Slush swears by providing entrepreneurs with concrete, actionable advice. The event's 25,000 participants travel to Helsinki for the invaluable content and the opportunity to meet changemakers from around the world. If you need help growing your company, Slush is the place to be.

'Technology is moving so fast!" is a statement often accompanied by a slight flicker of fear and a flashback to a disturbing Black Mirror episode…

And it is moving fast, but technology should be seen as inspiring, not intimidating! In the right circles, it's a statement that should drive you to be at the forefront of the latest technological changes.

To do this, you need to be aware of what's happening in the industry and how your business can adapt and progress with these changes. We've collated the top tech conferences that are happening right here in Europe throughout 2020 so you can be in the know.