If you've ever organized a corporate event, you'll know that it's no mean feat. Getting it right involves a great deal of research and planning. With multiple factors to bear in mind, a successful, smooth-running event depends on the right venue.
Luckily, Barcelona is home to some of the best conference venues and event spaces in Spain. We've compiled a list of the top corporate meeting venues in the Catalonia capital, Barcelona, so you don't have to spend time searching for the perfect venue.
From Gracia to Gothic, all locations are reachable by public transport and all offer wifi access. Whether you're looking for a large conference center or convenient meeting rooms, we've got you covered.
What to look for when sourcing a venue
Finding the right venue involves juggling several factors. First, the venue must accommodate the right number of attendees and have suitable meeting spaces with the right equipment and facilities. The location should also have good transport links (not usually a problem in bustling Barcelona!) and sufficient parking if required.
If you're hosting a drinks reception or a conference of several days, it's important to think about food and beverage options, as well as accommodation if required. The overall cost, including any additional fees (important to keep an eye out for hidden costs) will also determine your venue hire.
The venue you ultimately pick will also be determined by the type of event you're hosting. Some of the events companies hold at corporate meeting venues might include:
Meetings with clients or customers: a meeting venue can provide a professional setting creating a positive impression and helping to build constructive relationships.
Internal meetings or training sessions: an external venue can provide a neutral location for team meetings or training sessions, supporting productive discussions and encouraging participation.
Conferencing or events: the right space can provide the facilities required for larger-scale hybrid events such as seminars, lectures or product launches.
Team building activities: the ideal location for off-site training or group activities, helping to develop team cohesion and boost morale.
Let's see what Barcelona has to offer.
Need help organizing your team event or corporate meeting?
TravelPerk's Group Travel and Meetings & Events team can help you book venues and get exclusive discounts on group travel. Schedule a demo to find out more.
1. Hotel Miramar: for sweeping city views from the gardens of Montjuic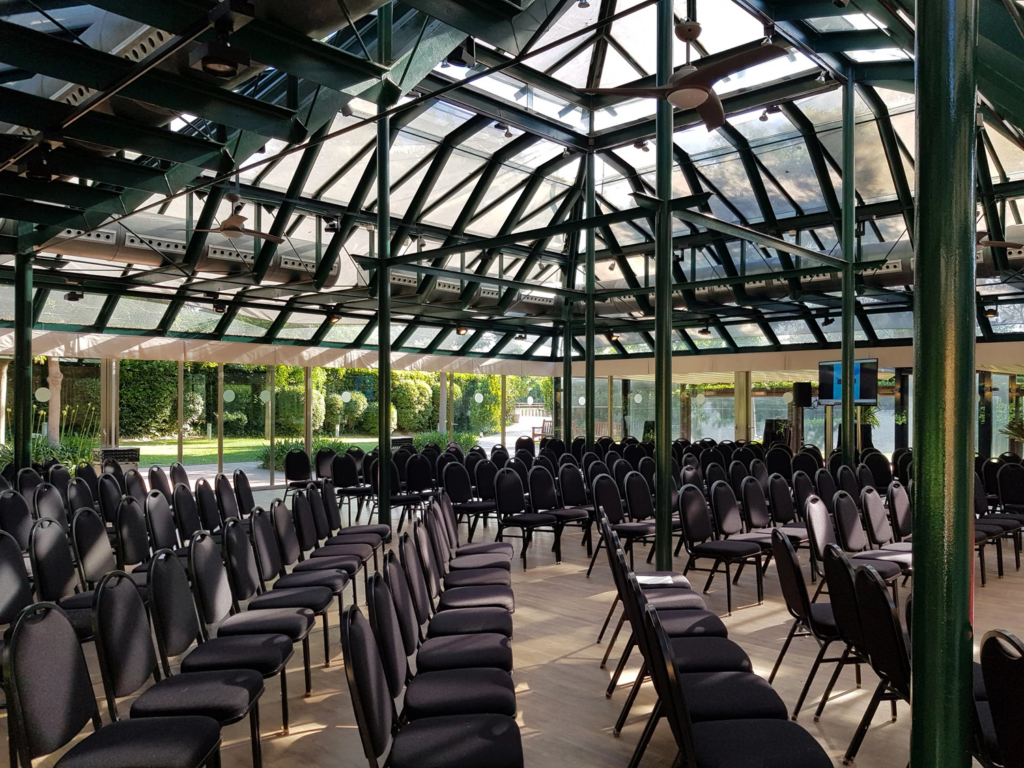 Set on the edge of Barcelona's Montjuic, Hotel Miramar is an astonishing 5-star luxury hotel, serving spectacular views across the city and the Mediterranean. Initially built in the 1920s, the hotel and its meeting spaces are now finished with a contemporary style while retaining some of its iconic history.
There are nine different spaces to choose from, the smallest of which holds around 12 people and the largest of which can hold up to 300. Each meeting room has its own style and view of either Montjuic itself, Barcelona city, or the ocean.
Location: Montjuic
Capacity: up to 300
Cost: €€€€€
2. OneCoWork: centrally located with functional yet beautiful meeting rooms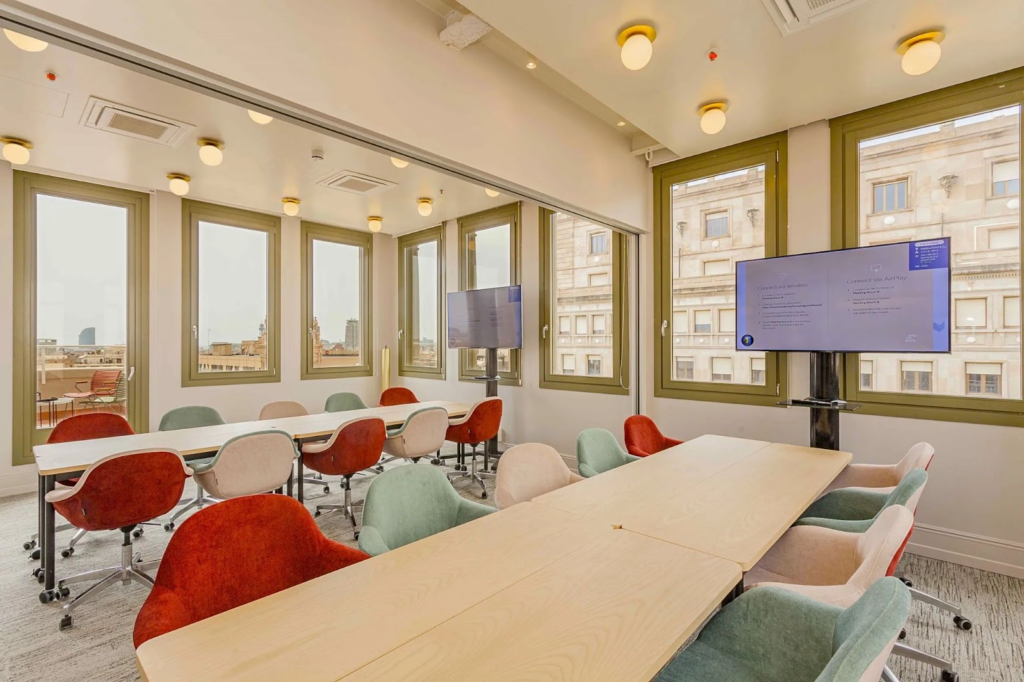 Currently spanning across three unique venues, all in the heart of Barcelona, the OneCoWork coworking space is a popular option for smaller teams. Their head-turning interior design and accommodating community team will help ensure your meeting runs smoothly and impresses any guest that needs impressing.
Deco aside, OneCoWork meeting rooms are functional, come with a projector or TV display, are fully air-conditioned, include free refreshments for your attendees, have whiteboards, video conferencing options, and high-speed internet. OneCoWork also goes the extra mile and offers optional catering services. If you're looking for centrally located meeting venues in Barcelona, OneCoWork should be top of your list.
Location: Gothic Quarter
Capacity: up to 30
Cost: 25€ p/h
3. Cityzen Barcelona: offering a unique blend of zen and productivity
Located in the heart of El Born, just a short walk from Jaume I metro, you'll find Cityzen. Cityzen provides a unique combination of zen and productivity in one space; the idea being the reduced stress boosts creativity and productivity.
In this 150m2 space, you'll have access to the meeting room basics: conferencing equipment, speedy Wi-Fi, and a projector. You'll also have access to a few unique products too: yoga & meditation classes, healthy catering options, and culture & creativity workshops.
As far as event venues go, Cityzen provides a refreshing take on traditional meeting spaces in a way that only Barcelona can. The space features the original brick walls of the building and is decorated consciously with thought going toward how the space will make your attendees feel. What's more, located in the core of the Born neighborhood, it's a great location and surrounded by plenty of options for afterwork activities.
Location: El Born
Capacity: up to 45
Cost: 378 euros for half a day
4. Pax 49: for those afterwork meetings to help your team unwind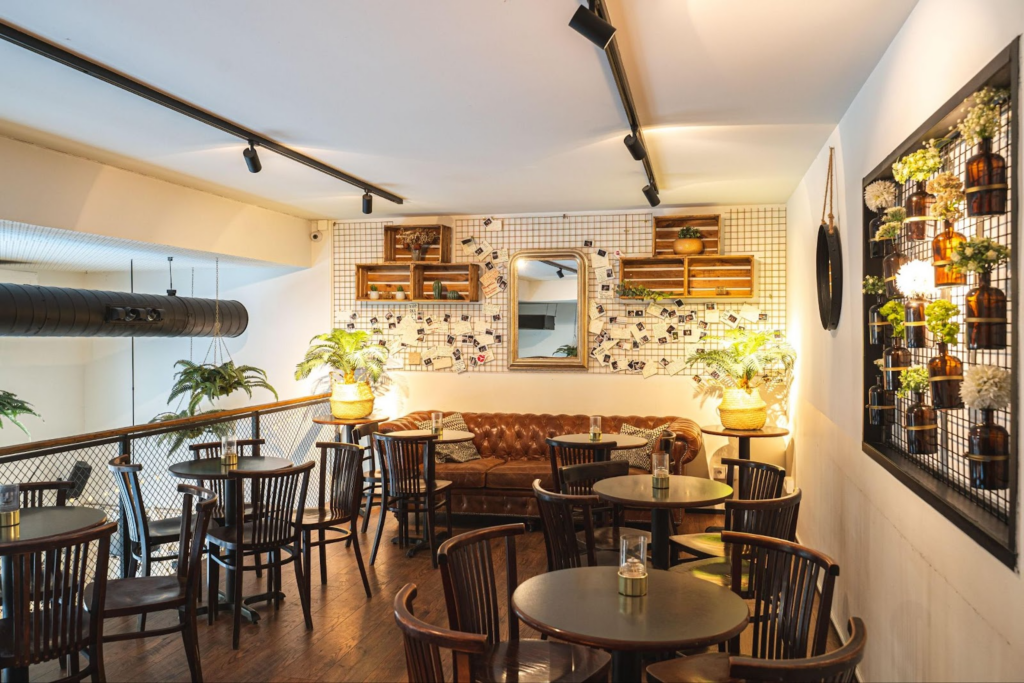 If you're looking for a meeting space to unwind after an intense day in the Barcelona office, then Pax 49 Cocktail Bar could be a perfect fit. Also, located in the Born neighborhood, This cocktail bar has a private meeting space available for hire upstairs, perfect for small to medium groups.
The team is warm and welcoming and always willing to go the extra mile to ensure your event is a success. If you ask nicely, they'll even create you a signature cocktail, in line with the theme of your event!
Their upstairs space is cozy, with sofas, tables and chairs, and their team will keep your drinks and nibbles flowing into the night. Pax 49 is the perfect space to host an afterworks for your team or a less formal event for a company offsite. Definitely one to consider.
Location: El Borne
Capacity: up to 50
Cost: €€
5. Fedra: green meetings at another level, keep those ideas blooming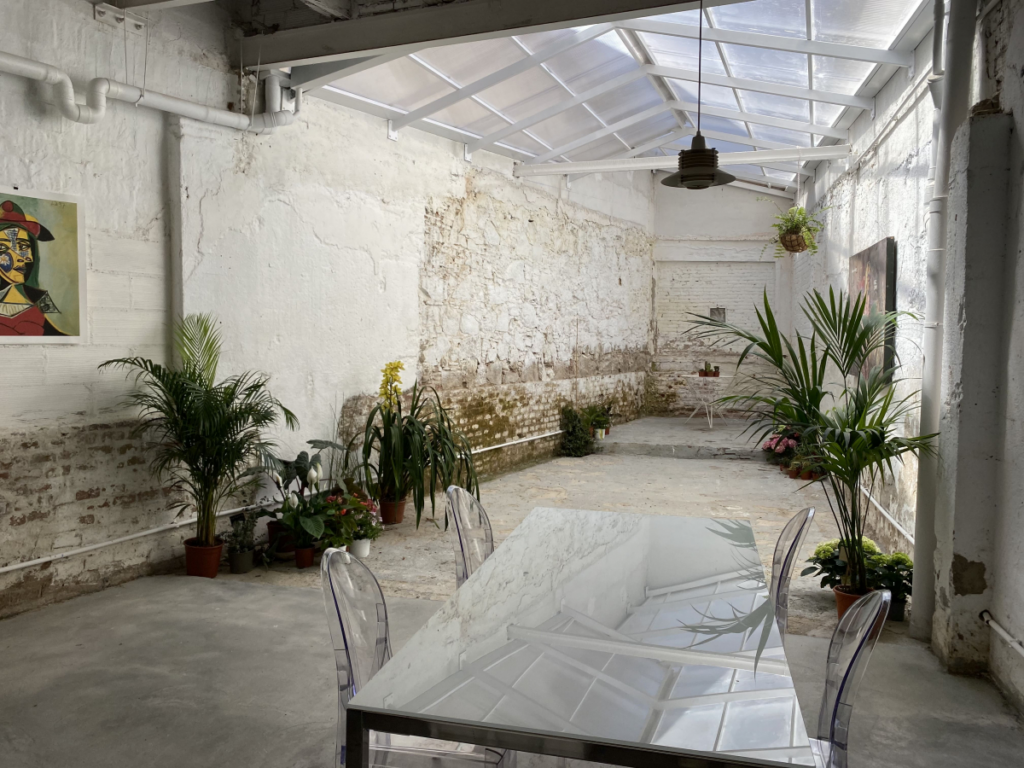 Who needs conference rooms when you can host your event in the garden, literally. Sitting at the foot of Barcelona's Montjuic, in the small streets of El Poble-sec, you'll find the Fedra indoor-outdoor garden.
Fedra combines art and plants to bring you a harmonious, tranquil spot that's truly unique. Not too far from Plaça De Espanya, makes this garden event space great for teams having to fly in and use the shuttle bus from the airport.
The space can hold around 80 attendees if standing, but it truly shines for more intimate events, where you can gather around the rustic tables, take part in a team-building plant care workshop, and nurture some nature as well as yourselves. If you're looking for a cozy, informal, altogether different event space in Barcelona, then put Fedra at the top of your list.
Location: El Poble-sec
Capacity: up to 80
Cost: €
6. The baSEment: for an adaptable space with the vibe you need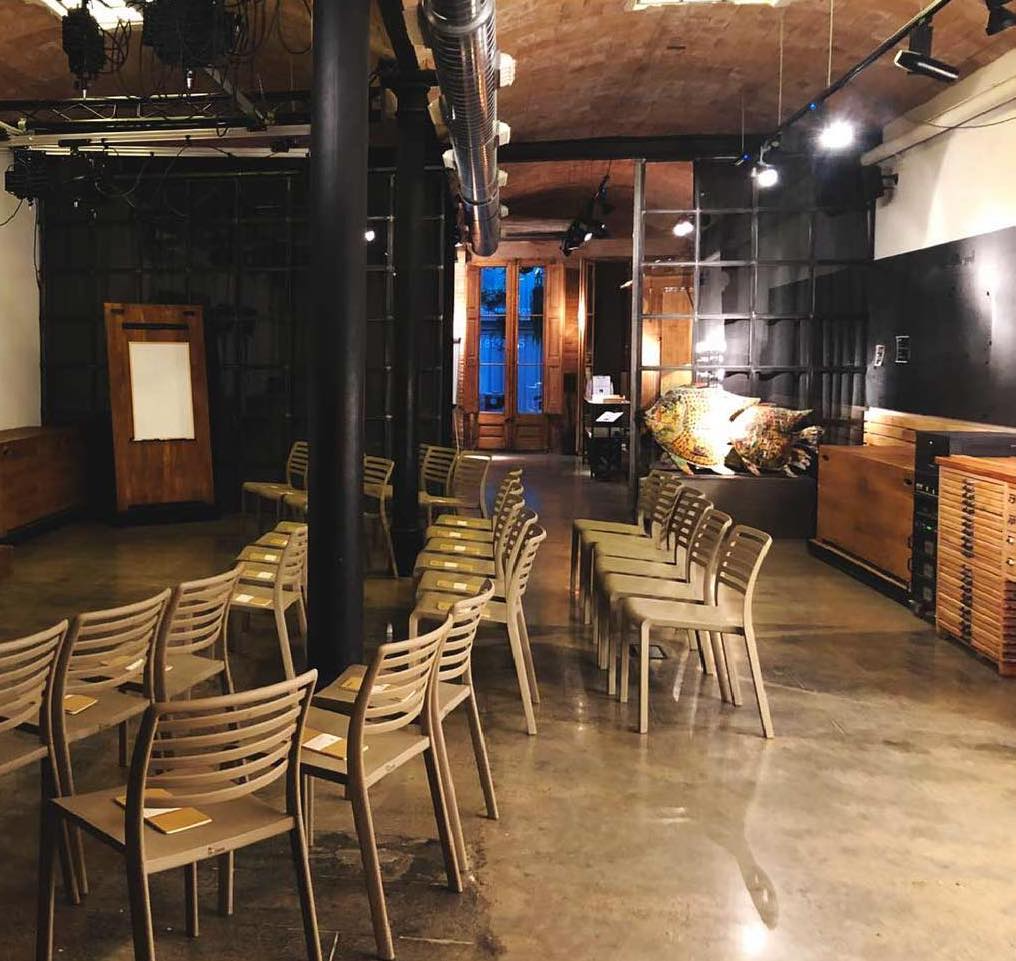 The Catalonia capital is certainly giving Madrid a run for its money with this space. The baSEment's main goal is to slow things down. This event space is fully-customizable depending on your needs, with an on-hand team to create an environment that works with the atmosphere and theme you're trying to create.
Despite its name, there's still plenty of natural light, and the space is divided into different areas: a hall, studio, home, and terrace—each complimenting the other but each offering a unique feel and space to work with. Located just two blocks from Urquinaona metro, it's easy to get to and will provide your meeting with a unique atmosphere that is whatever you want it to be.
Location: Tetuan
Capacity: up to 120
Cost: €€€
7. Regus, Mapfre Tower: unbeatable views of the old Olympic village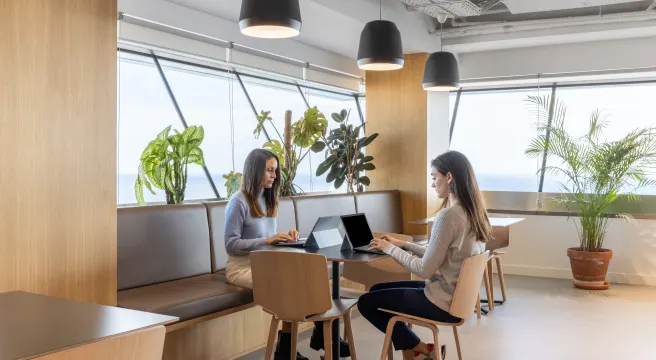 If, when you think of hosting a meeting in Barcelona, you think of rolling sea views, then this one's for you. The Mapfre Tower is a bit of a landmark in Barcelona, enabling many to identify where the beach is from almost anywhere in the city. For a good reason, it's high up; really high up. Located on the 27th floor, your meeting here can feature stunning city or sea views; take your pick.
The Regus meeting and conference rooms feature presentation audiovisual tech, whiteboards, and views to keep your entire team pensive and inspired. The rooms receive plenty of natural light, and can be organized in a round table, conference style, or a U-shape; you'll just need to advise the office space community team on your preferences ahead of time.
There's also optional catering available and an onsite cafe for those mid-afternoon pick-me-ups.
Location: La Vila Olímpica del Poblenou
Capacity: up to 30
Cost: €€€
8. The World Trade Center, Barcelona: keep things central over Barcelona harbor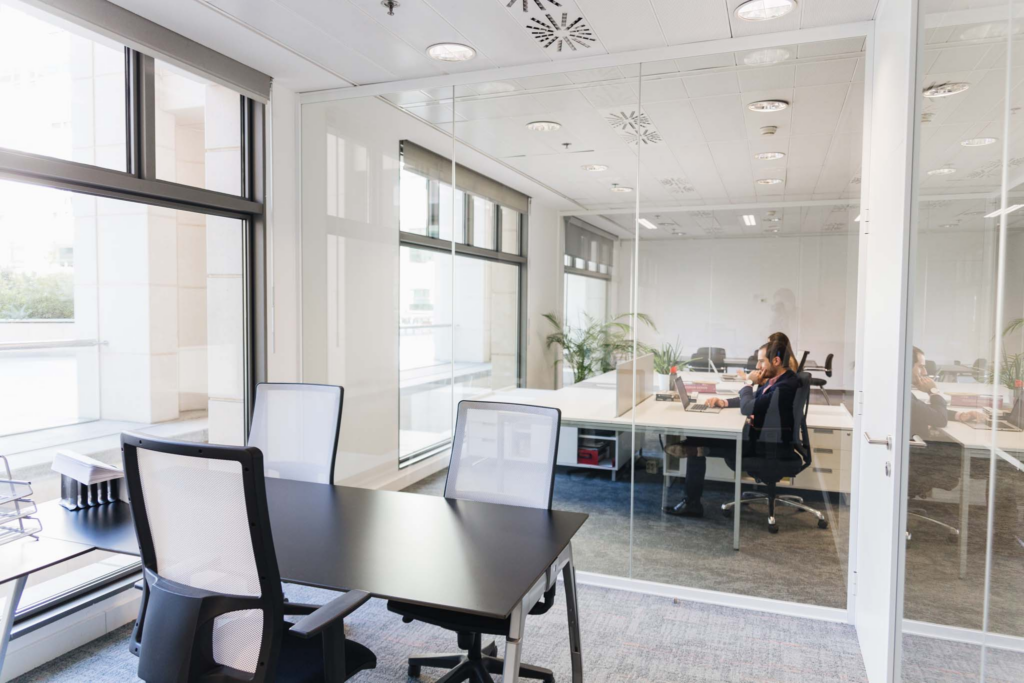 Name a more iconic place for business events; we'll wait. Barcelona's World Trade Center architecture is inspired by the ships that sit as its neighbors on the Barcelona Port. Here, most meeting rooms will have rolling views over the Mediterranean Sea, and you'll have over 4,000 square meters and 20 meeting rooms to pick from.
Your meeting rooms will come with access to an onsite audiovisual technician, a bar, gym, parking, an onsite restaurant, and WiFi. This workspace and events venue is around a 15-minute taxi from the airport and is a perfect fit for larger teams.
You'll also have the option to put your team up for the night at their 5-star Eurostar Grand Marina Barcelona Hotel.
Location: Port Vell, Barcelona
Capacity: up to 500
Cost: €€€€
Need to organize transport for your team?
9. The W Hotel: for professional meetings in true Barcelona style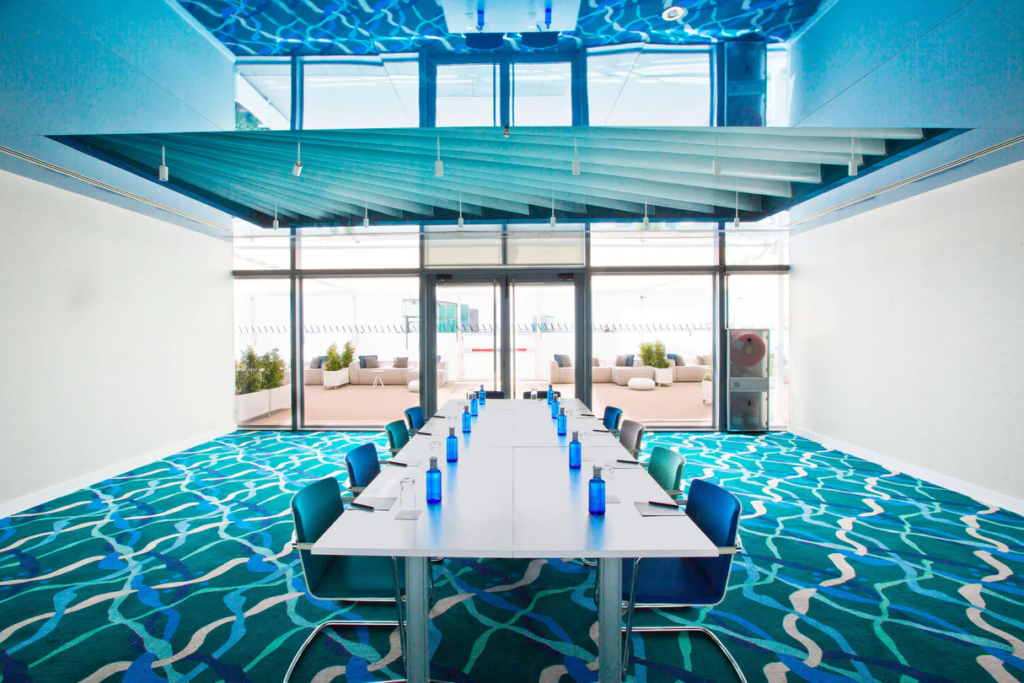 Often referred to as a conference hotel, the W is a notorious events location and is guaranteed to give your business meeting or event a view that only Barcelona can offer.
The W hotel will give your next meeting a pinch of luxury that could be exactly what you're looking for. Located at the end of Barceloneta Beach, your attendees can spend their breaks with their feet in the sand and a coffee in hand.
As far as venue types go, this one is one of the most flexible spaces available. The W Hotel has 19 meeting rooms to choose from, racking up over 3,000 square footage of space. The largest room capacity is 1,250 pax and has the ability for you to run hybrid events seamlessly.
Location: La Barceloneta
Capacity: up to 1,250
Cost: €€€€€
10. Loom Glories: a space that will leave a lasting impression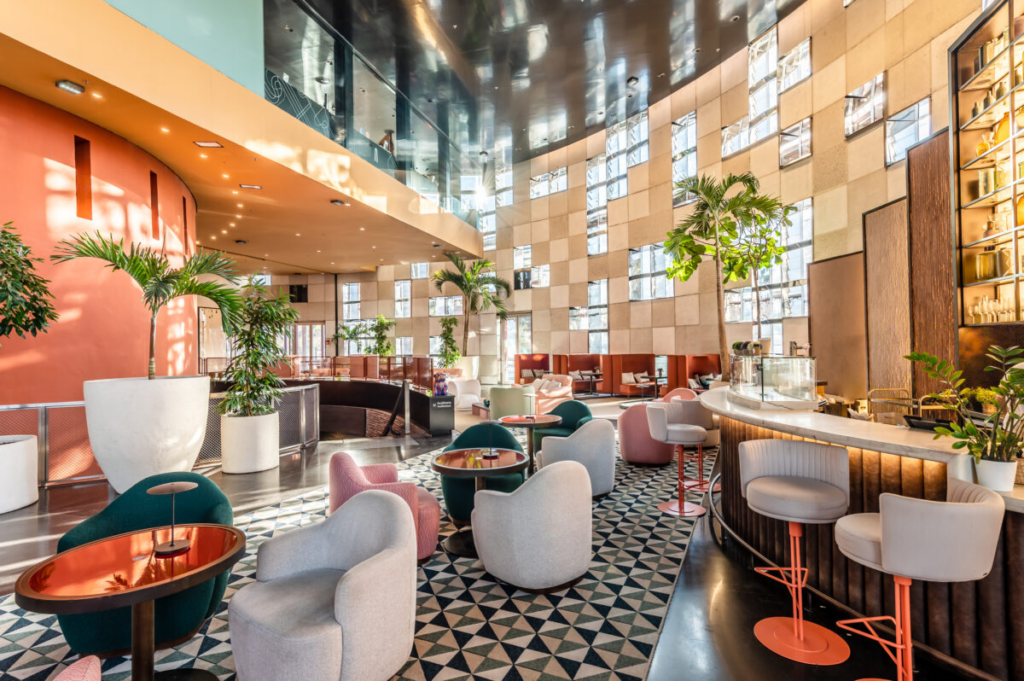 A space unlike anything else you've seen on this list. Loom, Glories is in the beating heart of Barcelona's Torre Agbar. Just a stone's throw from the Glories shopping center at the tip of Poblenou, your guests will have plenty to keep them occupied in their downtime.
The space hosts a parking, catering, optional entertainment and activities, and photography options if you want to go the extra mile. It's well located being a few minutes walk from Glories metro—on the Red Line. Your guests will have access to views across the city, be met with plenty of natural light, and will walk away from your meeting feeling inspired to make things happen.
Location: Glories
Capacity: up to 300
Cost: €€€
Get ahead and start organizing your corporate event today
Whatever event you're hosting, whenever you're hosting it, it's never too early to start planning—and you can use TravelPerk's event management checklist to make sure you're ticking all the boxes.
If you feel you could benefit from support with the organizational side of things, TravelPerk can help with the book and management of your event, taking the administrative weight off your shoulders. You pick the venue, let TravelPerk take care of the rest!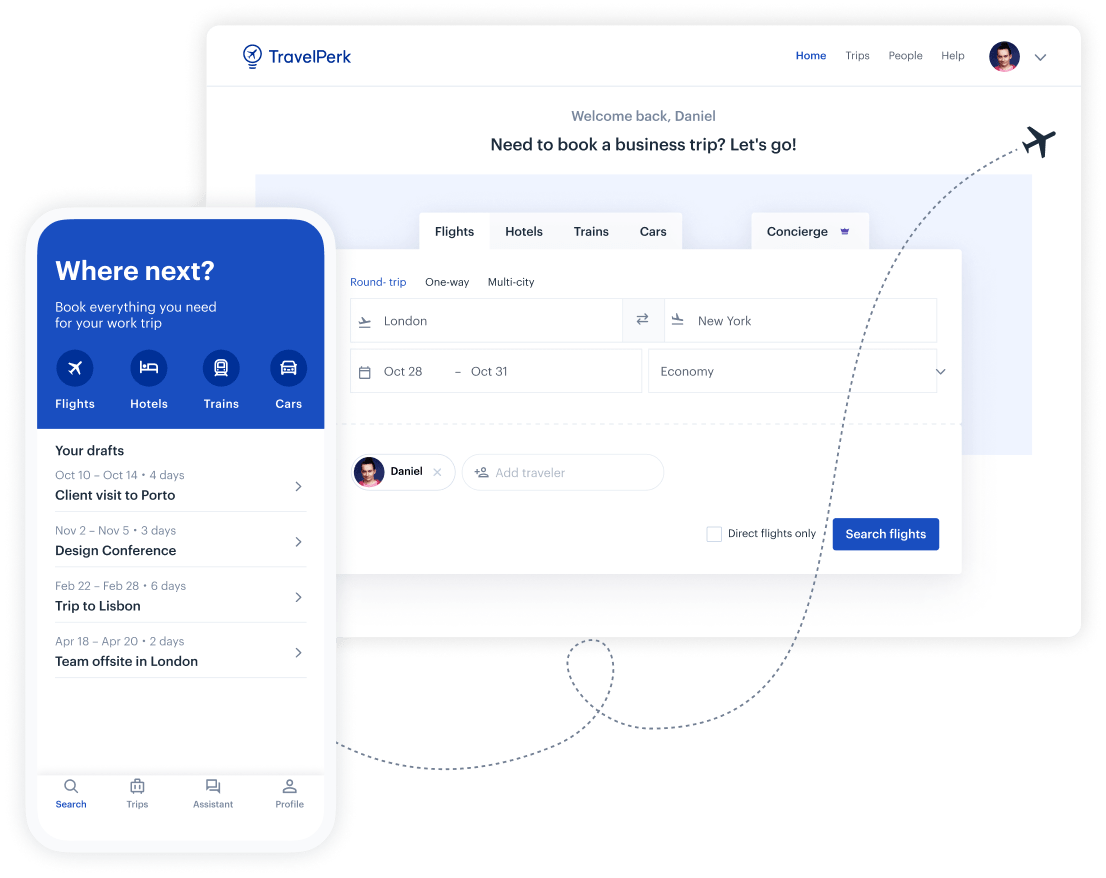 Make business travel simpler. Forever.
See our platform in action. Trusted by thousands of companies worldwide, TravelPerk makes business travel simpler to manage with more flexibility, full control of spending with easy reporting, and options to offset your carbon footprint.

Find hundreds of resources on all things business travel, from tips on traveling more sustainably, to advice on setting up a business travel policy, and managing your expenses. Our latest e-books and blog posts have you covered.

Never miss another update. Stay in touch with us on social for the latest product releases, upcoming events, and articles fresh off the press.