Barcelona, the capital of Catalunya, is a world-class powerhouse of innovation and technology, home to some of Europe's leading tech conferences. These events bring together some of the best tech minds and ideas in the industry, offering a brilliant opportunity to learn about the latest trends using in-depth case studies, network with like-minded professionals, and take inspiration from industry experts.
These conferences explore new tech frontiers from AI-powered automation to FinTech, to quantum computing to MarTech.
In this article, we'll explore the top ten must-attend tech conferences in Barcelona for everyone. Whether you're looking for your co-founder or vice president, to your financial services team or engineering stakeholders, these conferences will leave everyone inspired and fired up about the ever-evolving tech world. With events such as the Supply Chain Cyber Security Summit and the Mobile World Congress in the first half of the year, make sure you get your reminders set early to catch them in 2024!
Let's see what Barcelona has to offer.
Top 10 tech conferences in Barcelona in 2023
1. BSides Barcelona: the place to be for all things cybersecurity 
Security BSides comes from a community-driven framework for building events for and by information security community members. It provides the opportunity for security enthusiasts to present and participate in a setting that encourages connectivity, collaboration and lasting partnerships.
The two-day technology event is not one to miss, with two tracks, and plenty of activities including workshops, interactive games and networking sessions. Open to all levels of experience, Besides encourages participants to share any research, innovations and insights to BSides before the event—it's a brilliant chance to gain valuable feedback from industry experts and other information security experts.
2. DevBcn: a multidisciplinary event for developers to learn and share
DevBcn is the rebranding of the biggest specialty Java & JVM conference in Spain, JBCNConf, now including more technology, more expertise, and more attendees.
From Python to Rust to TypeScript, this three-day international conference is a masterclass in all things software development. It's a unique opportunity to share knowledge and experiences with like-minded enthusiasts, and to learn about the different new technologies in software development in use across companies and industries.
3. CollabDays Barcelona 2023: a free, community-driven international conference
This event, formerly known as SharePoint SaturdayBarcelona, will meet for their eighth year running this October. It's free to attend, with a focus on three key features: collaboration, innovations and growth. With a focus on Microsoft 365, Power Platform, Azure and Artificial Intelligence, it's informative and engaging for participants of all levels and experiences.
Their Call for Speakers and Exhibitors is still open: whether you're an entrepreneur raising a startup, or a student with innovative ideas, now's your chance to share your knowledge and showcase your skills with a diverse audience of professionals and students.
4. Global Software Architecture Summit: an inspiring, practical event for tech architects
Also known as GSAS, this conference is a three-day summit which brings together the top 600 software architecture experts from all over the world. From practical talks, demos and hands-on workshops, GSAS helps attendees develop practical skills as well as their business strategies, and networking pools. It's a must-attend for those looking to meet like-minded people promoting quality in the software ecosystem: with over 20 event speakers and more than 40 countries represented, there's no shortage of talent and expertise around.
5. DevTernity: turning developers into architects and engineering leaders
DevTernity is one of the top international conferences for professional software developers. Running since 2015, DevTernity has supported thousands of professionals to develop core skills in coding, architecture, engineering practices, and tech leadership. The number of tickets is limited, and places are highly sought after—so get booking!
6. European Blockchain Convention: the most influential Blockchain event in Europe
If it's Blockchain events you're looking for, look no further. EBC 2023 is your opportunity to join a vast international community at one of the biggest annual events in the crypto calendar. With 5,000 attendees and 300 speakers, the networking opportunities are stellar: from the buzzing exhibition area to startup competitions, to end-of-event drinks, the three-day event is brimming with some of crypto's most respected names and thinkers.
With an all-star list of previous speakers, the event itinerary promises to be innovative, inspiring and unforgettable for all attendees. It's pricey, but tickets are all-inclusive, and reviews suggest it's well worth the money.
7. DevOps Barcelona: a more economical option for developing enthusiasts
For all software developers seeking a specialized conference, Barcelona is the place to be! Calling all SysAdmins, Ops, DevOps, Developers, and managers who are looking to level up. This is an excellent opportunity to learn from DevOps experts, discover more about the DevOps ecosystem, learn about its future, and develop your own skills—not to mention network with experienced, inspiring professionals. It's on the cheaper side, offering two-day passes under 200€, so book yours now!


8. The WEI Technology and Science Education Conference: examining the intersection between business and cultural interaction
This world-class conference is what happens where tech, science, and culture come together: an explosion of new, exciting ideas. This three-day event will examine a variety of topics, from technology in education, to astronomy, to cloud computing to space medicine, and everything in between.
If you're looking for a broader itinerary as opposed to a more focused event, this is the one for you. Expect high levels of innovation, stimulating discussions, and inspiring speakers.
9. International Conference on Nanotechnology & Materials Science: a specific event for international experts and enthusiasts
For all those specializing in Nanotechnology and Materials Science this is a must-attend for you. From keynote lectures to interactive discussions, to technical workshops, this event intends to keep its attendees busy for its duration: it might be on the more expensive side, but you're certainly getting your money's worth.
This conference is a leader in its field, its Forum brimming with expertise—from young scientists to researchers to nano-bio designers and nano- bioengineers to bio entrepreneurs, the representation is unrivaled.
10. Penpot Fest: the event that brings designers and developers together
For the designers, prototypers and developers out there, Penpot is not one to miss. Priding itself on its sense of community and togetherness, this event is all about coming together to share ideas. With hands-on workshops, networking events and brainstorming corners, prepare to feel inspired.
From algorithms to robotics, all the newest trends will be discussed, with leading experts delivering keynote speeches. Tickets are limited so if this is the one for you, make sure you get in there on time!
Nos vemos en Barcelona!
Take your pick from some of the hottest tech events Barcelona has to offer, and get yourself booking—because many of these tickets will sell out fast. Remember, you'll often be able to nab early bird pricing, which makes a big difference to your budget, especially if you plan on attending a few of these events this year. Enjoy Barcelona!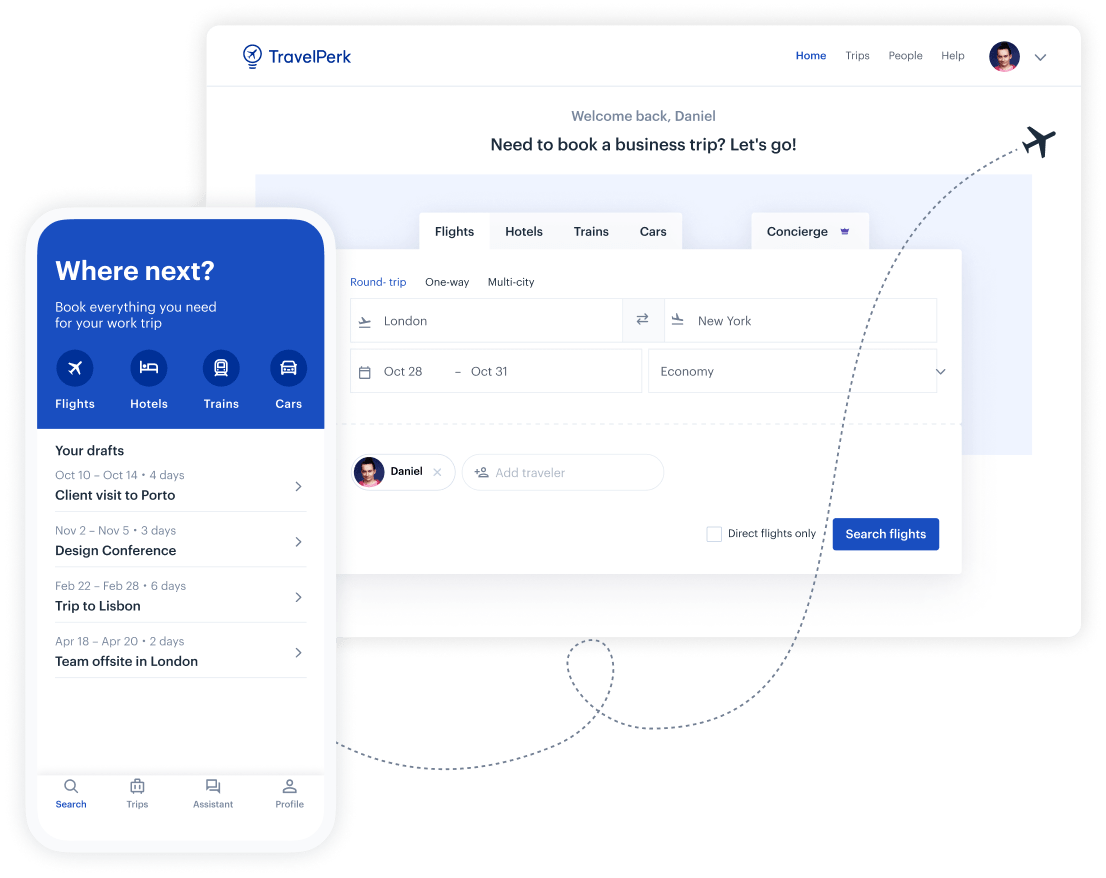 Make business travel simpler. Forever.
See our platform in action. Trusted by thousands of companies worldwide, TravelPerk makes business travel simpler to manage with more flexibility, full control of spending with easy reporting, and options to offset your carbon footprint.

Find hundreds of resources on all things business travel, from tips on traveling more sustainably, to advice on setting up a business travel policy, and managing your expenses. Our latest e-books and blog posts have you covered.

Never miss another update. Stay in touch with us on social for the latest product releases, upcoming events, and articles fresh off the press.