Business travel has many moving pieces, which leads many companies—in hopes of saving on time, money, resources or headaches—to let employees manage it themselves.
But does this really make sense?
After all, you probably don't let employees buy whatever office furniture strikes their fancy on the company dime. And you almost certainly don't let employees manage their own benefits or payroll.
So why do so many companies allow employees to manage their own travel?
Let's take a look at how unmanaged business travel might be costing your company.
What is unmanaged business travel?
Unmanaged business travel, sometimes known as "self-booking" lets employees make travel bookings on their own—typically by contacting travel agents or using an online booking platform that caters to leisure travelers and then submitting receipts for reimbursement.
The drawbacks of unmanaged business travel
Generally, unmanaged business travel is touted as being easier on everyone. It provides more flexibility for employees and it requires less management.
External travel management can also be expensive, so allowing employees to simply book travel ad-hoc can appear to be more cost-effective as well.
But is it?
Let's take a closer look at some of the drawbacks:
Lack of policy (or policy enforcement)
Unmanaged business travel solutions are often used by smaller companies who don't yet have standardized booking policies. Even if you do have policies in place, unmanaged travel programs make enforcing those policies much more difficult.
Either way, a lack of enforced policies typically creates a number of problems:
higher travel costs for your company
non-compliance with legal travel regulations
lack of data
difficult or non-existent approval processes, resulting in a lack of oversight or knowledge about where your travel budget is going
frustrated employees, who may unintentionally overspend due to unclear or non-existent policies

Fragmented booking processes
Similarly, fragmented booking processes are inevitable with unmanaged business travel. When employees make their own travel arrangements, they're likely to book travel on multiple websites, creating more invoices for your finance team to juggle. They'll also need to front the cost and wait for reimbursement, which can cause financial hardship for employees.
Fragmented booking processes also mean that everything happens manually, creating disorganized and ineffective processes that waste time, resources and company spend. It also prevents you from getting consolidated travel data for valuable insights into company trends, travel spend and allocation.
Insufficient travel support & risk management
Another common problem is insufficient travel support for your employees.
When your employees are traveling for business, you have a responsibility to them—to ensure they can travel safely, adjust travel plans as needed and provide support for any unforeseen circumstances or changes.
If the COVID-19 pandemic showed us anything, it's that circumstances can change rapidly, especially with international travel. Unmanaged travel processes open your company up to much more risk, both financially and in terms of safety and security.
The benefits of managed business travel
On the flip side, managed business travel solutions mean that companies manage their business travel arrangements for their employees, either through an online or cloud-based booking tool, or through an external travel management company.
Business travel management is often avoided because companies think:
it's too expensive
they're not big enough to warrant a managed travel program
they'll encounter too much employee resistance
it will be more difficult than asking employees to self-book
On the contrary, corporate travel management can actually result in cost-savings through exclusive business discounts, negotiated rates, VAT recovery, better ability to track and manage travel spend,ing and more.
Systemized processes
Whether you outsource to a traditional travel agency or a modern travel management platform, like TravelPerk, you immediately get more control over the booking process. Increased control allows you to streamline processes and centralize data, which can improve efficiency.
Travel technology also supports process automation, allowing you to more easily enforce corporate travel policies, automate approvals, manage expense reporting and monitor employee travel.
Discounts and supplier connections
Working with a managed travel company or platform also gives you connections to preferred providers, corporate travel discounts and exclusive travel suppliers that aren't available on consumer websites.
For example, TravelPerk uses the combined buying power of its customer base to give you access to exclusive negotiated rates and help you reclaim VAT on your business travel.
Manage risk & safeguard against emergencies
Perhaps most importantly, a managed travel platform provides you with resources to mitigate risk. This includes both round-the-clock customer service to help employees resolve any travel issues as well as flexibility with travel planning and bookings—both of which are essential for business trips.
You can also add FlexiPerk to your bookings and get 80% of your travel costs refunded, no questions asked. In addition, we offer a full-service Duty of Care solution that keeps you and your travelers fully informed through pre-trip risk alerts and trip reporting to stay up-to-date on any risks or safety concerns in your employees' trip destinations. And, with 24/7 customer service and a traveler tracker that allows you to see where your employees are in real-time you can rest easy knowing that you can act fast for any changes.
The key differences: unmanaged or managed business travel
The bottom line: it depends on your business size, goals and the amount of travel you manage.
Take a look at some of the benefits and drawbacks of each side-by-side:
| | | |
| --- | --- | --- |
| | Unmanaged business travel | Managed business travel |
| Travel policies | Travel spending is wholly dependent on your employees' preferences. | Travel policies are easily and automatically enforced and baked into your travel management platform |
| Travel processes | No standardized processes create inefficient and fragmented workflows. | Processes can be standardized, streamlined and automated to save time and money. |
| Cost of travel | Travel Policies | Travel spend can be monitored and capped as needed, and reduced through exclusive suppliers and negotiated rates. |
| Risk management | Your company is solely responsible for employees' safety and security while traveling. | Management tools and team provides risk management, emergency assistance and 24/7 support. |
| Preferred suppliers | Employees can make decisions on who they want to travel and book with, further fragmenting your process. | You are in control of preferred and approved providers, gaining additional discounts and preferred rates as a result. |
| Customer support | No support for employees, or HR or another internal team has to be "on-call" to help support | 24/7, 7-star customer support (through TravelPerk) ensures employees are always supported during business trips |
With TravelPerk, you get an all-in-one travel booking and expense management platform that allows you to:
only pay when you travel, and only pay for what you use
negotiated rates that allow you to save up to 30% on business travel costs
comprehensive, user-friendly platform that allows you to book and manage all travel-related reservations in one place
consolidated invoices and automated processes to save time
24/7, 7-star customer support and Emergency Assistance
Our travel management platform not only allows you to minimize risk and maximize your travel spend, but it's also easy to use. See how TravelPerk can help you save money on business travel today! Schedule a free demo today.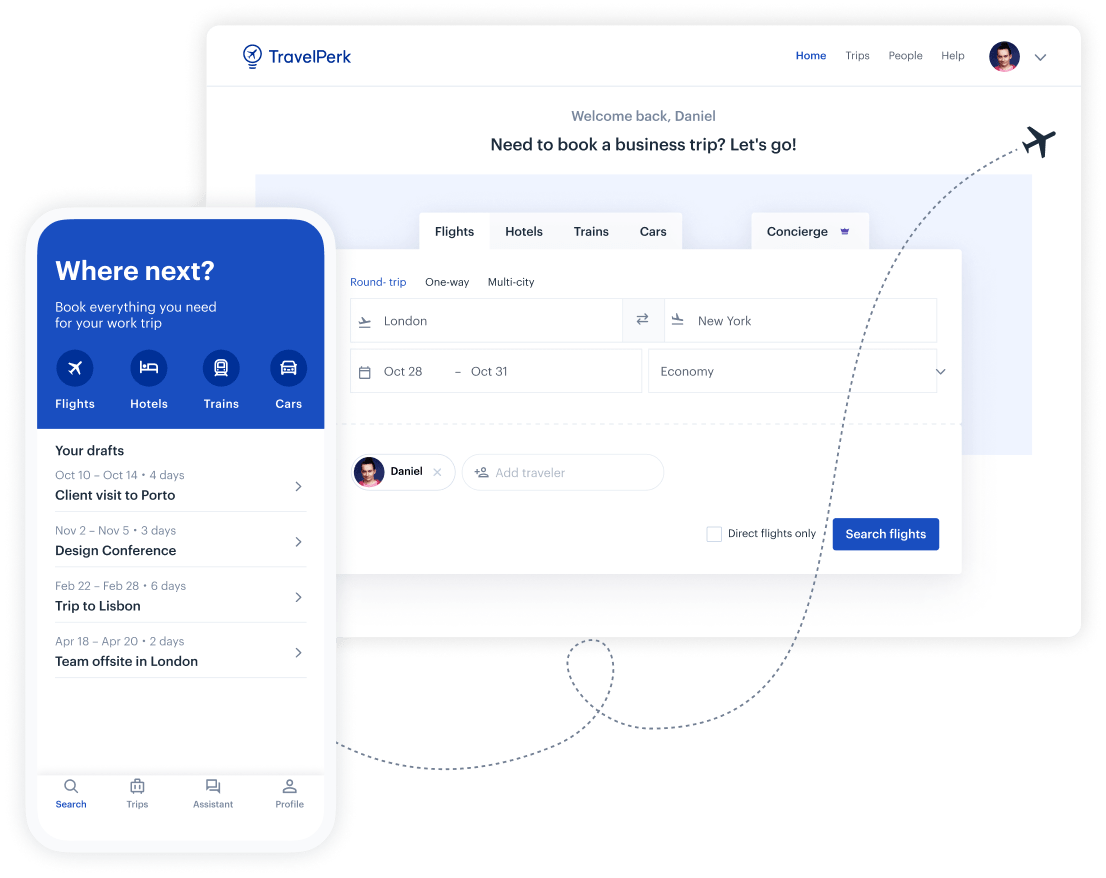 Make business travel simpler. Forever.
See our platform in action. Trusted by thousands of companies worldwide, TravelPerk makes business travel simpler to manage with more flexibility, full control of spending with easy reporting, and options to offset your carbon footprint.

Find hundreds of resources on all things business travel, from tips on traveling more sustainably, to advice on setting up a business travel policy, and managing your expenses. Our latest e-books and blog posts have you covered.

Never miss another update. Stay in touch with us on social for the latest product releases, upcoming events, and articles fresh off the press.