Whether your company is fully remote, back to the office full time, or a mixture of both; if you're a finance leader managing business travel spend for your organization, you'll know how important it is to have easy-to-manage processes to track your spend. Especially since corporate travel needs are on the rise and predicted to continue to increase across the board.
Keeping track of employees' business trips and expense reports is no easy task. Depending on how you currently book your business travel, whether that be through a traditional travel agency or booking flights and hotels on consumer websites, your finance team will be well aware of the struggle of chasing credit card receipts, keeping track of complicated expense management processes and trying to get ahead of their travel budget.
Here are 3 key ways TravelPerk takes the stress out of managing business travel spend and expenses.
1. Access to real-time reporting on business travel spend
TravelPerk is a business travel booking tool with an intuitive mobile app where you can book all of your employee travel in one place. Our corporate travel management tool has the best inventory of travel providers on the market, meaning you have more choice to choose from and guaranteed the best rates. Our travel management platform was designed to make both the booking process and travel spend management a lot simpler.
By booking everything in one place, our online booking tool allows finance teams to keep travel costs down, keep track of their travel budget, and make sure all travel-related expenses are under control.
Allow us to explain...
Let's say you have 8 team members all visiting a conference in Barcelona next week. Rather than every colleague booking flights and accommodation through different online providers, causing a nightmare for your finance team to manage, if they book with TravelPerk you'll have all their itineraries and travel spend recorded in one place. With our sophisticated reporting tools, your finance team can see, in real-time where spend is going, and stay ahead of the budget.
The days of retrospectively chasing receipts to get a grip on travel spend are well and truly over. With TravelPerk all your corporate travel costs are available in real-time.
Our customized reporting functionality means you can make better-informed financial decisions. Our reporting tools are as flexible as you need them to be. You can create reports to show spend per team, employee, travel service, recoverable VAT, and more. The reports are also available to export so you can create wider visibility on how your company is spending money and whether you're under or over budget.
See how easy it is to track your business travel budget with Travelperk:

Save time and money on your business travel with TravelPerk
The only way to truly stay on top of your business travel budget, is with access to real-time reporting. With TravelPerk's sophisticated reporting tools you can break costs down by employee, team, travel type, average trip cost, recoverable VAT, and more.
2. Seamlessly integrate your preferred expense management platform
Put simply, we want to make business travel management easy for your whole company. That means an overall better user experience for your finance team, travel manager, and business traveler.
With TravelPerk, not only can you view travel spend in real-time, we provide one-click integration with your favorite expense management solution. Allowing you to book all your travel and manage business travel expenses all in one place.
This means that any time you purchase a trip on TravelPerk, the total cost of your trip will be synced to your expense management tool automatically. So you can keep all expenses related to the same business trip (including "down route" expenses like food, taxis etc) in one place, giving your finance team complete oversight. Magic!
We partner with leading expense management software such as Expensify, Ramp, Divvy, Airbase, Pleo, Yokoy, Spendesk, Circula, Expensya, PayEm, Moss, etc. Check out our marketplace for a full list of our expense management partners.


3. Automated travel policies and customized spending limits
Rather than having your corporate travel policy hidden away on your company's shared drive where it's easily ignored and forgotten, with an online corporate travel company like TravelPerk your travel policy is 'baked' into the booking process. This makes it super easy for your travelers to stay compliant and encourages employees and travel managers to make better-informed choices when booking their next business trip. (Which in many cases encourages cost savings across the organization!)

When they make a booking on our platform, travelers can filter by results that are "in policy" and if they forget to do this, we'll always notify them if a flight or hotel is out of policy.
Our platform also allows you to easily set up customized spending limits and automated approvals for different teams or individuals within your organization.
Don't want your sales team to book business class airfares? No problem! Need to allow less restrictive travel arrangements for your CEO? Easy!
Having your policy baked into our business travel management solution not only improves travel policy compliance but also your internal workflows by allowing you to set up automated approvals.
How to improve travel policy compliance with TravelPerk
When you book your business travel through TravelPerk, your travel policy is seamlessly integrated into our platform. This not only gives your employees better visibility of whats in policy but also helps them make more informed choices when booking their trips. Not to mention, more control and peace of mind for your finance team too!
So what does this mean in practice?
If Olivia, in your sales team, is heading to New York for a client pitch and books a flight within policy, rather than having to wait for her team lead to approve the trip, you can set this to be automatically approved - since her travel plans fall within budget. Equally, if your finance team prefers to have complete oversight of their travel budget and to approve every trip, you can set this up too! Either way, you have complete control and flexibility to set up approval processes whichever way works best for you all within the TravelPerk booking tool.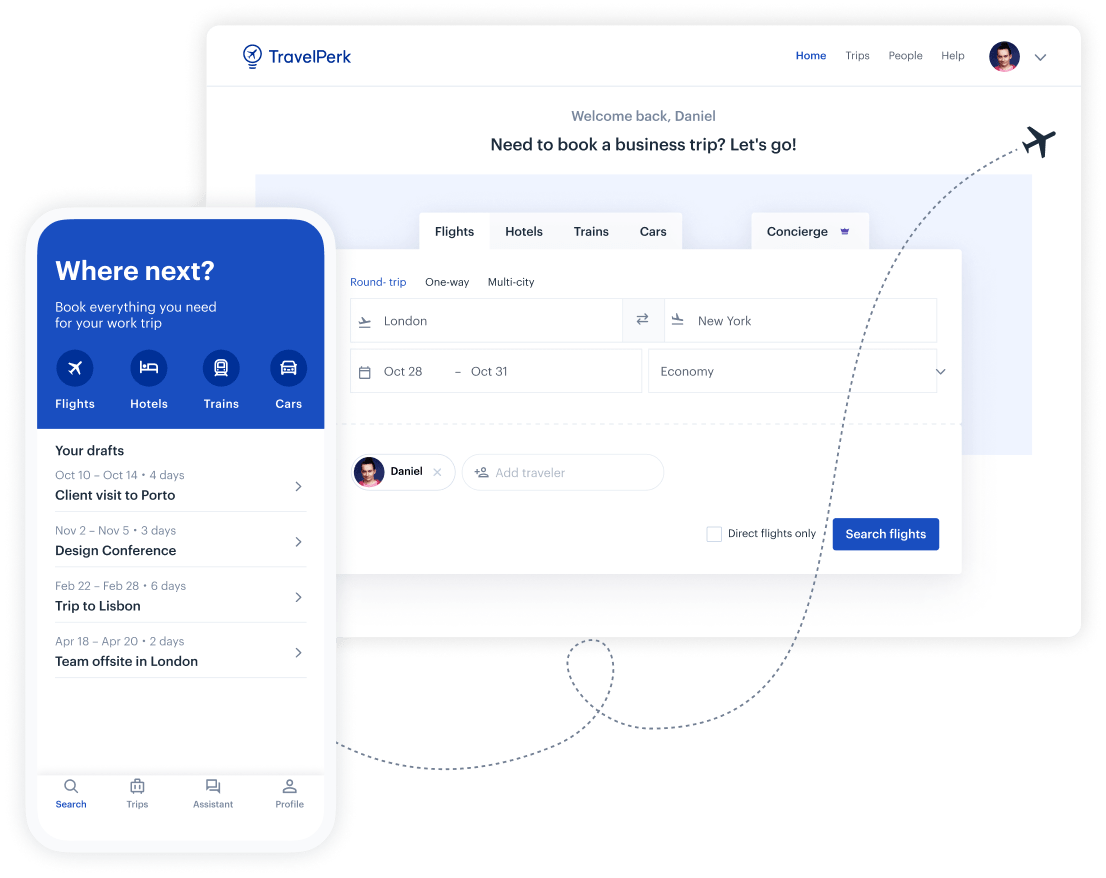 Make business travel simpler. Forever.
See our platform in action. Trusted by thousands of companies worldwide, TravelPerk makes business travel simpler to manage with more flexibility, full control of spending with easy reporting, and options to offset your carbon footprint.

Find hundreds of resources on all things business travel, from tips on traveling more sustainably, to advice on setting up a business travel policy, and managing your expenses. Our latest e-books and blog posts have you covered.

Never miss another update. Stay in touch with us on social for the latest product releases, upcoming events, and articles fresh off the press.