Managing a corporate travel program for yourself is not easy. It is a full-time and laborious job if you need to do it on spreadsheets, email threads, and Slack messages.
Using tools not designed to manage modern, often complex business trips is expensive, time-consuming, and could result in costly mistakes. You will have no instant overarching view and insights into how efficiently your travel budget is being spent or saving opportunities.
There are many benefits to using a proper corporate travel management company (TMC) to streamline your travel management processes. These benefits include, but are not limited to:
Centralized management of corporate travel with self-booking engines so your employees can make their own travel arrangements.
Centralized travel data and suggestions on how you can optimize your business travel plans.
Centralized invoicing so you do not have to collect, collate, and reconcile invoices from all the different parties involved.
So how would you know if a TMC offers the modern benefits you require to manage all aspects of my company's business travel? Let's look at what makes a great TMC and what is on offer for you in New York.
What makes a travel management company better?
When you start to look for a travel management company, you will need to make sure that it can handle the complexities of your travel needs. Otherwise, you might as well keep on doing it yourself.
Here is a list of the key features you need to consider when comparing your options. You need a company that will keep your business travelers safe and deliver on your requirements while saving you money.
The more of the nine features below that you can tick for your prospective travel management company, the more robust they are as a contender. In this case, more also means better, and less is not more.
Many travel and accommodation options: providing you with access to a wide range of travel and accommodation offers so you can compare prices, dates, and offers.
Flexibility in bookings: allowing you to make last-minute changes to travel dates or cancellations for free or at a small cost.
Centralized invoice collection: offering you a single monthly vendor invoice instead of you needing to collect and collate invoices from various companies. This is an impressive time saver.
Workflows: offering built-in approval workflows that can be customized to each business traveler. No need for you to run around getting authorizations.
Customer support: access to human support to take care of your requirements, changes, issues, and emergencies around the clock.
Varied transportation options: allowing you to book cars, planes, trains, and other options on the same platform. Your needs vary, and so should the offerings from your travel management company.
Self-service: allowing your employees to book and manage their own corporate travel requirements while keeping you in control of the process.
Integration with your travel policy: allowing your travel policies for employees to be built into the platform makes it easy for you to ensure compliance by your employees and saves you unnecessary costs.
Reporting tools: provide you with reports on each business traveler, transport type, booking type and cancellations so you can find and implement travel optimization opportunities.
Gone are the days when brick-and-mortar travel agencies were your only options. Technology has enabled the world of online travel management to evolve rapidly, and one would expect your TMC to have kept up.
Now that we have an understanding of what to look for in a great travel management company, let's unpack the top five corporate travel management companies and online booking tools in New York.
Best travel management companies in New York
We have selected the best local TMC and online booking tools and summarized their service offerings. Now you can easily figure out what they can offer you.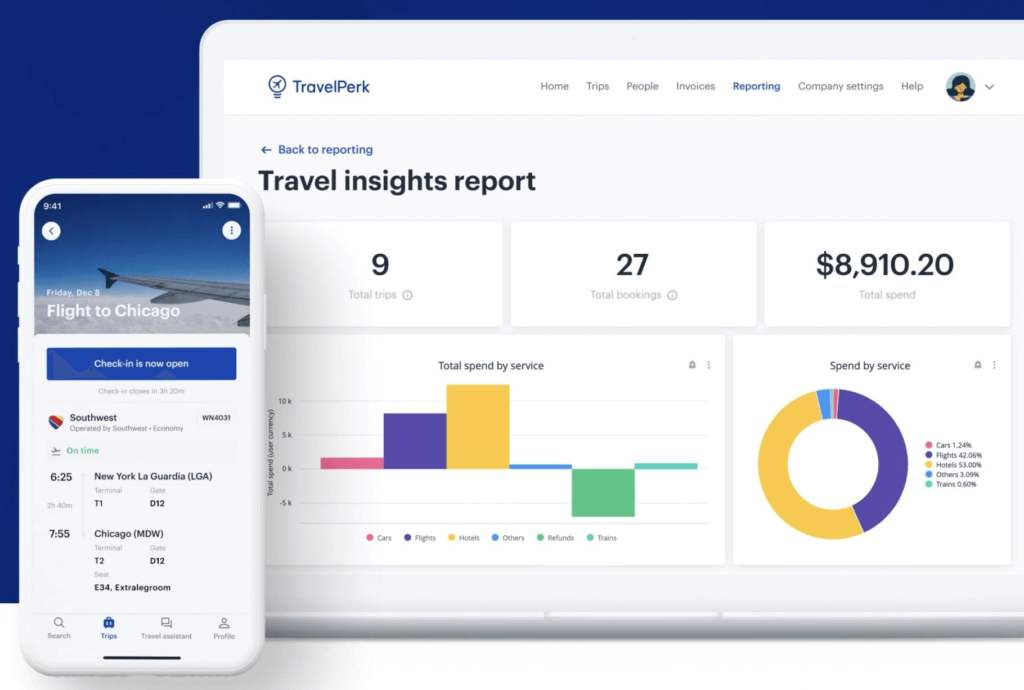 TravelPerk has multiple offices around the country and is a corporate travel management company that offers an all-in-one digital platform. We offer a travel management solution that helps you manage all aspects of your company's business trips. Our platform is state-of-the-art and very innovative.
Employees book and manage their own corporate travel. The centralized platform manages the entire business travel booking process for you.
It gives you the world's largest travel inventory for flights and accommodation and a huge catalog of integrations with third-party software at your fingertips. Trains, planes, cars, or anything else you might fancy, they have it all. You get more travel options than any other agency.
Our corporate travel solution has a few unique services. It makes it easy for your company to report on carbon control initiatives with its GreenPerk carbon offsetting program.
The FlexiPerk functionality lets your employees cancel their business trip arrangements up to two hours before departure, with a guaranteed refund of 80%. This provides planning flexibility, frees up a lot of time, and saves costs.
The are many other services you can enjoy from TravelPerk, such as:
A simple, user-friendly, and intuitive online booking tool that stores all traveler data, preferences, and loyalty points.
24/7 dedicated human business travel assistance with a target 15-second response rate.
Events Management with a concierge service to request group bookings, Airbnb bookings, transfers, and tickets.
Peace of mind with TravelCare is a safety and travel alert system that is comprehensive and up-to-date.
Built-in automated travel policies and in-app approval system that includes approval workflows. You can also save trip details for later, and customize the level of strictness for each workflow.
Single invoicing for all business travel, so you do not have to send requests or reminders.
Extensive reporting capabilities and expense dashboards to help you manage a simplified travel expense process. Your account manager will help you optimize your travel spending with suggestions.
TravelPerk has packed business travel management into an all-in-one platform. You can rely on it to help optimize and streamline your travel management programs. For example, Revolut and Wise are just two very happy TravelPerk customers with offices in New York.
See how to save your company time and money on business travel
2. Blue Orange Travel
Blue Orange is a traditional travel company located in Midtown Manhattan, NYC. They specialize in luxury and corporate travel planning for individuals or groups to New York City and can cater to other locations. The company is affiliated with the Tzell Travel Group.
They aim to simplify the process of planning your next company trip with a full briefing to understand your desires and offer travel packages. Their services typically include:
Best-fit transportation to and from your destination
Hotel or rental accommodations
Ground transportation services, such as private cars, vans, limousines, shuttle services, car rentals, and more
Critical assistance with emergencies, delays, cancellations, and other unexpected obstacles
Integrated technological tools so users can keep track of all important trip details, including a mobile app, online booking tools, real-time reservation notifications, and SMS or email alerts.
Their seasoned travel agent veterans personally take care of your travel experience requirements.
TravelPerk offers the same basics of travel management, and so much more.
Seven-star customer service: including a target 15-second response time, available 24/7 and 365 days of the year, and not a bot in sight. 
FlexiPerk: enabling cancellations at any time with 80% of your money back
Self-booking platform with automated approvals and automatic adherence to your travel policy.
From the online booking tool to the high-quality customer service, our clients always enjoy the best possible service when it comes to corporate travel management.
3. CIRE Travel
CIRE travel is a concierge-style travel agency specializing in corporate and leisure travel planning. They generally cater to small and medium-sized businesses.
Their headquarters are in New York, and they manage corporate travel programs. They use the First in Service Travel affiliation to secure reduced rates on travel spending.
Because of their extensive travel network, the cost-saving services they can:
Waive change fees when traveler names or plans change
Book advance purchase fares even after the advance purchase date has passed
Waive preferred airfare seat upcharges
Book room upgrades at lower or standard room rate prices
Include amenities and services complementary or at a fraction of the standard cost
The CIRE travel planners manage every reservation detail, and you can contact them anytime for emergencies or required changes.
They provide an easy-to-read monthly or quarterly detailed corporate travel report. The report includes your travel expenditures, savings, and how they were achieved.
CIRE Travel runs reports for all your corporate travelers for any events that could force travel delays or cancellations. This is part of their Duty of Care, and their planners will proactively reroute and reschedule your traveler's plans as required.
TravelPerk is always busy innovating within the travel management industry as we near our goal of being the best travel management company. TravelPerk strives to simplify your corporate travel by offering:
A larger inventory, meaning better rates, and booking options when you need them
TravelSafe: delivering reliable and verified travel safety information
GreenPerk: Get real-time, actionable data on your company's carbon emissions.
TravelPerk offers transparent, simple pricing so as to avoid any surprises. Our seven-star support and user-friendly online booking tool make both national and international travel a breeze for teams from all size organizations.
4. Frosch
Frosch is a platform-based travel management company. They own their global platform to ensure that your travelers receive the same excellent levels of customer service across all locations.
FROSCH provides global travel solutions combined with local presence and expertise.
The services from Frosch include:
Global platform lets them operate global travel programs seamlessly across their 23 centers of excellence on a single platform.
Obex for Business which is a travel app that provides your travelers with a single access point for their bookings. They can contact FROSCH directly by chat or phone.
Global centers of excellence that touch six continents with the ability to ticket locally in over 50 specific markets.
Innovative in-house solutions and third-party software utilization. They use technologies like TripBam, and Yapta.
TravelPerk offers this and more whilst also reducing costs. Here are some advantages that TravelPerk stand out when comparing our tool to others:
More and better access to international travel options
Slick UI and easy-to-use booking tool
At TravelPerk, we make user management easier for our customers thanks to our open API and integrations.
5. Protravel
Protravel International is a local travel agent specializing in local, domestic, and international luxury travel and corporate travel services. They were ranked among the top ten agencies by Business Travel News and Travel Weekly.
Their travel advisors are passionate, well-connected, knowledgeable, and deliver personalized services. They offer competitive pricing and negotiations for your corporate and executive VIP travel.
TravelPerk, on the other hand, offers easy set-up and a superior mobile app for making business travel bookings. We also include budget options, bringing costs down for clients.
TravelPerk go above and beyond Protravel when it comes to business travel management:
The largest travel inventory of all, including air, hotels, rail, and more.
Customer care operates at a guaranteed rapid response time no matter your location.
FlexiPerk: Book any type of travel and cancel at any time with no questions asked. Get 80% back on your spend.
TravelPerk only handles corporate travel management, making everything we do focused on finding the best travel solutions for you.
How do these New York travel management companies compare?
These companies and online platforms all have their strengths and shortcomings. TravelPerk is the only TMC that ticks all the boxes when it comes to being a great travel management option. We offer you innovation, automation, and cost efficiency.
We are the only company on this list that focuses solely on corporate travel management and the needs of businesses as opposed to the others in the list that also offer services for leisure travel. We know what modern businesses require, as demonstrated in our GreenPerk carbon offsetting program.
TravelPerk is a travel management solution that helps to manage all aspects of your company's business trips. If you want to learn more about how TravelPerk can streamline your organization's business travel program, reach out today for a free demo.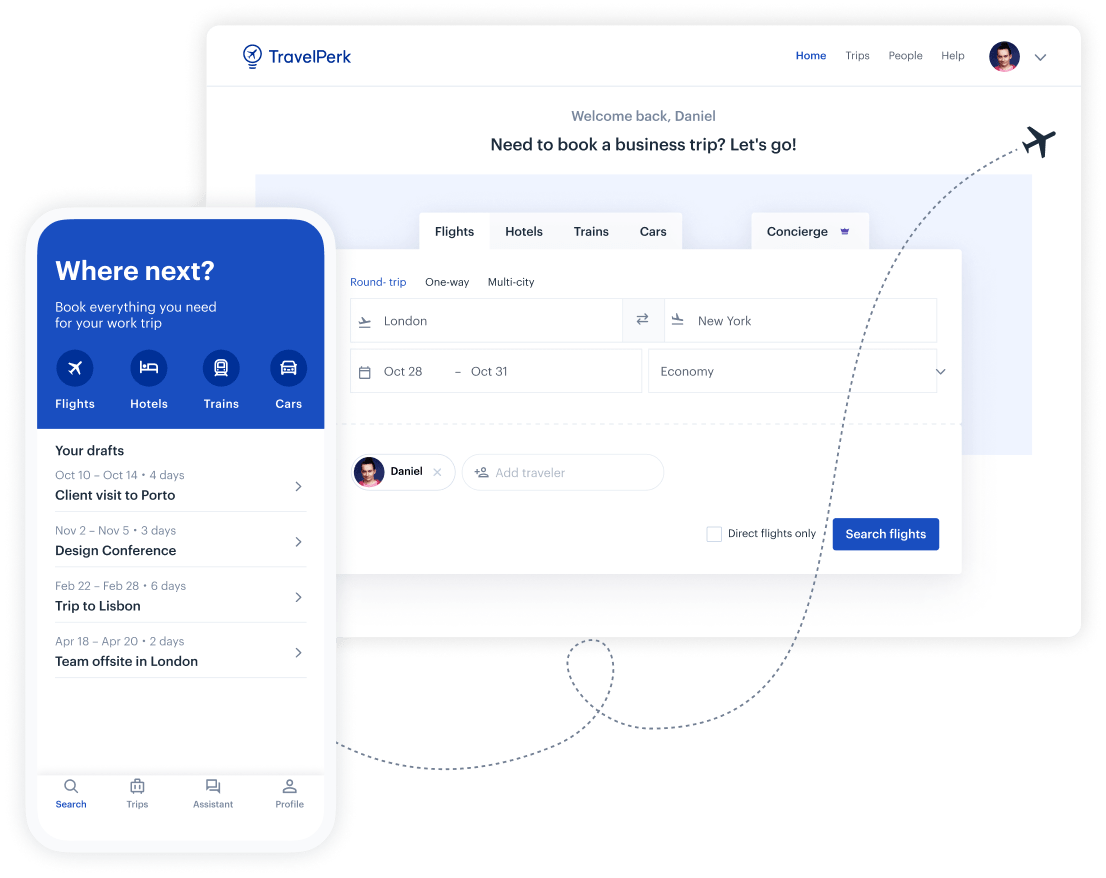 Make business travel simpler. Forever.
See our platform in action. Trusted by thousands of companies worldwide, TravelPerk makes business travel simpler to manage with more flexibility, full control of spending with easy reporting, and options to offset your carbon footprint.

Find hundreds of resources on all things business travel, from tips on traveling more sustainably, to advice on setting up a business travel policy, and managing your expenses. Our latest e-books and blog posts have you covered.

Never miss another update. Stay in touch with us on social for the latest product releases, upcoming events, and articles fresh off the press.