2020 and the coronavirus pandemic taught us a lot. They showed us that we simply weren't ready to tackle a crisis on such a global scale. They brought our humanity to the surface when we came together in such a difficult time. They also made us develop a collective consciousness on sustainability and environmental issues like climate change. 

COVID-19 initiated a huge shift in mindset towards sustainability. Now as we enter a post-pandemic world, 2021 marks an era of change. It's the year of the European Year of Rail, and governments are revamping their train infrastructure to boost a change in favor of rail travel as a more sustainable mode of transport. With this in mind we at Travelperk, the #1 business travel platform took a look at why policy makers and travelers alike are switching to rail travel. 
Shining a light on one of the most sustainable, innovative, and safest modes of transport we have!

#europeanyearofrail
Why governments are hopping aboard the train
Governments are taking a major step towards sustainable transport, with a specific focus on trains. Why is that? There are 4 major factors contributing to this:
1. It's all about the environment
Governments are disrupting the status quo and favoring rail transport because they really are the greener alternative to flights. France, for example, has banned all plane journeys shorter than two and a half hours. Short domestic journeys will have to be taken by train as part of the AirFrance bailout deal. Germany and Austria are soon to follow suit with similar regulations being put in place.

Consumers find themselves in a moment where they want to make conscientious decisions to reduce carbon emissions. They are looking to make a better choice for the environment and are being empowered by governments to now do so. Train travel is a natural answer to this decision.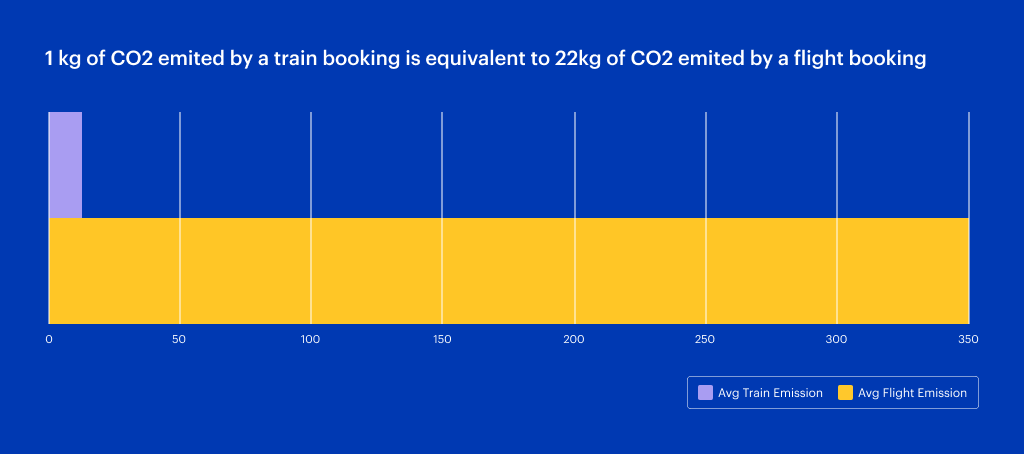 2. Millennials are taking over the workforce
Children who were raised with sustainable values are now assuming decision-making positions and are starting to comprise a large part of the workforce. They have both the tools and mindset to affect positive change. They know that one of the best ways to achieve the UN Sustainable Development Goals is if corporations and governments work together.
3. The rail industry is modernizing
The European rail industry was dominated by very traditional, old-fashioned practices and companies for a long time. Now, there's an integration of the rail system's legislation, meaning that national train operators need to open their infrastructure for private players to enter. That's exactly what happened to Spain recently—the country's high-speed rail service RENFE had a complete market monopoly until recently when France's SNCF was able to enter. Now, there's competition driving change.
4. There is a belief that trains are safer from COVID-19 than planes
A growing belief among travelers is that they are less likely to contract COVID-19 on a passenger train than on a plane. The fact that train stations are often open-air, that the seating is usually more spacious, and that there are fewer bottlenecks and crowding around check-in are just a few of the factors contributing to this belief.
Spotlight on France
On the 10th of May, 2021, France approved a bill abolishing intercity domestic flights on routes shorter than two-and-a-half hours. The idea behind the move is to promote the use of rail services in an attempt to lower Co2 emissions by 40% by 2030. According to our own data, the environmental cost of taking trains over planes for domestic routes is significantly lower: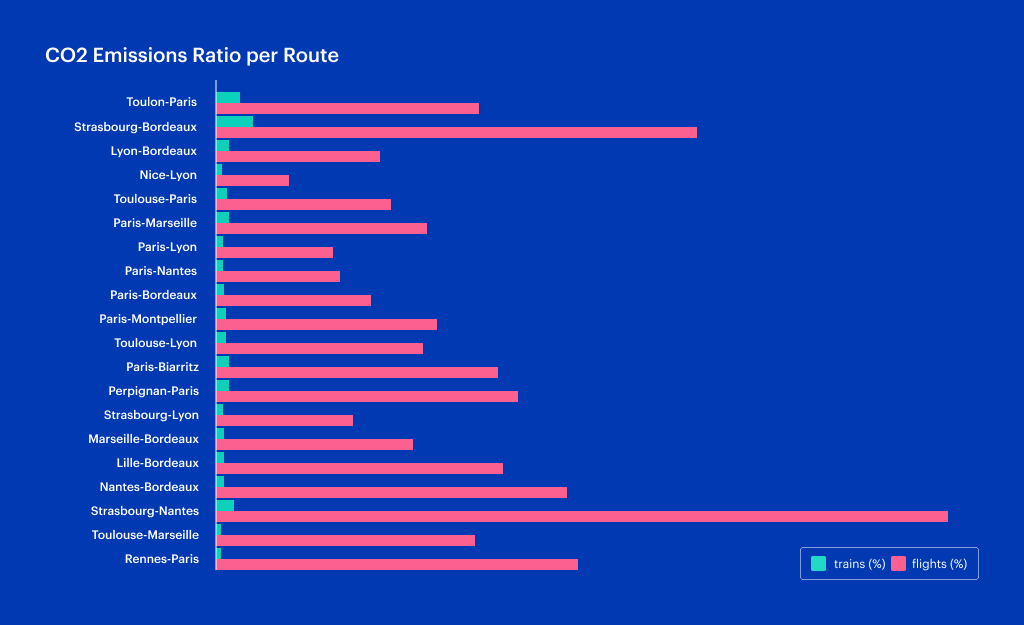 At the same time, SNCF (France's primary rail operator) placed an order for 12 hydrogen-electric trains. They are expected to enter into service by 2024 and have a range of 600km on non-electrified track sections. This is part of SNCF's broader strategy to increase energy efficiency, make domestic mobility more sustainable and environmentally friendly by championing the use of hydrogen solutions.

Here's the great thing—there's a lot of public support and positive sentiment across the country for this shift. In fact, on our own platform, we're seeing that the majority of our customers in France (where we offer both flights and rail) opt for trains over flights on domestic routes (see chart below). We're even seeing a 16% increase in the rail share of our bookings (from 52% to 68%) since the beginning of June alone. That's why we integrated the complete SNCF straight into our platform so that our customers traveling around France can have access to their inventory in just a few clicks. We also offer special corporate fares, discounts, and loyalty cards for frequent travelers. Getting around France comfortably and sustainably just got easier, folks!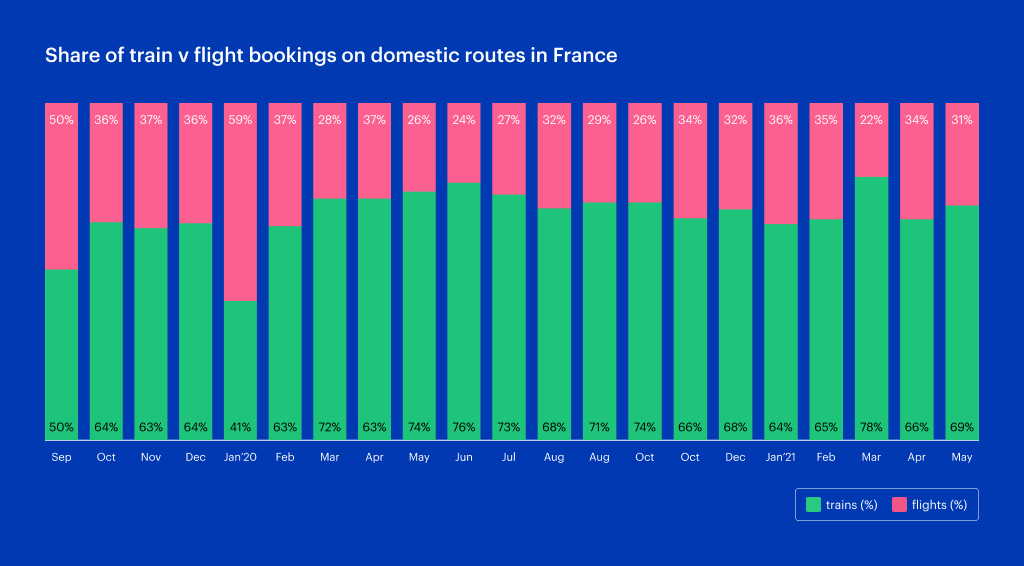 Train tech is taking the industry by storm
So, what can you expect from the rail industry going forward? There is a huge opportunity in an old-fashioned sector to disrupt the status quo and innovate.

We're already seeing some incredible new technologies like live information about trains across the UK and EU, or the appearance of train aggregators (kind of like a Skyscanner for trains—Railscanner, perhaps?). Mobile ticketing is becoming more commonplace, and there are even sleeper trains for business travelers emerging.

But that's only the beginning. There's a lot more innovation coming our way! Here are just a few of the most exciting, disruptive technologies to look out for:
Internet of Things motion-based sensors for trains and tracks. This will provide real-time data on the state of the train (high-speed trains or otherwise) and all of its infrastructure, including tracks. It will monitor damage and report the need for repairs, making it even safer.

Autonomous trains could become a thing of the future. Don't let self-driving cars get all the attention! These trains will feature advanced sensor technology, will reduce technical errors, and will improve traffic flow within the transit system. Talk about efficiency!

Artificial intelligence will be used to provide emergency notifications. Predictive intelligence will help streamline schedules and minimize delays, making the entire rail network even safer.

Decarbonization will play a serious role as we shift from diesel to battery technology, hydrogen fuel cells, and renewable energy to power trains. Solar and wind energy is currently being experimented with as a more responsible, low-carbon type of energy consumption.

Virtual & augmented reality will make the traveler experience more immersive and interactive. It could offer travelers information on what they're seeing through their windows, or fun facts about the infrastructure they're crossing.
Oh yes, TravelPerk loves trains!
It's no secret—we're train-crazy! That's why we're constantly working to make it easier and cheaper for our customers to book and travel by rail. In fact, our customers have been train enthusiasts since long before this trend began to emerge in a COVID and post-COVID world. Yes, the increase in train usage has been heavily influenced by the travel restrictions that arose from the coronavirus pandemic. However, our data revealed that passengers using the TravelPerk platform were already starting to make this shift to train usage for domestic routes as early as 2018.

We anticipate that this upward trend will only keep rising in France, with other countries expected to follow. Germany and Austria are already making moves to pass similar legislation, and we saw a significant shift towards train usage in Germany itself throughout the pandemic: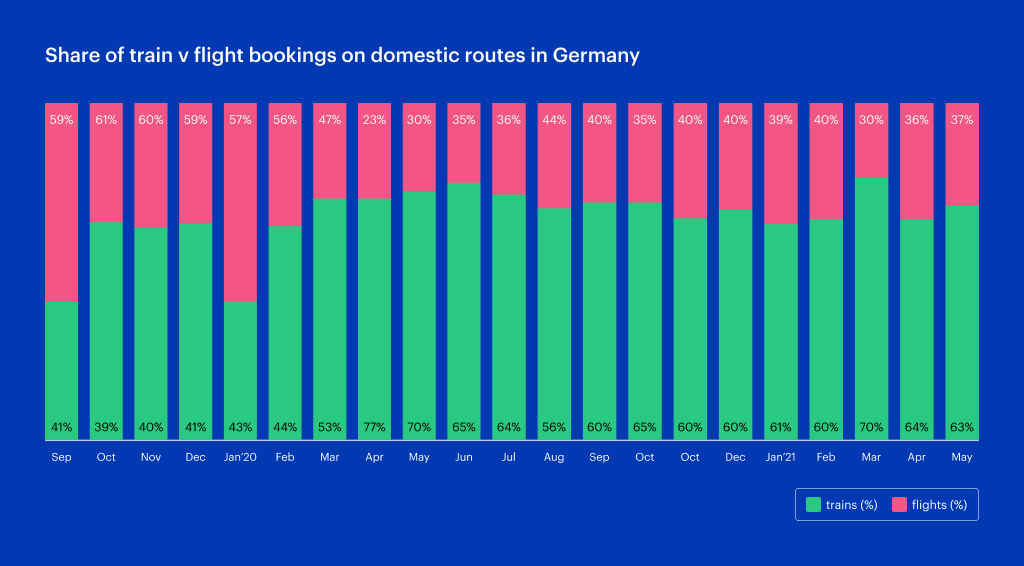 At TravelPerk, we have one of the largest train inventories on the market and cover over 85% of the routes you can take across Europe and the United States. Our awesome Concierge Service can also take care of the remaining 15% of routes we don't have access to. So yeah, you could say that we've got you 100% covered on trains.

We also help customers reclaim VAT for business travel expenses spent on train transport in Germany, Switzerland, and Spain. We make traveling by train as flexible as possible, giving customers the opportunity to change or cancel their journeys—no questions asked. It's stress-free and great for the environment.

Not to mention that our train users can be even greener. Not only are they opting to travel more sustainably, but they can also offset their carbon footprint! Green, carbon-neutral business travel has really never been easier.
Did you find this article useful?
If you did, please follow us on our social media accounts on LinkedIn or Instagram. Please share the article with your friends or colleagues!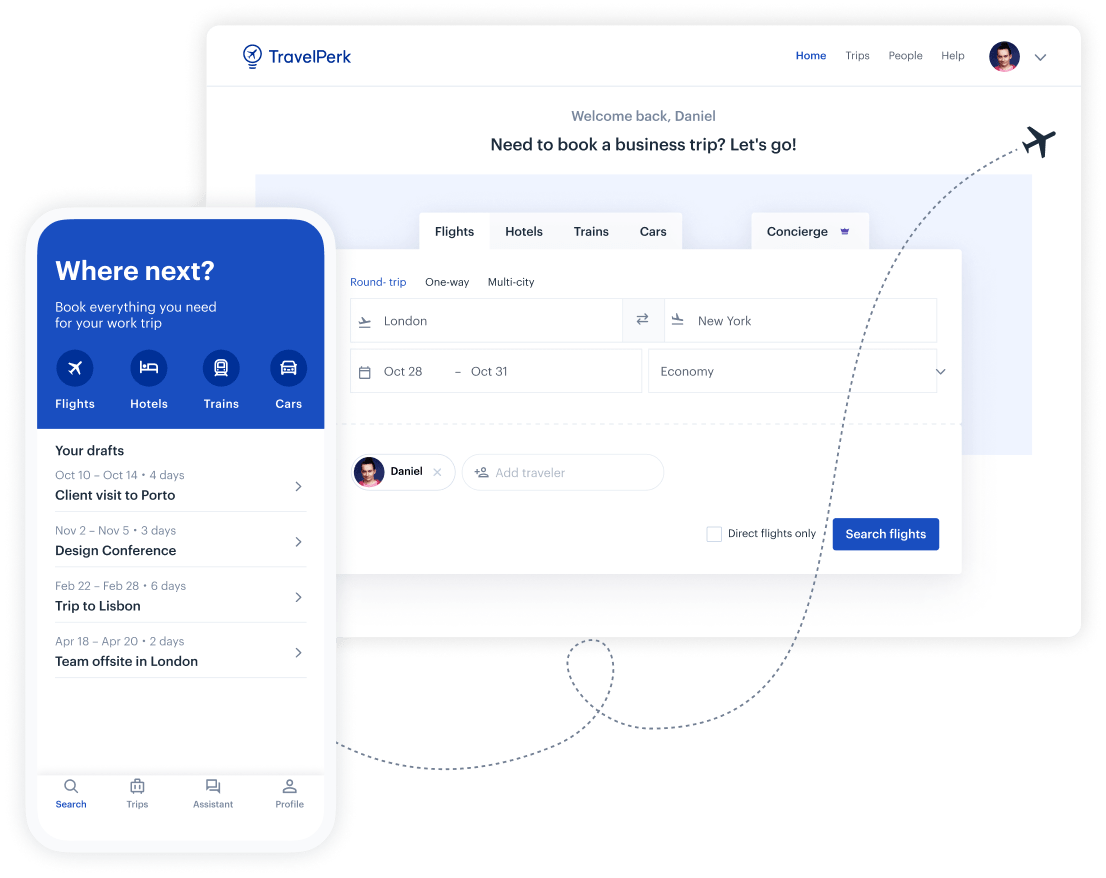 Make business travel simpler. Forever.
See our platform in action. Trusted by thousands of companies worldwide, TravelPerk makes business travel simpler to manage with more flexibility, full control of spending with easy reporting, and options to offset your carbon footprint.

Find hundreds of resources on all things business travel, from tips on traveling more sustainably, to advice on setting up a business travel policy, and managing your expenses. Our latest e-books and blog posts have you covered.

Never miss another update. Stay in touch with us on social for the latest product releases, upcoming events, and articles fresh off the press.