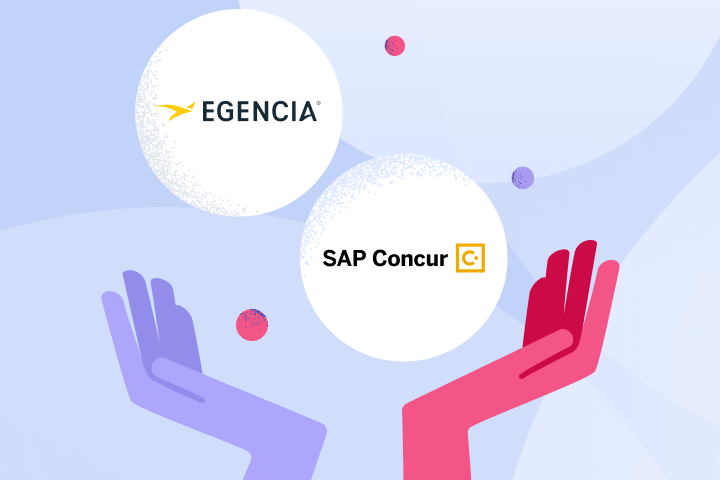 A strong corporate travel strategy paired with comprehensive business travel management software and services are absolute must-haves for an efficient corporate travel program.
You want to adopt a travel management tool that works for you—there are lots of options out there for businesses, big and small. This article will help you evaluate core features, main strengths, and user reviews of both Egencia and SAP Concur.
Let's dive in!
SAP Concur
SAP Concur is a travel and expense management software from the house of Systemanalyse Programmentwicklung (SAP). The three core capabilities of this software are as follows:
Concur Expense automates expense reporting, approval, and budgeting processes.
Concur Invoice offers visibility into travel spending and manages the account payable (AP) process.
Concur Travel simplifies business travel booking with an extensive network of suppliers.
SAP Concur core differentiators and strengths
SAP concur primarily serves enterprise businesses across different industries including healthcare, manufacturing, retail, non-profits, and finance—to name a few. There are a range of product features that distinguish SAP Concur, such as:
Automated expense management: allows you to modify spending policies as per business needs, capture receipts on the go, and gain real-time visibility into your financial data.
Advanced finance auditing: uses artificial intelligence (AI) and machine learning to uncover fraudulent activities, analyze fund misuse trends, and cross-check expenses for faster reimbursement.
Policy compliance and spend control: empower businesses to improve financial forecasting, ensure travel policy compliance, and connect processes for greater efficiency.
All-in-one event management: simplifies attendee registration, and lets you easily track employee location and event spending to avoid pushing the budget.
An integrated corporate travel system: consolidates travel data, enables employees to book and change reservations, and helps businesses meet the duty of care obligations. SAP Concur's TripLink also helps businesses enjoy negotiated rates from suppliers and offers real-time alerts to business travelers.
Automated AP management: enables businesses to control vendor spending, make informed decisions with dashboards, and streamline vendor payments with integrations. Organizations can also use two- and three-way invoice matching to compare data across purchase orders (PO), receivables, and invoices, in order to find discrepancies.
Consultative intelligence and analytics: help businesses gain actionable insights and alerts with interactive dashboards and reports. This feature caters to the need of sharing a single source of truth (SSOT) with stakeholders.
Quick integrations: allow you to connect data points across business applications, including Xero, NetSuite, and Quickbooks. This enables a smooth approach to corporate business travel management.
SAP Concur user reviews
What users like about SAP Concur
"Concur provides the ability to create easy-to-use expense categories to make expense submission simple for users in different departments and submitting a variety of different types of expenses. It also allows you to connect various accounts to pull in purchases as potential expense submissions automatically."
- Derek H., SAP Concur review from G2
"This application is very easy to use. The workflow setup is well designed which helps track, manage, follow up on all your requests. The best part is the approval process which is intuitive and sends out a reminder to the approver on a timely basis."
- Plavita D., SAP Concur review from G2
What users dislike about SAP Concur
"I dislike that Concur doesn't allow invoices to be seen in the preview, which creates uncertainty when registering them and that the finance team can see the image. A much friendlier interface is expected."
- Johan M., SAP Concur review from G2
"If you aren't formally trained on the software, it can take a while to understand how to submit expenses and book flights or hotels. I never had training, so I was confused about certain features, like uploading receipts and categorizing expenses."
- Hank C., SAP Concur review from G2
Overall, SAP Concur's users like the platform—once they know how to use it. It's not a pick-up and get started solution, it requires training and onboarding for all the team.
Egencia
Egencia is a corporate travel management software that helps businesses with policy compliance, risk management, expense tracking, and traveler profile management. American Express Global Business Travel acquired Egencia in 2021 to make cutting-edge travel management solutions available across business segments.
Here's how Egencia helps businesses manage their traveling employees.
Travel policy management: enables travelers to make smart decisions and businesses to save money with dynamic hotel rate caps and travel options tailored to traveler profiles.
Travel risk management: helps travel managers fulfill the duty of care obligations by offering up-to-date information and risk management plans to traveling employees.
Travel expense management: simplifies spend management and travel & expense (T&E) reconciliation for companies with seamless discretionary travel spend approval and budget management.
Comprehensive reporting: helps organizations to optimize business travel costs with travel savings, deals, and the benchmarking dashboard.
Travel management consulting: is for companies looking to create and implement a business travel strategy from scratch.
Egencia core differentiators and strengths
Egencia supports small, medium-sized, and global businesses with smart booking tools, advanced technology, data analytics, and on-demand reporting. Let's take a look at where Egencia excels when it comes to corporate travel management.
In-policy booking guidance: helps businesses to streamline travel policy compliance with visual cues and restriction optimization for high-risk destinations.
Multi-level business trip approval workflows: let organizations define separate policy requirements and offer upfront information for trip-related decision-making for employees
Trend monitoring and analysis: features enable businesses to modify policies according to employee booking behavior as well as track compliance and savings.
Travel risk assessment and management: empowers businesses to protect traveling employees from natural disasters or other security threats. Egencia also provides businesses with travel trackers to monitor specific situations and alert travelers in real-time to ensure everyone's on the same page.
Integrated T&E solution: simplifies travel spend tracking, budget management, and account reconciliation. Not only does Egencia ease credit payable management but also provides easy-to-build finance data flow across systems.
Egencia Savings Finder for Hotel and Air: offers great deals to help companies save and optimize travel budgets. Egencia's benchmarking dashboard paves the way for employers to find cost-saving opportunities.
Travel management consulting: from Egencia is for organizations willing to future-proof corporate travel programs with data-driven insights and innovative technology.


Egencia user reviews
What users like about Egencia
"We have been on the Egencia platform for over 15 years, and I must say that they have done a lot on enhancements to the online booking tool. The tool is intuitive and easy to use, its reporting capabilities are also good."
- Sylvester A., Egencia review form G2
"Egencia was very intuitive for me to use. I found it to be easy to find what I needed as well as easy to understand what I was looking at. Booking my travel needs was fast and simple."
- Caitlin M., Egencia review from G2
What users dislike about Egencia
"What I found is it seriously needs to change the way to search for invoices. We currently need to go one by one, slide by slide. You have to be very specific, and even so, sometimes there are difficulties to find what you are looking for."
- Yasmina E., Egencia review from G2
"I wish it was easier to upload and use on mobile. It could have a better interface and be more user friendly or have even more information available within the platform."
- Courtney K., Egencia review from G2
Egencia users have seen improvements to the platform over the years, but it's evident that more updates are needed. Issues with invoicing and a confusing app often leave them disappointed.
Egencia vs. SAP Concur: Side-by-side comparison
| | | |
| --- | --- | --- |
| | Egencia | SAP Concur |
| Cloud, SaaS, Web-based | ✓ | ✓ |
| Desktop deployment | X | ✓ |
| Email/help desk | X | ✓ |
| Knowledge base | X | ✓ |
| Phone support | X | ✓ |
| 24/7 support | ✓ | X |
| Chat support | X | ✓ |
| Documentation and videos | X | ✓ |
| Ease of use | ★ 4 | ★ 4 |
| Customer service | ★ 3.9 | ★ 3.9 |
| Features | ★ 3.9 | ★ 4.1 |
| Value for money | ★ 3.8 | ★ 4 |

Now we'll like to introduce you to a new platform to consider for travel management—TravelPerk—and highlight how it may be a better corporate travel solution for your organization.
Reimagine business travel with TravelPerk
SAP Concur and Egencia aren't your only options—there are other sleeker, more intuitive corporate travel solutions to help you seamlessly manage your business travel.
If you're tired of being disappointed with Egencia or SAP concur, check out TravelPerk—a cutting-edge travel management solution that enables you to seamlessly navigate corporate travel.
TravelPerk core differentiators and strengths
TravelPerk is a strong corporate travel management solution for businesses big and small, and is the best SAP Concur and Egencia alternative according to real users' reviews. Besides offering businesses full visibility and control, TravelPerk provides a number of features to ensure the best travel experience.
Travel dashboard: keeps travelers safe around the globe with up-to-date travel risk intelligence and global news updates.
FlexiPerk lets businesses maximize savings with flexible travel booking and 80% refunds when canceling up to 2-hours.
A group travel management solution: eases the time-consuming process of managing large groups of business travelers, with end-to-end business travel solutions for nine or more people.
24/7 travel support in 15 seconds or less: enables organizations to get questions answered by real humans 24/7. Businesses can also leverage the TravelCare solution to update employees about real-time location-specific travel risks.
Automated travel policy compliance: helps you to customize spending limits for employees and gain deeper insights into travel spend performance—helping your finance team avoid any nasty surprises.
Automated policies and in-app approvals: let you create an approval workflow in under two minutes and make travel policy implementation seamless.
Corporate travel risk management: features keep you aware of travel restrictions, track travelers, and offer emergency support during critical situations.
Duty of care solutions: empower your travel management team to make informed booking decisions with real-time updates. This feature also provides you with pre-travel risk analysis, emergency response management during a trip, and post-trip compliance reporting.
TravelPerk's GreenPerk solution: helps you calculate and minimize carbon footprint by letting you invest in Verified Carbon Standard (VERRA)-certified projects.
Automated expense management: eases invoice tracking, VAT reclaiming, and invoice management for faster reconciliation.
VAT recovery: helps you save up to 20% of business expenses by streamlining VAT reclaims on flights, hotels, trains, and cars.
Travel management reporting: offers advanced travel and expense dashboards for VAT insights, cost breakdown, and account management. Make informed decisions with a visual overview of your travel management program.
Integrations: with other leading applications, including Expensify, Slack, BambooHR, Stasher, help you to maintain simple data consistency across systems.


Egencia vs. SAP Concur vs. TravelPerk
| | | | |
| --- | --- | --- | --- |
| | Egencia | SAP Concur | TravelPerk |
| Implementation cycle | Moderate | Long | Short |
| Customer support | Moderate | Poor | Excellent |
| Pricing | Moderate | Expensive | Budget-friendly |
| Travel inventory | Moderate | Poor | Excellent |
| EU-readiness | Excellent | Excellent | Excellent |
| User experience | Moderate | Moderate | Excellent |
| Mobile experience | Moderate | Moderate | Excellent |
| Governance and control | Excellent | Excellent | Excellent |
| Reporting & analytics | Moderate | Excellent | Excellent |
| Duty of care | Moderate | Moderate | Excellent |
| Traveler experience | Moderate | Moderate | Excellent |
| Rewards program | Moderate | Poor | Excellent |
| Integrations | Moderate | Moderate | Excellent |
| Expense management | Moderate | Excellent | Excellent |
Table data compiled using reviews from
G2
and
Capterra
.
Besides offering competitive features, TravelPerk ensures superior travel management with award-winning technology, future-ready corporate travel solutions, and amazing 24/7 support. Choose TravelPerk today and experience the difference yourself—get in touch.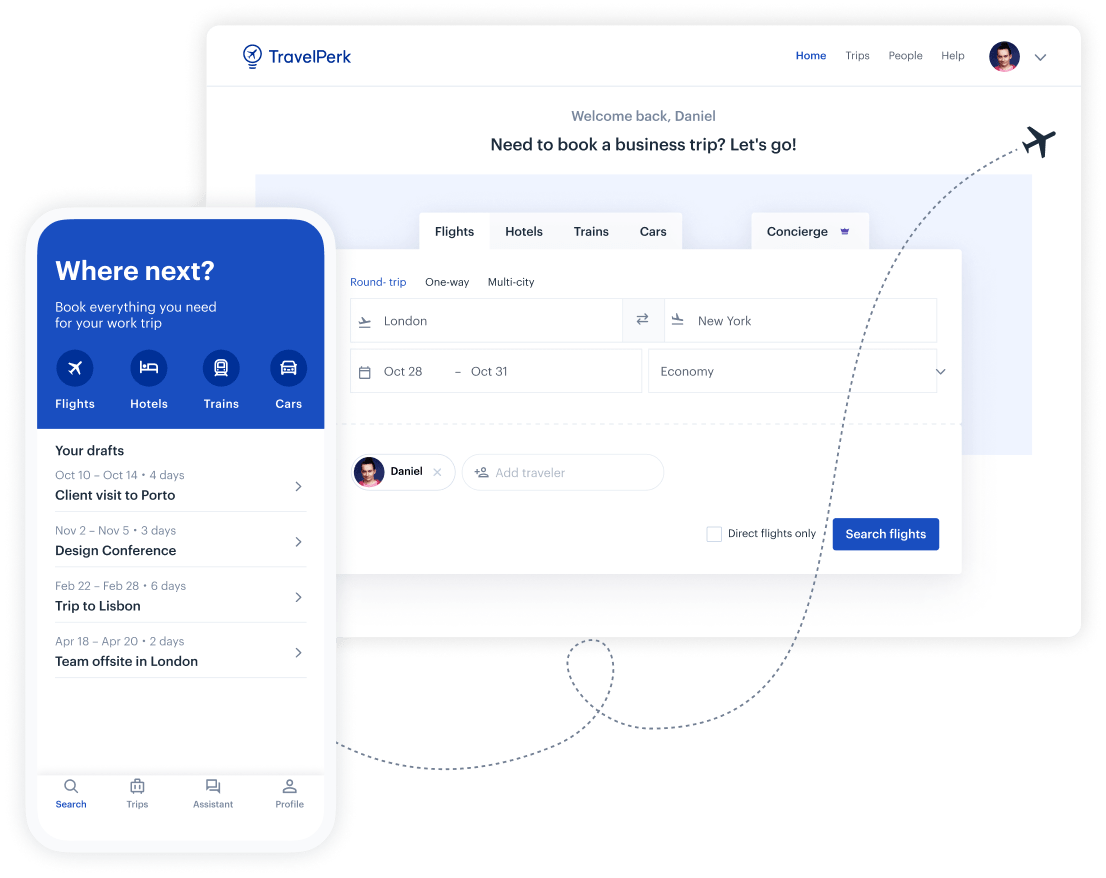 Make business travel simpler. Forever.
See our platform in action. Trusted by thousands of companies worldwide, TravelPerk makes business travel simpler to manage with more flexibility, full control of spending with easy reporting, and options to offset your carbon footprint.

Find hundreds of resources on all things business travel, from tips on traveling more sustainably, to advice on setting up a business travel policy, and managing your expenses. Our latest e-books and blog posts have you covered.

Never miss another update. Stay in touch with us on social for the latest product releases, upcoming events, and articles fresh off the press.