Companies with employees traveling internationally have an endless list of tasks and costs to manage and track—flight booking, accommodation, car rentals, project management, pre-travel approvals, per diem costs, employee safety, trip cancellations, and much more.
Travel management solutions help businesses to manage all these corporate travel hassles and create lasting positive experiences for employees. Business travel management tools make corporate travel less painful by automating travel request approval, travel booking, inventory operations, travel compliance, and change requests.
These corporate travel management solutions also streamline travel and expense (T&E) reporting, have a stellar CRM, and offer real-time reports for corporate stakeholders and the finance team. They're essentially your modern-day travel agency.
This article helps you evaluate top Egencia alternatives, their unique features, main services, and what to look for while choosing business travel management software solutions.
Top 5 Egencia alternatives
If you're on a hunt for the best alternatives to Egencia, here's a comprehensive list to help you find the perfect software for your organizational travel needs.
TravelPerk is an all-in-one business travel platform that eases travel management with online booking, risk management, VAT recovery, trip cancellation, and 24/7 support. TravelPerk's business travel management platform enables you to manage expense reporting, trip approvals, and enforce travel policies.
TravelPerk features and services:
24/7 support: Target 15-second response time from the 7* customer care team.
Online booking tool: Compare and book flights, trains, hotels, or car rental with an industry-leading inventory, on TravelPerk.
Risk management: Keep your employees safe and meet your duty of care obligations with real-time alerts on health emergencies, political crises, and similar events.
FlexiPerk: Let your employees enjoy flexible business travel with the FlexiPerk cancellation policy. Cancel tickets anytime up to 2 hours before travel and hotels until 4 pm on the check-in day.
VAT reclaim: TravelPerk helps finance teams save time and business money with VAT-compliant invoices for all travel bookings on the TravelPerk platform.
GreenPerk: Reduce the carbon footprint of your organization's business travel with TravelPerk's carbon offsetting program.
TravelPerk vs. Egencia
While both TravelPerk and Egencia offer similar features, TravelPerk takes the overall win for a number of reasons:
With TravelPerk theres no need for travelers to pay for business trips out of pocket.
Travelperk offers flexible payment options including credit via consolidated invoicing.
TravelPerk offers more comprehensive support, with live chat and phone support.
TravelPerk scores higher for ease of travel and itinerary management—two important parts of corporate travel.
TravelPerk is better for reporting on corporate travel.
TravelPerk excels when it comes to policy compliance management.
User reviews show that TravelPerk is the preferred corporate travel management solution for small business and mid-market businesses because of ease of use and administration.
Furthermore, TravelPerk's feature updates and roadmaps are superior to those of Egencia. Plus, TravelPerk also offers more pricing options than Egencia.
Click below for a more detailed comparison between both platforms:
Save time and money on business travel management today
2. BCD Travel
BCD Travel enables organizations to increase business travel ROI with a suite of innovative tools. The company serves mid-sized companies to large corporations in the US and Europe with multiple corporate travel management solutions.
BCD Travel features and services:
Real-time alerts: BCD Alert delivers real-time threat notifications through a mobile app (available for both iOS and android) for traveler security.
Travel savings: BCD Travel's TripSource® helps organizations minimize travel costs and incentivize good traveler behavior.
COVID-19 information hub: Assists organizations to make better travel decisions with up-to-date COVID-19 related information.
Data reporting: BCD Travel also enables businesses to analyze category spends and key metrics with DecisionSource®, a business intelligence platform.
Duty of care obligations: Ensure traveling employees' security with security program assessment and interactive security maps.
Spend management: BCD Travel's BCD Pay offers end-to-end travel spend management visibility and eases payment setup.
BCD Travel vs. Egencia
While both solutions offer comparably similar features, they differ in terms of the total cost of ownership (TCO). BCD Travel doesn't seem to have a stronger presence on SaaS review platforms and therefore isn't a popular go-to corporate travel management solution. BCD Travel is also more expensive to implement than Egencia.
3. SAP Concur
SAP Concur aims to create better corporate travel experiences with best-in-class travel, expense, and invoice management tools. Businesses can use SAP Concur to create an integrated and automated corporate travel system that boosts employee experience while meeting business goals.
SAP Concur features and services:
Automated expense reporting: SAP's Concur Expense makes expense management fast and accurate with automation. Businesses can also integrate SAP Concur with ERP to have a 360-degree view of business finances.
Speedy reimbursement: SAP's ExpenseIt is designed to create, categorize, and itemize expenses from receipts uploaded by employees.
Travel spend insights: Besides enabling businesses to save money and spot invisible costs, SAP Concur's TripLink delivers real-time alerts and reminders for traveling employees.
Policy compliance: SAP's Concur Request offers improved forecasting and helps businesses to enforce policy compliance. You can also use the Concur Request API to create processes for improved efficiency.
Mobility: Employees and businesses can submit, approve, and manage expense reports using the SAP Concur mobile application.
SAP Concur vs. Egencia
Corporate travel managers consider Egencia to be better than SAP Concur based on the following features.
PCI regulation compliance.
Superior mobile user support.
Easy-to-use rules and workflows.
Smart employee expense categorization .
Seamless workflow for complex expense approval structures.
Credit card integration for seamless expense tracking and payments.
Advanced integration with different travel systems and software solutions.
Egencia's acceptability in the enterprise sector is better than that of SAP Concur. Also, Egencia beats SAP Concur in a number of areas, including expense reporting, travel approval, client invoicing, reporting, and administration.
4. American Express Global Business Travel (GBT)
Amex GBT is one of the top Egencia competitors that serve companies of all sizes across industries. This top-notch SaaS product offers built-in efficiencies for smarter budgets, employee wellbeing, and a smooth travel experience.
Amex GBT features and services:
Travel savings: Amex GBT's re-shop tools enable businesses to save money by monitoring rate drops and effortlessly rebooking tickets.
Stay up-to-date: Businesses can also stay up-to-date about recent events and make informed decisions, thanks to Travel Vitals™.
Airline credit reporting: Get a holistic view of unused tickets and find the total refund amount with an easy-to-use reporting tool by Amex GBT.
Data and analytics: Amex GBT's Premier Insights™ provides organizations with insights into benchmarks, data integration, ways to improve, and what-ifs.
24/7 support: Access itineraries, profiles, and supplier programs round the clock.
Personal assistant: Navigate business travel challenges on the go with personal assistants.
Amex GBT vs. Egencia
Amex GBT acquired the leading digital travel management platform Egencia from the Expedia group in 2021. Amex GBT doesn't have a solid presence on software review sites and isn't popular among businesses other than larger corporations.
5. TravelBank
TravelBank is an all-in-one travel solution, card, and expense management software product that helps businesses to save up to 40% on their travel and expense program. Their end-to-end solution covers everything from expenses to rewards to customer support and even an innovative marketplace.
TravelBank features and services:
Corporate travel management: Book flights, hotels, and cars from a single place, and incentivize employees to make better travel plans.
Business expense tracking: Gain visibility into business spending with seamless reports. Businesses can also enable one-tap trip approvals and add multiple stops to mileage expenses.
Custom reports: Gather travel spend insights along with leakage and trends with an easy-to-use and customizable dashboard.
Corporate card management: Monitor corporate expense compliance with easy bank integration, transaction status sync, and faster reconciliations.
Integrations: TravelBank also allows you to easily integrate data with existing ERP, SSO, HRIS systems, and cards.
TravelBank vs. Egencia
Egencia beats TravelBank with a number of features that corporate travel users consider to be crucial for safer and enjoyable business trips.
Real-time alerts to stay up-to-date about the latest events.
Restriction management for controlling user-level access.
24/7 customer support.
Corporate travelers have placed more confidence in Egencia due to its experience in the corporate travel management market and features that make business travel seamless.
Wrapping up on top Egencia alternatives
If you're looking for the best alternatives to Egencia, the list above is your go-to resource for comparing top Egencia competitors. If you're knee-deep in research, then you'll notice each of the solutions above have unique capabilities, and are a true alternative for Egencia; each worth considering. Identify the business travel challenges at your organization to help decide on one from this list, and try the tool out first before you invest fully.
You're looking for an all-in-one travel management solution that helps you make informed decisions, meet the duty of care obligations, automate expense tracking, provide insights, and ease employee reimbursement.
As one of the most preferred travel management companies, TravelPerk helps companies to modernize their travel programs with employee tracking, real-time updates, business travel & expense management features, and more.
TravelPerk beats Egencia in terms of ease of use, real-time customer support, itinerary management, advanced integrations, and robust reporting, just to name a few. Also, TravelPerk is more suited for mid-market and enterprise companies whereas Egencia is known to serve only the latter.
Get in touch to learn more on how TravelPerk can help you optimize business travel spending and maximize ROI.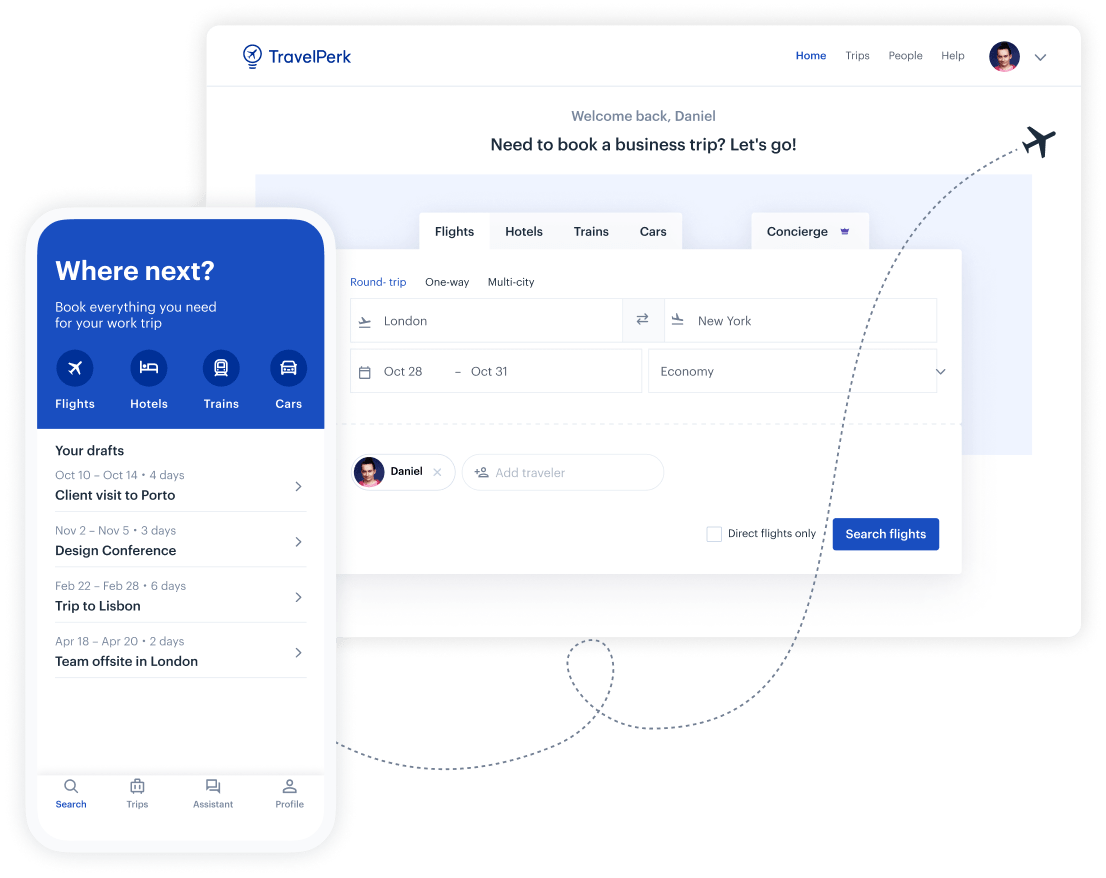 Make business travel simpler. Forever.
See our platform in action. Trusted by thousands of companies worldwide, TravelPerk makes business travel simpler to manage with more flexibility, full control of spending with easy reporting, and options to offset your carbon footprint.

Find hundreds of resources on all things business travel, from tips on traveling more sustainably, to advice on setting up a business travel policy, and managing your expenses. Our latest e-books and blog posts have you covered.

Never miss another update. Stay in touch with us on social for the latest product releases, upcoming events, and articles fresh off the press.