Business travelers are living in uniquely challenging times. COVID-19 has paralyzed our industry for the past year, and even though Europe's vaccination programs offer cause for optimism, we also have to consider Brexit, the shift to remote working, and the urgent need to reduce our carbon footprint. The business travel industry is certainly bouncing back strongly, but it is likely to face significant changes over the months ahead.

Let's take a look at some of the key issues travelers and travel management companies (TMCs) are dealing with right now - and the solutions that TravelPerk can offer to help.
1. COVID-19 cancelations and reimbursements
When COVID-19 erupted, the business travel industry effectively ground to a halt. By April 2021, 98% of Global Business Travel Association members had been forced to cancel or suspend all international business trips. Twelve months on, the pandemic remains our biggest challenge: many of us have had to cancel additional flights as a safety measure in response to infection rate spikes in either our own country or the ones we're visiting.
This unprecedented wave of cancelations has made flexibility more important than ever when we book business travel: travelers need to be able to change plans to ensure the safety of their employees and themselves, and secure reimbursements if a trip can't go ahead.
However, many travelers and travel managers have found it difficult to secure a refund. Each airline and hotel chain has a specific refund policy, and some are particularly time-consuming. Flights and hotels may withhold the refund unless they themselves are responsible for the cancelation (or flight delay in the case of airlines), and some carriers have even made customers pay the fare difference when changing flights.
The TravelPerk Solution
Whether you're a TMC, an in-house travel manager or a business traveler booking your own trip, FlexiPerk enables you to cancel and get a refund on any booking for any reason. Instead of being bogged down by questions and constraints, users can secure reimbursements in seconds.

In addition, TravelCare provides a risk management solution to help you make informed decisions about your travel plans and ensure that you and/or your employees can travel safely. Users can browse real-time travel alerts and restrictions before booking, and will be notified about any changes that affect their trip, even when it has already begun - so they can modify their plans instantly and know exactly where their travelers are at all times.

2. Duty of Care to travelers
In addition to the ongoing challenges around cancellations and refunds, the coronavirus pandemic has made companies' duty of care a bigger issue than ever.

Employers have a moral and legal obligation to safeguard their employees' physical and mental well-being, which extends to business trips. Now, in the wake of the pandemic, the task of protecting employees when they travel for work has become more complex than ever.

How do we ensure that our people don't enter COVID-19-19 hotspots while they are away? How do we monitor the social distancing provided in hotels and meeting rooms? And how do we minimize the risk of employees being caught in sudden lockdowns? None of these concerns were featured in our corporate travel policy before, but now they're essential.
A travel policy controls all your travel arrangements and it affects employees in many different departments. Therefore you need to make sure that the guidelines are clear.
Feel free to use our travel and expense policy template.
These questions also create challenges for travel management companies. According to a study produced by the Business Travel Association in March, nearly three-quarters of respondents now demand proof of risk management and duty of care before making a travel booking. At a hectic time for the industry, this is a significant requirement to bear in mind.
The TravelPerk Solution
Using TravelCare, employers and travel managers can fulfill their duty of care by weighing each trip's specific hazards and making amendments in real-time, using alerts provided by the service.

Travelers can also access breaking news and information via the TravelSafe API, which feeds tailored information directly to their interface about changes that affect their itineraries - as well as providing details of the restrictions and regulations they will face during their trip.

These services are supported by a full-service duty of care solution available to TravelPerk customers, offered in partnership with International SOS. The service includes in-depth trip reporting, employee tracking and emergency resource management.

3. VAT hurdles
Claiming back VAT on business trips has always been a tricky process for business travelers and travel managers, with many hurdles to overcome.

First, you have to file your expense report in the country where you are based, and the claim is then passed on to the country where the travel expenses were incurred; this process can take several weeks and is subject to the different conditions and VAT rates in each country. And there are a number of additional requirements to bear in mind (for example the refund period must be between three months and a year). Finally, there are the potential pitfalls: if you lose the original copy of an invoice, it may invalidate your entire claim.

Now, in the wake of Brexit, there are fresh hurdles for our industry to consider, particularly UK businesses. Under the new regulations, British firms claiming expenses to the EU must make individual claims to every country where the expenses were incurred. For travel managers already dealing with the COVID-19-19 uncertainty, it's an extra burden to bear.
What TravelPerk offers:
TravelPerk's VAT Reclaim Service resolves many of your queries around the expense management process and enables you to plan your trip with the confidence that you can claim back your VAT refund.

VAT Reclaim obtains invoices from traveler providers on your behalf and ensures they are VAT-compliant, creating a VAT-friendly inventory of services on your behalf. The service also includes a calculator, so you can gain a clear estimate of how much you will save.

4. Environmental emissions
As the world pushes to reach the environmental goals laid down in the Paris Agreement, business travel has a key role to play.

Traveling with work has always carried a large carbon footprint. We often have to travel long distances and use carbon-inefficient forms of transport, notably planes. And we often have to travel at rush hour, using routes prone to gridlock.

However, we now have the opportunity to make a major difference to the world by creating leaner, greener corporate travel policies. And we have a chance to tap into the spirit of our workforce too: according to studies carried out in the UK in 2020, over three-quarters of employees now consider a company's green credentials when considering a new role. By getting ahead of this trend, we can engage our workforce and acquire emerging talent.

For business travel planners, however, this is a significant challenge. We have to look for efficiencies at all points in the travel chain, and this is often no easy task with so much vague and conflicting information out there.
What TravelPerk offers
GreenPerk, launched in partnership with atmosfair, enables companies to offset 100% of their carbon emissions of their trip - for a fee which works at only 4% of the cost of the average trip price.

GreenPerk also provides access to real-time tracking that enables users to see exactly how much carbon their business is producing. With this information, they can look for those one-percent efficiency gains and make more sustainable travel choices.

5. Providing freedom to our employees
On top of all the other factors we have to deal with right now, we have to ensure that we don't micro-manage our employees when they go away.

In a world that has been redefined by remote working and new technologies, employees demand more freedom than ever - and this applies to their travel experience, too. If we try to manage our employees' every move when they're away on business trips, we'll simply lose them.

So while we have to ensure that they're COVID-19-safe, that they're fulfilling our environmental commitments and they're keeping their invoices for VAT purposes, we need to provide travel solutions that give our people some space when they're on the road, too.
What TravelPerk offers
An automated management tool enables users to define their company policy and approval workflow for business travel, so employees have the freedom to book and manage their own trips. Using this software, you can set a budget for your employees' travel spend, define the strictness of your approval process and add manual approval barriers where needed. It's a solution designed to suit the new, remote world and employees' desire for autonomy.

Did you find this article useful?
If you did, please follow us on our social media accounts on LinkedIn or Instagram. Please share the article with your friends or colleagues!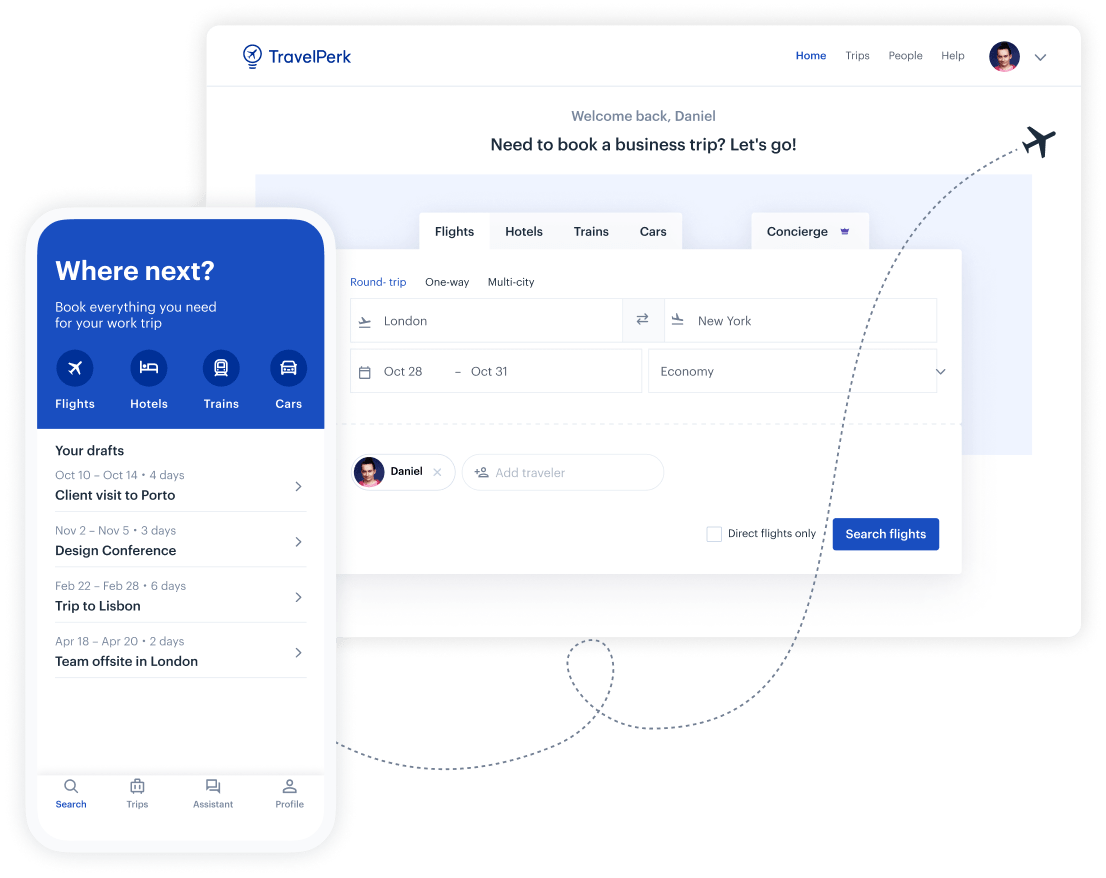 Make business travel simpler. Forever.
See our platform in action. Trusted by thousands of companies worldwide, TravelPerk makes business travel simpler to manage with more flexibility, full control of spending with easy reporting, and options to offset your carbon footprint.

Find hundreds of resources on all things business travel, from tips on traveling more sustainably, to advice on setting up a business travel policy, and managing your expenses. Our latest e-books and blog posts have you covered.

Never miss another update. Stay in touch with us on social for the latest product releases, upcoming events, and articles fresh off the press.