When businesses take sustainability seriously, it couldn't be more meaningful. True business sustainability means more than just selling 'eco-friendly' products and reducing emissions. Sustainable businesses operate with purpose, so they have business models that value social and environmental impact as much as financial profit.
Since corporate sustainability has probably never been more important than it is today, we've put together this collection of statistics on the latest sustainability trends. They should give you a good idea about the importance of sustainability in business, and offer an insight into how much progress we've made so far.
Are companies becoming more sustainable?


Why is sustainability important in business?
Business and the environment are closely connected
Customers care about sustainability issues
How does sustainability benefit a business?
Finances and the bottom line
Sustainable investing on the rise (sustainable finance)
In 2021, 74% of institutional investors said they were more likely to divest from companies with poor sustainability performance. - IMD
Employees
Make your company more sustainable with GreenPerk
As these statistics make quite clear; sustainability has never been more important in business, and in many cases, businesses are not embracing it enough. At TravelPerk, we help our customers reduce their business travel carbon footprint through GreenPerk.
GreenPerk allows you to offset your business travel carbon footprint in a way that's transparent, affordable, and impactful. If you sign up for GreenPerk we will:
Calculate your carbon footprint for you.
Collect your funds in a pool. (0.9% of travel cost)
Invest the funds in VERRA certified carbon offset projects that make an impact.
Help you offset 100% of your business travel CO2 emissions.
Provide you with 100% transparent reports.
Offer 0% commission forever.
If your business is on a journey to become as sustainable as possible, with GreenPerk, we've got your journeys covered. We'll help you offset your travel-related emissions as transparently, affordably, and impactfully as possible.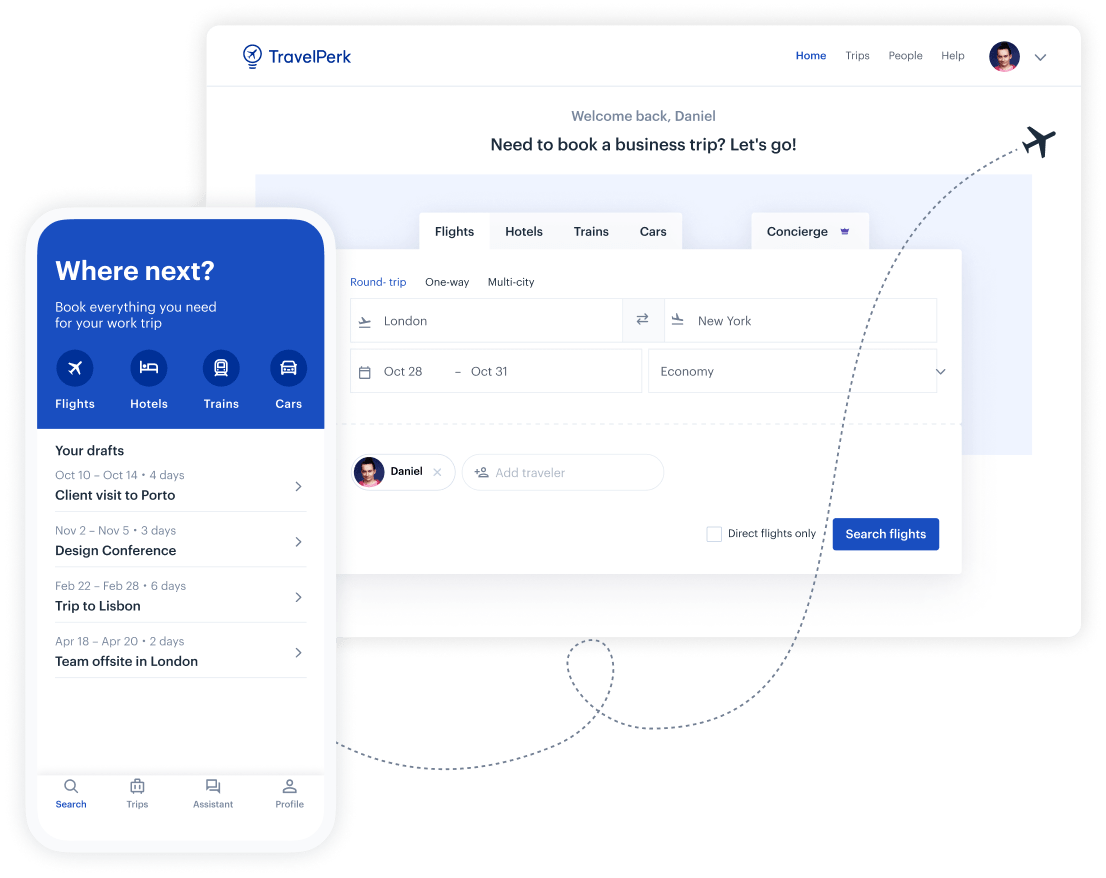 Make business travel simpler. Forever.
See our platform in action. Trusted by thousands of companies worldwide, TravelPerk makes business travel simpler to manage with more flexibility, full control of spending with easy reporting, and options to offset your carbon footprint.

Find hundreds of resources on all things business travel, from tips on traveling more sustainably, to advice on setting up a business travel policy, and managing your expenses. Our latest e-books and blog posts have you covered.

Never miss another update. Stay in touch with us on social for the latest product releases, upcoming events, and articles fresh off the press.