If you're a frequent flier, the hassle of squeezing travel-sized containers into a clear plastic bag will be familiar. Liquids, creams, gels, aerosols, and pastes must be in cabin-friendly 100ml / 100g containers inside a resealable quart-sized bag. Rules allowed a maximum capacity of 1 liter per person.
Between your toothpaste, deodorant, hand sanitizer, and other essential lotions and potions, many passengers found their little bags bursting at the seams. Plus, while you may arrive prepared for security screening, lengthy queuing still eats into time better spent relaxing in the airport lounge.
Thankfully, changes to the liquid limit are already happening in parts of Europe, including London and Milan, with other cities set to follow. So why do the current 100ml liquid restrictions exist?
Unbottling the 100ml rule
The 3-1-1 liquids rule at airports was introduced in 2006 to prevent liquid explosives from being carried onto planes after a foiled terrorist plot in which chemicals concealed in drink bottles would have been used to down multiple transatlantic flights. Initially thought to be a temporary measure, the 100ml liquid limit has remained in place in case of other possible threats.
There are a few exemptions for breast milk, baby food, essential medical purposes, or special dietary requirements, although these vary by country. Liquid items bought on planes or in airports, including duty-free, are also allowed if sealed inside a tamper-evident bag with your receipt.
But change is in the air
New technology means that simpler air travel may be on the horizon. High-tech computed tomography (CT) scanners are being introduced at airport security checkpoints, enabling their screening process staff to see the contents of carry-on baggage more clearly.
CT X-ray technology produces detailed 3D images which can be rotated to provide more reliable information to security officers. This new technology will allow passengers to keep liquid and electrical items inside their carry-on luggage and potentially carry liquids of more than 100ml per bottle, saving time and money and ensuring an overall smoother security experience.
In the UK, the government has announced that the 100ml liquid limit in hand luggage will be increased to 2 liters at UK airports following trials at London Gatwick, Heathrow, and Birmingham airports.
"The tiny toiletry has become a staple of airport security checkpoints, but that's all set to change," said Mark Harper, UK Transport Secretary. By 2024, all major airports across the UK will have been updated with the latest security innovations."

Source
But these wide-scale changes will take time to roll out. Estimations in 2022 stated it would take 2 years to implement the upgrades fully. Until they are finalized, travelers must continue to pack liquids according to the existing 100ml rules.
Still, the new liquid allowance is already in place at Teesside International Airport in North Eastern England and London City Airport (LCY). The latter is under 10km from the British capital's financial district, making it a great hub for business travelers looking to take advantage of this new tech!
Benefits to business travelers
Adding CT scanners at airports across the US means that regular travelers will experience a similar process to those with access to TSA PreCheck lanes. In these lanes, passengers can enjoy shorter wait times and don't need to remove liquids, electronics, shoes, or belts, simplifying the security process. As stated on TSA's website, in June 2023, an average of 88% of PreCheck passengers enjoyed a wait time of 5 minutes or less.
LCY's scanners can scan over 550 trays per lane each hour. According to Alison FitzGerald, the airport's COO, this allows them to get 30% more passengers through security every hour.
As well as reducing wait times, the new liquid rules should make packing your cabin bag more efficient and cheaper. The increased liquid allowance would remove the need to buy expensive travel-sized toiletries and spare the hassle of decanting liquids into 100ml containers.
Other countries ahead of the curve
Ireland
Donegal and Shannon Airports have had CT scanners since late 2021. These scanners mean that the 100ml limit on liquids no longer applies, and passengers can travel with larger volumes of liquids as long as they fit inside their cabin bags.
In June 2023, Dublin Airport opened new C-3 security scanners. Dublin Airport Authority's Group Head of Communications, Kevin Cullinane, announced "We've now replaced 6 lanes with traditional x-ray machines with these new, 3 dimensional scans which provide instant imaging for the security officers.
"The 100ml liquid restrictions still apply for now, but when this program is fully completed, people can pass through as they please and go through these scanners in due time." Terminal 2 is due to be completed early next year.
United States
The Transportation Security Administration (TSA) has been installing CT scanners at airports across the US since 2021. As of April 2023, approximately 634 CT units were installed, with a further 1200 units planned.
While many major airports like Los Angeles' LAX and New York's JFK have had CT scanners for several years, the TSA is now looking to make air travel easier across smaller airports too. Austin-Bergstrom International Airport in Texas and TF Green Airport in Providence, Rhode Island, are among those set to receive the technology.
However, the liquid limit is still enforced for now, with the TSA expecting this to remain the same for several years. You can follow @AskTSA on Twitter for updates.

Where else are upgrades happening?
The new technology enables airports to lift the liquid cap, but in Europe, regulations still currently limit liquids to 100ml with a total of 1 liter per passenger. Once these regulations are relaxed, airports with the new CT scanners installed will be ready to lift the restrictions.
To complicate matters further, some European countries and airports have chosen to operate under local laws, with some locations already offering increased limits.
France
Groupe ADP, which operates 3 airports in the Paris region, began testing new explosives detection equipment for cabin baggage at Orly-Paris airport's Terminal 3 in October 2022. The trial, scheduled to continue for a year, lets passengers keep their electronics and liquids in 100ml containers inside their carry-on bags.
Italy
You can already travel through Rome–Fiumicino International Airport's Terminal 1 without removing liquids and electronics from your cabin bags, and Terminal 3 is currently being updated. The 100ml liquid limit remains in place at present.
Meanwhile, in Milano Linate Airport and Malpensa Airport's Terminal 1, there are no longer restrictions on the containers and volume of liquids as long as your cabin baggage remains within the weight and size set by your airline.
Spain
Spain's Barcelona-El Prat and Madrid-Barajas airports will be upgraded with 3D scanners from the end of 2023. It's expected that Palma de Mallorca and Malaga-Costa del Sol's airports will receive the new technology in 2025.
By 2026, it's anticipated that they will also be installed in Gran Canaria, Tenerife Sur, Lanzarote, Fuerteventura, Alicante, Ibiza, Menorca, Valencia, and Bilbao. Although the 100ml rule is still in place, it's anticipated that this will change in line with the introduction of new scanners.
Germany
Munich Airport unveiled 5 CT scanners across Terminals 1 and 2, and Nuremberg Airport opened its first scanner this year. Both Bavarian airports plan to complete their upgrades to these new systems by 2026. For the time being, the current liquid restrictions still apply.
Czech Republic
Václav Havel Airport Prague's Terminal 2 is planning to unveil CT scanners allowing an end to the 100ml liquid restrictions as early as 2024, with the roll out across Terminal 1 later.
Packing for your next trip
For now, you'll likely still need to follow the 3-1-1 liquids rule, as countries have varying technology and regulations. While CT scanners are slowly rolled out, airports might not be able to guarantee passengers access to this innovative system.
Layovers and transferring through other countries present further complications for travelers, with restrictions on liquids in cabin baggage still being enforced at other airports along their route.
As you can see, as a corporate traveler, staying up to date with the latest domestic and international travel regulations can be challenging!
TravelPerk's TravelCare informs business travelers of relevant restrictions for upcoming trips in real-time, while 24/7 customer support takes the stress out of planning, letting you focus on that important pitch!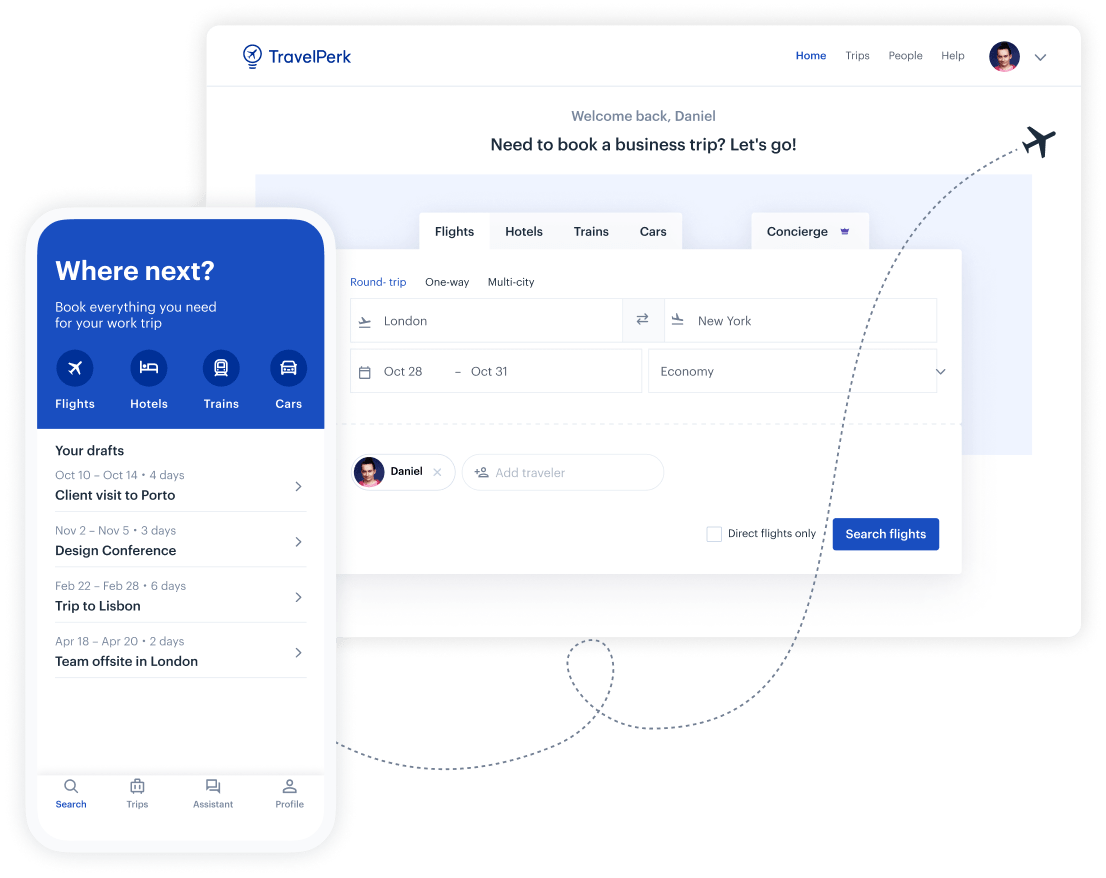 Make business travel simpler. Forever.
See our platform in action. Trusted by thousands of companies worldwide, TravelPerk makes business travel simpler to manage with more flexibility, full control of spending with easy reporting, and options to offset your carbon footprint.

Find hundreds of resources on all things business travel, from tips on traveling more sustainably, to advice on setting up a business travel policy, and managing your expenses. Our latest e-books and blog posts have you covered.

Never miss another update. Stay in touch with us on social for the latest product releases, upcoming events, and articles fresh off the press.