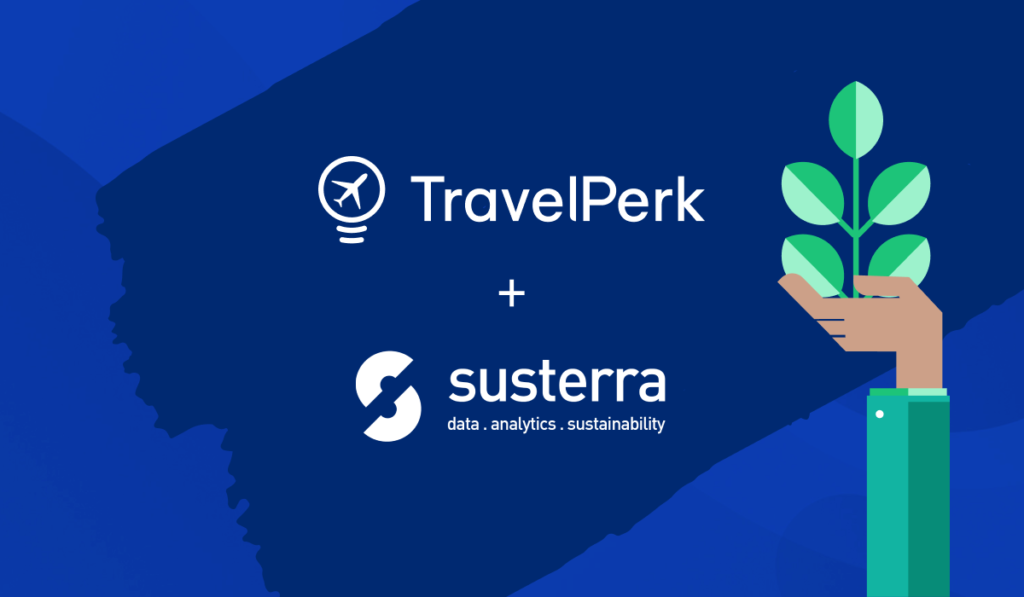 TravelPerk doubles down on sustainable business travel, acquiring startup Susterra.
TravelPerk completes Susterra acquisition as part of ongoing investment in sustainability
Susterra provides businesses with accurate data reports that enable sustainable travel
This is TravelPerk's 4th acquisition after the company acquired the UK's largest business travel platform Click Travel in July
London and Barcelona, 30th September 2021: TravelPerk, the largest global travel management platform, has today announced the acquisition of UK corporate travel sustainability consultancy firm, Susterra. This is TravelPerk's fourth acquisition and the latest step in its mission to help all businesses travel sustainably.
As the need for face to face meetings increases, so does our responsibility to our planet. Susterra, founded by environmental scientist James Dent, uses cutting-edge data analytics technology to offer companies a holistic view of their entire business travel-related environmental impact. Susterra's reports help businesses gain actionable insights that empower them to improve their carbon efficiency, reduce costs, and achieve their sustainability goals. It covers everything from flights, hotels, car hire, and rail travel with unparalleled accuracy and reliability.
With sustainability taking an increasingly serious seat at the table, companies are seeking solutions to propel their green initiatives. Susterra's software enables businesses to implement clear and practical policies and emissions targets by providing a range of reduction methodologies. "The path to more sustainable business practices starts with visibility", says James Dent, and this philosophy forms the basis of Susterra's offering. Susterra uses the industry-standard ICAO Methodology, ensuring customers can be confident in the accuracy and impact of the platform.
Susterra further strengthens TravelPerk's world-class sustainability offering. It builds on the success of GreenPerk, which allows companies to offset 100% of their carbon emissions. Customers will have access to an end-to-end solution that incorporates everything from reporting to offsetting. Together with TravelPerk's focus on achieving net zero business travel, which includes an expanded rail inventory in the US and Europe, sustainable travel can now truly be within any company's grasp. Susterra's technology will be integrated into the platform in the coming months.
Susterra's founder, James Dent, is an environmental scientist who has led various clean energy generation projects for the Africa Enterprise Challenge Fund (AECF) in Southern Africa and research projects at the UK's Tyndall Centre for Climate Change Research. James will join TravelPerk as an ESG Sustainability Data Analyst to help further develop the company's sustainability product offering.
The acquisition is the latest in a series of milestones for TravelPerk. In January, TravelPerk acquired its US rival NexTravel. In May, the company announced $160m in Series D funding to fuel its global growth, taking the total amount raised to date to $294m. This was followed by TravelPerk's July acquisition of Click Travel, the UK's largest business travel provider, making TravelPerk the biggest SMB business travel platform globally.
Ross McNairn, Chief Product Officer of TravelPerk, commented:
"The meetings that matter will always happen in person so companies will always need their employees to travel in order to meet customers, prospects and teams face to face. That said there is massive demand from our clients to enable these meetings with the lowest possible impact on the environment. It's for this reason that we are investing heavily in helping our clients get a true representation of their footprint so that they can consciously take mitigating action both through TravelPerk and their own programs. Sustainability is a long game and we want to be leaders in this transition.
"Susterra's software is unique in terms of the accuracy, granularity and actionable insights it offers businesses that want to adopt a sustainable, responsible travel strategy. We are delighted to have Susterra joining the team and cannot wait to roll out this ground-breaking technology as part of our industry-leading sustainability offering."
James Dent, Founder of Susterra, commented:
"Increasingly, businesses do want to take the right steps to reduce their carbon footprint, but they are unsure of what actions they can take to make a positive impact. Business travel is of course a significant part of this so I created Susterra to help employers make the right decisions with confidence. TravelPerk is already a leader in this space thanks to the success of GreenPerk and I'm thrilled to be working with Ross and team to build on this success. Together, we can help to change global travel behaviour at scale and bring us closer to the goal of helping businesses be net zero by 2030."
About TravelPerk
TravelPerk is the next-generation business travel platform pioneering the future of business travel. TravelPerk's all-in-one platform gives travelers the freedom they want whilst providing companies with the control they need. The result is saved time, money, and hassle for everyone.
TravelPerk has the world's largest travel inventory alongside powerful management features, 24/7 customer support, state-of-the-art technology and consumer-grade design, all of which are enabling companies and organisations worldwide such as TransferWise, Revolut, Monzo, Farfetch and US rugby association, to get the most out of their travel.
Backed by world-class investors like DST, Kinnevik, Target Global, Felix Capital, Greyhound Capital, Spark Capital, Heartcore, LocalGlobe, Amplo, 14W—investors in some of the most disruptive companies in tech including Zalando, Slack, Trello, Twitter, Farfetch and Delivery Hero — TravelPerk is reinventing business travel with an end-to-end solution that works. Visit www.travelperk.com for more information.