About the Integration
👉When a booking is made on TravelPerk, the itinerary is sent automatically to the travelers' Emburse Certify expenses wallet making it effortless for them to submit the expenses for approval. Access TravelPerk directly from Emburse thanks to SSO (Single Sign-On) without the need to add credentials twice.
Policy Compliance
Travel policies are difficult to enforce after expenses have been submitted, but with this integration, end users are policy-compliant when booking, as the hotels, flights, and car rentals are shown have been approved as part of company policy.
Savings
Administrators can negotiate discounted corporate rates if they can show a certain level of travel expenses. They can use those discounts to make individual trips better and less expensive for their employees.
Everything on a Single System
Most business expenses are related to travel, so having a single system on which travel is booked and expenses are recorded makes sense for the employees of the end-user and for finance teams. Finance teams can see the expense even before it is entered, because they can see the reservations, allowing them to manage cash flow.
Smart Corporate Cards
With Emburse Cards we can offer virtual or physical cards linked to the specific trip. This makes travel a breeze for end-users, as they don't have to use their own cards, and helps businesses reduce fraud.
🌎Region supported: UK, EU
👉 Requires TravelPerk Premium or Pro Plan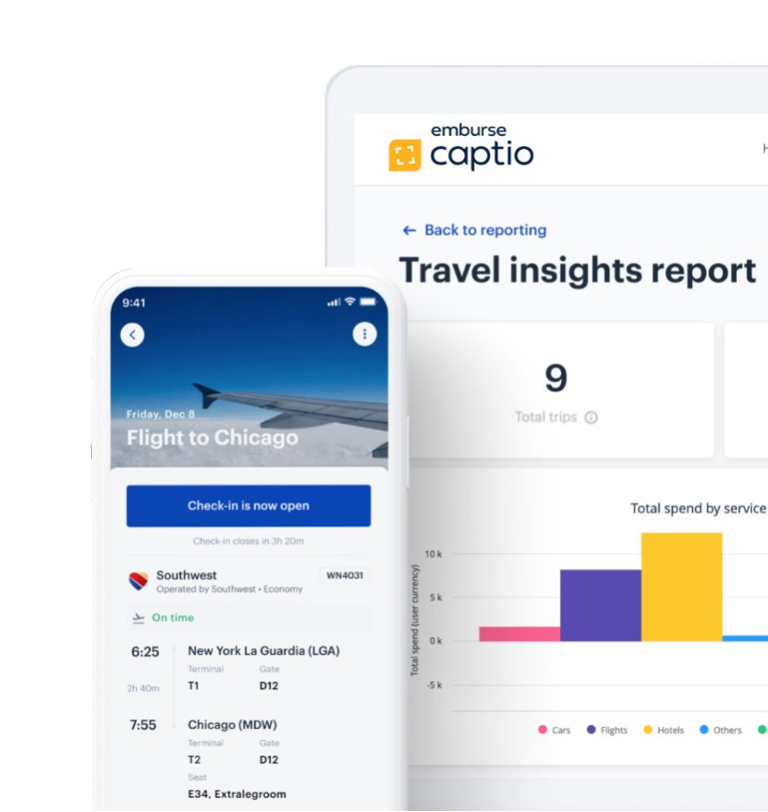 About Emburse
Emburse is the world's most intuitive, trusted, and powerful expense management and AP automation solution. Designed to meet the demands of today's and tomorrow's workforce, our technology empowers employees and keeps spend in compliance.
Key Features:

• Eliminate tedious and error-prone manual data entry
• Save time and help employees focus on the work that drives your business forward
• Streamline reconciliation and reduce reimbursement times
• Automatically enforce compliance with built-in policy controls
• Gain company-wide visibility into spend
• Built for global commerce with support for 140+ currencies and 64 languages