Author: Sandi Hemmerlein
During the "golden age" of travel, air travelers and aircraft alike were glamorous. Every flight was a place to see and be seen.
But with the downfall of luxurious airlines like Pan Am (which went out of business in 1991) came an influx of cheaper, more accessible flight options that made flying feel less like riding a limousine in the sky and more like taking the New York City subway or a Greyhound bus. Though economy class offerings have made a public transportation mode that used to be reserved only for the rich and the business traveler more accessible, it's a ticket class that comes with some downsides.
More passengers are being crammed into tight quarters in airplane cabins—especially in economy class. Worse yet, the seats are getting smaller. In some cases, they've shrunk by several inches, according to Forbes.
Too-small seats aren't just uncomfortable; they may also be unsafe. The FlyersRights advocacy group has argued that the packed-like-sardines configuration could negatively impact the safety of the flight and the time it might take to evacuate the plane in case of emergency.
Yet, while the Federal Aviation Administration does regulate how many seats are allowed on a plane, the agency declined to impose a standard seat size. This means airlines have no consistency, even in the same fare class. One carrier's economy could leave you feeling footloose and fancy-free; another's could leave your knees knocking into the seat before you.
Thanks to varying plane models in any given fleet, a wide range of experiences is also possible within a single airline. Economy is not even a single class in the main cabin nowadays but has gotten carved into several premium upgrade areas (sometimes just a few individual seats or a couple of rows).
Economy seat space offered by each of the 10 major U.S. airlines
Since it's become more difficult to feel comfortable on flights, travelers may want to do extra research before taking that next trip. To help prepare you for your journey, TravelPerk looked at SeatGuru data on economy seat space offered by each of the 10 major U.S. airlines, listed below alphabetically.
In airline speak, the seat pitch—the distance between one chair's seat back and the one behind it—is the best legroom measurement. It's also the yardstick by which most passengers judge their comfort level, and it's what tends to get sacrificed when airlines want to fit more seats onto their planes. But other factors affect spaciousness besides legroom—including seat width and a few others that might surprise you.
See which airlines offer the most room for your buck and plan accordingly on your next flight.
Alaska Airlines
- Minimum seat pitch: 30
- Maximum seat pitch: 38
- Minimum seat width: 17
- Maximum seat width: 18.25
When Alaska Airlines acquired Virgin America in 2016, it added several aircraft to its fleet—including planes featuring popular, brand-specific purple lighting in the interior. As of 2019, all the aircraft were repainted to remove Virgin branding, although some interior features remain. The entire mixed fleet is pretty consistent in terms of its seat layout and legroom: No matter which plane you board, you'll get a minimum of 30 inches of legroom in economy and, in some cases, as much as 32 inches without paying more.
If width is a priority, stick with the Airbus A319, the Airbus A321, or—the most miniature model in the fleet—the Embraer 175, operated by partner carriers Horizon Air and SkyWest Airlines. Unfortunately, the Embraer lacks in-flight entertainment and other standard amenities for larger planes. When booking online, click "Preview Seats" to see the plane model and seating arrangement before committing to your chosen itinerary.
If all else fails, Alaska's "customers of size seating guidelines" stipulate you could reserve two adjacent seats and receive a refund upon completion of travel, which accommodates not only passengers whose bodies might spill over past the armrest but also those whose long legs need to splay out sideways.
Your guide to the best travel management companies
Experience efficient business travel management with top-rated software that offers comprehensive features, streamlined expense tracking, and enhanced data analysis for hassle-free business travel.
Allegiant Air
- Minimum seat pitch: 30
- Maximum seat pitch: 34
- Minimum seat width: 17
- Maximum seat width: 17
Despite its ultra-low-cost status among budget-friendly airlines, Allegiant Air offers the average legroom in its economy class (about 30 to 31 inches)—with some seats letting you stretch out a little farther, with as much as 3 inches above average. Unfortunately, there's a trade-off involved: Flying Allegiant means squeezing into the narrowest seats sold by U.S. airlines, none of which recline.
The Las Vegas-based carrier—a relative newcomer in the U.S. market, founded in 1997—operates all-economy short-haul flights with no first- or business-class options and zero inflight amenities beyond food and drink items for purchase.
However, you can get an extra 4 inches of seat pitch for an additional charge by choosing one of its fleet's Legroom + seats (either front- or exit-row). Reserving any seat on an Allegiant flight ahead of time will cost you—but since extra legroom is limited to just 18 seats, they'll likely be snapped up before you're automatically assigned a seat at check-in.
American Airlines
- Minimum seat pitch: 30
- Maximum seat pitch: 40
- Minimum seat width: 16.5
- Maximum seat width: 19.3
In 1964, The New York Times reported the maximum seat pitch on American Airlines increased from 34 to 36 inches. More recently, American has been squeezing more seats onto its planes—and these days, the distance between seat backs on many American flights is as low as just 30 inches. You can do a little better in the legroom category if you upgrade to Main Cabin Extra or Premium Economy—both are better than regular economy but not as good as Business—like on the Boeing 787 Dreamliner. One factor that affects legroom, however, is something you might not think of: The built-in entertainment system (like the one on the 737-800 model) takes up a lot of space, so flights with streaming-only entertainment offerings are actually roomier, according to SeatGuru.
Delta Air Lines
- Minimum seat pitch: 30
- Maximum seat pitch: 38
- Minimum seat width: 16.79
- Maximum seat width: 19
If you want to maximize your legroom on a Delta flight, you'll need to go beyond the basic fare—but you won't need to leave the main cabin. You could spend a bit extra for 34 inches of seat pitch at the Delta Comfort+ level—available on the entire Delta fleet and all Delta routes, no matter the plane model or destination.
Or you could do even better and splurge on the Delta Premium Select level, typically offered on international flights, with a 38-inch seat pitch. That's impressive, as 38 inches in premium economy is roomier than "flying first" on Delta's Boeing 717 and some of the other wide-body planes, like the 737s and 757s.
Premium Select seats also recline more—making it feel like you've got more space in front of you. It provides other benefits, too, like priority boarding and a dedicated overhead bin.
Listing the top travel management software options
Elevate your corporate travel management with our concise guide, enabling streamlined processes, cost reduction, and enhanced ROI through a modern travel management software.
Frontier Airlines
- Minimum seat pitch: 28
- Maximum seat pitch: 38
- Minimum seat width: 18
- Maximum seat width: 18
Frontier's all-Airbus fleet offers below-average legroom on the lower end—with the Airbus 320 offering the most sardinelike experience. Like other budget airlines, Frontier's fleet includes single-class planes—but if you'd like to improve your "coach" experience, you could select Frontier's Stretch seating option when you're purchasing (the only way to guarantee one of these limited-quantity seats) or at check-in (pending availability).
With Stretch seats, you'll sit in either one of the exit rows or the first three rows of the plane, and you'll get to extend those legs an extra 5 to 7 inches. They're also the only Frontier seats that recline. The upcharge for Stretch depends on the type of fare you select and whether your transaction occurs online, via the call center, or in person at the airport. Just note that you can't pick and choose Stretch seats on certain legs of your trip; they're for the entire itinerary.
Hawaiian Airlines
- Minimum seat pitch: 30
- Maximum seat pitch: 31
- Minimum seat width: 17
- Maximum seat width: 18
If you're island-hopping on Hawaiian Airlines—and traveling short distances from, say, Maui to the "Big Island"—you might not be as concerned about your airplane seat literally cramping your style. But if you're flying between Hawaii and the mainland, you're in for at least six hours in your seat—and getting a charley horse mid-flight is anything but relaxing.
The standard economy class legroom on all Hawaiian flights averages 30 to 31 inches, but there is a way to get more. On the Airbus A321neo, you can opt for 35 inches in Extra Comfort in the main cabin, and on the Airbus A330-200, you'll get 36 inches in Economy Comfort. Extra Comfort seats will also feature on the new Boeing 787-9 Dreamliner planes Hawaiian is taking to the skies in early 2024—promising "maximize seat space" with "more shoulder and hip room," according to a press release.
JetBlue
- Minimum seat pitch: 32
- Maximum seat pitch: 41
- Minimum seat width: 17.8
- Maximum seat width: 18.4
The affordable air carrier JetBlue, based in New York City, has come a long way since its founding in 1998. Back then, all the aircraft were entirely economy class—but now, the Mint planes (Airbus A321) give business-class passengers the option of a closed suite or an open flatbed on transcontinental flights (namely, between New York and California). However, the rest of the fleet is outfitted with Even More Space seats and some of the best legroom a U.S. airline can offer.
Of course, those roomier seats come at a higher cost and are available for advance booking or upgrades closer to your travel date. Even in the regular economy-class seats (now called Core) you'll get above-average legroom and premium in-flight amenities like seatback TV screens featuring live DirecTV, on-demand programming, and satellite radio channels; power outlets in every row; and free high-speed wireless internet for the duration of the flight. But if you want to choose your seat in advance, you must select a Blue fare class or pay an upcharge with Blue Basic.
Southwest Airlines
- Minimum seat pitch: 31
- Maximum seat pitch: 33
- Minimum seat width: 17
- Maximum seat width: 17.8
While Southwest frequent flyers have learned to "game" the first-come-first-served seat selection process by checking in for their flights as soon as they're eligible, even those in Zone A in the boarding line at the gate can't get a leg up on the extra room.
In Southwest's all-economy class fleet of Boeing 737s, air travelers will find a relative amount of uniformity in seat comfort and roominess—with zero seating upgrades and no calling dibs on seats in advance. Its two larger planes—the 737 MAX 8 and 737-800, both with a 175-passenger capacity—offer the most legroom, but it's just an inch or two more than the 737-700 model.
For "customers of size," an additional seat can be purchased ahead of time and refunded later—but even if you take your chances that the flight's not sold out and extra seats will be available, you'll need to consult a departure gate agent upon arrival. Only they can advise whether Southwest can offer a complimentary additional seat and provide you with a boarding document to place on the empty seat next to you.
Spirit Airlines
- Minimum seat pitch: 28
- Maximum seat pitch: 38
- Minimum seat width: 17.75
- Maximum seat width: 20
Spirit Airlines is tied with Frontier for the lowest minimum seat pitch offered among all U.S. domestic airlines. Although this Florida-based carrier doesn't provide business- or first-class seats, it is possible to pay a little extra to reserve a seat with more legroom ahead of time in one of the Big Front Seats, offering up to 6 inches more space. But the Big Front option isn't available on every plane Spirit flies: It's missing from the Airbus A320-200 (Layout 2) model.
Fortunately, you can see the plane model and the seat availability before selecting your flight on Spirit's website by clicking "Seat Map" on your chosen itinerary. Otherwise, there's a level playing field between the plane models in terms of entertainment and business amenities offered in standard economy class (called Deluxe Leather on Spirit)—which, unfortunately, are none.
However, this could change if the impending merger with fellow low-cost airline JetBlue goes through and Spirit begins flying JetBlue planes (which could finally bring in-flight entertainment to Spirit passengers).
Planning your next big trip?
United Airlines
- Minimum seat pitch: 30
- Maximum seat pitch: 43
- Minimum seat width: 16
- Maximum seat width: 18.5
The potential for the most legroom comes from United, whose mainline fleet of 813 planes includes both narrow (single-aisle) and wide-body (dual-aisles) aircraft, with the Boeing 767-300ER (Layout 2) topping out at up to 34 inches of legroom in economy and potentially 9 extra inches in Economy Plus on the Boeing 767-300EE (Layout 1) plane.
The standard economy seats in Layout 2 of the Boeing 767-300ER are also the widest in the entire fleet. To keep you comfortable and help the time pass more quickly, most United flights offer on-demand in-flight entertainment and access to, at minimum, shared power outlets in every row. And most United seats recline, to boot.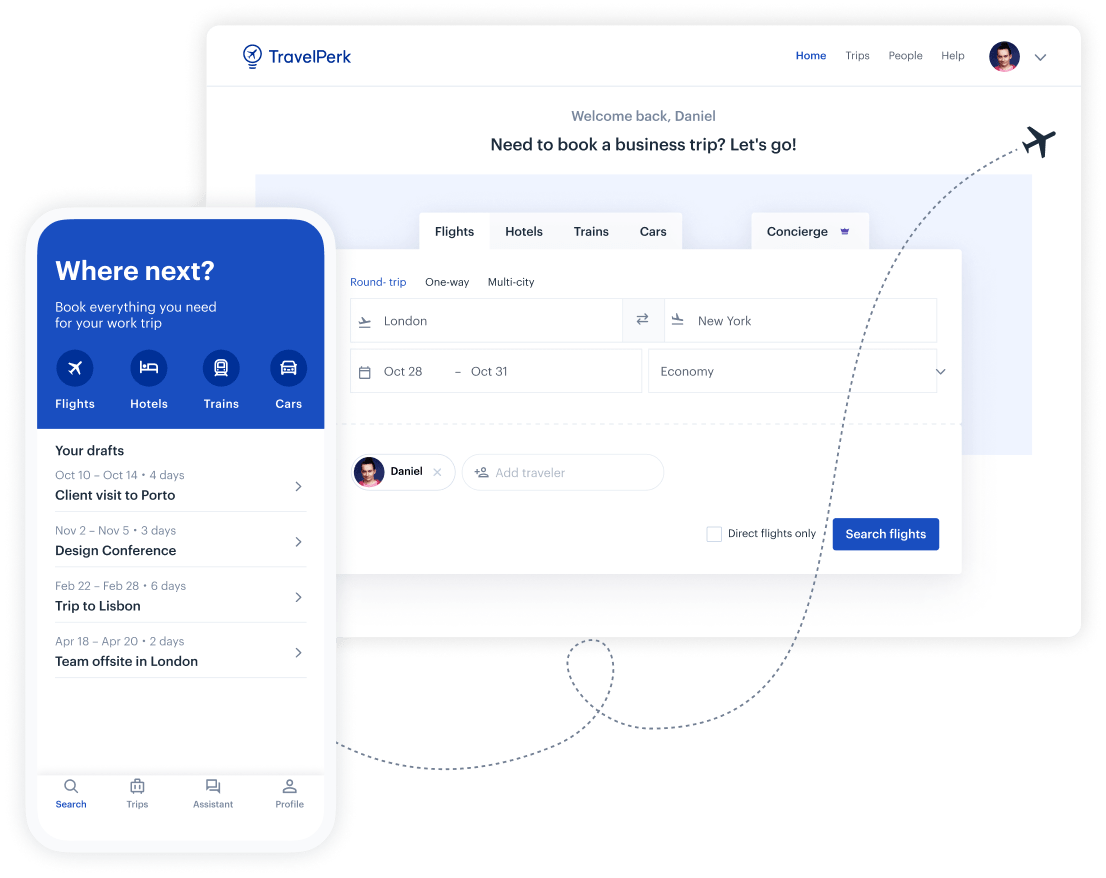 Make business travel simpler. Forever.
See our platform in action. Trusted by thousands of companies worldwide, TravelPerk makes business travel simpler to manage with more flexibility, full control of spending with easy reporting, and options to offset your carbon footprint.

Find hundreds of resources on all things business travel, from tips on traveling more sustainably, to advice on setting up a business travel policy, and managing your expenses. Our latest e-books and blog posts have you covered.

Never miss another update. Stay in touch with us on social for the latest product releases, upcoming events, and articles fresh off the press.