Ready to immerse yourself in and hear the latest trends dominating your industry? Want to get a first glimpse at the latest ideas changing the game in your sector? Or network with peers and build business connections that last? What better way to do that than by attending a trade show?
If you are looking to pencil in some inspiring events in your new diary, look no further. Below we share our top 14 European exhibitions for 2023.
TravelPerk's Meetings & Events team can help you book venues and get exclusive discounts on group travel
When: 3rd - 7th February 2023
Where: Frankfurt, Germany
An international trade fair dedicated to consumer goods par excellence, Ambiente covers FMCG across "spaces", including the Dining area (kitchen, table, household), the Living area (interior design, textiles, furniture), the Giving area (gifts, accessories, school supplies), the Working area (office goods), and more.
This year's conference will focus on major topics affecting the world of consumer goods, including sustainability, design, lifestyle, and future retail, among others. Nearly 5000 exhibitors have announced their participation in 2023's Ambiente expo and will share valuable inside information on the future of consumer goods and retail. It's one for the books!
When: 27th February - 2nd March 2023
Where: Barcelona, Spain
The premier event for those working in tech, MWC returns to the Fira exhibition center in sunny Barcelona in February. This top international trade show covers a wide range of topics from robotics to medical technology while offering unparalleled chances to meet key decision-makers.
Keynote speakers this year will include representatives from some of the continent's most influential companies, including the CEO of Orange Group, the Chairman and CEO of Telefónica, and the President and CEO of the Ericsson Group, among others. As well as the best opportunities to network with tech CEOs outside of North America, visitors can also sit in on masterclasses from the crème de la crème of Silicon Valley.
When: 14th - 15th March 2023
Where: Amsterdam, Netherlands
Dedicated solely to independent hoteliers, this trade show is a must-attend for anyone exploring new and innovative solutions for their hotels. Whether you seek inspiration from designers, or are looking to introduce some of the latest technology to your hotel, the Independent Hotel Show will cater to your every need. A lively seminar program is planned for 2023, with exhibitors and speakers from internationally renowned businesses like IH., TechnoGym, HotelCore, and more.
The trade show also boasts an exciting awards contest where participants can be recognized for the "best independent hotelier", the "best hotel concept", and the "hotel partnership of the year" Attending this year's conference is sure to provide any hotelier with the tools they need to increase profitability, efficiency, and identify key trends affecting the industry.
When: 16th - 17th March 2023
Where: Brussels, Belgium
The ultimate trade show for the laboratory sector, Laborama is the place to go to learn from a stellar list of exhibitors. ThermoFisher Scientific, NovaLab, Microtechnix, and European Lab Services among many other companies will be exhibiting at this year's conference, among many other industry leaders.
Attendees will also be able to participate in a series of scientific sessions, explore the latest technologies and products on the market, and network with other professionals, brands, and manufacturers over this 2-day event. Don't miss out!
When: 16th - 20th March 2023
Where: Bologna, Italy
As the leading trade show for the entire beauty sector, Cosmoprof should top any beauty professionals' list of conferences for 2023. With two sub-events taking place within these dates, you'll focus predominantly on perfumery and cosmetics from the 16th-18th of March, and hair, nail, and beauty salons from the 17th-20th of March.
Last year's edition saw over 2700 exhibitors from more than 70 countries display the latest trends, technologies, and goods in the sector. Some of 2023's key highlights will include the World Massage Meeting, CosmoTalks, and OnHair - an event completely dedicated to haircare. There's no time to lose - start planning your trip to Cosmoprof 2023 today!


When: 20th-22nd March 2023
Where: London, United Kingdom
Hospitality professionals can head to the British capital to attend the world's leading trade fair in food and drink. This international conference hosts over 30,000 exhibitors, wholesalers, and entrepreneurs looking to sample and source new products each year for over four decades.
An ideal opportunity to discover the latest trends and forge relationships with the top providers, in 2023, the expo will feature a startup market, a distributor discovery hour, and a meet the buyer program, among others. Whether you're in the restaurant business, the next big thing in confectionery, or just really love food, this is the place to be. Don't forget to check out the best of the best at The World Food Innovation Awards and the Certification Clinic to get advice from industry experts.
When: 13th-16th April 2023
Where: Cologne, Germany
Media outlets and decision-makers from the world of healthcare and fitness will be descending on Cologne in spring to attend the industry's most innovative event. Bursting with entrepreneurs and start-ups keen to break the next fitness craze, FIBO has been the launchpad for several renowned wellness trends, including Zumba and EMS.
With over a third of participants attending to invest, FIBO is a fantastic opportunity for health and wellness brands to expand their image and meet a broader audience. Some of 2023's main exhibitors will include Tanq UG, Jerai Fitness, and Gymwood, among several others.
When: 16th - 17th May 2023
Where: Munich, Germany
Automotive industry professionals, rejoice! This is the ultimate event for you. One of Reuters Events' largest conferences in Europe, Automotive Europe 2023 will bring together leading professionals from across this critical industry. It will discuss issues like the transition to electric vehicles, autonomous cars, vehicular safety, and much more. Hear from sector leaders from companies like Polestar, Hyundai, Opel, VW, and more at this exciting conference.
For an added bonus, add the Automechanika trade show to your list of events for 2024. Coming back in September 2024 at the Messe Frankfurt convention center, this duo of automotive trade shows is sure to inspire any professional in this industry!
When: 24th - 25th May 2023
Where: Birmingham, United Kingdom
The pandemic has undoubtedly shifted the world of retail. With online shopping on the rise, this UK-based trade show is the destination for anyone interested in expanding their e-commerce offerings. Frequented by well-respected global brands, 2023 speakers will include representatives from the likes of Mastercard, Diageo, Stripe, Amazon Shipping, Trustpilot, and more.
With something for everyone, this year's workshops and masterclasses will cover topics such as automation, ad optimization, brand loyalty, cross-channel personalization, affiliate marketing, algorithm orchestration, and telecoms and tax regulations, to name but a few.
When: 14th-17th June 2023
Where: Paris, France
Undoubtedly Europe's largest trade event for the tech industry, the 2022 edition reached over 400 million people. This year, at the 7th edition of the trade show, attendees will deep dive into designing the future of tech. Looking at AI, cybersecurity, metaverse, and more, this is the place to be for investors, entrepreneurs, or simply those looking to get ahead of the tech game!
With some of the largest brands in attendance, guests of Viva Technology are treated to keynote speeches from the biggest names in tech. Previous speakers have included Apple CEO Tim Cook and the founders of industry giants like Klarna and Slack. A haven for those looking to raise their profile, start-ups can participate in the accelerator contest to get in front of top investors.


When: 27th - 28th September 2023
Where: London, UK
In September, online traders can network and explore new strategies to streamline their business at the E-commerce Expo in London. Guaranteed to leave with tons of food for thought, past sessions included topics like Move over Millennials, there's a new online shopper in town, and How to remain relevant as email evolves.
With plenty of chances to meet top-tier executives, attendees can also hear insights from industry leaders. 2022 saw fantastic talks from American TV personality Steve Allen, Depop Global Brand Marketing Lead Jumoke Adekunle, and Mastercard EVP Channel Partnerships lead Scott Abrahams.
When: 22nd - 24th October 2023
Where: Paris, France
If you like your products organic and wrapped in renewable plastic, pencil in a trip to the French capital for this environmentally focused international exhibition. At Nat Expo, over 850 exhibitors and 10,000 buyers join to share the latest organic offerings from food to wellness and hygiene.
Passionate about shaping a more sustainable supply chain, this eco-friendly event includes innovative pitches from start-ups looking for support for their zero-waste initiatives. Plus, businesses can battle it out for the Nat Expo trophy, which awards the most original and practical product of each year's exhibition.
When: 13th - 16th November 2023
Where: Dusseldorf, Germany
The biggest event in medicine is headed to Dusseldorf in November. For over four decades, Medica has brought together industry thought leaders to share the latest research and developments across various disciplines. Hosting several thousand exhibitors, attendees can network with tens of thousands of the top minds in medicine.
Delegates can listen in on forums covering technological and scientific discoveries before exploring the future of the field at the Medica Startup Park. Med-tech applications also have their chance to shine in a fierce competition, where winners can take home cash prizes and marketing services to promote their innovative solutions.
When: 22nd - 23rd November 2023
Where: London, United Kingdom
Set to be the largest yet, the 2023 edition of the Business Show will be it5 44th and will play host to over 500 exhibitors, 200 speakers, and 200 unmissable seminars and masterclasses. Guests can enjoy learning from business leaders from companies like Meta, Google, Dell Technologies, Cisco, Bupa, and many more.
This year's topics will focus on things like the remote work revolution, expanding your business internationally, as well as upskilling and retraining employees in the new world. Hosted at London's ExCel Center, it's perfectly located just a short distance away from the main financial district.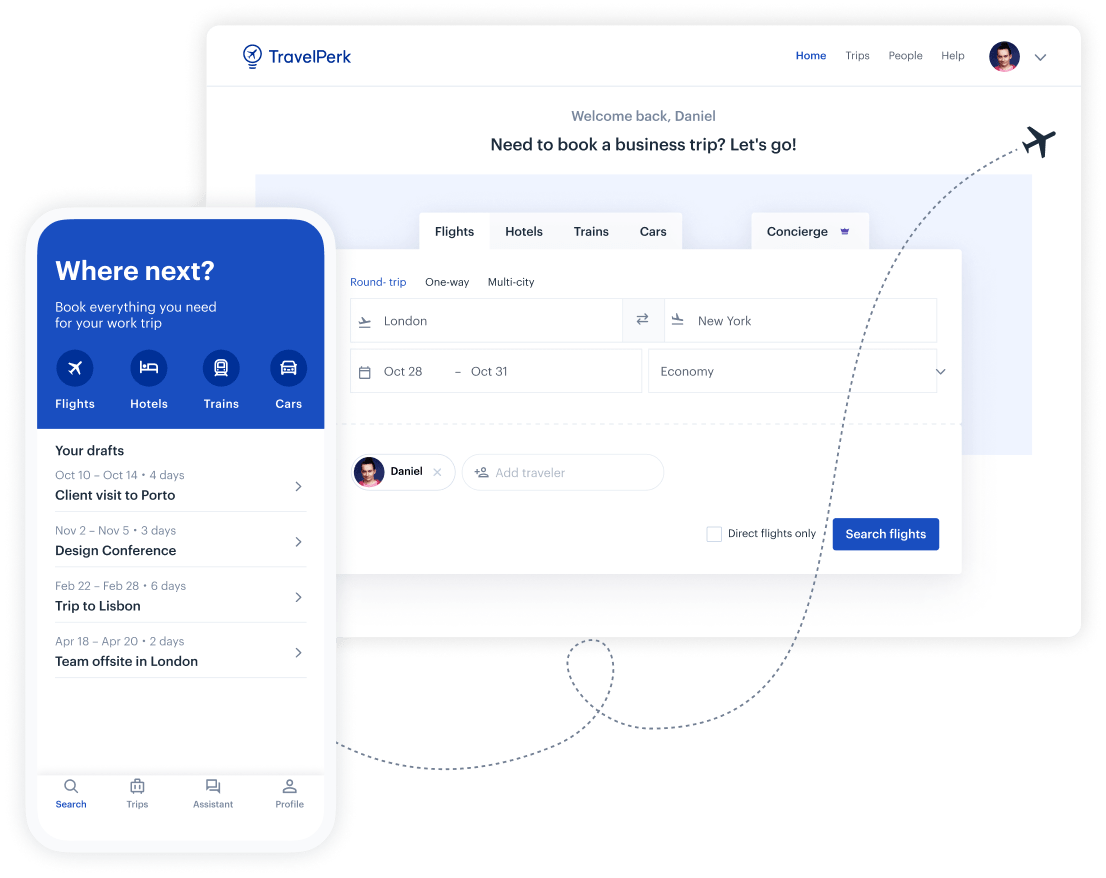 Make business travel simpler. Forever.
See our platform in action. Trusted by thousands of companies worldwide, TravelPerk makes business travel simpler to manage with more flexibility, full control of spending with easy reporting, and options to offset your carbon footprint.

Find hundreds of resources on all things business travel, from tips on traveling more sustainably, to advice on setting up a business travel policy, and managing your expenses. Our latest e-books and blog posts have you covered.

Never miss another update. Stay in touch with us on social for the latest product releases, upcoming events, and articles fresh off the press.