Booking business travel is no easy task, we know, we've been there. Whether you're looking to keep your business trips within Australia, or your business is taking things overseas, a travel management company is a great solution to help make your job easier, cut back on costs, and run smoother trips for your employees.
In this guide, we'll share six of the best corporate travel management companies that provide the very best travel management solutions in Australia.
The benefits of using a travel management company
Before we get into our top six Australian-based travel companies, let's affirm some of the benefits of using a travel management company and align on where this collaboration can take you.
Easily book and manage trips: all from one solution. Your TMC will enable you to book and get oversight of every business trip without shifting through virtual piles of excel sheets.
Keep travel costs low: Your TMC has most likely spent years fostering B2B relationships and securing you the best deals on flights, accommodation, cars, and more.
Ensure employees stay within budget: It can be tough to ensure everyone books within your travel policies. Smart solutions can help you automate this process.
Easily submit travel expenses: Submitting or collecting expenses is often a cumbersome task that your travel management solution will help you streamline for every stakeholder.
Features to look for when choosing a travel management company
A significant travel inventory
You'll need dates, times, prices, and travel types that suit your employees' schedules as well as your budget. Make sure your travel management company offers an inventory that not only brings you what you need, but offers you what you didn't know you needed too: rail tickets, VIP options, car rentals, and fully-serviced apartments—the works.
A centralised system
There are some travel management platforms that work with third-party companies and then end up having very little to show for their own software. Look for a platform that offers their own centralised system as well as offering easy integration with the tools you're already using.
Flexible booking options
Travel remains unpredictable whether you're travelling in Australia or beyond the reef. You'll need a travel management company that's able to act on their feet and react to change—fast.
Helps implement your own business travel policy
Handing the company card over to an employee is a big responsibility; however, having one person in charge of booking and managing company travel is also a lot of responsibility.
A TMC that's able to apply your booking policies to employees' travel is a healthy middle ground, to ensure you're giving employees travel autonomy, ensuring your travel booking processes are scalable, and keeps everything within budget and company travel policies.
Personalised service and excellent customer support
Keeping employees on the go means supporting them outside of office hours, and most TMCs provide around-the-clock customer support. However, look for those TMCs that offer exceptional customer support rather than just necessary customer support.
Pay attention to their customer support reviews, ensure they've got a rapid response time, and pick the TMC that will turn any travel hiccup into a happy experience.
Reporting with real-time data
The power of a good dashboard! Find a TMC that offers booking and expense reporting dashboards that your team will be able to interpret and act on. This process should be able to give you cost breakdowns of all your business travel, and for your team to be able to segment this data down to locations, employees, travel types, and more.
6 of the Best corporate travel companies for businesses based in Australia
1. TravelPerk
TravelPerk is considered one of the best travel management solutions on the market. TravelPerk has a solid presence across the globe and is a popular solution for SMBs right through to 500+ employee corporates.
Whether you need to organise a meeting in Melbourne, hop on a plane to New Zealand, or plan a trip on the other side of the world, TravelPerk has you covered.
Some of TravelPerk's most raved-about features are:
Flexible bookings with FlexiPerk: Cancel your trip up to two hours before departure and receive 80% of your money back—no questions asked, no "please hold" music needed. 
Carbon offsetting with GreenPerk: Offset 100% of your business travel's carbon emissions by opting in for TravelPerk's conscious travel solution.
Largest travel inventory worldwide: TravelPerk has the largest travel inventory worldwide for your travel program. Whether you're looking for flights, accommodation, rail, car rentals, or serviced apartments, TravelPerk will bring you the best fit for your travel needs.
24/7 Support: Around-the-clock travel experts, with 7-star service and a target 15-second response time, means that your travellers are looked after, no matter where they are or what time they need help.
Travel Policy integration: say goodbye to bottle-neck approval processes and automate your employees' bookings with an integrated policy.
Event management: if you're in need of cost-effective events, be them little or large, TravelPerk helps manage attendees, group bookings, scheduling, picking locations, and more.
Integration with 3rd-party software: TravelPerk already integrates with the tools you use: Slack, Expensify, Gympass, Deskpass, FREENOW, and so many more.
If this list of travel management services isn't enough for you, TravelPerk has garnered over 1,000 reviews on G2 and average at a 4.6-star rating out of 5. Take a look at what users are saying about TravelPerk right here.
See how TravelPerk makes business travel stress free
2. CTM
With headquarters in Brisbane, CTM is a local one for those businesses in Australia. They're a more specialist travel management solution, catering mainly to the marine and energy sectors.
CTM's features include:
Online booking tool to assist with travel arrangements: It has a handy fare forecaster that can help provide travellers with flight travel news on possible price hikes or drops.
Generate reports to monitor business spending: To keep track of your employee expenses, you can generate reports easily.
There are a few integrations provided by CTM but not as many when it comes to TravelPerk. With FlexiPerk's features, you've got access to more flexible rates and friendlier cancellation allowances than you would with CTM.
3. Complete Business Travel
Complete Business Travel has fifteen years of experience in the travel industry. Headquartered in Queensland, they have a personalised approach to booking travel. Some of their features include:
24/7 Support: Always a great feature to have is the support of a travel agent at any time, day or night.
Flexible and transparent pricing: Full visibility is provided to clients when it comes to travel spending and getting the best travel information on pricing.
Local expertise for travel with partnerships: CBT is partnered with a number of Australian organisations to help offer a wide range of travel providers.
While CBT has a good travel inventory, it doesn't match the variety that TravelPerk offers. With TravelPerk you also benefit from a much more user-friendly and intuitive mobile app, which is where CBT seems to be lacking.
4. Orbit World Travel
For luxury and experiential travel management, Orbit World Travel is a well-known option for Australian companies. It's one of Australia's largest locally-owned travel management companies, with a good variety of travel solutions. Let's take a look:
Responsive, tech-rich travel platform: Orbit World Travel offers a platform that's tech-rich and trustworthy.
Offers a variety of travel types: From corporate, event travel, educational and holiday travel, it provides all types of travel for businesses.
Expense and report services: Get all you need when it comes to employee expensing and creating reports for data analysis and travel strategy optimization.
While this platform does offer plenty, TravelPerk certainly has much more third-party integrations creating happier customers able to work with TravelPerk from day one. OWT is also specifically tailored to corporate travel, so may be out of reach for SMBs.
5. Corporate Traveller
As a travel management solution, Corporate Traveller provides one platform for all your travel booking needs. It's intuitive in its tech features and support services, making it a valid option for Australian businesses. Let's explore some of their features:
Online booking tool: Great for staff bookers to self-book any and all corporate travel
Concierge services: Helps business travellers make the most out of their itineraries—wherever they're going
Despite CT being a good provider for corporate travel, TravelPerk has a few added extras such as the carbon offsetting solution to hit those sustainability goals.
Click below to compare both platforms' features and benefits
6. Spencer Travel
Spencer Travel is trusted by many Australian businesses as their travel management company. They offer plenty of travel services to the corporate sector in particular and lift the travel experience, although business travel isn't their niche, which may show in their delivery and execution of your business travel strategy.
Nonetheless, here are their top offerings for you to explore:
24/7 Support: Around-the-clock support is provided to all staff bookers looking to hand over the care of their employees whilst not in the office.
Exclusive airfares and accommodations: With their connections in the travel industry, you get access to exclusively negotiated airfares, accommodations, and car rentals.
A range of online solutions available: From Serko/Zeno's online booking tool and BI reporting, they're working with third parties to try and bring a good solution to their customers where they're not able to with internal resources.
Spencer Travel is a reasonable competitor for TravelPerk, but this business travel management company and its offerings doesn't quite come close to the feature-rich options that TravelPerk customers know and love.
You'll find more corporate rate options available when it comes to TravelPerk's airline, accommodation, and car rental providers, as TravelPerk specialises in business travel whereas Spencer Travel doesn't.
It's time to make booking corporate travel simple
With a corporate travel management platform in place, it's never been easier as a travel manager to organise corporate travel and finally ditch working with multiple travel agencies. It's time to get that return on investment for business travel that your company deserves.
You don't need an award-winning travel company, but you do need one that's trusted by hundreds of happy customers. Take a look at TravelPerk testimonials on Capterra and G2. If you've not already explored the potential benefits of a travel management software, make sure TravelPerk is first on your list! Try TravelPerk today, for free!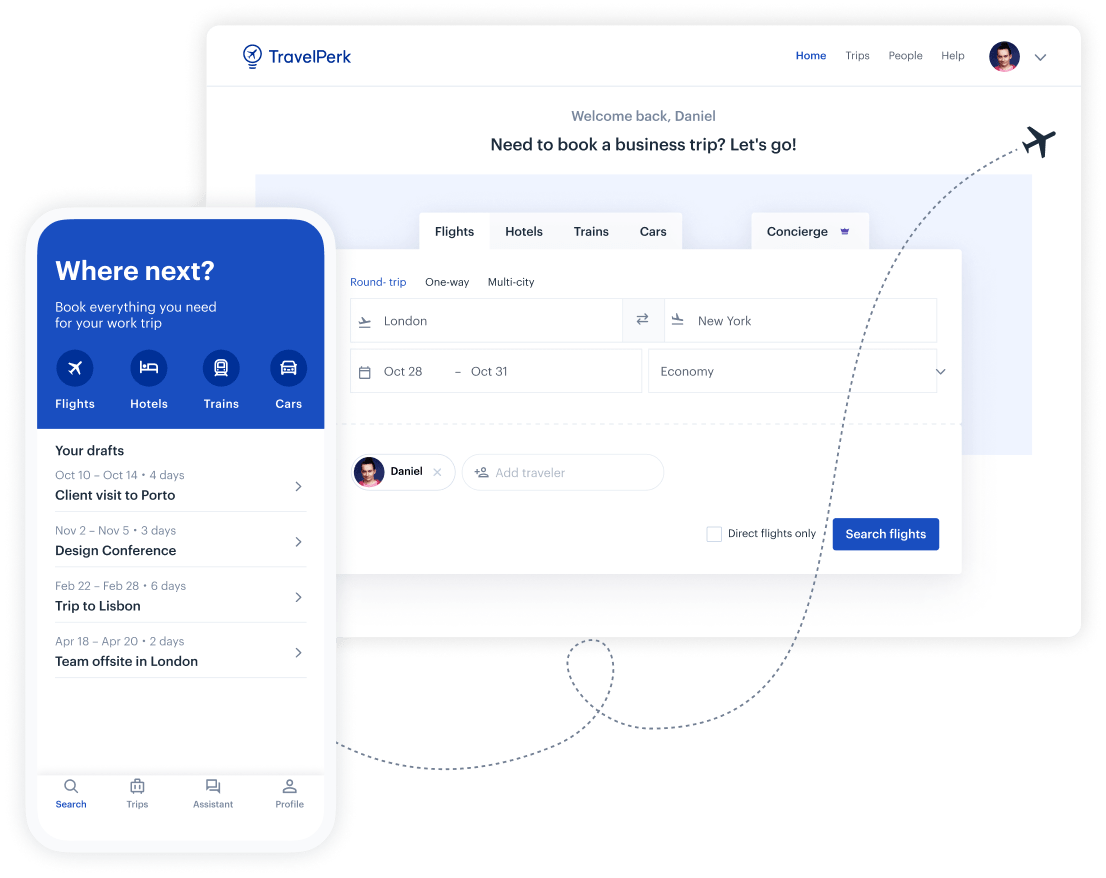 Make business travel simpler. Forever.
See our platform in action. Trusted by thousands of companies worldwide, TravelPerk makes business travel simpler to manage with more flexibility, full control of spending with easy reporting, and options to offset your carbon footprint.

Find hundreds of resources on all things business travel, from tips on traveling more sustainably, to advice on setting up a business travel policy, and managing your expenses. Our latest e-books and blog posts have you covered.

Never miss another update. Stay in touch with us on social for the latest product releases, upcoming events, and articles fresh off the press.