Whether your business travel is scaling fast or you're looking to bring more stability to your current program, it could be a good time to consider a managed travel program.

This short article will guide you through the benefits you can expect, the difference between a managed and unmanaged corporate travel program, and those nuisance tasks you'll be able to wish goodbye to.


What is a managed travel program?
A managed travel program is when a business outsources its employee travel logistics to a TMC (travel management company). The TMC handles anything and everything concerning travel and business—so the business can focus on doing what it does best.
What's the difference between a managed and unmanaged travel program?
There's quite a drastic difference between a managed and unmanaged travel program.

If you have an unmanaged travel program right now, it means your employees are booking their travel themselves. They'll likely reach bottlenecks in the booking process while awaiting approval from management or getting a budget. This delay can lead to some costly travel expenditures as airfare prices increase.

Otherwise known as an open booking policy or self-booking program, employees take travel coordination into their own hands. Employees will have to speak directly with suppliers and have limited insights on travel options or how to spend and track their travel budget best.

A managed travel program takes care of all types of travel bookings, saving everyone time, money and providing a more joyful travel experience. Traditionally, TMCs handle your booking for you. However, TravelPerk puts the power back in the hands of the traveler with a user-friendly tool—eradicating the associated stress of booking travel.
7 Benefits of switching to a managed travel program
Both travel managers and business travelers may be surprised what making the switch to a managed program can do.
Centralized reporting gives access to all types of booking data, expense management, department spend, reimbursement, and more. This enables your business to make data-driven decisions for future travel.
Easy booking provides an overview of popular 3rd party booking platforms accumulated on one platform—at rates you won't find anywhere else. TravelPerk's online booking tool has the world's largest inventory to choose from.
Everything under one roof: book, cancel, change, get support, view itineraries, get directions, all from one mobile app.
Travel policies need to be adhered to for your travel program to scale. A managed travel program ensures exactly that.
Expert consulting via in-house travel specialists. Managed travel program teams can provide insights and ideas to optimize your travel spend and make cost savings while maintaining a best-in-class travel experience.
Vendor and invoice consolidation is tricky with unmanaged programs. Chasing down VAT receipts, juggling invoices, and managing expense reporting for airfares are just a few on the list.

A TMC handles all of this when you opt for a managed travel program while benchmarking spend goals and making travel process enhancements along the way.
Risk management ensures you're looking after your employees as best as possible the second they step outside your (digital) offices. Crisis management features deliver real-time alerts on locations important to your travelers and deliver a duty of care to your team.
It's time to manage your travel better
Travel management doesn't need to be a headache. You don't have to battle with travel agencies, dread business trips, or fear your corporate travel policy. 

Corporate travel services are changing. 

A managed travel program is ready to help you build a more positive and autonomous company culture, streamline booking processes for employees, and provide travel solutions to enhance your travel needs. 

Consider TravelPerk's managed travel program, save on all travel costs and ultimately bottom-line financials. With TravelPerk, you'll build a travel booking experience that takes you places. 
Start saving money on business travel for your company today!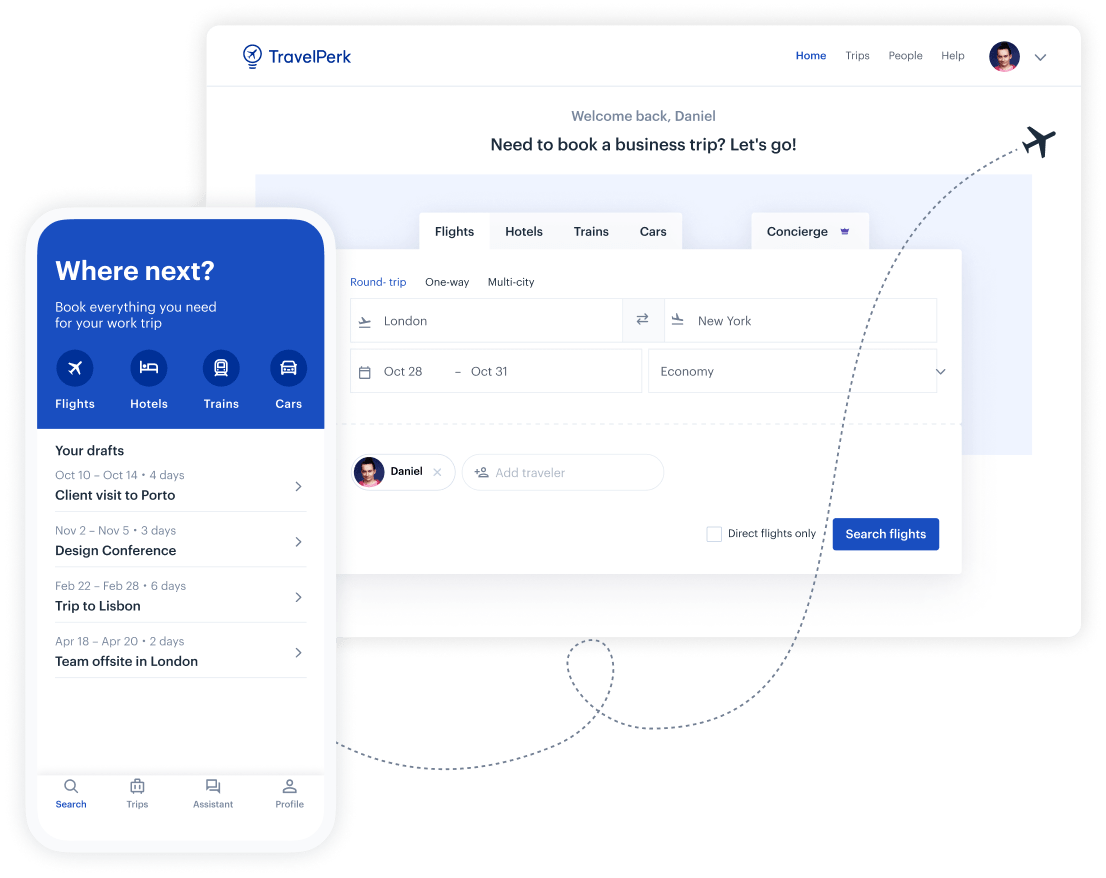 Make business travel simpler. Forever.
See our platform in action. Trusted by thousands of companies worldwide, TravelPerk makes business travel simpler to manage with more flexibility, full control of spending with easy reporting, and options to offset your carbon footprint.

Find hundreds of resources on all things business travel, from tips on traveling more sustainably, to advice on setting up a business travel policy, and managing your expenses. Our latest e-books and blog posts have you covered.

Never miss another update. Stay in touch with us on social for the latest product releases, upcoming events, and articles fresh off the press.