Let's face it. Your corporate travel policy is not the most exciting thing in the world. In most cases, it's buried somewhere in the appendix of your employee handbook and only your office manager really knows what's inside it. Each day, millions of companies worldwide waste thousands of hours manually enforcing business travel policies and suffering through endless back-and-forth before booking a flight or deciding on a hotel.
Here's what business travel looks like from each stakeholder's point of view:
Travelers are in the dark on booking deadlines, which cabin class is allowed and how much they spend on a hotel depending on the city. They walk on eggshells around their boss hoping they didn't overstep by booking that boutique hotel downtown instead of the motel by the airport.
Admins have to walk that fine line between imposing their company's travel policy while also providing a good experience to their traveling colleagues. On top of all their other responsibilities, they have to handle bookings and travel plans for their entire company, then track down invoices and reconcile receipts with a dozen different vendors for every single trip.
Managers are flying blind. Forced to choose between an unmanaged policy brimming with invisible spend or constantly playing the bad guy by enforcing a rigid managed travel program that bottlenecks the booking process and frustrates travelers and admins alike.
And that's if your company even has a travel policy. Thousands of companies don't and they pay severely for it. In many cases, governance doesn't take place until the expense reports are submitted, weeks after the trip. Managers are left with two impractical options: either accept the out of policy spending or penalize the employee for booking out of policy. Obviously the best time to enforce your travel policy is before the trip actually takes place, not after.
Well, what I'm about to tell you will change all that.
Your company's travel policy is about to get a well-deserved upgrade to the 21st century. In a world full of intuitive mobile apps and AI-powered tools that do all the heavy lifting to simplify your life, business travel will no longer be stuck in the dark ages.
Today is the day your company evolves from its wasteful and inefficient past of unmanaged business travel to the future: a simple, turnkey managed travel program that governs itself and saves you time and money.
So are you ready for the big news?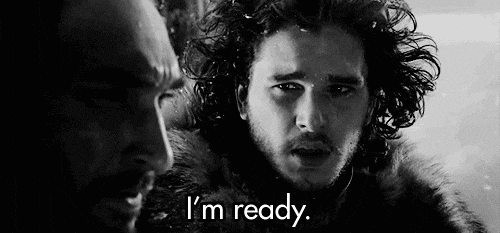 Today, we launch our new Travel Policies & Approvals Workflows to the TravelPerk platform.
Since our inception, we aimed to disrupt business travel. Take this fragmented, painful element of the business world and make it automatic and streamlined. We began with inventory. No more bouncing between Skyscanner, Booking.com and Amadeus and other platforms endlessly searching for the lowest fares and best travel times. TravelPerk features the largest flight and hotel inventory in the world.
Now, we're taking on governance and control by automating the whole thing.
That's right. From this day forward, every small and medium sized business in the world will have an automated, transparent business travel policy that just works. Automagically.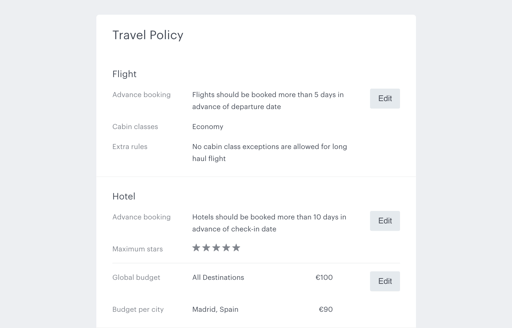 In under 2 minutes, administrators and office managers can now set their travel policy guidelines once and automate the rest. They can define governance rules that exactly match their personal preferences, allowing for autonomous self-booking or approval alerts for pending bookings before authorizing each purchase. Here are some of the things you can now do with TravelPerk:
Set the number of days in advance a traveler must book a flight or hotel
Place limits on the price of a hotel by destination
Allow different cabin classes based on flight duration
Allow travelers to book directly or make the bookings for them, even in groups
Automate the approval process or manually authorize each pending booking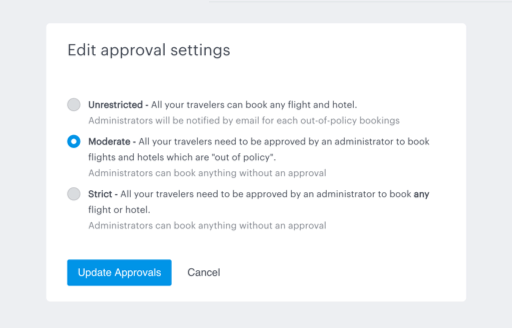 That's just the beginning. All communication, bookings, approvals, and invoicing now take place within the TravelPerk platform. That means no more mile-long email threads or hunting down receipts. It's all managed for you and fully contained within a single TravelPerk account, ready whenever you need it.
Of course, all of these new superpowers still come with the added value TravelPerk has delivered since day one:
The world's largest inventory of flights, hotels and transportation.
Single booking engine with all payments and invoices consolidated into one account
Instant reports and a real-time travel dashboard to track spend and optimize policies
24/7 concierge and traveler support for emergencies and unanticipated itinerary changes
Oh and by the way, it's all still 100% free. Forever. And ever.
So if you're currently suffering from the chaos of an unmanaged business travel free-for-all or just unsatisfied by an old, rigid legacy corporate travel tool, get ready to be happy.
Join TravelPerk today and become a business travel superhero! (cape sold separately)
Already using TravelPerk? Check out the new Travel Policy Generator for yourself
Learn more here: