If you travel a lot—for business or pleasure—you might be tired of the standard travel experience:
long check-in lines at the airport
expensive luggage fees
crowded airport gates with no outlets to charge your phone
cramped seating on the plane
screaming babies
Need we go on? One of the best ways to enhance your travel experience is to fly business class. A business class ticket doesn't just let you sit in the front of the plane. Depending on the airline, business class tickets can include:
access to airport lounges (and free food!)
personalized service
lie-flat seats or additional space on the plane
additional miles earned, free baggage, or other perks
As air travel demand grows post-pandemic, there's a growing demand for hassle-free business travel as well. Knowing how, when and where to find business class flights can make the difference between accessible luxury and overpriced Economy.
How to book business class flights
There's two main ways to book business class flights—either directly with the airlines, or through an online travel agency (OTA) that offers business class airline tickets (not every OTA does). Which option you choose depends on what you need—we'll break down the pros and cons of each.
Online Travel Agencies (OTAs)
OTAs can be a convenient way to find business class flight deals, especially for travelers who have (or need) more flexibility.
Pros:
With industry expertise and connections, OTAs can find more relevant options and better deals than you could have found on your own.
A wide range of travel suppliers and options allow you to easily search and compare multiple airlines, routes and itineraries at once.
Get access to negotiated rates or corporate discounts—meaning more options and better deals.
Cons:
Not every OTA offers every fare class. For example, some OTAs might only sell up to Premium Economy, while others might only sell all fare classes for some airlines.
Some OTAs offer limited flexibility, even with business-class tickets. When you're booking through a third-party, be sure you understand the third-party's booking and cancellation policies as well as the airline's.
What are the best OTAs to book business class flights?
With so many OTAs on the market, how do you find the best ones for booking business class flights?
1. TravelPerk
TravelPerk is a travel management platform and one of the best places to book business class flights, especially as a business traveler.
With negotiated rates and some of the most flexible cancellation policies in the industry, TravelPerk allows you to search, compare, book and manage corporate travel, plus manage reimbursements, VAT refunds and more—all in one platform. 
Start saving money on business travel for your company today!
2. Kayak
Kayak is a great OTA, especially for leisure travelers. It offers a wide variety of fare classes, from Basic Economy to First Class.
Keep in mind that not every route and airline offers Business or First Class fares, so you might have to do some searching to find the right combination of route, class and airlines to meet your needs.
3. Skyscanner
Skyscanner is also a good OTA for leisure travelers, offering a variety of fares from Basic to Business. However, at the time of writing, Skyscanner can only provide premium class fares when searching specific locations or dates.
As such, you won't be able to use their calendar or flexible location feature to find business class prices, so you'll need to search for best prices manually instead.
Booking directly with airlines
Alternatively, you can book business class fares directly with the airline. However, booking directly with the airline also has its own pros and cons:
Pros:
Compare all of the available fare classes at once (as opposed to an OTA, where you usually have to select your desired class in the search).
Easier to compare perks and rewards of various fare classes. Since each airline offers different benefits with each class, booking directly is a good way to understand what is included and which fare class is best for you.
Some airlines offer additional perks for booking direct, such as selecting your preferred seats upfront, or taking advantage of exclusive offers.
Easier to book travel using points or mileage.
Cons:
Often more expensive to book directly with the airline than to book through an OTA, especially if your company has access to corporate fares.
More difficult to search and compare various airlines and routes to ensure you're getting the best price.
If you need to book accommodation as well, you'll have to book using a separate provider, which gives you multiple invoices and suppliers to manage. If you book with a business OTA, like TravelPerk, you'll get just a single invoice and a single supplier in case you need support or have to make a change.
Can be more difficult to get reimbursed if you need to submit expense reports through a travel management platform.
In short, if you're not extremely price conscious or want to book reward travel using points or mileage, booking directly with the airline is likely your best option.
What are the best airlines to book business class flights?
Most major airlines have some type of premium cabin, but the price—and quality of the upgrade—varies widely by airline and flight type.
For example, international flights typically offer a better business class experience—with lie-flat seats, additional privacy, premium food and an all-around superior travel experience. However, domestic "first class" tickets typically only offer more space on the plane and premium service.
Some of the best business class airlines include:
Delta Air Lines
American Airlines
Emirates
British Airways
Lufthansa
Iberia
Qatar Airways
Singapore Airlines
Business class cabins on these airlines offer a luxury travel experience on long-haul flights, such as flights from the US to Japan, Hong Kong, Dubai or Europe.
What's the difference between business class and first class?
Each airline defines fare classes differently, so the distinction between business class and first class can vary based on airline and route.
For example, on US-based domestic flights, there's generally only a few fare classes. Basic Economy and Economy class tickets offer your standard travel experience, while first class offers increased comfort, additional leg room, early boarding and other perks.
However, on long-haul flights, there may be many fare classes, including both business class and first class options. In most cases, Business Class tickets offer more space and privacy alongside other perks, while First Class tickets offer a truly luxury experience, with lie-flat seats, private suites, expansive airport lounges and more.
How to save money when booking business class flights
While business class fares aren't typically cheap—often costing 2-3x more than Economy—there are still ways to save money when booking business class flights. Keep these tips in mind to get the best deals while still flying in comfort:
Leverage frequent flyer programs. Frequent flyer or airline loyalty programs are one of the best ways to save money on business class flights. Your accrued airline miles can be used for upgrades (i.e. from Economy to Business class) or to purchase Business class fares at lower rates.
Even though Business Class fares are often 2-3x more expensive than Economy fares, they don't always cost 2-3x as many reward points to book or upgrade, making miles an effective (and more affordable) way to score cheap business class tickets.
Credit card points and rewards are also an effective way to find cheap business class flights, as many credit cards—especially airline credit cards—have significant sign-up bonuses and additional rewards that make it easy to earn miles.
Book far in advance or last-minute. In general, booking 4-6 months in advance typically gives you the lowest business class rates. However, if you need to book a last-minute flight, Economy seats will likely be selling at a premium, while business class seats may not be much more expensive comparably.
Be flexible. If you're really looking for the best deals on first class flights, be as flexible as possible when searching for and booking flights. Vary your departure dates, try a nearby airport (such as Newark instead of JFK), or book two one-way tickets instead of a round trip flight.
Travel during off-peak seasons. As with any fare class, peak-season pricing will be the most expensive. To score cheap business class flights, try to avoid peak travel periods—and keep in mind these can vary for business vs. economy fares.
For example, most business travelers fly on Mondays and Fridays, so booking midweek travel dates can save money. In addition, traveling business class during holidays or school vacations can also net you lower fares, as fewer business class passengers are flying during those periods.
Take advantage, when possible, of corporate travel deals. Many companies have discounts negotiated with airlines, or have access to corporate travel booking platforms, like TravelPerk, that offer negotiated deals or exclusive fares. If you're traveling for business, it's worth looking into how to access corporate deals that can make flying business class much more affordable.
Look into alternate airlines. For example, Delta might be your preferred airline, but if you're flying US to Asia, have you considered Cathay Pacific, ANA or Singapore Airlines? You may be able to find better deals—and more fare classes and options—on airlines that are less well-known in the US.
Don't forget to consider partner airlines as well—for example, Virgin Atlantic is a partner of Delta through the SkyTeam alliance. Virgin Atlantic regularly offers sales on Business Class fares for lower rates than Delta offers—even for the same exact flight. Flying for business? TravelPerk can save you money when booking flights for business travel—plus give you an easy, all-in-one platform to get reimbursed, manage corporate travel plans, and get superior support anytime you need it. Book a demo and we'll show you how to start saving money with TravelPerk.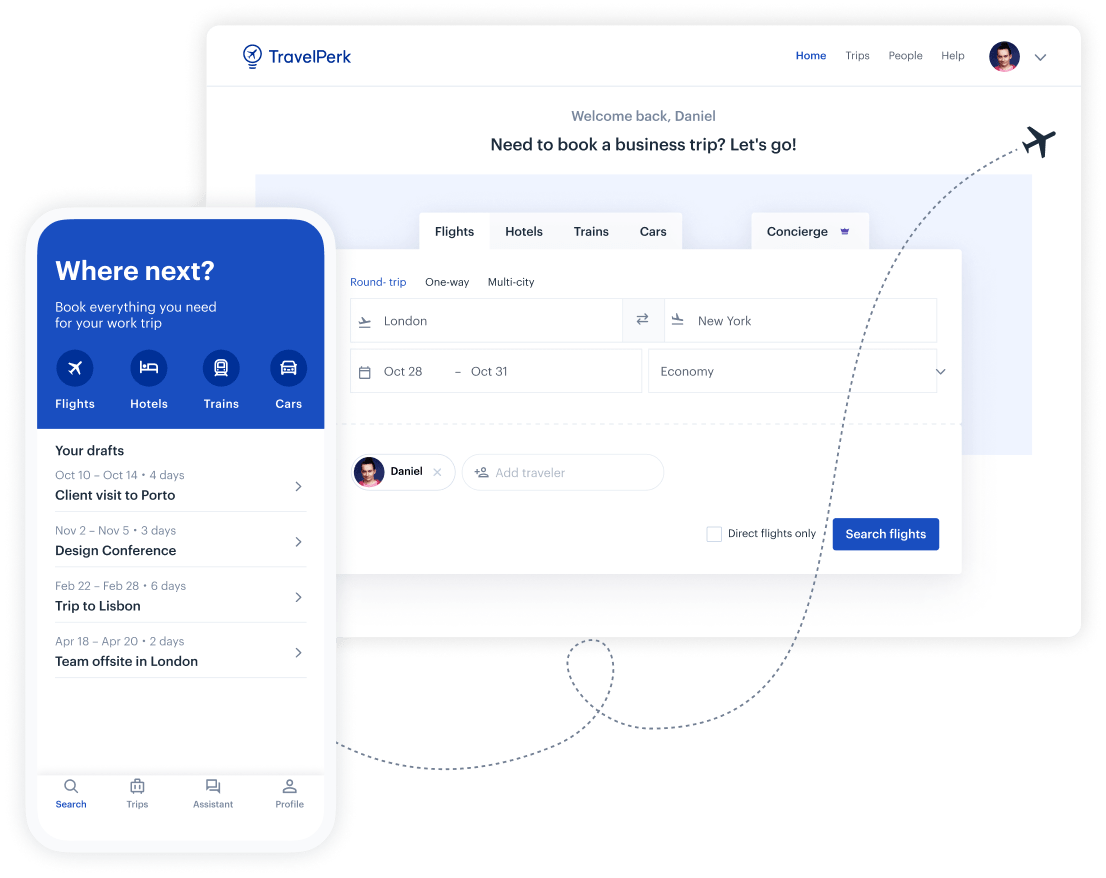 Make business travel simpler. Forever.
See our platform in action. Trusted by thousands of companies worldwide, TravelPerk makes business travel simpler to manage with more flexibility, full control of spending with easy reporting, and options to offset your carbon footprint.

Find hundreds of resources on all things business travel, from tips on traveling more sustainably, to advice on setting up a business travel policy, and managing your expenses. Our latest e-books and blog posts have you covered.

Never miss another update. Stay in touch with us on social for the latest product releases, upcoming events, and articles fresh off the press.