Making sure employees don't overspend your business travel budget and stay within policy is a huge challenge for many companies. As business travel is usually a large part of your overall company budget, it's essential you keep this under control.
In this article, we'll walk you through how TravelPerk makes travel policy compliance easy for your whole organization. From keeping Claire in finance happy with flexible policies and automated approval processes that are baked into our platform, to keeping your jet set travelers satisfied by giving them more autonomy to book their own travel and make better-informed choices that actually fall within budget.
5 ways Travelperk will help you improve travel policy compliance
Improved Travel Policy Awareness
First things first, travel policy awareness is key. If your team has never even read your policy, how will they stick to it? If you've spent the time to create a robust business travel policy, you need to make sure that employees actually know what's in there! Sounds obvious, right?
But many companies have their policies hidden away in a shared drive or on the company intranet – where it's easily forgotten and employees can't access important information when they need it.
With TravelPerk, there are no excuses when travelers claim they don't know what's in policy! We make awareness and compliance really simple by allowing you to have your corporate travel policy baked into our booking tool. Meaning employees no longer need to sift through long policy documents or frantically try and find your travel policy hidden in the depths of your company shared drive.
Once you've uploaded your travel policy to TravelPerk, its seamlessly integrated into their business travel search, so travelers will always know if a flight, hotel or train is within policy or not.
Here's an example of how your policy is integrated into the TravelPerk platform…
How to improve travel policy compliance with Travelperk
When you book your business travel through TravelPerk, your travel policy is seamlessly integrated into our platform. This not only gives your employees better visibility of whats in policy but also helps them make more informed choices when booking their trips. Not to mention, more control and peace of mind for your finance team too!
Traveler autonomy and total peace of mind
So, what are the additional benefits of having your corporate travel policy embedded into our platform?
For one, it takes the pressure off admins and travel managers by giving employees more autonomy to book their own trips and make informed choices whilst still staying within budget.
Secondly, It also gives your finance team total peace of mind. (No more night sweats for Nigel, your CFO…)
For example, if an employee tries to book first-class flights to a conference or attempts to book the penthouse suite for a company retreat, our booking tool will automatically flag that it's out of policy. See an example below.

For additional peace of mind and increased control of your business travel budget, we recommend setting up customized approvals within the TravelPerk platform. So, if an employee tries to book a trip that falls outside of policy, you can choose a team lead or travel manager within your organisation to be responsible for approving that trip.
Like the sound of this? Let's dive deeper into our customizable approval options below…

Save time with automated trip approvals
Another benefit of having your travel policy baked into the TravelPerk platform is the ability to have personalized, automated approvals.
For example, if Mario in sales is booking a train and hotel for a networking event next month and this falls within your travel policy (great work, Mario!) you can choose to have this business trip automatically approved in TravelPerk. Now Mario doesn't need to wait or chase his team lead to approve it - he's all good to go as he's stuck to the policy!
Within your account settings in TravelPerk, you can set the approval workflows you want, who this applies to in your organization, and who's in charge of reviewing the proposed business trip. Here's an example below:

So in this case, any out of policy trips for those 3 travelers will go to Matt to be approved. We also offer a slack integration, which speeds up approvals by 80% by sending notifications to admins of any new trip to approve. Dreamy!
Ultimately, you get to choose how much control you want on your business trip bookings. Want to approve every trip? Absolutely fine! Happy for travel bookings that are in policy to be automatically approved? Great!


We also offer the flexibility to set up different approvals for specific stakeholders. For example, if you want all C-Suite hotel bookings and airfares to be automatically approved, your approval process would look something like this within TravelPerk:

Automated trip approvals give you the best of both worlds: complete control of your budget without micromanagement. They also save your company a lot of time by removing the need to check every single trip if it falls within policy. And in turn, this increases employee satisfaction.
You can also amend trip approvals at any time in your account settings within TravelPerk. Giving you complete flexibility and control over your business travel budget.
Personalized travel policies
TravelPerk also gives you the opportunity to set different business travel policies for different members of your organization. In general, we usually advise keeping your corporate travel policies as simple and straightforward as possible. But if you need to set different rules for different teams, to help improve travel policy compliance, TravelPerk makes this really easy.
For example, you might need to set different travel costs, cabin seat classes, and hotel room costs for your executive team versus the rest of your company. 
Total visibility of travel spend
Are you noticing that you're overspending your business travel budget but not really sure how? You're not the only one.
With TravelPerk's sophisticated reporting tools, you can easily see in real-time where budget is being spent and who's sticking to the company travel policy.
Does your marketing team keep ignoring your travel program and booking trips last minute, causing you to overspend on flights that could have been half the price? Or does your sales teams spend too much budget on taxis when they could be using public transport? With TravelPerk reporting, your admin or finance team can categorize reports by department, team, travel service, and more so you can easily monitor travelers' behavior and spot travel trends like this to stay ahead of your budget.
Book a demo today to explore how TravelPerk makes business travel simpler to manage by giving you more flexibility, full control of your spending, and saving you money by offering the largest travel inventory on the market. Find out why we're trusted by thousands of companies worldwide.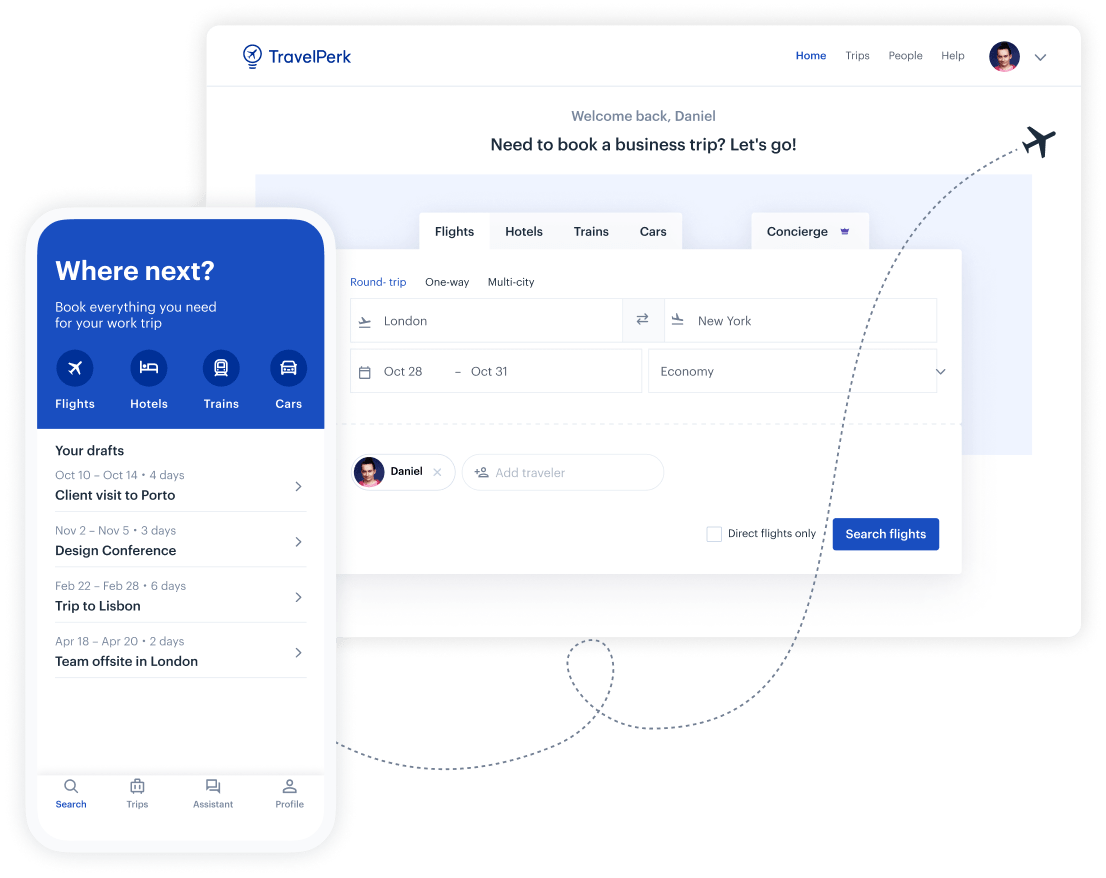 Make business travel simpler. Forever.
See our platform in action. Trusted by thousands of companies worldwide, TravelPerk makes business travel simpler to manage with more flexibility, full control of spending with easy reporting, and options to offset your carbon footprint.

Find hundreds of resources on all things business travel, from tips on traveling more sustainably, to advice on setting up a business travel policy, and managing your expenses. Our latest e-books and blog posts have you covered.

Never miss another update. Stay in touch with us on social for the latest product releases, upcoming events, and articles fresh off the press.