As one of the top three controllable annual expenses for most companies, creating a solid travel and expense policy is absolutely integral. When well crafted, it helps control costs, ensures accurate record keeping, and keeps employee satisfaction high.
But while it's hugely beneficial, writing a travel policy can be daunting for anyone in a company taking on the challenge. As a result, many traveling employees are left to book on their own, usually increasing spend across the board and compromising the travel experience overall.
With the expertise we have here at TravelPerk, we're going to make the process of writing a solid policy as streamlined as possible so you can concentrate on making more of an impact — both in the short and long term.
Let Goals Lead
No two travel policies are the same, so creating one perfect for your business will take some work. When starting out, it's important to know where you're at and where you're going. In other words, ** know your current costs and set goals.**
Without prioritizing goals accordingly, it will be impossible to make an effective travel policy. Whether it's reducing average trip cost or speeding up the reimbursement process, the goals you set will offer clarity whenever a decision needs to be made.
Collaboration Is Key
Since every business is completely different, it's important to get some expert input to ensure the travel policy you create fits like a glove. Luckily, you have all the help you need right around you. While travel policy affects all the departments in your company, those in the finance, operations, and HR departments are of particular importance.
Finance You can work with accountants and controllers to ensure processes to maintain accurate records are implemented from the very beginning, something that TravelPerk's platform makes easy to do. You can also collaborate with CFOs and talk strategy to prime your policy for the long-haul.
Operations Interfacing with senior operations personnel will give you the kind of broad overview you'll need to align your travel policy with company processes.
Human Resources The fine folk in the HR department will carry out the day-to-day management of your travel policy, so it's best to include them in its drafting as soon as possible.
Don't forget to canvass your traveling employees, as well! Their input is invaluable in avoiding common pain points and other difficulties from the very beginning.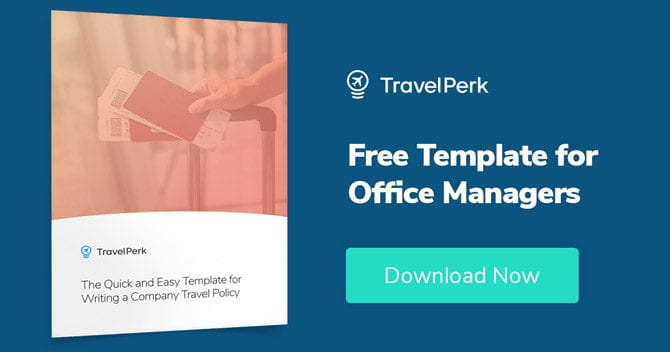 Tick Every Box
When creating a travel policy, you have an explicit responsibility to ensure it's as comprehensive as possible. After all, it will be the go-to for any and all questions your employees have on anything travel.
With this in mind, make sure to cover all your bases. Include information on:
Where and how to book travel
The criteria used to approve or reject trips
How reimbursement works
Flights, such as what kind of cabin class is allowed, the kinds of flights can be selected, and which fees are allowed
Rail, like when to choose it over flights and details on economy versus business class bookings
Hotels, such as the star class allowed based on location along with allowable and non-allowable incidental expenses
General guidelines on rental cars, ground transportation, ride-hailing services like Uber and personal car usage
Food costs — everyone has to eat!
While this may seem like a lot, using TravelPerk's ever-evolving travel management platform streamlines most of it, giving employees more flexibility while offering you and everyone you collaborate with transparency on everything from bookings to budgets. Arm yourself with the kind of digital tool necessary to make a true 21st century travel policy — and kick your travel management strategies into high gear.
Related Links
4 Benefits To Using A Travel Management Tool