Now that borders are opening up again business travel is back on board!
Yay or meh? Frequent business travelers may have enjoyed the break, while others will have missed the frisson of meeting up with colleagues in far-flung places.
Whichever side of the runway you stand, make your next business trip a better experience with these business travel hacks and travel tips.
Booking your business flight
Business travelers should remember that it's never too early to book your flight. Reserving your business trip at least 30 days ahead will not only get you the best price but the best seat in your category as well. Frequent travelers should take advantage of loyalty programs by booking with the same airline whenever possible. Most short-haul airlines are now applying a surcharge for premium economy and/or extra-large seating - an investment most business travelers think is well worth it.

Red-eye flights (5 to 7 am) are a hassle but less prone to delays. If you live far from the airport consider staying the night before in an airport hotel room and arrive at check-in refreshed and panic-free.

Unless you have paid for priority boarding, remember when you choose your seat that airlines board the back ones first. If however, you are traveling to a part of the world where airport security is reputedly slow and painful you would be wise to book a front seat so you can be first off the plane and in the queue when you land.

For US business travelers, TSA precheck saves the hassle of removing belts, shoes, etc in the security line. After being approved, a TSA number is added to your flight booking, enabling you to fast-track through security at all US airports.
Your suitcase – be smart and carry on
Unless you are staying over a week, there is really no need for a suitcase that needs to be checked in. As a rule, carry-on luggage must measure 22 cms x 35 cms x 56 cms. In practice some airlines, particularly short-haul European carriers, have slightly different requirements – so check ahead.

Choose a carry-on suitcase with a smart design. A large frontal pouch for documents and reading matter is essential. Test the wheels and pull out the handle, checking both for noise and ease of use. Look for collapsible interior compartments so you can separate shoes, clothing, and other bits or use packing cubes. Beware that some airlines have started banning carry-on bags with built-in USB chargers unless the lithium battery can be removed. If you are the type that tends to pick up souvenirs and other little mementos on your business trip, choose a soft-shell carry-on suitcase, as they expand slightly.
Packing like a ninja for business travel
No matter how many business trips they have taken, business travelers can learn a new travel hack for the perfect pack.

Still folding your clothes rather than rolling? Don't! You will be surprised how many more items of clothing you can get into your suitcase when you roll. (It keeps them crease-free too.) If you are tempted to cram in extras of everything 'just in case', think about how cheap and accessible everyday clothing is in pretty much any destination in the world. Do however pop in your bathing suit – not just for the hotel's indoor pool but also an end-of-day steam.

Other essential but often-forgotten items include pens (for filling out entry and custom forms), a plastic bag for your toiletries when you go through security check (yes, many airports are still insisting on this), and a supply of extra facemasks. Although you will have your credit cards with you, some small notes and change in your destination's local currency will come in extremely handy. Most business travelers have jars of foreign coins at home.

Onboard business travel hacks
Most business travelers like to catch up on a little bit of work during a flight. The problem is that it's hard to work comfortably on your laptop in such confined spaces. Working on a tablet is generally more comfortable in the air, and most airlines will allow you to connect a small Bluetooth keyboard. Dozens of airlines also offer onboard Wi-Fi – often for free. Those that scoff at travel pillows have probably never owned one; go for an inflatable model with a natural cotton cover or carry-on a lightweight feather-filled vest or jacket that will do the same trick.

Most frequent flyers swear to the value of noise-reducing headphones, and with airlines handing out cheap, throwaway headphones as a general rule, bringing your own is a good green travel tip.
Surviving layovers on business trips
Unless you are traveling first or business class, long-haul flights present challenges beyond coping with jet lag. For layovers of a few hours, access to the airport lounge is an essential long-haul travel hack. Priority Pass is a subscription service that gives access to airport lounges globally, and some credit cards do the same. Otherwise, check ahead to see if you can pay a one-off fee.

For layovers of longer than six hours, grab an airport hotel, even just for a few hours of shut-eye and a shower. Some larger hubs such as Singapore's Changi airport offer massages, manicures, saunas, and other treatments that can make a huge difference to your state of mind as you reach your next time zone. Pampering yourself wherever possible is the best long-haul travel hack we can think of.
Arriving at your business destination
Need to get to your trade fair or meeting fast? Have a Plan B in place and check out public transport options from the airport – often printed in the inflight magazine – in the rare case that a taxi isn't immediately available. Fill out customs and immigration forms before you land (aren't you glad you brought along that pen?) and put them inside the cover of your passport ready for the security line. Load documents like trade fair admission and floor plans, boarding passes, hotel room voucher and PCR/Antigen test onto your phone and back them up in a cloud.
On the way back home
With all the best intentions, chances are most business travelers won't have time to claim back your sales tax before they arrive at check-in. Instead, wait till you get back from your work trip and use a VAT recovery service like the one offered by TravelPerk. 

Photographing or scanning all the business cards and information you have picked up at the business fair in your hotel room will save some precious space in your hand luggage, so you'll be able to pop in a few airport purchases for the people eagerly waiting your return.  

Seasoned road warriors know there is really no such thing as a free upgrade. Instead, there are TravelPerk's 'Executive Experience' packages for business travelers. Find out about the exclusive hotel rooms, range of wellness services, VIP travel experiences, and host of next-level details we offer to business travelers of all budgets.
Start saving money on business travel for your company today!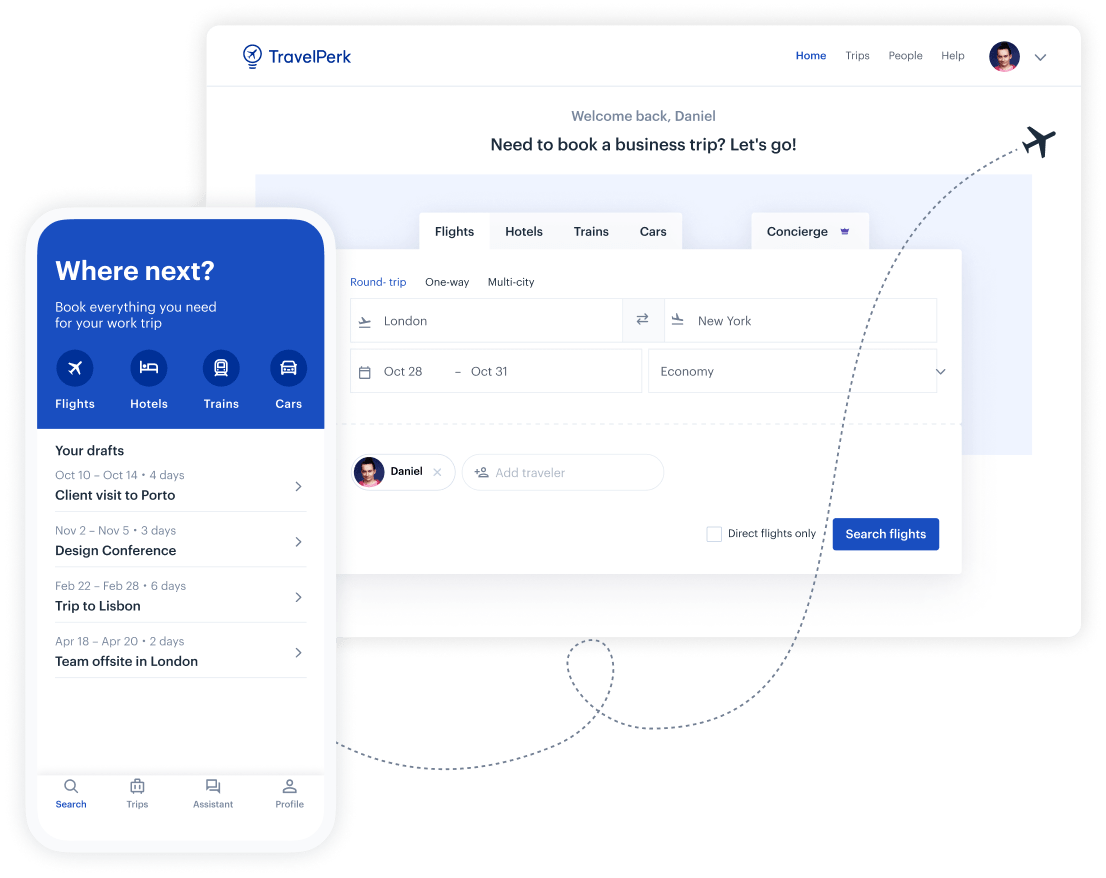 Make business travel simpler. Forever.
See our platform in action. Trusted by thousands of companies worldwide, TravelPerk makes business travel simpler to manage with more flexibility, full control of spending with easy reporting, and options to offset your carbon footprint.

Find hundreds of resources on all things business travel, from tips on traveling more sustainably, to advice on setting up a business travel policy, and managing your expenses. Our latest e-books and blog posts have you covered.

Never miss another update. Stay in touch with us on social for the latest product releases, upcoming events, and articles fresh off the press.