Hosting your next corporate event in Madrid can be an exciting yet daunting experience. With the Cuatro Torres business area's towering skyscrapers and the Gran Via's magnificent plazas, the capital of Spain provides its 5 million yearly business travelers with plenty of venues for conferences alongside unforgettable cultural landmarks.
Ahora, all you'll need is the perfect event management company to handle everything from transport to teams to tapas. Here's a list of the seven best event management companies in Madrid.
¡Empecemos!
1. TravelPerk: best event management and travel organization

TravelPerk is a best-in-class business travel platform that empowers travelers to connect with their colleagues in real life. With TravelPerk, booking, managing, and coordinating event travel is made easy.

TravelPerk customers also benefit from a comprehensive MICE (Meetings, Incentives, Conferences, and Exhibitions) service. An in-house team of event experts is available to help you with venue sourcing, booking management, timeline management, duty of care, and more.

Due to hybrid and remote working, we recognize that companies are increasingly eager to gather team members in person. Our close relationships with suppliers mean you'll get the best deal, every time. You'll also benefit from consolidated invoicing and payment, all on the TravelPerk platform.
Headquarters: Barcelona, Spain
Offices: London, Birmingham, Edinburgh, Berlin, Chicago, Boston, Miami
What types of events can you plan with TravelPerk? 
We offer support for a variety of event types, including:
Meetings of 2-50 attendees

Conferences of 50-1000+ attendees

Awards ceremonies

Charity nights

Team building events

Hybrid events

Roadshows

Offsites
What event planning services does TravelPerk offer?
TravelPerk offers event management services to customers in the US, the UK, Spain, Germany, France, and other European countries. These may include:
Group bookings
Audio/visual effects
Incentive programs
Ground transportation
Theming and production
Project bookings
Delegate registration
And more!
We can be involved in your event as much or as little as you want, depending on your needs. Request a demo below!
TravelPerk's Meetings & Events team can help you book venues and get exclusive discounts on group travel
2. Madrid Adventures: good for team-building activities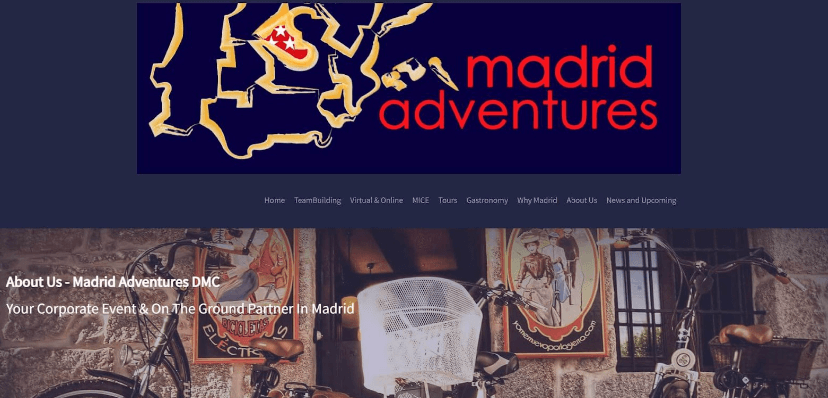 Madrid Adventures has a team of expert organizers and a wealth of local knowledge. They've been a full-service event planning company since 1999, providing Spanish- and English-speaking companies with seamless conference management and only the most exciting team-building sessions.
Madrid Adventures also handles transfers for their clients, ensuring transportation goes as smoothly as their full-scale management services.
Headquarters: Madrid
Offices: London
What types of events can you plan with Madrid Adventures?
Team-building sessions
Corporate events
Tours
Online and virtual events
What event planning services does Madrid Adventures offer?
Event management
Event production
Logistics and network support
Event organization
3. DPS Solutions: good for creative event planning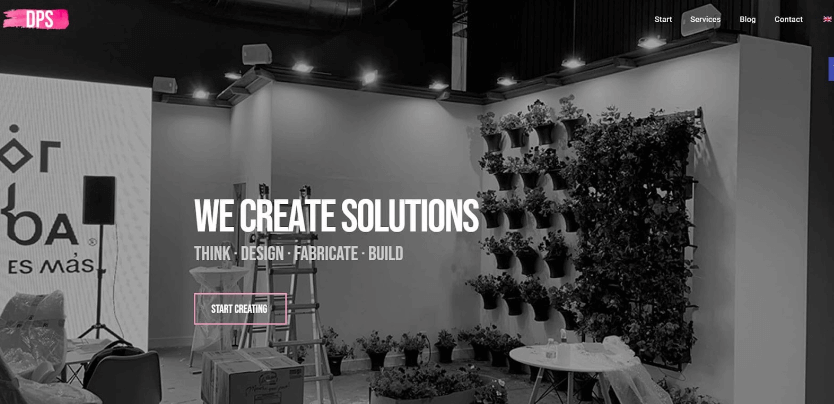 While logistics is a big part of DPS's services, these event planners focus on vision and conceptualization. The DPS network works closely with companies, offering support and strategic suggestions for your Madrid event.
This events agency doesn't just cover basic organization. Their designers create and build stands for personalized and unique experiences.
Headquarters: Madrid
What types of events can you plan with DPS Solutions?
Corporate events
Conferences
Congresses
Expos
Online events
What event planning services does DPS Solutions offer?
Conference planning
Conference coordination
Event building
4. Ovation Global DMC Madrid: good for incentives and destination management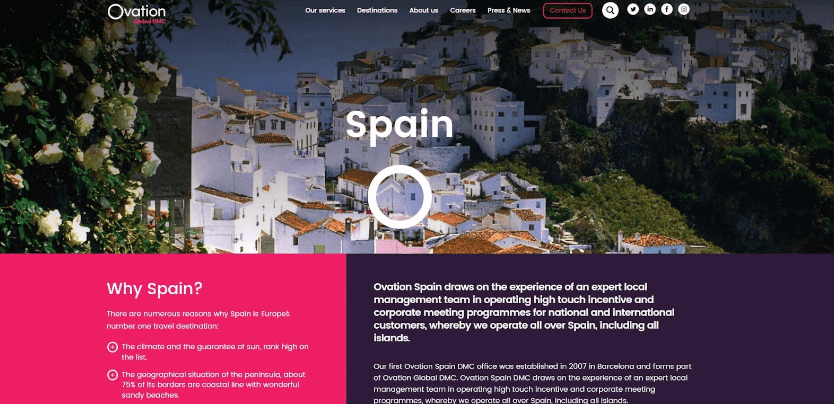 Ovation Global is committed to sustainably developing events that achieve personalized results. They offer various event services based on their many years of experience and local knowledge, including consultancy and logistics for your event.
However, these service providers aren't just limited to sunny Spain, they're also a destination management company offering incentives throughout Europe.
Headquarters: Madrid
Offices: Barcelona
What types of events can you plan with Ovation Global DMC Madrid?
Corporate events
Meetings
Incentives
What event planning services does Ovation Global DMC Madrid offer?
Destination consultancy
Even design
Event planning and logistics
5. WHAT EVENT?: good for entertainment, spaces, and catering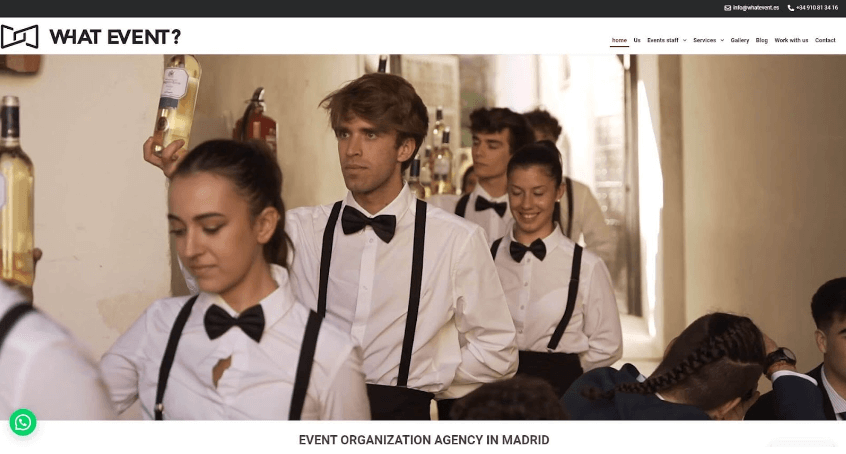 WHAT EVENT? provide personalized services and events management. However, they also go the extra mile with entertainment, catering, and furniture. They've worked with a diverse group of clients throughout Spain, providing both full-scale solutions and staffing.
Their network of professionals has experience in various industries, allowing them to adapt to your event objectives easily and to offer you the best solutions.
Headquarters: Madrid
What types of events can you plan with WHAT EVENT?
Corporate events
Dinners
Galas
Social events
What event planning services does WHAT EVENT? offer?
Consultation
Event management and logistics
Event staffing
Catering
Entertainment
Venue research, material, and furniture
6. Factory Events: good for event dining and event stands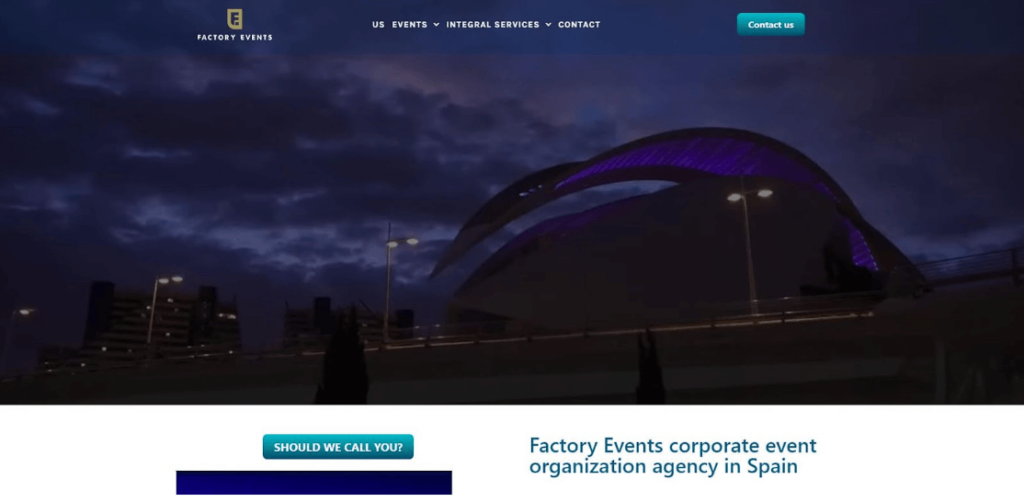 Factory Events focus on three main things: captivating conception, detailed logistics, and excellent dining services for various corporate events. They've worked with a diverse range of clients to make everything from galas to conferences.
With two decades of experience, they're always refining their offers with additional services to make an event stand out. For example, they construct stands for fairs and expos.
Headquarters: Madrid
Offices: Barcelona 
What types of events can you plan with Factory Events?
Corporate events
Product launches
Gala dinners
What event planning services do Factory Events offer?
Event management
Event conceptualization
Catering
Fair and event stands
7. Robler: good for creative event solutions and event marketing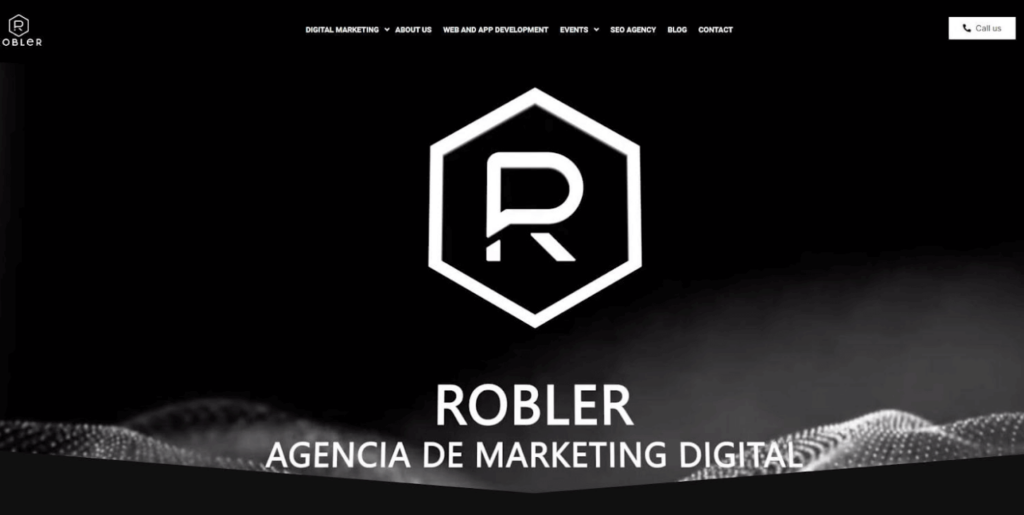 While Robler offers event management services, they're primarily a marketing agency. With their combined expertise in both fields, Robler makes events and marketing campaigns, helping clients drive engagement.
They also have a long list of different event types, including cultural, creative, social, and digital events. Robler is especially mindful of how an event reflects a brand's values, PR, and place in the market.
Headquarters: Madrid
Office: Valencia
What types of events can you plan with Robler?
Live events
Cultural events
Government and public events
Social events
What event planning services does Robler offer?
Event management
Event marketing
Branding and video production
Public relations
Book the best corporate events with TravelPerk
Whether you're strolling down Plaza Major, visiting the Prado museum, or holding your conference at the IFEMA convention center, there's plenty of things Madrid has to offer for your next corporate event.
You'll also need an event management agency to ensure it's espectacular. That's exactly what you can achieve with TravelPerk. With an in-house team to help with venue sourcing, booking, management, and a close relationship with suppliers, and headquartered in Spain, you'll get the best deal for conferences, tradeshows, kickoffs, in a few clicks.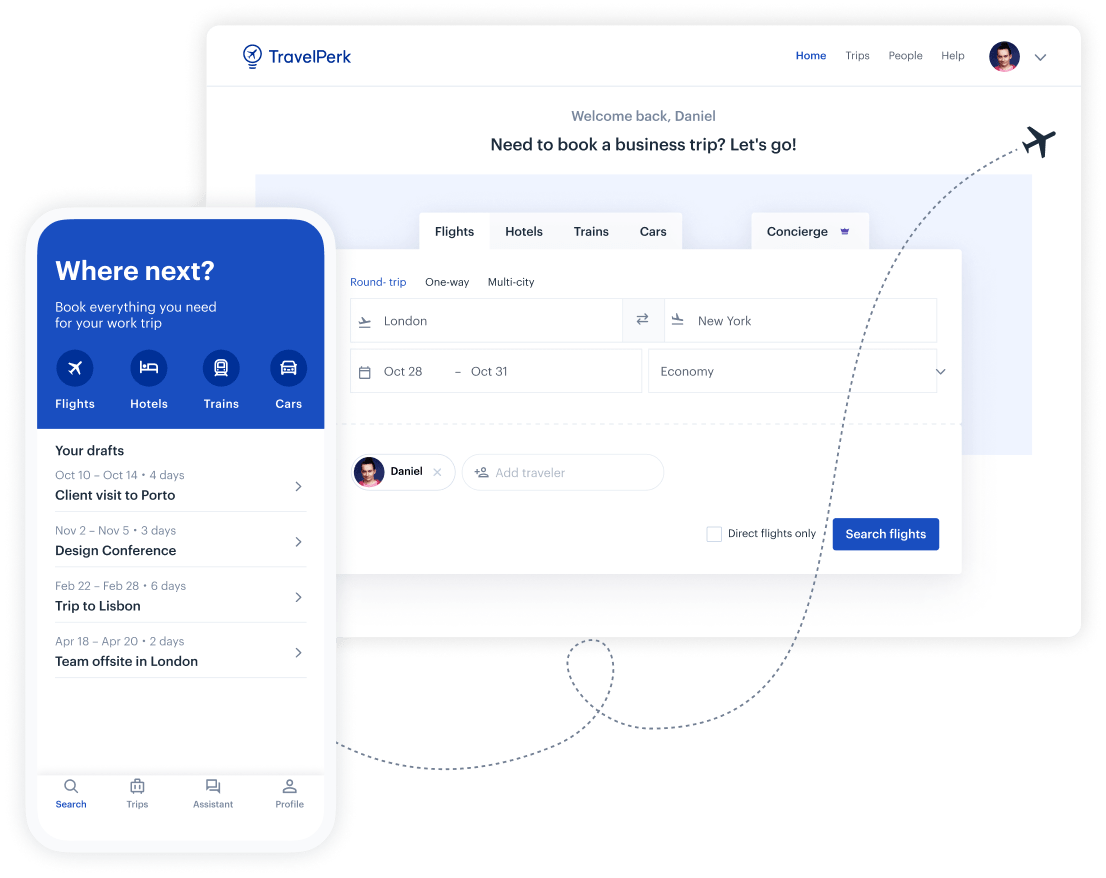 Make business travel simpler. Forever.
See our platform in action. Trusted by thousands of companies worldwide, TravelPerk makes business travel simpler to manage with more flexibility, full control of spending with easy reporting, and options to offset your carbon footprint.

Find hundreds of resources on all things business travel, from tips on traveling more sustainably, to advice on setting up a business travel policy, and managing your expenses. Our latest e-books and blog posts have you covered.

Never miss another update. Stay in touch with us on social for the latest product releases, upcoming events, and articles fresh off the press.