A trip to Johannesburg will set you back $174 per day, while in Tokyo, you'll be spending $489 per day. Some employees spend a small amount of money on food a large amount of money on taxis. Others will walk everywhere and spend money on classy meals.
The more travelers you have and the more cities they visit, the more complex it becomes to manage business travel in a way that is fair for all travelers and still under budget.
A company travel policy is essential to achieving these goals. A great company travel policy promotes fairness and standardization while also saving time and reducing the amount of back-and-forth required with trip planning.
However, travel policies are problematic. 46% of travelers have booked hotels outside of policy, and the number of millennials who book outside of policy is even higher (64%).
Before you go blaming your employees for being big spenders, you might want to take a hard look at your company travel policy and process.
Is our company travel policy written for employees?
Do we offer employees a way to book for themselves within policy?
Do we make it easy for everyone to achieve policy compliance?
If you answered no to any of these questions, then keep reading for tips and steps to overhaul your company travel policy and make it more realistic, practical, and usable for employees.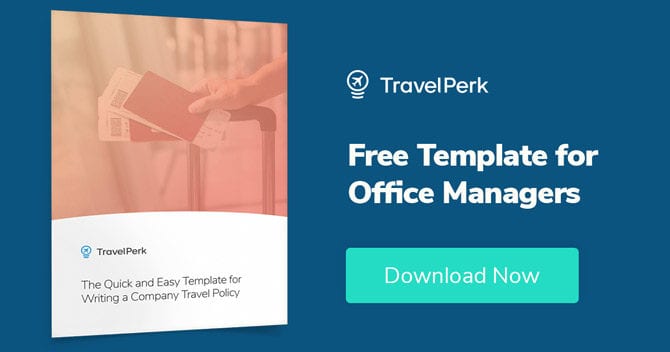 How to cater your company travel policy for employees
If you make your travel policy for your employees, then getting them to comply with it will be much easier. This isn't about giving them everything they want, it's about setting up your travel program up to win.
Make it easy to understand
There's a set amount of information that your employees need to know:
How and where to book trips (tools used, approval process, etc.)
How much they can spend per day, per night, and per trip
Exceptions to the rules
Don't be tempted to share this information in an overly formal language or to preempt the details with long-winded introductions. Instead, cut to the chase and make it easy for employees to skim the document and find what they need.
We've put together a comprehensive guide (template included!) to help you write a company travel policy built for your travelers. Download the guide here!
Include information that employees care about
Your company travel policy should not only be a list of rules and dos and don'ts. It needs to also include guidelines and helpful details that are unique to your company and your team.
As an example, your travel policy might include the name and contact information of the employee who handles the reimbursement process.
Another example is if you require that travelers fill out a travel request form before a travel manager can book them a trip, then your policy might also include a copy of this request form or a link to where it is housed.
One of the biggest problems with travel policies is that no one reads them. If you include information that employees need, then you incentivize them to use the policy and become familiar with it.
Make sure travelers can self book within policy
Traveler satisfaction is key to a successful travel program, and here's why: travel policies are easy to enforce when you cater to travelers. No, I'm not talking about three-room suites with room service. I'm talking about self booking.
Today's travelers want to book for themselves, stay with their favorite hotel brands, fly with their favorite carriers, and collect loyalty points. The reason they book outside of policy is that their company doesn't allow them to easily do that. If you meet travelers needs for self-booking, then they don't need to go astray and use another platform. Use a tool that offers self-booking and bakes the travel policy right inside the booking process.
Five steps to write a company travel policy that works
There are five steps to writing a policy that really works. But first, let's define "works."
A company travel policy works well when…
Employees are satisfied with their level of care during travel
95% or more of business travel is within policy limits
The business can afford all necessary travel
A company travel policy really works when it's automatic. Sure, it's possible to create a travel policy that only exists in a document (PDF or internal wiki), but that makes policy compliance much more difficult. Making use of modern technology allows you to automate travel policy compliance.
These are five steps you must take to create a travel policy that works:
Set priorities and identify stakeholders – Treat this as you would any project, and sit down with all stakeholders and hash out top priorities, whether those are to cut costs, promote fairness, or increase transparency.
Choose a travel policy method and management style – Decide how strict or lenient your travel policy needs to be based on company size and company culture and choose whether you will create a policy document, an automated policy using a travel management platform, or both.
Determine what factors and information to include – List out everything your policy needs to include, from the reimbursement process to limits on client entertainment (our guide has an exhaustive list)
Draft the policy – Once all of your priorities are set, all stakeholders have given their input, and you know what you need to include, the policy creation phase is much easier (find a template here)
Implement it company-wide – Share your new company travel policy with all employees, make sure that frequent travelers are given a high level overview of any important changes, and be sure to ask your team for feedback and update your policy once or twice a year as needed, especially if you have access to travel data that can help you optimize your budgets
When make sure that you meet travelers' needs, then policy compliance is much smoother.
Grab our comprehensive guide here and learn how to write a travel policy employees actually want to read. Create a travel policy that truly controls travel spend, and achieve all of this without micromanaging.
Travel policy template
Travel policy factors and criteria
Travel management styles and methods