In 2023, over two-thirds of businesses are planning to increase their spending on software to help them boost productivity and achieve cost savings -- in fact, the total amount of Software-as-a-Service (SaaS) spend is projected to reach almost $600 billion this year alone.
In pursuit of higher productivity, it's clear that businesses are eager to loosen their purse strings and invest in the best SaaS tools on the market. From content marketing platforms that customize workflows with plugins and widgets to SEO tools that enhance online visibility, these tools are designed to enhance efficiency. But which SaaS software tools are right for your business or team?
In this article, we explore 15 of the top SaaS tools for business management, marketing, analytics, reporting, project management, and sales to help you make the best investment, improve business productivity, and reduce costs.
What is SaaS software?
SaaS software is self-service, on-demand software that is hosted and accessed on the internet by third-party SaaS companies. As the name suggests, SaaS products are built to provide a service and solve specific business pain points and improve efficiency (e.g. accounting software tool QuickBooks automates and streamlines complex accounting processes).
Unlike traditional, on-premises software of the past that would usually require expensive IT infrastructure and large upfront costs, SaaS business tools offer a more cost-effective and accessible alternative with minimal onboarding. In fact, many SaaS companies offer free plans as well as premium paid plans.
Without the need for complex on-site installations, businesses can access SaaS applications via the internet from any device with an internet connection, and many offer iOS and/or Android mobile apps for on-the-go access.
Best Management platforms
1. TravelPerk
If you're a business traveler, corporate travel manager or travel admin, TravelPerk is here to bring your team the best travel at the best prices. As one of the most flexible and comprehensive business travel management systems available, it's the perfect SaaS solution for companies looking to scale business growth, control spend, and centralize all aspects of business travel.
Customers rave about its user experience and excellent support provided.
Core strengths:
| | |
| --- | --- |
| G2 Rating: 4.6/5 based on 1,471 reviews | Capterra Rating: 4.89/5, based on 382 reviews |
Start saving money on business travel for your company today!
2. ClickUp
Second on the list of the best SaaS management tools is ClickUp, an all-in-one project and collaboration platform suitable for small businesses and enterprises.
ClickUp's user-friendly platform is designed to boost productivity by helping individuals and teams manage tasks, projects, and workflows from one place. The solution's solid feature set includes time and goal tracking, document management and collaboration, and customizable dashboards to suit different project management methodologies.
Customers love the tool's versatility across different departments and how they can customize the platform to suit their specific business needs.
Core strengths:
Multiple workflow views, including list view for to-dos, board view for workflows, box view for dashboards, and Gantt view for project schedules.
Strong task management features including issue logs, time tracking, milestones, task dependencies, and custom fields.
An instant messenger function, calendar, proofing capability, task comment function, and online whiteboards all boost team collaboration.
A library of over 1,000 pre-built templates covers all possible use cases across multiple departments, including HR, sales, marketing, and operations.
| | |
| --- | --- |
| G2 rating: 4.7/5, based on 8,323 reviews | Capterra rating: 4.7/5, based on 3,747 reviews |
Best tools for marketing
1. HubSpot
Topping the list of the best SaaS marketing tools is HubSpot, an all-in-one marketing, sales, and customer service platform designed to help organizations deliver exceptional customer experiences.
The tool's automation features, data-driven insights, and metric tracking enable marketing teams to optimize their inbound marketing strategies while boosting productivity.
Customers highly rate the tool's marketing automation features and the ease of creating reports.
Core strengths:
Marketing automation tools streamline repetitive tasks, such as lead nurturing, email marketing, and social media posting.
Dashboards track and measure the performance of all aspects of marketing campaigns in one place.
Reporting and analytics help businesses gather data and gain insights into their target audience's preferences, behavior, and interactions with their brand.
A landing page builder enables teams to create and test pages to improve lead generation.
| | |
| --- | --- |
| G2 rating: 4.4/5, based on 10,445 reviews | Capterra rating: 4.5/5, based on 5,651 reviews |
2. Wrike
Wrike is a work management tool that helps marketing teams increase their productivity with centralized task management, real-time collaboration features, and customizable workflows.
The platform assists companies in managing every aspect of their marketing strategies, connecting the entire campaign process from the planning to the execution stages.
The platform's interdependencies feature and its ability to provide complete visibility to entire marketing teams receive high praise from customers.
Core strengths:
A large template library helps marketers design marketing campaigns, streamline website projects, and develop effective social media plans.
Users can cross-tag teams and use guest invites for external feedback for real-time collaborative planning.
Customizable request forms help teams create new campaigns, assign tasks to the right team member, and populate project information.
Integrations with Google Analytics and Mailchimp via Zapier help synchronize relevant marketing data and streamline email marketing processes.
| | |
| --- | --- |
| G2 rating: 4.2/5, based on 3,432 reviews | Capterra rating: 4.3/5, based on 2,465 reviews |
3. Quip
Quip is Salesforce's productivity platform that helps marketing teams boost collaboration and streamline project management processes. The tool combines spreadsheet and document management, task lists, and chat functionality with automation and templates to break down team silos and enhance productivity.
Customers love how they can share real-time data with their teams and track changes in real time within multiple document types.
Core strengths:
Marketing teams can build their own templates tailored to their business processes that are automatically populated with customer relationship management (CRM) data.
Chats are integrated into each document and spreadsheet, including team chat rooms and one-on-one messaging.
A large library of pre-built templates helps streamline workflows.
| | |
| --- | --- |
| G2 rating: 4.2/5, based on 1,084 reviews | Capterra rating: 4.4/5, based on 194 reviews |
4. Hootsuite
Hootsuite is a social media management tool that helps marketing teams schedule and manage content across various platforms and analyze their performance from a single dashboard.
The platform offers a broad range of features for content management, creation, monitoring, and reporting, making it a valuable SaaS tool for teams looking to streamline and syndicate their social media content and processes.
Customers highly rate how easy it is to schedule posts across multiple channels and the platform's dedicated support team.
Core strengths:
Social media teams' productivity can be measured by tracking response times, resolution time for assigned posts, and their management of social mentions and comments.
Customizable report templates help measure and track key metrics.
The tool's cross-platform integrations enable teams to effortlessly publish, schedule, and analyze content across different social media networks.
| | |
| --- | --- |
| G2 rating: 4.1/5, based on 4,006 reviews | Capterra rating: 4.4/5, based on 3,467 reviews |
Best Analytics and Reporting tools
1. Zoho Analytics
First on the list of the best SaaS analytics tools is Zoho Analytics, a business intelligence and data analytics platform that helps small and large organizations easily glean valuable business insights.
Offering a user-friendly platform for data analysis and visualization from multiple sources, including spreadsheets, databases, cloud storage, and third-party applications, Zoho Analytics makes it easy for organizations to make data-driven decisions that optimize performance and drive growth.
Customers are highly impressed with the platform's custom dashboards and user-friendly drag-and-drop functionality.
Core strengths:
Drag-and-drop feature enables users to easily build reports and dashboards from different data sources.
Multiple users can work together within reports and dashboards to boost team collaboration.
A large library of pre-built templates and reports provides users with a valuable starting point for data analysis.
| | |
| --- | --- |
| G2 rating: 4.2/5, based on 279 reviews | Capterra rating: 4.4/5, based on 286 reviews |
2. Power BI
Power BI by Microsoft is well known as one of the best SaaS reporting tools on the market. The cloud-based business intelligence platform provides a suite of reporting, data visualization, and business intelligence tools that enable businesses to convert raw data into actionable insights.
The platform converts data from hundreds of sources and transforms it into interactive dashboards, charts, graphs, and reports. The tool is also used by businesses to
predict future outcomes, gain valuable insights into their data, and leverage real-time insights to make better decisions.
Customers highly rate the platform's powerful data visualization capabilities and the ability to easily import data from various sources.
Core strengths:
Businesses can combine data from multiple sources into one platform to create robust reports.
Dashboards update in real-time to help businesses quickly address issues, identify opportunities, and mitigate potential risks.
The platform's "Goals" feature helps users make data-driven decisions and stay on top of their team and individual targets.
| | |
| --- | --- |
| G2 rating: 4.4/5, based on 962 reviews | Capterra rating: 4.6/5, based on 1,450 reviews |
Best SaaS Project Management tools
1. Monday.com
Monday.com is a cloud-based work management platform and team collaboration tool that unifies team communication, task and time management, and project tracking in a centralized platform.
The solution helps businesses and teams of all sizes streamline workflows, collaborate effectively, and enhance their productivity and serves as a hub from which they can manage projects, portfolios, resources, and business operations.
Customers love the ready-made templates and how the platform helps them track every step of any process.
Core strengths:
Pre-built workflow automation templates can be customized to suit every industry, business, and team.
Customized automation workflows help teams reduce repetitive tasks and boost their productivity.
Multiple board visualization options including Kanban, timeline, calendar, and chart view.
| | |
| --- | --- |
| G2 rating: 4.7/5, based on 7,464 reviews | Capterra rating: 4.6/5, based on 4,063 reviews |
2. Asana
Standing tall among the best SaaS project management tools is Asana, a work and project management platform that helps streamline communication and collaboration across companies and teams.
The centralized platform also helps businesses organize, track, and manage their work, and optimize their workflows with customizable boards, automation, and task management features. To reduce platform switching and enhance productivity, the tool enables users to assign tasks, comments, and files to specific team members.
Customers love how the tool improves team productivity with its tailored workflows.
Core strengths:
Workspaces for individuals and teams enable project and task collaboration.
Users can manage projects with Gantt charts, timelines, checklists, and Kanban boards.
A workflow builder helps businesses set up custom rules, triggers, and actions for process management automation, including cascading due dates, checking boxes, or Slack notifications when a project is complete.
Built-in time tracking helps users estimate task completion time and record the actual time spent.
| | |
| --- | --- |
| G2 rating: 4.3/5, based on 9,428 reviews | Capterra rating: 4.5/5, based on 12,091 reviews |
3. Trello
Trello is a task management and collaboration platform designed to help businesses organize, sort, plan, and work together on projects and tasks.
The platform's main page serves as a comprehensive team dashboard. Users create boards for projects, organize them into lists for project stages, and use cards for individual tasks or ideas. This combination offers a clear view of the responsibilities and current tasks to help organizations prioritize their workload.
Customers rate the platform's intuitive dashboards and drag-and-drop functionality as key features.
Core strengths:
Multiple workflow visualizations including Kanban, calendar, map, and timeline.
All project steps can be organized with coded labels to categorize priorities.
"Power-Up" integrations allow users to add functionality to the board and data from other sources.
Users can automate workflows and actions and choose from Trello's directory of built-in automation commands.
| | |
| --- | --- |
| G2 rating: 4.4/5, based on 13,328 reviews | Capterra rating: 4.5/5, based on 22,469 reviews |
4. Slack
At its core, Slack is a business communication tool that helps organizations better collaborate with messaging, file sharing, and workflow builders. Recognized as one of the best SaaS solutions for startups due to its user-friendly interface, Slack has grown into an indispensable project management software tool.
The platform helps businesses of all sizes manage projects, streamline communication, and minimize software silos. As well as individual chats, businesses can create group chats dedicated to specific discussion points, purposes, or projects. The tool's voice and video conferencing feature also helps businesses with remote teams remain productive despite the distance.
Customers love how Slack helps teams easily align their goals with its channel-based platform.
Core strengths:
Businesses can dedicate specific chat channels by project, topic, or team.
Video calls known as "huddles" can be started within channels to enable users to work in real-time alongside their coworkers with multi-person screen sharing and a dedicated thread for notes.
The "canvas" tool is a digital surface where users can create and share files, images, and videos without leaving Slack.
| | |
| --- | --- |
| G2 rating: 4.5/5, based on 31,547 reviews | Capterra rating: 4.7/5, based on 23,053 reviews |
Best Sales tools
1. Salesforce
Salesforce is a cloud-based sales and CRM platform designed to help businesses manage and analyze customer data, sales operations, marketing campaigns, and customer support processes.
One of the best SaaS sales tools on the market, Salesforce's strong lead management, data analysis, and A/B testing features help companies better connect with and serve current customers and identify potential customers.
Customers love how Salesforce enables them to store and manage leads, contacts, accounts, and opportunities in one place and the tool's timely follow-up reminders.
Core strengths:
Companies can gain complete visibility into their customers, including activity history, key contacts, customer communications, and internal account discussions.
Users can access real-time visibility into entire pipelines and revenue forecasts.
A LinkedIn and Salesforce integration helps sales reps personalize outreach and capture every interaction in the CRM.
Drag-and-drop actions help with the optimization and automation of complex sales processes.
Workflows guide sales reps and recommend the next steps to take on a deal.
| | |
| --- | --- |
| G2 rating: 4.3/5, based on 15,365 reviews | Capterra rating: 4.4/5, based on 17,701 reviews |
2. Zendesk
Zendesk is a customer service platform aimed at enhancing communication between companies and customers. A suite of features -- including helpdesk, email marketing, live chat, sales, employee engagement, and customer engagement -- help businesses stay productive while delivering stellar customer experiences.
The tool uses customer data and historical interactions to personalize communication, anticipate requests, and boost customer satisfaction and retention levels, and its robust knowledge base enables customers to access self-service support on their own terms.
Customers love the ability to manage multiple channels from a single platform and the tool's flexibility and scalability.
Core strengths:
Zendesk centralizes messages from the same customers across different platforms including company websites, Facebook, and Whatsapp.
Sales teams can build targeted prospect lists and configure custom email sequences to automatically follow up with leads.
Users can consolidate helpdesk requests from email, social media messaging, and chats to reduce platform switching.
Bulk emails, templates, and automated workflows help sales teams maintain focus and boost productivity.
| | |
| --- | --- |
| G2 rating: 4.3/5, based on 5,619 reviews | Capterra rating: 4.4/5, based on 3,687 reviews |
3. Pipedrive
Pipedrive is a sales CRM platform that helps teams visualize their pipelines, organize contacts, and forecast sales. The tool guides sales reps through setting up their pipeline stages, scheduling reminders, and tracking progress toward goals to help them remain productive throughout the entire sales process.
As well as lead generation and management, sales teams can also use Pipedrive to track all communications, automate repetitive tasks, and access email and market segmentation to send targeted emails to the right audience.
Customers love the holistic view of their sales pipelines and that the tool is highly customizable.
Core strengths:
The CRM system guides users through the sales process and captures essential contacts and customer feedback to help sales teams track leads efficiently.
The platform allows users to create and customize numerous pipelines to match their unique sales process.
Customizable catalogs featuring company goods and/or services, including costs, notes, and more help sales reps focus on leads.
| | |
| --- | --- |
| G2 rating: 4.2/5, based on 1,655 reviews | Capterra rating: 4.5/5, based on 2,856 reviews |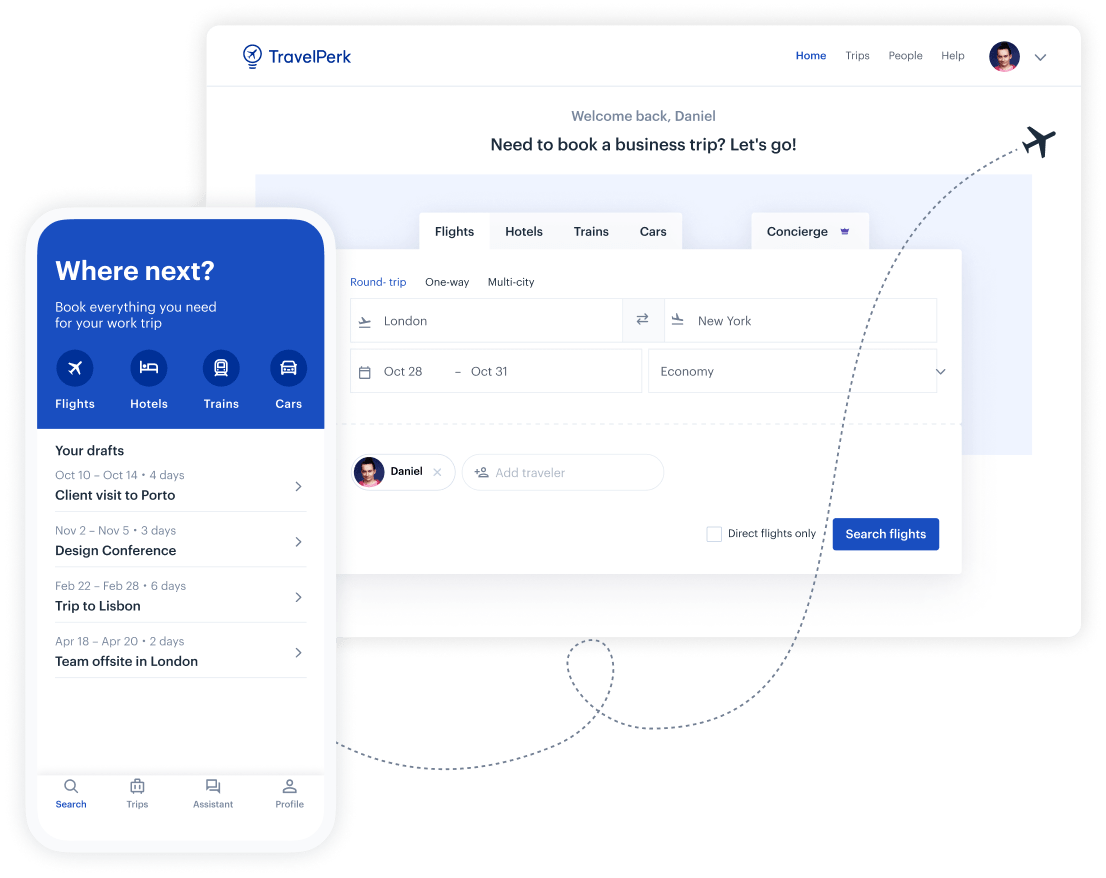 Make business travel simpler. Forever.
See our platform in action. Trusted by thousands of companies worldwide, TravelPerk makes business travel simpler to manage with more flexibility, full control of spending with easy reporting, and options to offset your carbon footprint.

Find hundreds of resources on all things business travel, from tips on traveling more sustainably, to advice on setting up a business travel policy, and managing your expenses. Our latest e-books and blog posts have you covered.

Never miss another update. Stay in touch with us on social for the latest product releases, upcoming events, and articles fresh off the press.