Increasing travel policy compliance is a major goal for businesses worldwide. Travel spend accounts for the biggest expense after salaries at many companies, which is why it's fundamentally important to enforce compliance and cut costs wherever possible.

However, no company wants to do this at the expense of its employees and their happiness. So how do you prevent your travelers from booking their trips off-policy, on consumer websites, in a DIY fashion, while still allowing them to book trips they actually want to go on?

The answer lies in finding the right travel management software.
How to get over 90% travel policy compliance while keeping travelers happy
There are three ways to get good travel policy compliance, but only one that doesn't upset employees.

You could hire a corporate travel agency or TMC (travel management company) to manage your bookings for you. Sure, all your bookings would be 100% inside of policy, but your travelers' stress and frustration levels would shoot up. The lack of autonomy and the complicated, time-consuming booking process would make them pull their hair out.

You could also use legacy corporate booking tools to book business trips.
The downside?
Not only do these tools lack options, but they're also clunky, outdated and often a pain to figure out – again, resulting in unhappy employees.

If you don't want to resort to either of these traditional ways of travel management, the best option is to use a modern travel management platform.

Travel management platforms were built to end the hassle, the chaos and the frustration that comes with trying to manage corporate travel the old way. They provide a solution for companies to enforce their travel policies while addressing all the main concerns of their employees.

Here are six ways that a travel management platform can help you achieve over 90% travel policy compliance and keep employees happy.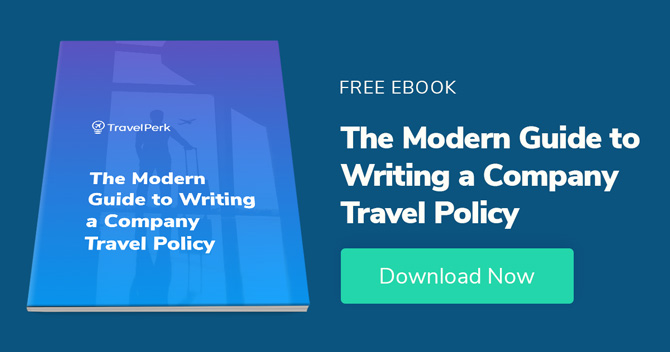 1. Self-booking
If you want to increase travel policy compliance, the first thing you need to do is stop micromanaging and let your employees book their own trips.

Seems counter-intuitive? Hear us out.

According to Phocuswright, 64% of Millennials (the generation that will make up 50% of the workforce by next year) book off-policy because they prefer to book for themselves.

It is true that allowing employees to go rogue and book their trips on consumer travel sites renders policy enforcement virtually impossible. However, if self-booking is done within a smart booking tool, within the rules and parameters you've set, you can hit two birds with one stone.

When it comes to business travel, employees value autonomy. They want to be able to pick the flight and the hotel that best suits their needs and book it themselves, just like they would book a family vacation. They don't want to depend on a travel agent or tedious approval processes. They don't want to be emailing travel managers or office managers back and forth for days or weeks, missing out on the flight or accommodation that they had their eye on.
They want to get it done and dusted without having to involve anyone else. They want freedom and flexibility – which you can provide by giving them a smart booking tool. 

Trusting your travelers to book their own trips leads to higher employee satisfaction and ultimately translates into higher policy compliance. The happier your people are, the less likely they'll venture outside of the rules you set for them. Why would they, if they feel trusted and have the freedom and flexibility they want?
2. Automated travel policy compliance
Another critical feature of travel management platforms is that they provide automated travel policy compliance.

Sounds fancy, but what does it mean in practice?

It means that instead of keeping your carefully crafted travel policy tucked away in a PDF that no-one, not even your nerdiest coworker will ever read, you can feed it directly into the software. It's also easier to keep your travel policy up-to-date: you can edit and update it as often as needed.

Best of all, such platforms have built-in search filters that target travel policy parameters. When employees are using the smart booking tool, they can filter results for options that fall within the company's travel policy.

Hand on heart, which do you think is more likely: that employees will scour that obscure internal wiki searching for travel policy clauses that apply to them, or that they'll tick a simple search filter?
3. Consumer-grade UX
The number one reason why travelers get frustrated by legacy corporate booking tools is because they're clunky and difficult to use.

No-one likes a piece of software that seems to be playing hard to get. We've grown so used to beautiful, intuitive user interfaces that impeccable UX design has become the least we expect from software products we use on the daily – just think of booking sites like Airbnb, food delivery apps or other commonly used consumer platforms.

So why shouldn't our work tools be the same?

If you give your travelers a smart booking tool that looks and feels the same as the booking sites they're accustomed to using, you're increasing your chances for better policy compliance.

If the corporate tool is easy on the eye, simple to use and works like a charm, they won't have a reason to go searching on consumer websites and booking their trips way out of policy.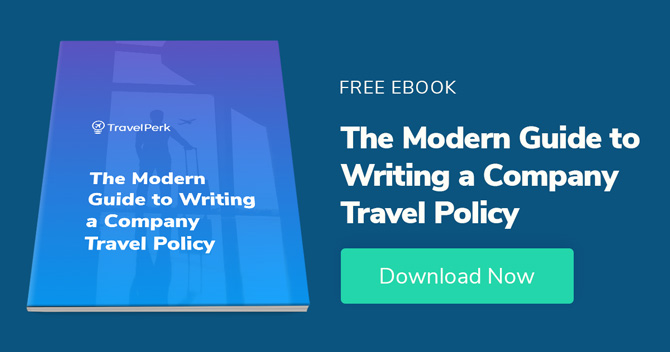 4. Inventory
Options, options, options. The most common complaint from travelers who have to use legacy booking tools or travel agencies to book their trips is that they don't have enough options to choose from. It's also one of the main reasons why they go to consumer booking sites instead, turning their company's travel policy on its head.

Choosing a travel management platform that has an extensive inventory is the key to your traveler's hearts.

Top-notch travel management platforms integrate with all the biggest consumer travel providers out there. If an employee wants to book a direct flight with a low-cost airline such as EasyJet or Ryanair – which Millennials often do – they should have the freedom to do so. If they prefer to stay in a vacation rental or a boutique hotel – also a trend among Millennials – as opposed to a large hotel chain, they should have the option. It will make them happy and ready to comply with travel policies.
5. Customization
Not only do travel management platforms allow you to feed your travel policy directly into them, but they also let you customize it for specific travel needs. The more customized your policy is and the more you take your traveler's needs and preferences into account, the less likely it is that they'll go off-policy to get what they want.

Instead of having just one company-wide blanket policy, you can create customized rules by department, office or even individual traveler.

For example, the employees who work at a certain office may tend to book more expensive hotels, because they travel to cities where accommodation prices are high. One department may need more flexibility when it comes to the minimum amount of days a trip is booked in advance because the nature of their work requires them to travel last-minute. You may also have super travelers like brand evangelists who travel more than all other employees combined: you can make individual adjustments to the travel policy for them, too.

So how do you know what each department, office or employee needs? It's a good idea to speak with all stakeholders involved and discover any unique travel needs with their help. You can also look at the data provided by the travel management platform – which brings us to our next point.
6. Data and monitoring
Last but not least, the data that you can extract from travel management platforms is a huge perk that will help you further increase travel policy compliance.

First of all, it gives you insight into traveler booking habits, the types of trips they're booking and what their priorities are. This information will help you tweak your travel policy and customize it in a way that makes travelers happier and ultimately ensures better compliance.

For example, when we looked at the data to find travel trends among TravelPerk users, we found that bleisure is becoming increasingly popular, with 18% of all trips running across weekends. If you found the same trend among your employees, you could adjust your policy so that it accommodates over-weekend trips.

Secondly, you can use the data from the travel management platform to monitor policy compliance, diagnose issues and take the necessary actions – be that speaking to stakeholders or customizing your policy for the needs of a department, office or individual.
Conclusion
We hope we've managed to clarify how a travel management platform can help you increase travel policy compliance without compromising employee happiness.

With the help of a state-of-the-art travel management platform, you should be able to reach nearly 100% compliance, with a few occasional glitches. For example, travelers may attempt to book outside of policy because of an unexpected last-minute trip. To handle these one-off situations, travel management platforms offer a solution for an effective approval process that can be accessed directly from the dashboard (no email exchanges, ever).

To give you some stats: TravelPerk users book as low as 13% of their hotels off-policy, a number that is slightly higher for flights (24%). Employees of tech companies break policy even more rarely, resulting in over 90% compliance.

If you're aiming for high compliance, you need a travel policy that employees want to comply with. Explore our guide to writing one!