Automation is fundamentally changing the way we live. From the way we communicate and learn to the way we work and our daily choices, our societies are now underpinned by automated processes. Efficiency and fluidity are everything. Modern corporate travel is no different.
Previously business trips relied largely on traditional travel agencies or tour operators and could be a bumpy, stressful ride. Thanks to a revolution in the way we book travel products, today's business traveler has come to expect a smooth, streamlined experience, one that is augmented by intuitive, easy-to-use software solutions.
What's more, forward-thinking companies are discovering that automation can reduce many back-office tasks, saving time and money while unlocking new opportunities for growth.
But just how much will automation change the landscape of corporate travel? And how easy is it to implement? Let's examine the effect of automation on business travelers and break down the key benefits of incorporating the latest travel software into your corporate travel program.
See how to save money by automating your booking process
1. Optimized cost-efficiency
Before any shiny, new system can claim to have revolutionized an industry, it has to fulfill its main function. Has it saved on costs? For a business to overhaul its approach and refurbish its existing systems is a big step.
Setting up automated workflows in certain areas of a company can be costly and take time initially, but in the long term, it's worth it when it becomes clear that it will save costs and transform a business. Automation can save companies between 40-70%, with payback ranging from several months to several years. Here's how:
Basic automation: saving time and reducing human errors
A machine can carry out high-volume, basic mundane tasks far quicker than a human and with a far greater degree of accuracy.
The time spent on administrative tasks, such as searching for the best routing and travel packages, ensuring loyalty program details are added to bookings, generating travel spend reports, and analyzing expenditure, can be streamlined while avoiding costs of errors and inaccuracies.
Satisfied workers
There's nothing fun about searching and sifting through masses of mundane data, so why not let the machines do the number crunching? An automated corporate travel process streamlines everything, from booking a trip and collating expenses from providers to analyzing yearly statistics.
The time freed from automating these time-consuming business processes leaves workers free to focus on other business needs requiring a human touch.
Greater visibility through automation
With real-time tracking and reporting on all corporate travelers, businesses can pinpoint exactly how and where money is spent. Greater visibility into spending patterns will enable a laser focus on performance and give a panoramic understanding of company spending.
Whether it's rewriting a travel policy or revamping your travel management strategies, corporate travel automation has the potential to have a profound effect on one of the most important aspects of a business, saving costs and stimulating growth potential.
Take TravelPerk, for example. Designed to provide a comprehensive service for business travelers, through automation, TravelPerk's travel management software streamlines the online booking process, helps travelers reduce carbon emissions, and aids in keeping teams safe on the road.
But on top of saving time and providing peace of mind for busy travel managers, TravelPerk's business travel platform also provides companies with a wealth of information. 
Through user-friendly interfaces, travel and finance teams can analyze data to give expert insight into their organization's corporate travel spend and make suggestions for savings.


2. Crystal clear travel policy
Historically, a company travel policy has always been a hard sell. Travel policies of the past were large, dull documents to be avoided at all costs. However, automation has changed this for good.
An intuitive travel policy that works for both the business and the traveler is essential. With more and more tech-savvy millennials in the workplace, creating a trust-based culture in which employees are empowered to take control of their travel bookings is the way forward.
With a comprehensive travel management solution like TravelPerk, travel managers can integrate corporate policies to automate approvals and guarantee compliance. In minutes parameters can be established that can save both time and money.
By automatically approving itineraries that fall within company guidelines, managers are free to spend time on more crucial tasks, and business travelers can secure the best rate without risking price increases while they wait for the green light. Meanwhile, trips that fall outside the scope of company policy are flagged for extra attention in selected inboxes and through dedicated Slack channels.
3. Improved experience for business travelers
Today's business traveler demands an interesting travel experience. They don't want a trip that strips them of their enthusiasm for their career – they want to learn, to experience new things and to make connections. Above all, they want to feel valued.

This is why automation is a vital component of the modern corporate travel experience. Empowering a business traveler by giving them control of their own trip, from booking travel and accommodation to finding their ideal downtime activities, is the best way for a company to show how much they value their talent. This is all made possible through automation.
4. Increased focus on sustainable corporate travel
Understandably pressure is growing for companies to take a more sustainable approach when it comes to all aspects of their business. When it comes to corporate travel, carbon emissions are another factor employees must justify when booking their business trips.
Travel management systems can also aid compliance with sustainability policies. Solutions like GreenPerk can highlight more eco-friendly options when selecting flights and other transportation methods and help report annual carbon emissions for corporate travel programs. Once you establish the extent of your carbon footprint, GreenPerk can also support travel managers in offsetting their organization's emissions through VERRA-certified programs.


5. Safety and security
In today's world, safety and security have never been so important. Businesses have a duty of care towards their travelers, and risk management is a vital part of any travel management strategy.
Investing in a comprehensive duty of care solution can level up the support your business travelers receive on the road. With an advanced risk assessment system, organizations can benefit from pre-departure reporting that flags potential safety concerns or travel restrictions and insights into COVID-19 transmissions to help employees make more informed decisions at the booking stage.
We all know how fast things can change. When employees are traveling for work, management needs to track their whereabouts and ensure they are updated with any changes.
TravelPerk's TravelCare dashboard allows travel managers to quickly access their travelers' information and offers real-time notifications to both desktop and mobile devices to highlight any updates to security or travel restrictions for ongoing itineraries. Plus, users can get answers to any follow-up questions from human customer care agents in just 15 seconds, 24 hours a day, 365 days a year.
6. Expense management simplified
With corporate travel automation, the issue of expenses is transformed immeasurably. For many, what was previously a nightmare has turned into a smooth, painless process.
Historically, travel and expense costs have been one of the hardest to keep under control in the business space. Outdated budgeting systems and lost confirmations and receipts made it near impossible to keep track of the cost of employee travel, wasting both time and money.
With an automated system, employees can track spending in real-time and access their travel spending reports from one location. Giving business travelers the reigns and implementing a self-booking system simplifies expense management and frees up a lot of time in many business areas.
For finance teams, an automated corporate travel process is a huge weight off the shoulders. Stacks and stacks of invoices, credit card receipts, and vouchers are processed and dealt with swiftly and efficiently. Rather than funneling everything through an overworked, stressed-out office manager, an automated process keeps things easily accessible and trackable.
Corporate travel management automation means all expenses can be tracked through the booking tool. The business traveler is free to book and control their trip and can easily make modifications, and companies get the visibility and control they need over travel spending.
TravelPerk's travel management solution has partnered with a range of established expense systems. As well as generating reports and tracking expenditure, our users can upload receipts from the road speeding up reimbursement and improving employee experience. Our partners include but are not limited to;
Spendesk
Haslle
Expensya
Fyle
ExpensIn
Webexpenses
Allocate SelenityExpenses
Payhawk
Ramp
Expensify
Mobilexpense
Circula
Yakoy
Divvy
Rydoo
Captio by Emburse
Automation is here to stay
As we have seen, from optimizing travel spending to keeping travelers safe on the road, automation can assist with every aspect of a company's travel program. By not harnessing the technological know-how of modern travel management solutions, businesses are losing both time and money.
For travel managers, CFOs, and business travelers, automation is already a cornerstone of their day-to-day work. For organizations, it's not so much of a leap of faith to embrace automation. In today's ever-evolving corporate travel industry, it's a fundamental step to keep your business competitive.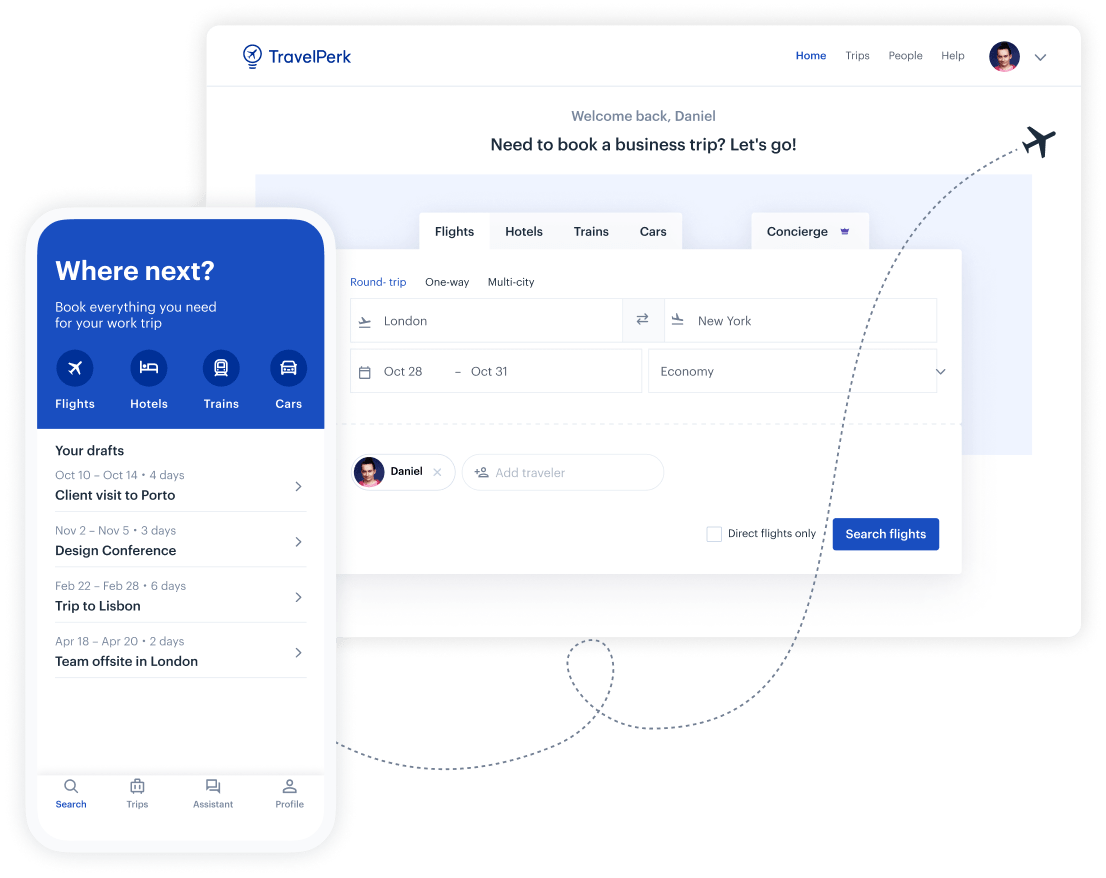 Make business travel simpler. Forever.
See our platform in action. Trusted by thousands of companies worldwide, TravelPerk makes business travel simpler to manage with more flexibility, full control of spending with easy reporting, and options to offset your carbon footprint.

Find hundreds of resources on all things business travel, from tips on traveling more sustainably, to advice on setting up a business travel policy, and managing your expenses. Our latest e-books and blog posts have you covered.

Never miss another update. Stay in touch with us on social for the latest product releases, upcoming events, and articles fresh off the press.